Danielle Smith's 'Alberta Sovereignty Act' Lambasted by Critics
One political scientist called it the "most unconstitutional bill in Canada's modern history."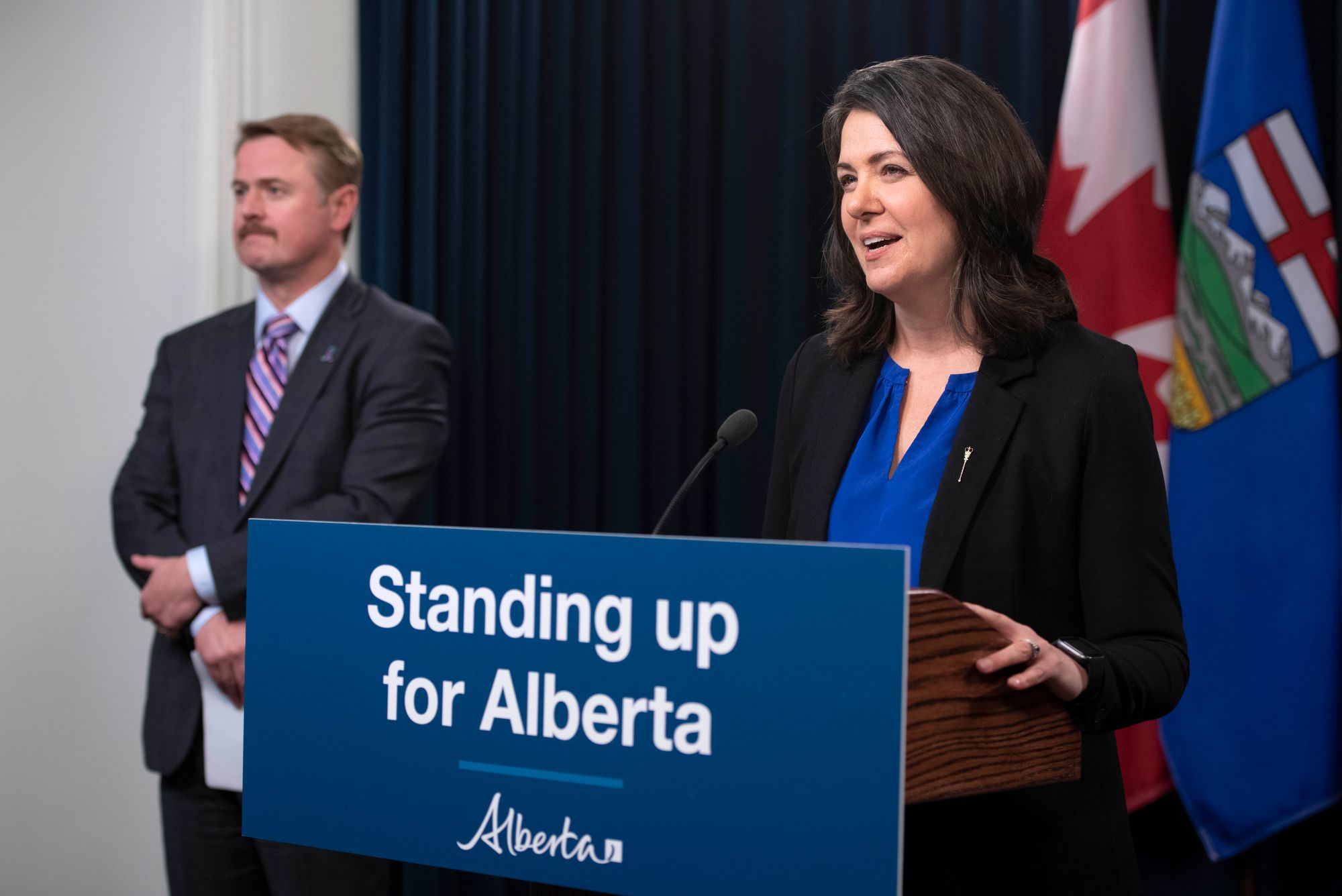 Written by Alex Cosh
Alberta Premier Danielle Smith introduced Bill 1, the much anticipated "Alberta Sovereignty Act," Tuesday, prompting a stream of intense criticism from experts and analysts who say the bill is unconstitutional and undermines democracy.
As reported by CBC News: "Smith's signature legislation would grant her cabinet new powers to bypass the legislative assembly and unilaterally amend provincial laws."
"The bill describes how the Alberta government plans to not enforce federal legislation, policies or programs it decides are 'harmful' to Alberta's interests or infringe on the division of powers in the Constitution."
CBC explained further that "the legislation would allow cabinet to direct provincial entities, including municipalities, municipal police forces, post-secondary institutions, school districts and regional health authorities not to enforce federal laws."
Smith told reporters she hopes she never has to use the bill, but added: "I hope that we've sent a message to Ottawa that we will vigorously defend our constitutional areas of jurisdiction and they should just butt out."
However, over the course of Tuesday evening and Wednesday, experts and other critics scrutinized the bill and lined up to pan its contents.
University of Waterloo political science professor Emmett Macfarlane called it the "most unconstitutional bill in Canada's modern history."
"It is every bit the assault on the constitutional division of powers, rule of law, and democracy her initial descriptions foretold," wrote Macfarlane. "But for an added surprise it includes an additional assault on responsible government and the separation of powers in the form of provisions that would allow the government to unilaterally amend legislation - any legislation - in the legislature's stead."
Bill 1 states that before the government makes changes, the Alberta legislature must first determine whether federal laws are unconstitutional or harm the province's interests, and pass resolutions accordingly.
Once those resolutions are passed, the bill gives the Alberta government a free hand to make changes to any laws or order provincial agencies and institutions to "ignore or violate federal law, even criminal law," Macfarlane explained.
Constitutionally, "only the courts get to determine whether a federal law intrudes on provincial jurisdiction," Macfarlane noted, meaning Smith's bill is also an attack on the role of the courts.
While the bill will likely be struck down by the courts, this will take time, he noted. Any measures involving the federal government being floated to stop it more quickly would likely trigger a constitutional crisis.
"This is a Bill drawn up by deranged constitutional saboteurs," Macfarlane concluded.
Similarly, Mount Royal University political science professor Duane Bratt tweeted:
"During the UCP leadership race, I had assumed (wrongly) that the Sovereignty Act was about asserting Alberta's sovereignty vis-à-vis federal government. It is actually granting massive new powers to the Premier/Cabinet vis-à-vis fed govt, AB legislature, and all Albertans."
Unsurprisingly, Alberta NDP leader and former premier Rachel Notley pledged that her party would immediately repeal the bill if it wins the next provincial election.
"No government should have the power Danielle Smith is giving herself with the Sovereignty Act," tweeted Notley on Wednesday. "She has no mandate for this. No government has a mandate for this." The NDP leader called on UCP MLAs to immediately revoke the act.
Speaking to reporters Wednesday, Smith insisted that "We know that Albertans want us to act on this." According to CBC, Alberta's justice ministry stressed any proposed changes made by cabinet to federal laws would need to be included in resolutions first approved by the legislature.
However, University of Alberta law professor Eric Adams told CBC that legislatures don't set laws through resolutions.
"The idea that the democratic legitimacy of whatever the cabinet does can be traced back to and authorized by a simple vote on a motion is fundamentally flawed reasoning," he said.
Writer David Climenhaga suggested the bill reflects an apparent desire among Smith's advisors to engineer a constitutional crisis.
"Perhaps they will succeed with this, although it seems likely that the first place the Sovereignty Act will be going is to court, where chances are good the judiciary will make short work of it," he wrote.
"Of course, when that happens, it will give Ms. Smith the excuse to pursue a more openly separatist agenda, which while it is unlikely to succeed, will certainly harm Alberta and Canada."
Asked about the bill, Prime Minister Justin Trudeau said Wednesday: "We're going to see how this plays out. I'm not going to take anything off the table, but I'm also not looking for a fight. We want to continue to be there to deliver for Albertans."
---
This post is for paying subscribers only