Alone In The Dome: Disabled People, Many Poor, Struggled to Survive B.C.'s Fatal Heat Wave
"We don't have this kind of weather normally in Vancouver, but climate change is happening …(those who died) weren't even that old."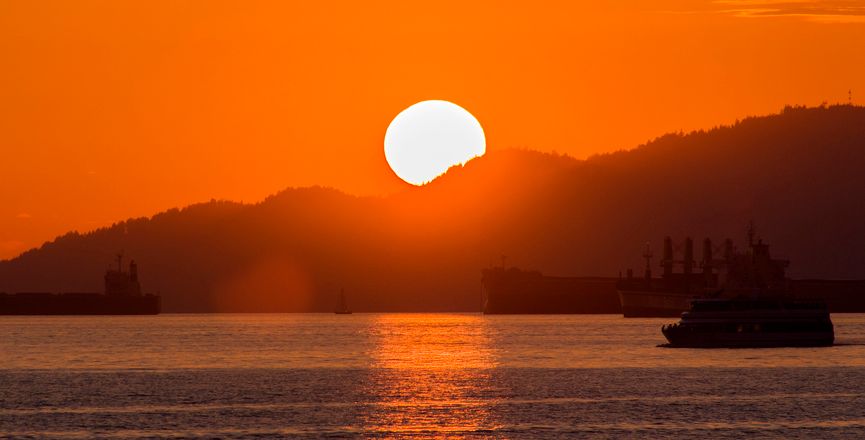 By Gabrielle Peters
Buying a kiddie pool to put in the living room isn't something normally included in an emergency preparedness plan, and yet that's exactly what made a difference for 23 year-old Surrey resident Hannah Lohnes during British Columbia's deadly heat dome.
"I had bought a small plastic baby pool on a whim the week before, intending to use it outdoors to soak my feet in while I studied," Lohnes told The Maple. "It came in handy for that very reason. We pulled the pool into our living room, and filled it with cold water and ice. We kept it there for a week, refilling and adding ice as needed."
In June, as the province's temperatures rose to record-breaking levels, people shifted from dealing with the day-to-day struggle of surviving a pandemic to the hour-by-hour struggle of surviving a heat dome.
Tragically, far too many did not survive. The B.C. coroner has thus far identified 569 heat-related deaths during the week of June 25 to July 1. It may be cold outside before the B.C. Coroner publishes its final report on the deaths that happened that week.
We know from research that increases in suicides and violence of various kinds happen around heat waves. Ryan Panton of the B.C. Coroner's Service said: "We consider a heat-related death one in which excessive environmental heat is determined to have played a causal role."
During the investigations, coroners collect a variety of information including the inside and outside temperature, presence of air conditioning, observations about ventilation, as well as the condition, behaviour and medical history of the person prior to death.
60 year-old Howard Calpas, who shares a house with some other men next to Vancouver's Oppenheimer Park, knows information about some of the people who died that week. They were his neighbours.  He was away on Vancouver Island, but learned three of his neighbours in nearby apartments had died in the sweltering conditions.
"They died in their apartments and they found them a day later," Calpas said. "They did wellness checks on everybody, but it was too late."
Calpas said the buildings were just too hot, adding that some neighbours resorted to desperate measures in a fruitless bid to find relief from the heat.
"I know a lot of people were sleeping outside at night because it was just too hot to be inside these buildings," he said. "It was cooler outside."
Calpas doesn't know if any of his neighbours called 911 before eventually succumbing to the heat, but it's uncertain it would have made any difference if they had, given the hours-long wait times for ambulance responses.
Heat-related deaths are preventable in a major Canadian city in 2021. But the failures began even before the temperatures rose.
At least part of the problem stems from the fact that the best public policy responses to heat (and our municipal, provincial and federal governments did not have the best responses) still have a built-in bias that fails to adequately address the fact that everyone is affected by the heat, but not everyone is affected in the same way, or to the same degree.
Similarly, not everyone has the same ability to mitigate its impacts or will be aided by the same policies, especially given the legacies of racism and ableism.
In particular, the legacies of ableism, racism and policy decisions that enhance the lifestyles and life expectancies of wealthier residents do the exact opposite to poorer people. The inequity of our society leads to inequitable impacts from the heat.
These factors combine with policies that fail to include disabled human needs as part of human needs, and all are subject to the neoliberal shifting of the burden onto individuals away from governments, including the impacts of climate change.
Left Alone To Navigate The Heat
During the B.C. heat dome, people were left on their own to try to navigate a life-threatening situation with little to no information or resources provided to them by the government to stay alive.
Lohnes, who has rheumatoid arthritis and says she continues to deal with the significant health impacts of contracting COVID-19 last November, lives with her boyfriend in a basement apartment.
She says that while the main house is air-conditioned, their unit is not, and even two fans (one of which they borrowed from their landlord, because they could not find any fans at the store), weren't enough to offer meaningful relief from the heat. Instead, it was the kiddie pool with ice water that she thinks saved her from becoming more seriously ill.
Many who die from heat live alone. Lohnes was fortunate not just to have happened to have bought a kiddie pool, but to have a non-disabled partner who could assist her.
"The worst days of the heat wave I spent in terrible pain, with my boyfriend having to help me to move around the house as I could not walk on my own," she said.
Cities in their entirety are urban heat islands. They are often several degrees hotter than surrounding rural areas. This is a result of many factors, including density, tall buildings and narrow streets where the heat becomes trapped, the type of building materials used and even the colours of surfaces.
Within urban heat islands exist what could be described as inequitable hot spots. Those areas tend to have less tree canopy and vegetation, and are more crammed in density than the wealthier, cooler, greener parts of town.
In both inequitable hot spots and other areas of the urban heat island, the type and design of housing can worsen indoor air temperatures. Another layer is added if your needs have not been accounted for in the design process, as is so often the case when you are a disabled person existing in an ableist society.
Some disabled people also have conditions or take medications that interfere with the body's ability to thermoregulate. And even when the regulating of internal temperature isn't a specific concern, the considerable stress that heat has on a body can be especially dangerous for many with chronic illness.
"I do not regulate heat well, and am incredibly prone to heat exhaustion/stroke," said Lohnes.  "In fact, I remember on the 27th that I spent most of the day with a migraine, and throwing up what little water I was getting into my system."
"I truly believe that the small pool is the only reason that I did not get more sick during this time, as I was able to place my feet, or even my entire self sitting in the small pool, and help to keep my temperature down," she added.
Inadequate Housing
Disabled people are disproportionately more likely to live below the poverty line and in lower-quality housing compared to non-disabled people. According to the World Institute on Disability:
"This often means they have less access to air-conditioning at home, or may have less money to pay air-conditioning bills if they do have A/C. Some cooling shelters may not be easy to get to for people relying on public transit or who are isolated at home – and those cooling shelters may be inaccessible and/or not have necessary medical or other disability supports as well. The combination of physical and social factors means that people with disabilities are, on average, more vulnerable to heat stress, heat exhaustion or death during extreme heat events."
Paul Caune knows something about the inadequate housing disabled people are forced to live in. "'I've had the misfortune of living in two group homes and two long-term care facilities," said Caune.
Caune was born with facioscapulohumeral muscular dystrophy, has used a power wheelchair since he was 26 and has been dependent on portable ventilators since undergoing a tracheotomy in 2004 and now lives in one of eight apartments owned by a not-for-profit which are within a market-rate strata.
"My building, which opened in 2007, has no AC," he said. "Consequently, the hallways and units are hellaciously hot in the summertime."
Caune said his sister had given him a portable air conditioning unit in the past which had sufficed in previous summers, but simply wasn't up to the challenge posed by this summer's conditions, even with the aid of two fans.
"It was excruciatingly hot. By the third day my feet swelled up like balloons, my legs ached and my lower back started to hurt," he said.
The heat not only had a direct effect on his body, but also on his ability to get care for it.
Caune, who relies on support for many of his personal needs, has two health authority home support workers (HSWs) come four times a day, and shares an on-site worker with six other disabled residents in his building overnight.
On the Monday of the heat dome, said Caune, the health authority sent for his bedtime visit a worker who Caune said was not qualified to deal with his ventilation needs, and a worker he had demanded to be put on his 'do not send' list last year due to the rough treatment he received from the worker.
When Caune called to voice his concerns, the manager informed him that a lot of workers had called in sick and were cancelling at the last minute.
"But I can't get care from these workers; it's not safe," said Caune. "I'll have to spend the hottest night of the year in my wheelchair until the 7 a.m. visit, I said (to the manager)."
Caune said the manager asked him if he wanted her to call 911. He hung up.
And there was yet another complicating factor Caune had to consider while trying to survive the heat wave. He was one of six wheelchair users in his building who lived above the first floor. For the month prior, the elevator had been in and out of order.
"I remembered (the non-profit's) office in my building has AC. I asked them if I could sit in their office to cool down. They did. Luckily the elevator was working. Their AC was stronger than mine and it gave me blessed relief," he explained.
Caune's evening home care worker arrived shortly after he had gone back upstairs to his apartment. The elevator was still working when Caune went up, but minutes later the home care worker was not so fortunate and had to climb up four flights of stairs.
Thankfully, the one thing Caune did not have to deal with is something that has happened in other cities during heat waves and could happen in Vancouver as more people prepare for them: power outages.
The inability to access sources of power can quickly become life threatening for some disabled people, and yet few buildings have or allow tenants to keep their own emergency generators.
As well, the number of deaths alone is an inadequate measure for understanding the health impacts of heat domes. According to the Vancouver Sun, Dr. Melissa Lem, president of the Canadian Association of Physicians for the Environment, said "thousands of others sought medical help for heat stroke, dehydration and even brain injury caused by heat, but there's no way to track that in B.C."
Lem estimates that for every person who died, another 10 sought medical care at doctor's offices and emergency rooms.
Public Health Advice Falls Short For Disabled People
Q is a formerly homeless queer trans disabled person who lives below the poverty line in a rented house with a roommate and a dog in Chilliwack.
"Several of my conditions cause heat intolerance, and I'm on meds that exacerbate that," said Q. "I can't regulate my temperature, and I also can't always tell when I'm overheating — my body sends the wrong messages so I'll be wracked by chills when I'm actually close to fainting from heat exhaustion."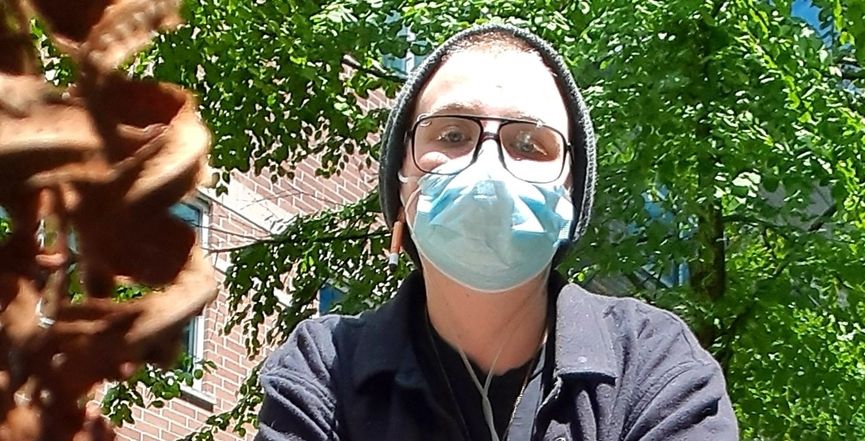 There appears to be a disconnect between public health advice that encourages people to exert themselves outside by traveling to and from cooling centres (which are often only open during the day, despite evidence that the danger is at least as great at night) during periods of extreme heat and/or poor air quality, and the science-based advice to stay indoors and limit activity. This guidance falls especially short for a disabled person with respiratory, cardiac or other chronic conditions.
Q explains that going to the beach or another location to cool down, which is the most common advice, requires preparation, and may not always even be possible for it and other disabled people.
"It takes a lot of planning to go out somewhere, and I always have to take oxygen, meds, and my mobility changes from day to day and even hour to hour, moment to moment," said Q.
Staying at home is the only accessible option for many disabled people, and yet little to no support is provided to allow people to cool down inside their homes.
As well, many disabled people live in poverty and often don't have cell phones or laptops. People who are isolated may not have the social connections with anyone to check in on them.
Further, the way disabled and/or elderly poor people tend to be housed inhibits possibilities of mutual aid and support among neighbours, as everyone in the building is disabled and poor, and therefore not in a position to check on their neighbours. Public health advice that focuses on things they should purchase bears no connection to the reality of their lives.
During the heat dome, even some who could afford a last minute air conditioner discovered there were none available in the stores or online.
And, for too many of the most vulnerable, air conditioners are simply too expensive.
Bruce Triggs is a disabled author and accordion enthusiast who lives on disability benefits in a co-op near the edge of Vancouver's  Downtown Eastside. He managed to buy a fan, slept on the floor, took cool baths and found using ice packs on his hands and neck helped.
"I don't know how hot it got inside, but it was certainly over 40 degrees," said Triggs. "The heat lasted late into the evening and night when the heat didn't go down at night. It got so hot I turned off my computer for fear it would overheat."
"It was very disturbing to see so many more deaths (happened in B.C.) than in Oregon and Washington," he added. "I remember reading the ambulance driver posting about how unprepared and unsupported they had been."
Triggs said he found it deeply upsetting, and that he felt "if I'd had an emergency, I don't know if I'd have had any help."
We now know that is exactly why many people died. Some called for help that never came. They took their last breath, likely still expecting that someone would surely come through the door and save them.
Lives Changed, But Will Public Policy?
Five men overdosed in English Bay sitting on a bench together during the heat dome. Even in a city that is ground zero for deaths due to toxic drug supply, this was unusual, particularly for the neighbourhood.
Hundreds of people passed by the men and went on with their day. Did the heat contribute to the mens' choice to use drugs at the beach, and did that put them at greater risk? The same day a body was found floating in the water.
Perhaps the most important and pressing question is will anything change, or will these hundreds of deaths simply be absorbed into the thousands of other preventable deaths we've decided to pretend that we cannot prevent?
One thing is certain, many people's lives were changed that week in June.
Lohnes managed largely because of the fluke of having bought a kiddie pool just before the heat dome hit — but the experience left a lasting impression on her. "This experience was absolutely terrifying to me," she said.
For Caune, the lack of emergency response and the care he might receive even if anyone did arrive in time adds to his concerns about how to handle future heat waves.
"The last day of the heat dome my feet, legs, lower back hurt even more, and I nearly called 911, but two things deterred me: news reports of the paramedic system collapsing and my past experience of how bad hospital stays are for me with my 'complex medical needs'," he explained.
Q said that while many of the least-resourced people did their best to organize mutual aid, open up community fridges and hand out water, it wasn't and won't ever be sufficient.
"In group chats I'm in of people trying to organize both mutual aid and political responses to heat waves, across the board we are scared and angry," said Q. "A lot of the people organizing responses are doing so because we've been forgotten ourselves, either in this heat wave or in previous emergencies, and we know better than to do that to others. But we don't have the resources (that) governments and health authorities do."
Have we already moved on? Have the 569 people who died preventable deaths been absorbed into the vacuum of a news cycle in a province that seems to be less and less unsettled by metaphorically stepping over the bodies of their neighbours?
Triggs is worried about what it means for the future — and not just future heat waves.
"The placement of hospitals on earthquake sacrifice zones, and inability of emergency crews to afford to live in town (means that) the bridges will prevent them getting to post," said Triggs. "In a major disaster, I assume our government response will be horrible unless drastic changes of priority are made."
"Right now it feels like our region is an extractive industry taking profits from real-estate without caring about adequate services," Triggs added. "Obviously natural resources are being stripped without any care for the future. My children will face horrors that the past months only hint at."
Of his city and neighbours, Calpas simply said: "We don't have this kind of weather normally in Vancouver, but climate change is happening … (those who died) weren't even that old."
Editor's note, September 5, 2021: A previous version of this story incorrectly stated that Paul Caune lives in a building operated by a non profit. In fact, Caune lives in one of eight apartments owned by a not-for-profit which are within a market-rate strata. The story has been corrected.
Gabrielle Peters is a disabled writer and policy analyst living in social housing. She is a commissioner on the Vancouver City Planning Commission, and co-author of the VCPC memo on mitigating the impacts of extreme heat and poor air quality.