Dozens of protesters gathered at the MP office of Canada's Minister of Justice and Attorney General Arif Virani this week to demand a ceasefire in Gaza and "freedom for Palestine."
The rally took place at Virani's office on Bloor Street West in Toronto early on Thursday, November 16, as Gaza's health ministry announced that Israel had killed 11,100 Palestinians in Gaza since October 7, including at least 4,600 children.
The crowd assembled at the entrance of Virani's office and chanted "Arif Virani you cannot hide, we charge you with genocide."
"We are standing up to demand an end to the Israeli genocide on Gaza, an end to the illegal Israeli occupation of Palestine, an end to the siege on Gaza, an end to Canada's arming of Israel with weapons and [its] standing in solidarity with Israel," said Alisa Gayle, a member of Independent Jewish Voices and one of the spokespersons of the organization.
"I am here [...] to demand that our elected officials stop being silent in the face of genocide and to demand that they hold Israel accountable to end the war crimes."
Virani did not show up at his office during the protest. The demonstrators blocked the entrance to the office with banners reading "blood on your hands" and "Parkdale demands a ceasefire."
Gayle said MPs are accountable to voters and "they all have blood on their hands."
"Our MPs have a chance right now to be on the right side of history and speak up for justice, speak up for innocent people, end the crimes against humanity, end the war crimes, and end the genocide," Gayle added.
Since Israel launched its attack on Gaza, the besieged area has plunged into a humanitarian catastrophe. Telecommunication companies in Gaza said Thursday that all backup power sources have already been depleted.
Israeli forces stormed Gaza's al-Shifa hospital on Wednesday, claiming that Hamas were operating a "command" centre beneath it. Besides publishing an edited video showing a small stash of weapons and military vests, Israel has so far provided no evidence to support these assertions.
According to the United Nations, approximately 700 patients and 3,000 displaced individuals have been sheltering at the hospital.
"They are bombing innocent civilians," said Gayle. "This is collective punishment. They are bombing hospitals and schools and mosques and churches [...] the very definition of war crimes."
"As Jews, we know what genocide looks like and — as it was spoken during the protest — never again means never again for anyone."
Ameena Sultan, a Toronto-based immigration lawyer married to a Palestinian, was among the demonstrators to "protest the Canadian government's position, which has been unequivocally in support of Israel's actions in Gaza, which has been supporting Israel and its ongoing ethnic cleansing and genocide of Palestinians," she said.
Sultan has family in El Khalil, a city in the occupied West Bank, where Israeli settlers and soldiers are attacking Palestinian residents. "Things are very hard in the West Bank," said Sultan. "There are closures, lockdowns, curfews, rampant arrests, and hundreds of people have died since October 7. It is very, very tough."
Sultan was one of the speakers at the protest who demanded a call for a ceasefire from the Canadian government. She said that the Trudeau government supports the killing of civilians in Palestine. "They are complicit," Sultan said. "They have said that they stand with Israel unequivocally while it continues to commit these war crimes."
Prime Minister Justin Trudeau called on Israel to exercise "maximum restraint" during a press conference on November 14.
However, Trudeau has since clarified in a press release sent to the journalists on Thursday that Canada supports Israel's "right to defend itself in accordance with international law" and said that Hamas uses civilians as human shields.
"The hypocrisy of our government and our society is appalling," Sultan said.
"I feel physically pained by it in that they are saying that the lives of those that were lost on October 7 matter, but anybody after that who happens to have brown skin does not matter," she added.
Sultan demanded that the Canadian government stop emboldening Israel and stop allowing Canadian suppliers to sell weapons to them, and called for the freedom of Palestinians.
Peggy Lathwell, a Davenport resident, joined the protest because she "does not want to witness a genocide."
Lathwell said Virani is "part of our government, and I want our government to have a just response to a terrible situation rather than really letting it pass."
Smadar Carmon, a Davenport resident who grew up in a Jewish family in Israel, joined the protest because she is "extremely concerned about what's going on in Gaza."
"We are so concerned about human rights and [...] standing on the side that is absolutely doing all the crimes."
Toronto police arrested six demonstrators on October 30 for trespassing in Virani's office during a sit-in protest that called for an immediate ceasefire.
Second MP Office Sees Protest
Another rally on November 16 was held at the office of Julie Dzerowicz, the member of Parliament for Davenport.
Rachel Small, an organizer with World Beyond War, a global nonviolent movement to end war and establish a just and sustainable peace, was a speaker at the protest.
"We are here to condemn war," said Small. "Unlike Julie [Dzerowicz], we are refusing to turn away from the horrors we are witnessing."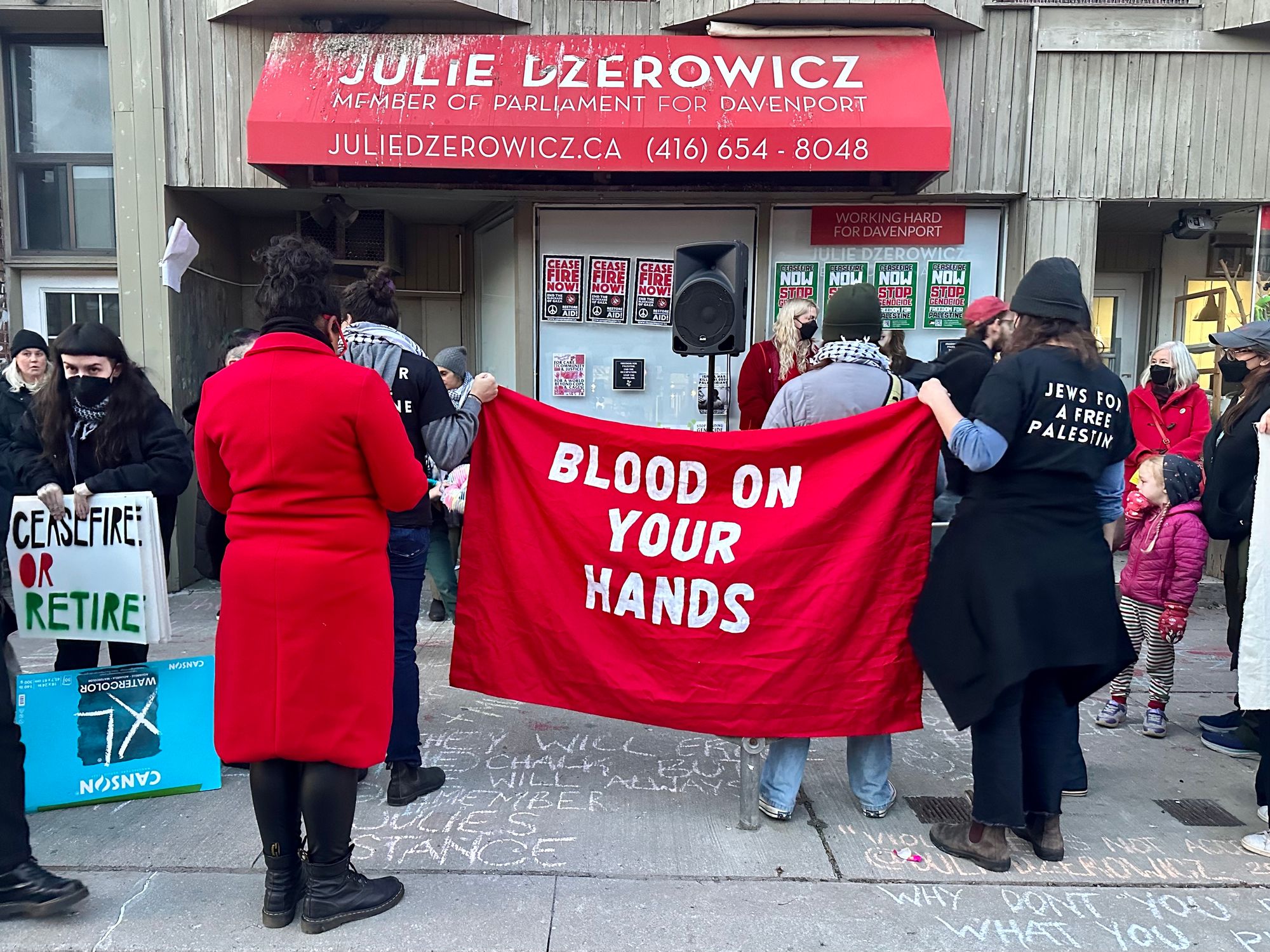 Small joined the protest with her two young children. "My two children are here today, and I forced myself to face the fact that thousands of children are being killed before our eyes in Gaza right now," she explained.
The Israeli military has killed one child every 10 minutes in Palestine since October 7, when Hamas led a deadly surprise attack on Israel and took more than 200 people hostage.
"I refuse to turn away as a resident of this neighbourhood when my MP is refusing to do what is right, and refusing to turn away, as a parent of two young kids," Small said in her speech.
"I see what the children of Gaza are suffering through, and I also am refusing to turn away as a Jew when I am being told that what is happening, what Israel is doing, is in my name."
Daniel Froidevaux, a Davenport resident, participated in the rally and said, "innocent civilians deserve to be protected."
"Canada on numerous occasions at the UN has voted against resolutions, protecting Palestine from settlements, or asking for a ceasefire, despite the majority of countries in the world supporting these measures and basically Canada has been operating against statutes of international law that are clear," he explained. "There's no moral ambiguity here."
The United Nations General Assembly overwhelmingly voted on October 27 for a "humanitarian truce" in the Gaza Strip. While 120 countries voted in favour of the resolution, 14 countries, including the U.S., voted against it, and 45 others, including Canada, abstained.
Froidevaux said that he wants the Canadian government to call for a ceasefire and to "end all supporting Israel in terms of arms and to think about other economic actions that it can take to distance itself from Israel."
Nur Dogan is a Turkish-Canadian freelance journalist and photojournalist who covers stories for New Canadian Media.
Get all the latest posts delivered straight to your inbox.
Processing your application
Please check your inbox and click the link to confirm your subscription.
There was an error sending the email