If the goal of Calgary Police Service's (CPS) arrest of Justice For Palestinians (JFP) organizer Wesam Khaled earlier this month was to slow the momentum of Palestine solidarity demonstrations in the city, then it failed.
On Sunday, an estimated minimum of 3,000 Calgarians joined massive protests across Canada and the rest of the world in calling for an immediate end to Israel's assault on Gaza, which since October 7 has killed more than 11,000 people, according to Gaza's health ministry, including at least 4,506 children. On Monday, Israel's siege forced two hospitals in Gaza to cease operations, and 12 patients, including premature babies, have so far died as a result of power outages. Dozens more are at risk of dying.
Leading experts have described Israel's ongoing war on Gaza as a "textbook" or at least a "potential" case of genocide against Palestinians.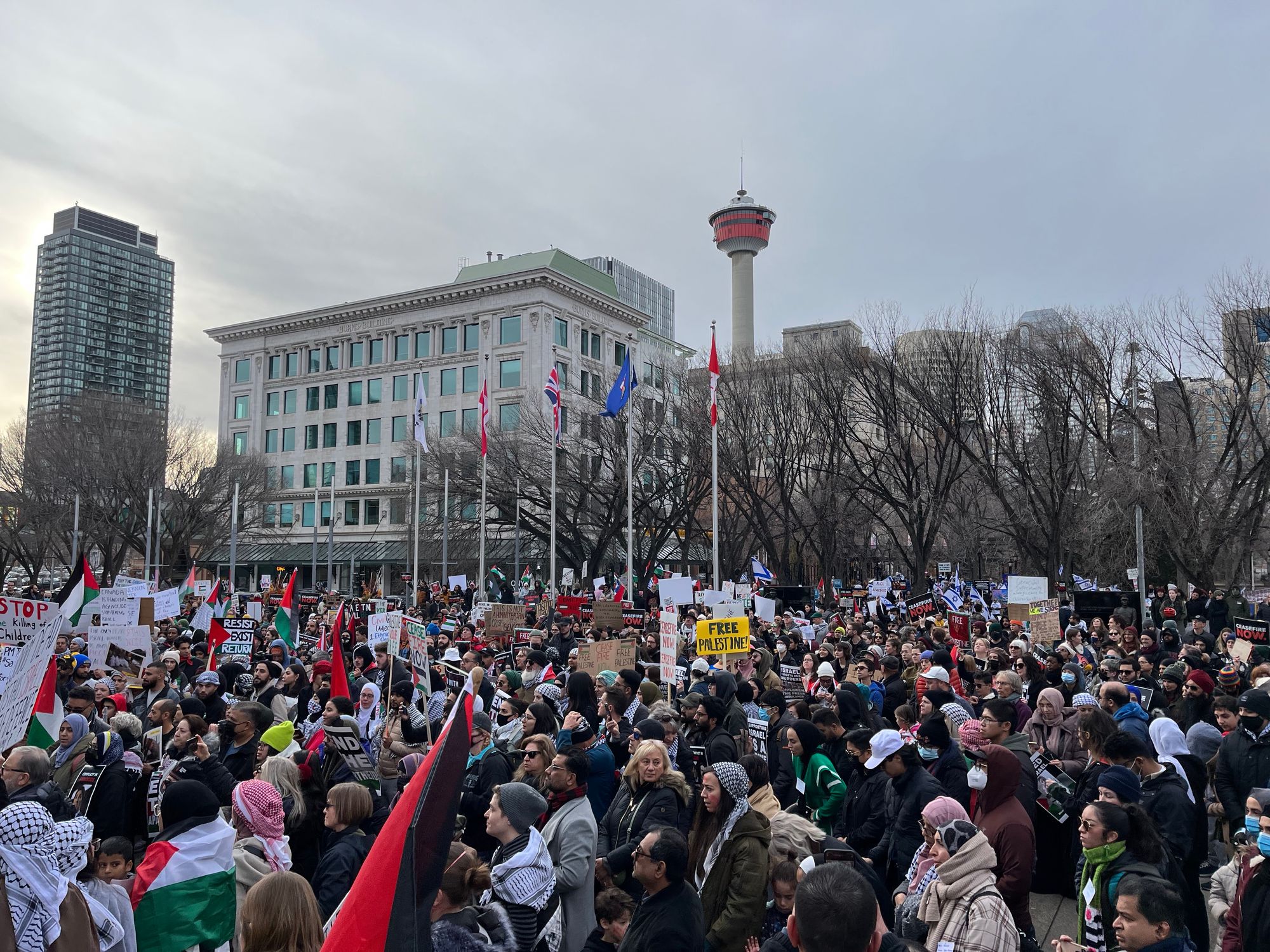 In addition to condemning Israel's attacks, organizers, speakers and other attendees at Sunday's rally at the plaza of Calgary City Hall shouted and held signs bearing the slogan "from the river to the sea, Palestine will be free."
The slogan is a decades-old staple at Palestine solidarity rallies that activists say calls for liberation and justice for all inhabitants in Palestine. According to JFP organizers, Khaled was arrested on his way home from a November 5 rally in Calgary for leading a chant of that slogan through a speaker system.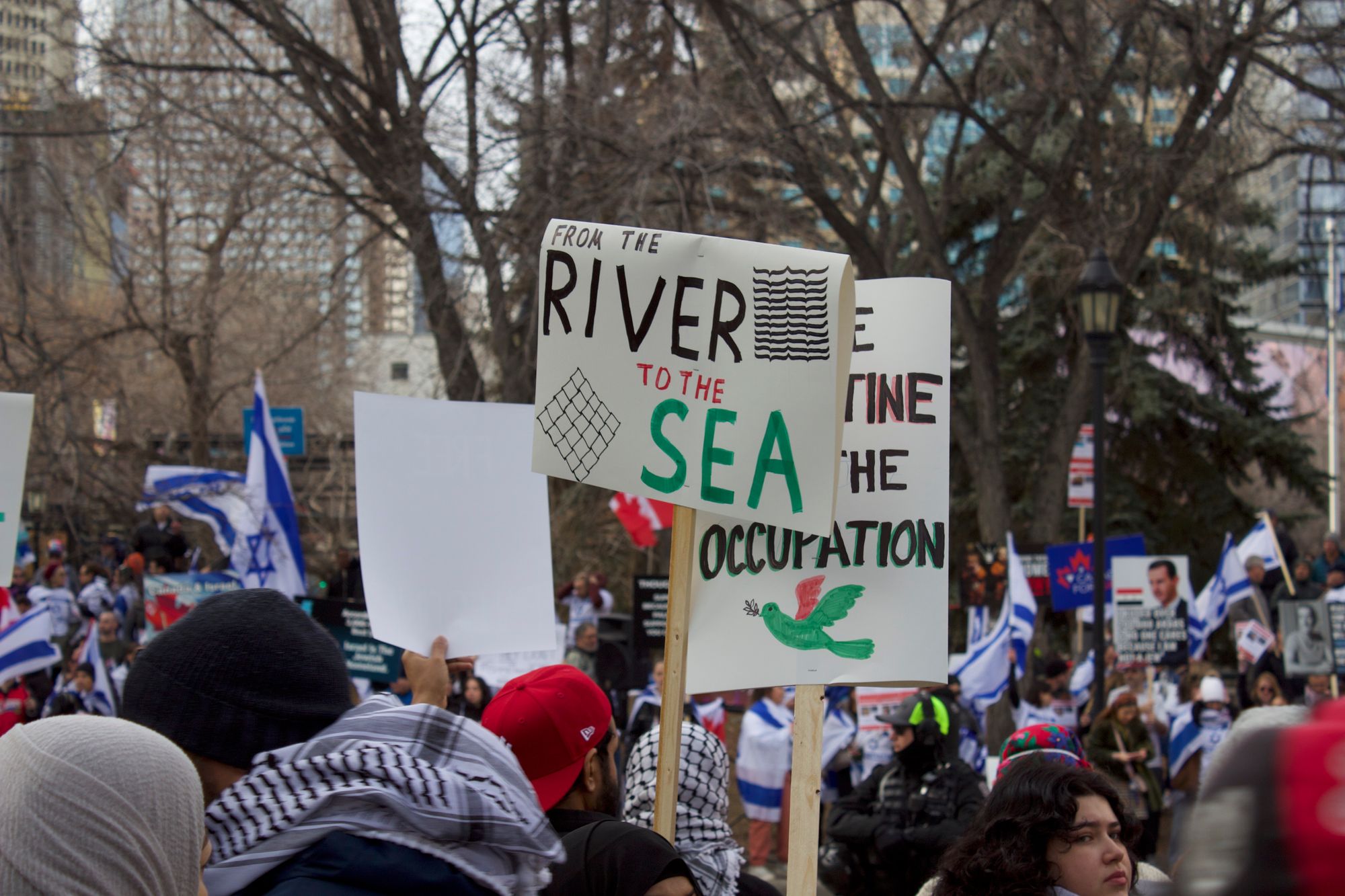 Police then charged Khaled with "hate speech," in addition to the original charge of "causing a disturbance." Supporters of Israel claim that the chant is antisemitic and calls for the expulsion of Jewish people from Palestine, an argument that has been refuted by experts and activists alike.
Additionally, JFP co-organizers said that before the November 5 rally began, CPS officers had assured Khaled and other organizers that chanting the slogan would not result in charges that day. CPS told CBC News that "the behaviour that led to charges was considered in the context of the specific situation."
Before Khaled's arrest, Calgary Mayor Jyoti Gondek had said in a statement that "our existing legislation does not recognize or address the inherently violent nature of the offensive language and symbolism we are hearing and seeing on our city streets," and called for stronger hate speech laws.
Chanting "from the river to the sea" has recently been banned by some Western governments.
Nimer Sultany, a lecturer in law at the School of Oriental and African Studies (SOAS) in London, told Al Jazeera earlier this month that the controversy surrounding the slogan "has been fabricated to prevent solidarity in the West with the Palestinians."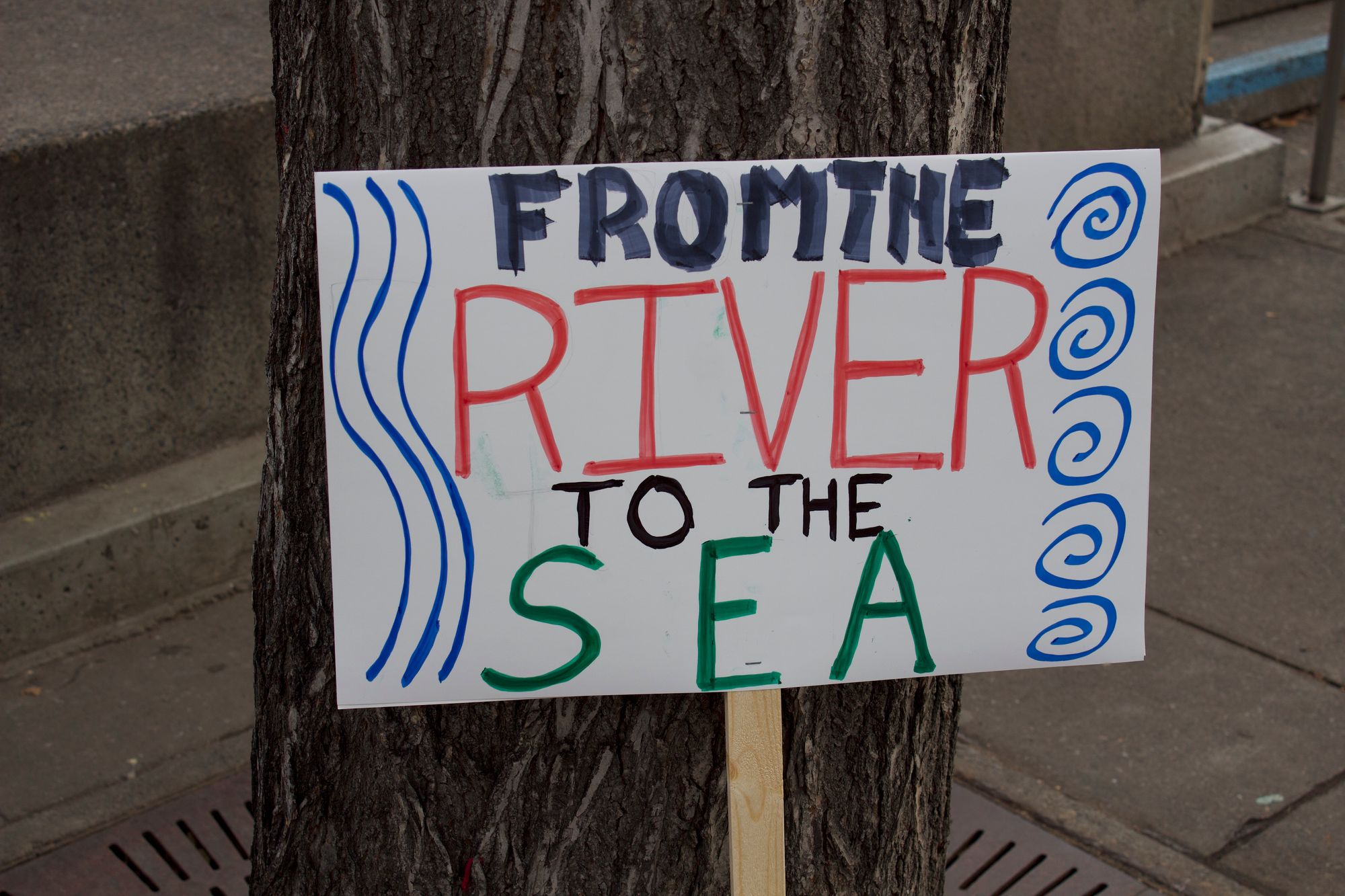 Richard Moon, a professor in the faculty of law at the University of Windsor, told CBC News last week that he does not believe the slogan meets the legal threshold of hate speech.
Speeches Call Out Arrest, Israel's Atrocities
Addressing the rally, community organizer Saima Jamal called CPS' arrest of Khaled a "sham."
"We want all charges dropped," she said. "We will not accept this. We will not accept our rights getting taken away from us."
Khaled's mother, Mona, also spoke, saying that CPS officers waited until Khaled was separated from other pro-Palestinian activists before arresting him. She accused the police of engaging in intimidation.
"They stopped him for now, but every one of you will take that role on," Mona told the crowd. "He was arrested for nothing but a call for freedom. For the Palestinians, it's nothing but a call to be able to be living with our Jewish friends and cousins in Palestine."
Between 1947 and 1949, 750,000 Palestinians were ethnically cleansed from their homes by Zionist forces to make way for the foundation of the state of Israel. The event is referred to in Arabic as the Nakba, or "catastrophe." Many inhabitants of Gaza today are refugees from the Nakba.
Mona then turned her attention to the Canadian government's support for Israel.
"I am calling on the prime minister to stop helping and abetting that rabid dog called [Israeli Prime Minister Benjamin] Netanyahu," she said.
Jamal also introduced Mansoor Shuman, who spoke to the rally directly from Gaza via phone. Shuman explained that he was born in Jerusalem, has Canadian citizenship and has lived in Gaza for the past two years with his wife and five children.
"Despite all the challenges that people are going through, we want the whole world to know, including Canadian citizens, that Palestinians will not bow down to anyone except God," he said. "We want to thank you. Everyone here sees your demonstrations, sees how you are boycotting Zionist products […] We want to thank you from the bottom of our hearts."
"It is not just about Palestine," Shuman continued. "Gaza is about a message, a lesson to the world's hypocrisy."
Mount Royal University sociologist Muhannad Ayyash, a Palestinian originally from Jerusalem, encouraged attendees to contact their political representatives, and to withdraw support from politicians and parties that have refused to push for an end to Israel's assault.
"Have you ever volunteered for one of those politicians? Tell them no more volunteers for you," said Ayyash. "Tell them it's over, you're not getting another dime from me. Tell them you're not getting another vote from me; I'm going to throw you out of office. You're going to have to suffer consequences for allowing genocide to happen."
"We have to withdraw our votes from these politicians, otherwise they will not learn."
Ayyash also told attendees to make a commitment to the Palestinian children killed by Israel to never forget them and to fight what he described as Israel's impunity on the international stage.
"Engage in a boycott of all Israeli companies [...] boycott companies that support Israeli genocide," he said. "Ask your governments for sanctions against Israel. We have economic leverage that you can use, that you can push your government to use."
"And when they ask you to forget about this, refuse that."
Wendy Walker, an Indigenous artist and activist, also spoke, condemning Israel's killing of Palestinian civilians and emphasizing Indigenous solidarity with the Palestinian liberation movement.
"I pray for all of us as I pray for the people in Palestine in my morning smudge and my morning prayers," she said.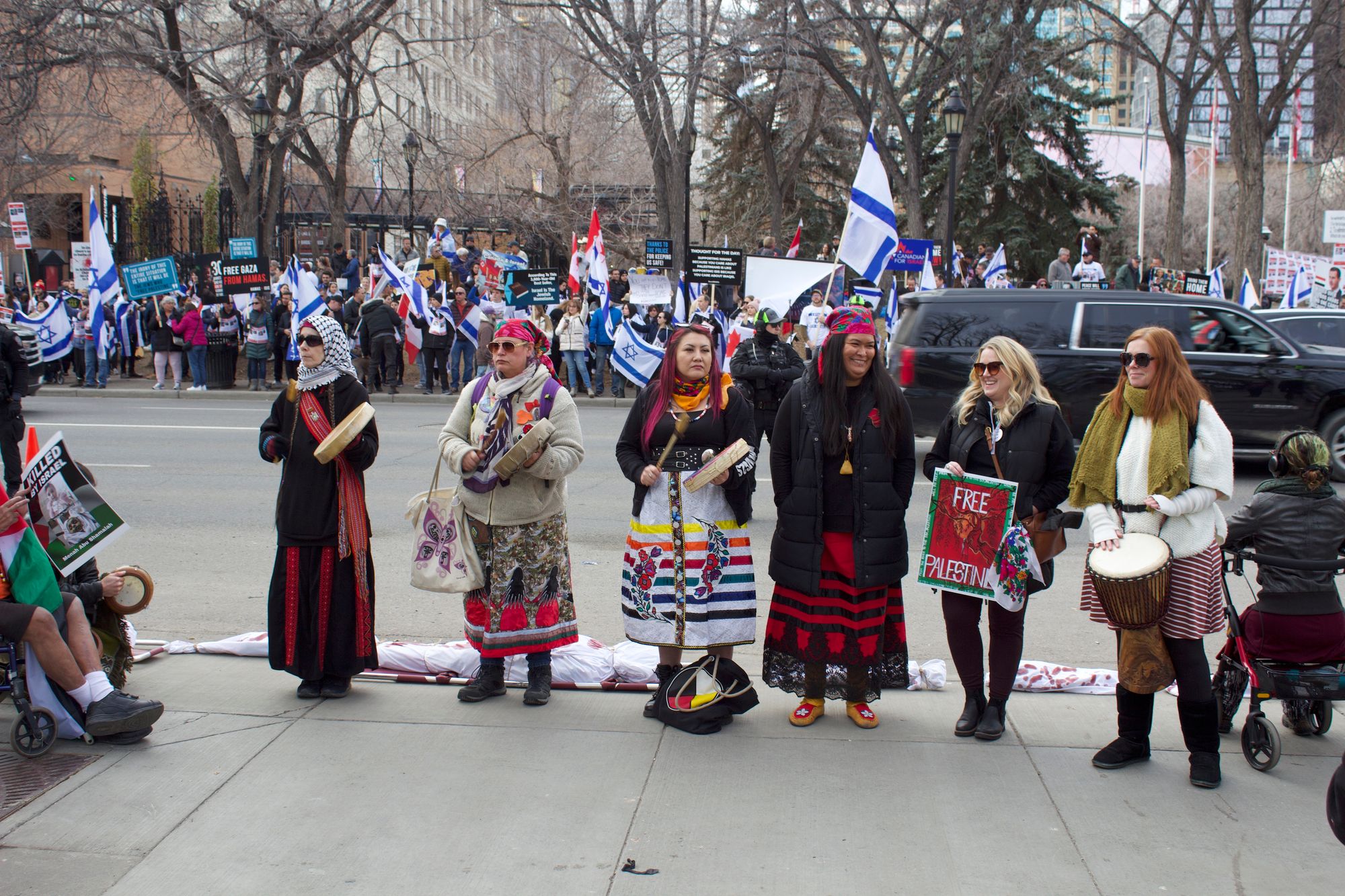 Several Jewish activists also addressed the pro-Palestine rally. One, Ronnie, reiterated calls for an immediate ceasefire.
"I'm trying not to cry here because we all feel in our hearts what's been happening to the children in Gaza, the children of Palestine," she said. "All of our children are precious. All of our children deserve love and safety."
"We say: Not in our name. We cannot allow this genocide to continue." She also criticized Israel's clampdown on Israeli citizens expressing solidarity with Palestine, calling out the country's "fascist system that does not allow any dissent."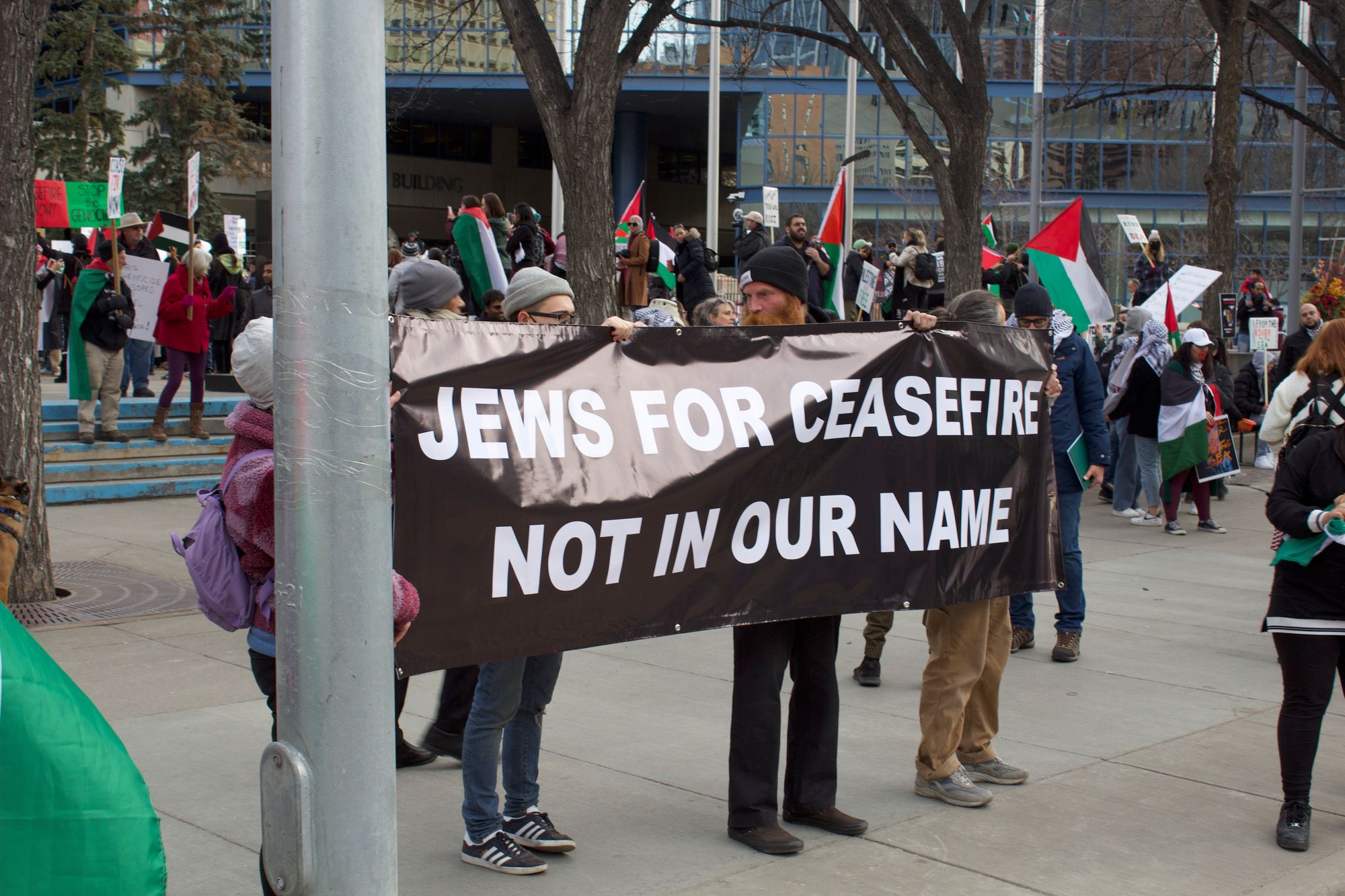 Smaller Pro-Israel Crowd Also Present
A much smaller group of pro-Israel demonstrators stood opposite City Hall on the west side of Calgary's McLeod Trail. The pro-Israel group's numbers dwindled significantly to a dozen or so demonstrators as the afternoon wore on.
The mood on the pro-Israel side was festive, as demonstrators played pop music through loudspeakers, sang, danced and waved Israeli flags. The pro-Israel demonstrators also displayed missing person posters for the approximately 240 people taken hostage by Hamas when it launched a deadly attack on Israel on October 7.
The Guardian recently reported that Netanyahu rejected a proposed deal for a five-day ceasefire with Palestinian resistance groups in Gaza in return for the release of some of the hostages.
The pro-Israel crowd was closely protected by police, as a line of mounted officers stood facing the pro-Palestinian side.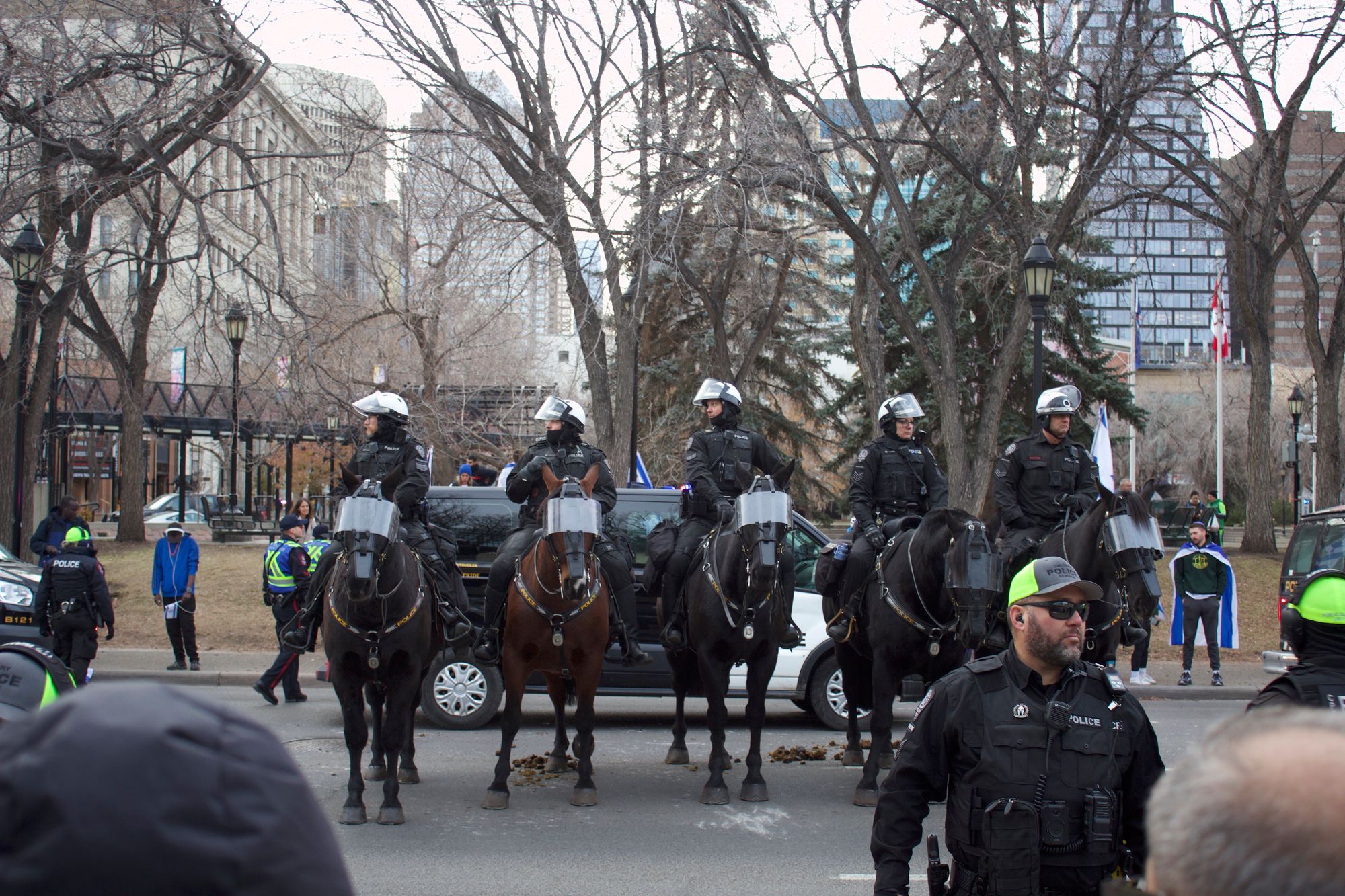 By around 4 p.m., all officers on scene were facing a group of pro-Palestinian protesters who continued to wave flags and chant pro-Palestinian slogans in the direction of the pro-Israel side while other attendees began a planned march through the city's downtown core.
At one point, a police officer used a bicycle to shove pro-Palestinian demonstrators onto the sidewalk, sparking a brief altercation and demands for an explanation for the officer's aggressive behaviour from the demonstrators. (As I walked out onto the street to document the altercation, an officer grabbed me by my backpack and pushed me towards the sidewalk).
A man who was pushed was then threatened with arrest, before the situation calmed down.
Another demonstrator asked an officer why the police were facing the pro-Palestinian side with their backs turned to the remaining handful of pro-Israel demonstrators.
In a statement published Sunday evening, CPS said: "No arrests were made at the event. Specific incidents are being reviewed to determine if charges are warranted." It is not clear what "incidents" they were referring to, or if the incidents concerned the "from the river to the sea" chant or the incident with the protester being pushed with a police bike.
In a statement, JFP said: "By all accounts our rally was an overwhelming success. We were so many that we filled the plaza, the sidewalk and were spilling out to the street and had to be held back."
"We heard from attendees, that they felt empowered and energized by the massive support they received from all the organizers, speakers, our Indigenous sisters who came to sing, drum, and stand in the gap between us and the hate-hardened and often vicious Zionists who danced while thousands of Palestinian children, women, old men, young men are being massacred by the terror state."
Alex Cosh is the news editor of The Maple.
Get all the latest posts delivered straight to your inbox.
Processing your application
Please check your inbox and click the link to confirm your subscription.
There was an error sending the email