Canada Indefinitely Extends NATO Mission in Latvia
Peace advocates have warned that Canada's support for expanding NATO and ongoing military operations have only worsened tensions with Russia.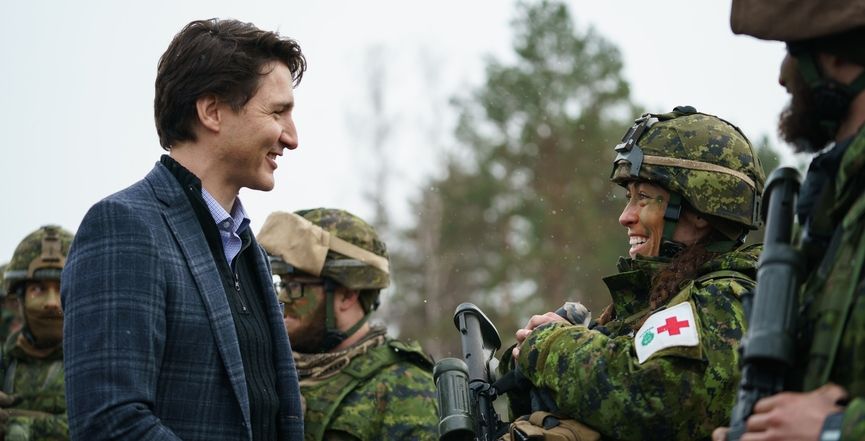 Prime Minister Justin Trudeau announced Tuesday that Canada will indefinitely extend its NATO mission in Latvia, a country that borders Russia, while critics warn that Canadian military operations have only worsened tensions in Eastern Europe.
The mission had been due to expire next year, but has been renewed following Russia's invasion of Ukraine. General Wayne Eyre, Canada's chief of defence staff, told the Toronto Star that Canadian soldiers "see renewed purpose and why they're here," citing fears of "Russian expansionism."
There are currently 540 Canadian soldiers stationed in Latvia as part of a "NATO enhanced Forward Presence Battle Group." Trudeau announced last month that another 460 troops will be deployed in Europe. The forces in Latvia will be increased by 120 troops, according to the Star.
The Canadian presence in Latvia is part of a mission called Operation REASSURANCE, which has the stated goal of strengthening "NATO's collective defence" and showing the "strength of Allied solidarity" in Eastern and Central Europe.
According to the Ministry of National Defence, "during this operation, the CAF is conducting training, exercises, and some NATO-specific tasks." In addition, 135 Canadian Air Force members and five CF-188 Hornet war planes based in Romania have participated in "NATO enhanced Air Policing" near Russia's borders in the Black Sea.
The mission began in April 2014, two months after a Western-backed and far-right led uprising in Ukraine overthrew the country's elected pro-Russian (and widely seen as corrupt) government, and in response to Russian President Vladimir Putin's subsequent annexation of Crimea. Since that time, fighting has occurred in Ukraine's eastern Donbas region between government forces and Russian separatists.
Last week, Canada announced plans to supply Ukraine with up to 4,500 M72 rocket launchers and up to 7,500 hand grenades to counter Putin's invasion.
Ukraine is not currently a member of NATO, a Western military alliance formed during the Cold War that Russia has long viewed as a security threat.
With Canada's support, however, NATO has expanded across Eastern Europe towards Russia's borders over the past three decades. Latvia joined NATO in 2004, along with six other Eastern and Central European states.
Canada has previously expressed support for Ukraine joining the alliance, despite strong opposition from Russia.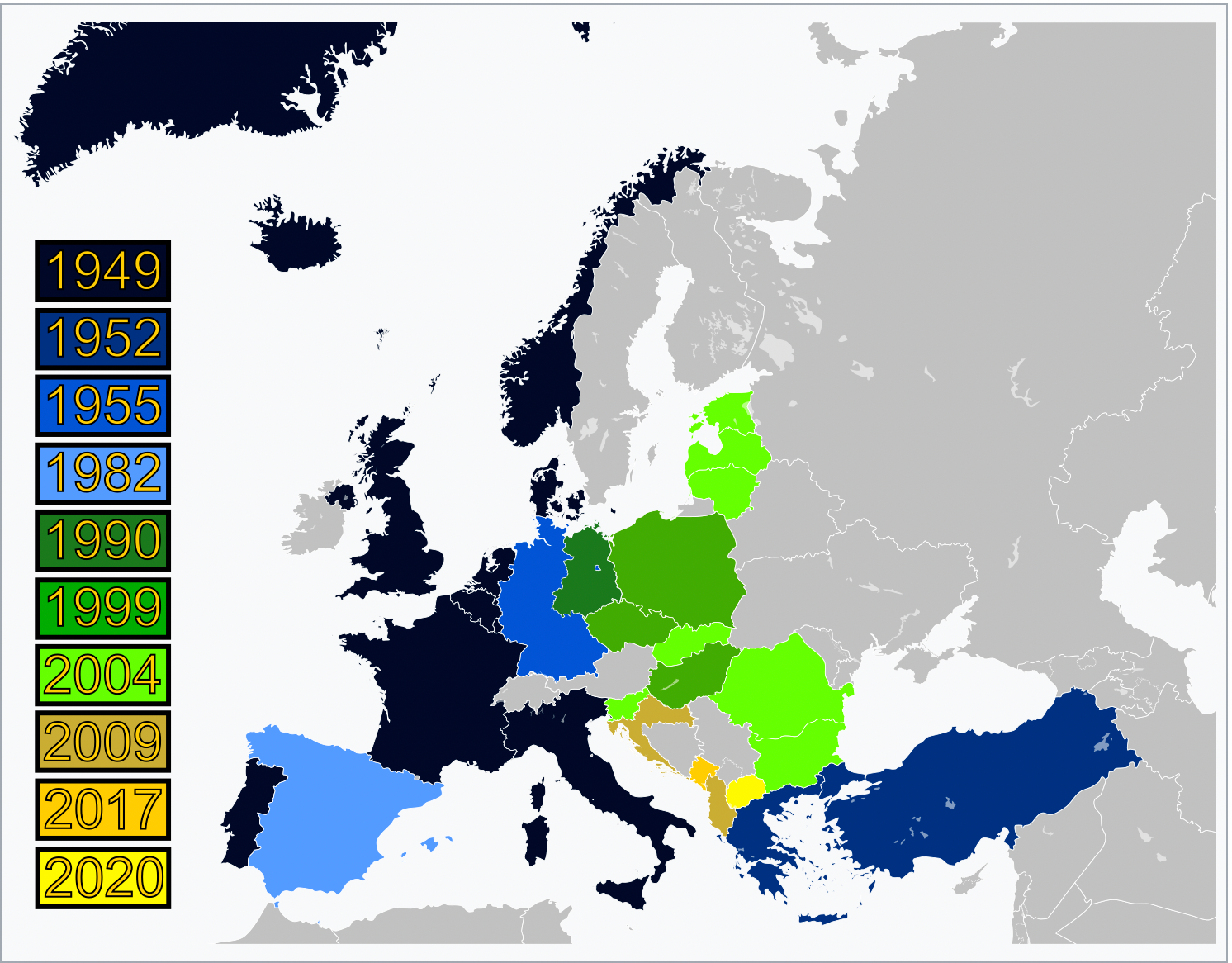 Since 2015, between 200 and 400 Canadian soldiers have been present in Ukraine as part of Operation UNIFIER, a mission with the stated purpose of assisting "security force training." The Canadian personnel were "temporarily" relocated to Poland, a NATO member, following Russia's invasion of Ukraine.
In January, Canada announced it was expanding and extending the operation until 2025.
As well, the Star noted in its Tuesday report, "Trudeau has dropped hints his government could spend more money on the Canadian military in an upcoming budget."
Critics Warn NATO Expansion has Fuelled Tensions
Peace advocates and others have warned that Canada's support for expanding NATO and its ongoing military operations in the region have only worsened tensions with Russia.
In a webinar hosted by the Canadian Foreign Policy Institute (CFPI) last weekend before Trudeau's Tuesday announcement, CFPI director Bianca Mugyenyi said: "Russia's invasion of Ukraine must be condemned as a flagrant violation of international law that has already caused significant death and suffering."
At the same time, she added, "we must also consider our own government's role in this calamitous situation, and a driving factor that has really driven regional tensions is NATO expansion across Eastern Europe."
"As we speak, there are 600 Canadian troops leading a semi-permanent NATO mission in Latvia, right on Russia's doorstep," Mugyenyi noted.
Mugyenyi said that instead of sending more weapons to Ukraine, "Ottawa should push to negotiate a way out of the conflict, otherwise more Ukrainians are likely to die, and the possibility of cataclysmic nuclear war will grow."
Yurii Sheliazhenko, a board member of the peace advocacy group World Beyond War based in the Ukrainian capital of Kyiv, told webinar attendees that every day since Putin launched his invasion, Kyiv has been rocked by the sounds of sirens and exploding rockets.
"In the first sleepless night I heard two explosions," Sheliazhenko explained.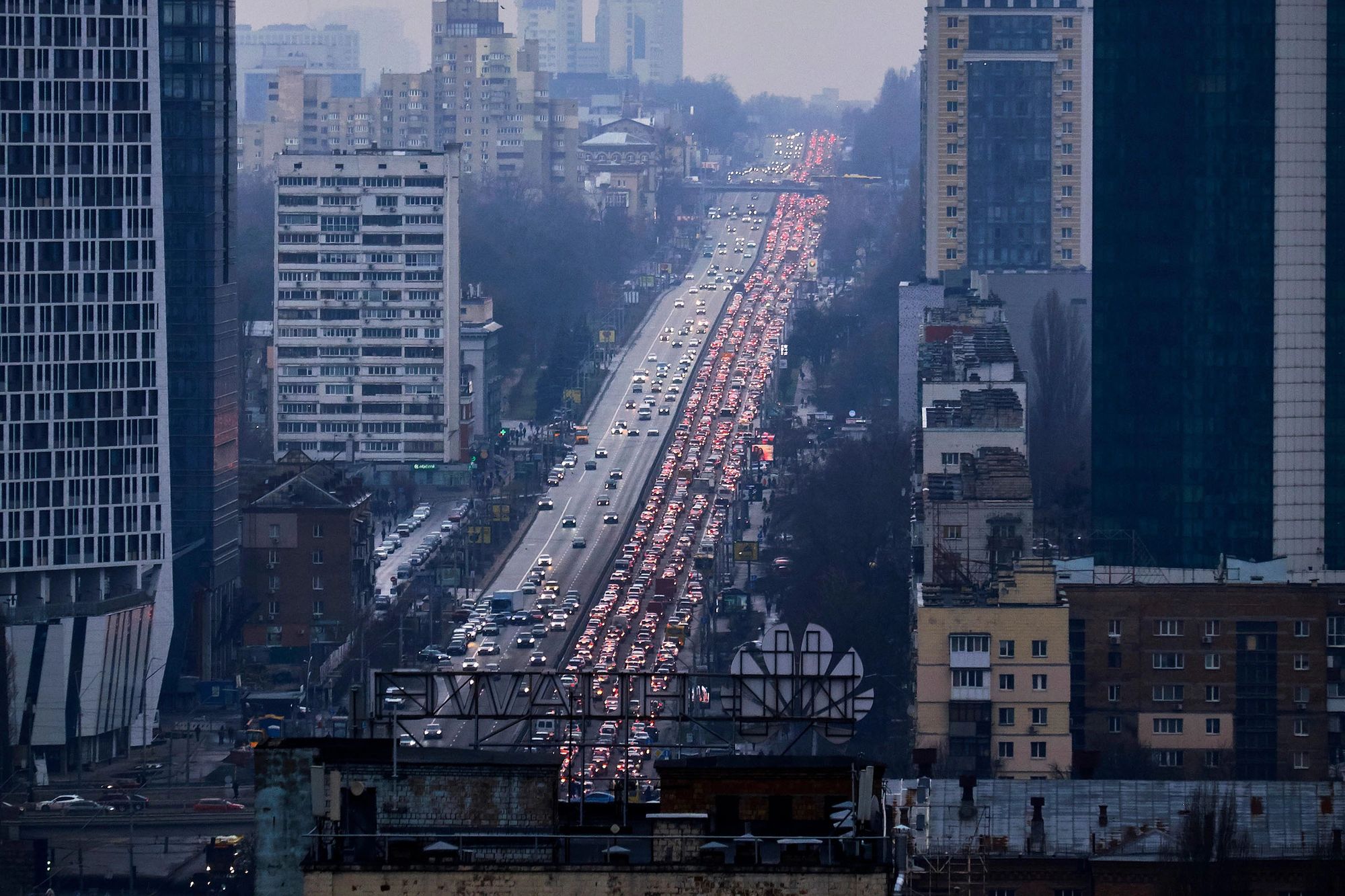 According to the United Nations, Putin's invasion has so far killed 406 Ukrainian civilians and resulted in 801 injuries. The International Criminal Court is currently investigating allegations of war crimes and crimes against humanity committed within Ukraine's borders.
Putin sought to justify his invasion by claiming Russia would "denazify" Ukraine. International observers have dismissed Putin's stated goal as false, noting that Ukraine's president is Jewish, while also acknowledging that the country has a significant "well armed" and "well trained" far-right presence, including within its military and security apparatus.
On Tuesday, a Belarusian dissident media outlet called NEXTA shared photos of soldiers in Ukraine's Azov Battalion, a neo-Nazi military unit that was officially incorporated into the Ukrainian National Guard in 2014, receiving grenade launchers reportedly supplied by NATO.
Last month, the Ukrainian National Guard's official Twitter account shared a video of an Azov soldier greasing bullets in pork fat to be fired at Muslim Chechen-Russian soldiers, whom the national guard called "orcs." The tweet was flagged for violating Twitter's hateful conduct rules.
Meanwhile, NATO deleted a tweet from its official account Tuesday that included a photograph of a Ukrainian soldier wearing a Black Sun patch, an image associated with neo-Nazi movements worldwide.
In 2018, Canadian officials met with and were briefed by leaders of Azov Battalion despite being warned about the group's far-right ideology, the Ottawa Citizen reported last November.
Sheliazhenko told the webinar that he himself is named in a far-right database as a "traitor to Ukraine," and that one of his associates was physically assaulted by neo-Nazis for taking anti-war positions.
"But I am sure that the Ukrainian police should deal with the Ukrainian Nazis, and it is not Putin's business," Sheliazhenko explained. "Police did nothing, but it is not an excuse for Putin's invasion of Ukraine."
He added, "Putin should go away from Ukraine with his army and resolve future political, cultural and historical disputes with our president and our people at the negotiation table."
However, Sheliazhenko said that "war mongers" are not interested in negotiations, noting that Western weapons manufacturers have enjoyed rising stock prices since Putin launched his attack.
"NATO [has] refused to engage in direct confrontation with Russia, but NATO countries are continuing to support [the Ukrainian President Volodymyr] Zelinsky regime both militarily and in [the] propaganda war, discouraging [the] Ukrainian government from seeking peaceful settlement, also pushing out Russia from international institutions [and as a result] encouraging Russia to persist in armed aggression," Sheliazhenko explained.
He added, "diplomacy is failing because [the] current conflict is a result of worldwide over-investing in war and under-investing in diplomacy."
Sheliazhenko said Operation UNIFIER and other forms of Canadian military aid, as well as Canada's disregard for the historical context of the war, have contributed to escalating the conflict.
"Ukraine became a battlefield of a new Cold War between the United States and Russia; two great powers are competing for control over Ukraine," he said, adding that far-right "militant nationalism" on both the Ukrainian and Russian sides have been weaponized by imperial powers to destroy peace in the region.
Sheliazhenko concluded: "Instead of breaking the last bolts of humanity out of rage, instead of giving up diplomacy, we need more than ever to preserve and strengthen venues of communication and cooperation between all people on earth."
This post is for paying subscribers only