Carbon Capture Barely Reducing Emissions Despite Billions in Subsidies: Report
"Carbon capture only serves to prolong our dependence on fossil fuels … It's a greenwashing strategy being used by the oil and gas sector to delay the energy transition."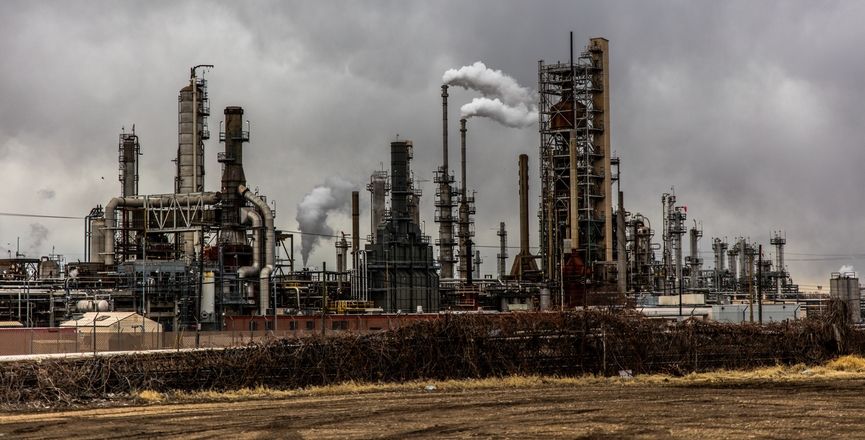 By Taylor C. Noakes
A study published last week by the non-profit group Environmental Defence (ED) finds that Canada's heavily subsidized carbon capture, utilization and storage (CCUS) projects are sequestering just 0.05 per cent of this country's greenhouse gas emissions.
The study, titled "Buyer Beware: Fossil Fuel Subsidies and Carbon Capture Fairy Tales in Canada," suggests carbon capture efforts have woefully underperformed, despite both the federal government and fossil fuel industry claiming the technology is an important tool in the fight against climate change.
ED estimates only 3.55 megatons of carbon is being captured per year, most of which is used to enhance oil production. For comparison, the report notes, emissions from Canada's oil and gas industry were 191 megatons of carbon dioxide equivalent in 2019.
Since 2000, CCUS projects have received $5.8 billion in subsidies from the federal government, as well as the governments of Alberta and Saskatchewan.
In addition to this, ED reports that in 2021 the Trudeau government handed the fossil-fuel sector a total of $8.6 billion in public subsidies.
Although this amount is less than half the 2020 sum, which was estimated at $18 billion, the 2021 figure is nonetheless "a substantial use of taxpayer money that went towards making it cheaper to find, extract, process, transport and export fossil fuels," the report notes.
The continued use of public money to subsidize the oil and gas sector remains at odds with the Liberal government's stated climate goals, which were re-asserted as part of a confidence and supply agreement with the NDP announced on March 23.
Among other pledges, the Trudeau government committed in the agreement to make "significant emissions reductions" by 2030 and to achieve a net-zero emissions goal by 2050. The agreement also promised to "phase-out public financing of the fossil fuel sector" with "early moves" promised for this year.
As CBC reported last week, meeting the 2030 climate goal requires that Canada's oil patch — the single largest source of emissions in Canada — slash production by 40 per cent over the next eight years.
The federal government's Emissions Reduction Plan is short on details as to how this might be accomplished, CBC noted. ED pointed out that between 2018 and 2020, the Trudeau government provided 14 times more funding to the fossil fuel sector than it did financing renewables.
"The level of ambition reflected in this plan continues to fall short," said Julia Levin, ED's senior climate and energy program manager, in a statement.
"Most importantly, this plan allows for oil and gas production to rise, when avoiding catastrophic climate change requires winding down production of oil and gas over the next decade."
Critics have already pointed out that Trudeau's plan includes no new regulations that would help achieve its significant emissions reduction target on such a short timeline.

The government announced last week it plans to roll out a substantial investment tax credit for carbon capture, utilization and storage technology, although no concrete details were revealed.
Aside from this incentive, it appears Trudeau is hoping the fossil-fuel sector will reinvest new profits into CCUS technology and other methods of emissions reduction of their own accord.
The federal government's Emissions Reduction Plan states:
"Canada's oil and gas industry is currently generating record cash flow. If deployed strategically, these funds could enhance carbon competiveness (sic) and enable the sector to do its fair share in contributing to the country's climate goals."
ED is one of several prominent organizations, including Greenpeace, challenging CCUS' effectiveness as a tool in the fight against climate change.
ED's analysis indicates that 70 per cent of the carbon captured in Canada is used for "enhanced oil recovery," which in turn increases oil production. In other words, carbon is being captured to recover more oil which then leads to more emissions.
"The government's plan relies heavily on carbon capture, ignoring advice from expert scientists who warn against reliance on the unproven technology," said Levin.
"Carbon capture only serves to prolong our dependence on fossil fuels … It's a greenwashing strategy being used by the oil and gas sector to delay the energy transition. It's not a climate solution."
ED's report adds that during Trudeau's first term as prime minister, his government provided $100 billion to the fossil fuel sector, raising the government's subsidies by 40 per cent and constituting the second-largest increase among G20 countries.
Between 2018 and 2020, Canada provided more public financing to oil and gas companies than any other G20 country.
The ED report also indicates that it would cost approximately $8 billion per year until 2050 to bring solar and wind energy production up to the levels required to fully decarbonize electricity generation in Canada, a necessary step to meet the Trudeau government's emissions reduction goals.
However, in 2021 the government committed less than $1 billion over four years for renewable energy and grid modernization projects.
The report also examined the consequences of generous exemptions on carbon pricing permitted under Canada's current scheme — one that has essentially allowed the entire oil and gas sector off the hook for their emissions, with between 80 and 90 per cent of their emissions considered exempt.
Had Suncor, the Canadian oil and gas industry's largest emitter, paid what ordinary Canadians are expected to pay for carbon in 2020, the company would have contributed $830 million.
ED's analysis concluded that Suncor paid just $59 million, meaning taxpayers provided the company with a $771 million public subsidy.
Taylor C. Noakes is an independent journalist and public historian from Montreal.