When I asked Drew Garvie, leader of the Communist Party of Ontario and candidate in Beaches-East York, how his campaign was going, he didn't reply by talking about his campaign.
Concerned with the bigger picture, Garvie replied with an exasperation that is shared by many thousands of Ontario voters: That after a poorly handled pandemic and an economic crisis that has plunged affordability into depths not seen in decades, somehow Doug Ford is poised to win a second mandate.
"For the working class in Ontario, it's not going so well, judging by the polls," said Garvie. "I think a lot of progressive people are looking at the polls and wondering what to do."
Garvie, who first ran for the Communists in 2007, is a veteran campaigner and organizer. He knows that the Communist Party's 12 candidates are not in the running to win anywhere in the province.
But for him, winning seats isn't the point. "There's a lot of appetite to talk about bigger alternatives out there because an immediate electoral defeat of Doug Ford is looking less possible," said Garvie.
The Communists may be very small but have been a steady part of Ontario politics for 80 years. The Ontario wing of the party was founded in 1940, around 20 years after its federal counterpart.
Because the party was banned for several decades, it ran candidates under the banner of the Labor-Progressive Party. They have had three MPPs: two in downtown Toronto and one in Essex. After J.B. Salsberg lost his seat in 1955, the party has not had a candidate elected since.
Juanita Burnett is running for the Communist Party in Guelph. That's a notable riding for two reasons: It's currently represented by Green Party leader and sole Green MPP Mike Schreiner, and it's where Garvie ran in several previous federal and provincial elections, carving out an active and committed Communist community there.
Burnett said that the issue she hears most from people is the growing affordability crisis: Both in housing and in other parts of everyday life. She's thrilled to hear people mention the need for affordable childcare, which isn't something she heard in elections past.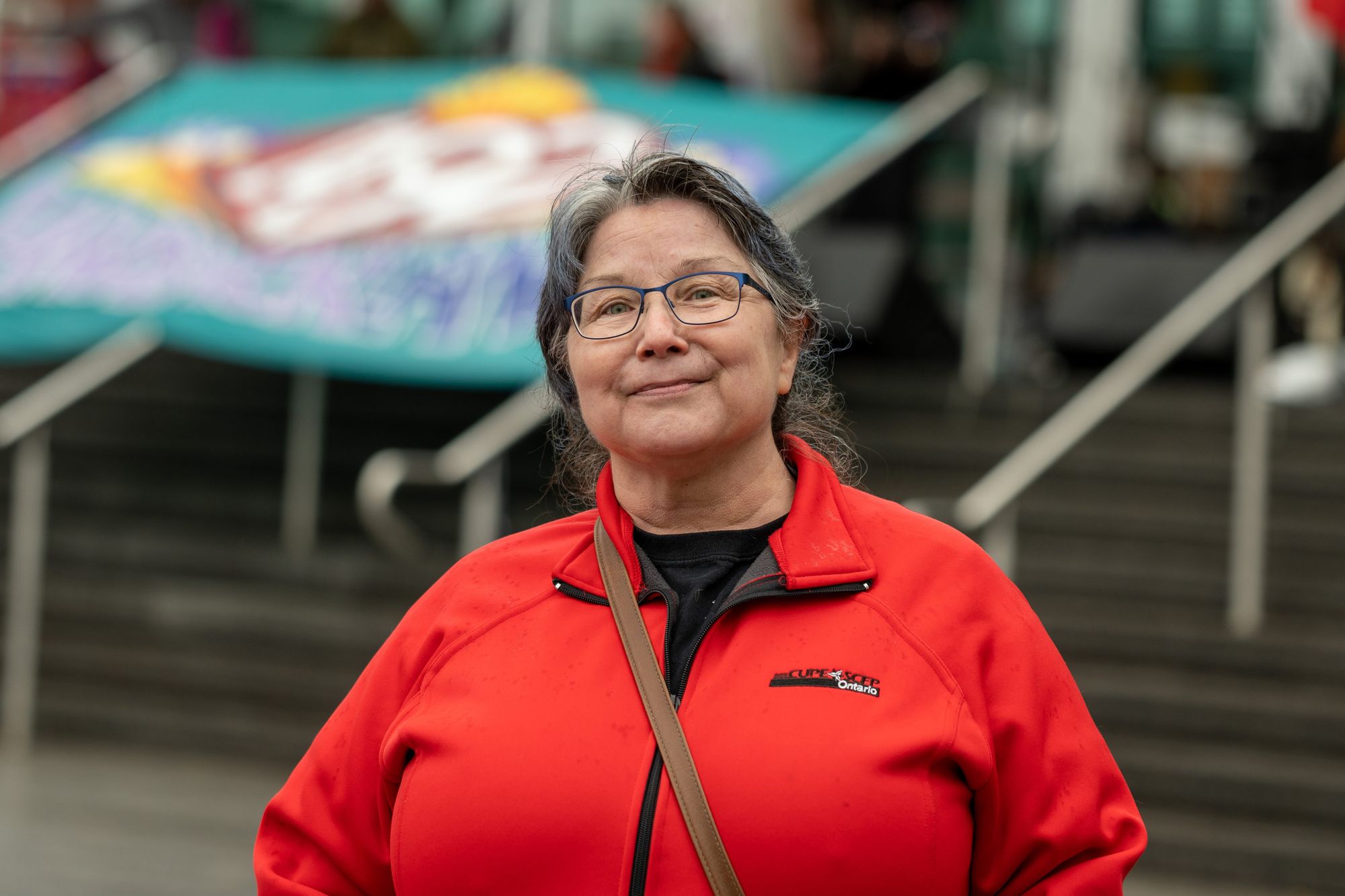 Like Garvie, she has run several times both provincially and federally for the party. For her, the loss of members of her community has been the most difficult thing that she's confronted during this election.
Burnett has seen young people who she watched grow up in her social housing community pass away much too soon.
Overdoses are a particular concern. Over a two-week period at the end of March, Guelph saw two deaths and 31 poisonings related to toxic drug supply. Burnett sees the Communist Party as a vehicle through which to recreate community.
She pointed to the party's promise for a $23 per hour minimum wage and a 32 hour work-week with no loss of wages as policies that can help people take sufficient time off to build and participate in their communities.
After the past two years, it's perhaps not too surprising that people are seeking out the Communist Party more than in the past several decades, likely moved by the same desire that Burnett has to build community.
Garvie explained that membership growth in the Communist Party ebbs and flows in parallel with moments of struggle. He pointed to the 1970s when there was an influx of membership thanks to a rise in social movement organizing.
Now, the party has seen a significant increase in its membership, including people who are in their 30s and 40s – an age group that party organizers don't often see rushing to join.
However, this has also proven to be an issue in finding candidates to run in the election, as this younger age group tends to have too many responsibilities with work and family to be able to dedicate their time to running for office, Garvie said. Plus, "being a candidate isn't a great career advancement," he joked.
Garvie chalked up the membership growth to myriad political factors: A worsening economic situation and the climate emergency. "People are looking for more radical solutions," he said.
The Communists are the only party in this election calling for widespread public ownership: New pharmaceutical and electric-vehicle manufacturing, and public infrastructure projects that they want to keep in public hands.
They also call for rent reductions and massive new projects, like expanding GO Transit to the rest of Ontario to replace the Greyhound service that shut down operations last year.
While these ideas might seem too big for some, it's worth remembering that the party was a driving force behind now-mainstream public policy ideas like Employment Insurance and public health care.
But with so few candidates running – just 12 – the party has to find other ways to influence politics in the province. A difficult task, considering how anti-communist sentiment routinely keeps them out of mainstream news publications.
But Garvie has noticed that there's more openness towards communist policies among the general public these days.
"With the rise of the ultra right, there are more 'super anti-communists' but less widespread mild anti-communism," he said. "I think that's because people are less enchanted by liberalism, [and] they want to look for alternatives."
Garvie said that the party is most effective in local debates and discussions with voters. Oftentimes, in all-candidate debates, those from other parties will agree with the Communist candidate, or even say that their party will adopt Communist Party promises, he said.
When I asked Burnett what the difference is between her and Schreiner, the likely winner in her riding, she said plainly, "well, we're not capitalists." However, she added, Schreiner has been talking more about putting people before profit.
I asked if she thought that her politics were rubbing off on him. "I'd like to think so," she joked.
Garvie sees the election as a key opportunity to mainstream the party's principles and to build public opposition to the next provincial government, whoever leads it.
"We're trying to use the last week-and-a-half of the campaign to tell anybody who might be fooled by [Ford's] 'working for workers' nonsense that it's all BS," he explained.
"We need to defeat Doug Ford and we need to organize more long term, no matter who's reelected, for fundamental change, which we're putting forward."
Nora Loreto is The Maple's Ontario election reporter. She is the author of Spin Doctors: How Media and Politicians Misdiagnosed the COVID-19 Pandemic.
Get all the latest posts delivered straight to your inbox.
Processing your application
Please check your inbox and click the link to confirm your subscription.
There was an error sending the email