Community Leaders Respond To Findings At St. Joseph's Mission Residential School
"This journey has led our investigation team into the darkest recesses of human behaviour."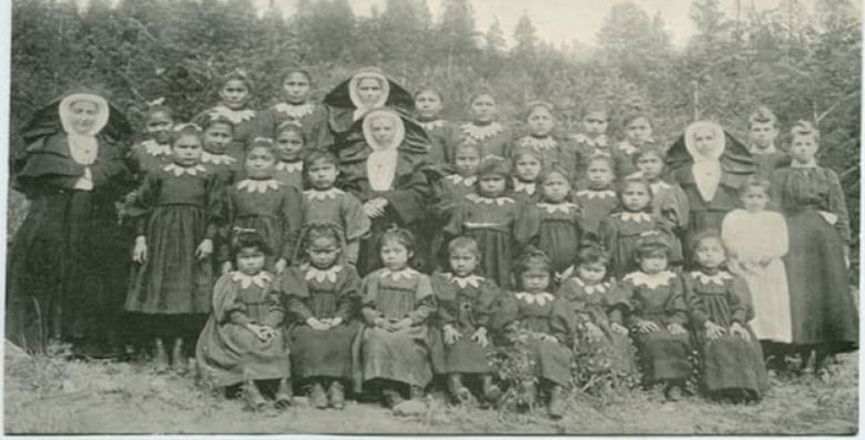 Editor's note: This story contains accounts of violence and abuse committed against Indigenous Peoples at residential schools, and may not be suitable for everyone.
On Tuesday, Williams Lake First Nation (WLFN) announced preliminary results of a geophysical investigation at the former site of the St. Joseph's Mission residential school which found 93 reflections that are "indicative of potential human burials."
In its press release, WLFN explained: "The St. Joseph's Mission was operated as an Indian Residential School between 1886 and 1981, where thousands of Indigenous children were forced to attend. The institution was operated by various religious sects over the years, and predominantly controlled by the Roman Catholic missionaries as part of the residential school system set up by the Government of Canada."
A section of the facility's grounds was searched using ground-penetrating radar, among other technologies, as well as archival research and interviews with survivors. Before Tuesday's announcement, official records named 16 students who had died at the facility.
Starting in the nineteenth century, Canada's residential school system forcibly separated Indigenous children from their families, and subjected them to horrific abuse as part of a policy of "aggressive assimilation." The last residential school closed in 1997.
In 2015, the Truth and Reconciliation Commission concluded that the policy amounted to a genocide against Indigenous peoples. The commission estimated that thousands of children – many of whom died from disease, malnutrition, suicide and abuse – are buried in unmarked graves across the country.
Since May last year, hundreds of unmarked burial sites have been located at the former grounds of residential schools.
In a press conference Tuesday, WLFN Chief Willie Sellars said the Nation had put supports in place for those who were likely to be triggered and re-traumatized by the announcement, and noted that more information about the site might come to light as the next phase of the investigation proceeds.
Phase 2 of the investigation, WLFN stated, will involve additional geophysical investigations, further research and interviews with survivors, and engagement with affected communities.
"As is the case with many other residential schools in Canada, the real story of what occurred at St. Joseph's Mission has been intentionally obscured," said Sellars. "There is clear evidence that religious entities, the federal government and the RCMP have knowingly participated in the destruction of records, and the coverup of criminal allegations."
"For decades, there were reports of neglect and abuse at the St. Joseph's Mission, and worse, there were reports of children dying or disappearing from the facility," he added.
Sellars explained that for the majority of the institution's history, reports of abuse and death were given no credence or intentionally suppressed in order to prevent "the emergence of truth."
"But there can be no reconciliation before there is truth," said Sellars, adding that there must be recognition of the harms caused by colonial education practices. "This journey has led our investigation team into the darkest recesses of human behaviour."
"Our team has not only recorded stories involving the murder and disappearing of children and infants; they have listened to countless stories of systematic torture, starvation, rape and sexual assault of children at St. Joseph's Mission," he continued.
Sellars described disturbing accounts of children being lashed against a barn, beaten for speaking their Indigenous language, and other forms of torture, including forcible confinement, intentional starvation and exposure to extreme environmental conditions.
In 1902, eight-year old Duncan Sticks froze to death while trying to escape the facility.
Appalling conditions at the facility remained unaddressed for decades despite multiple complaints from parents, said Sellars. Letters from parents outlined how nine children intentionally ingested poison hemlock in a mass suicide attempt.
One student, Augustine Allen, died in the attempt. But no further investigation or inquest was undertaken by police or the Catholic Church, because "the child was only an Indian."
Between the late 1980s and early 2000s, several prominent members of the clergy that served the school were convicted of sexual crimes against children. Despite several more victims coming forward at that time, the RCMP refused to launch additional charges, said Sellars.
Other accounts described how babies who were conceived as a result of priests raping students were burned in an incinerator, Sellars continued.
Sellars explained that WLFN lost a community member to suicide the day more than 200 unmarked burial sites were located at the former grounds of the Kamloops Indian Residential School last May.
"This serves as a stark reminder that while there is hope that we can heal as a Nation, that the trauma of individuals and of communities is still very much present," he said.
Sellars then turned his attention to those who claim there was a "benevolent" intention behind the genocidal residential school system, and that this somehow discounts the atrocities that occurred inside the institutions.
"Not only is this reasoning distorted and wrong, it also serves to compound the trauma that survivors and their families have experienced and continue to experience to this day," said Sellars.
Indigenous leaders responded to the news Tuesday, extending solidarity to WLFN and offering thoughts to survivors.
Tanya Talaga, an Ojibwe author, tweeted: "Those that sanctioned and ran the schools under the guise of Christianity and education, were monsters."
The National Centre for Truth and Reconciliation stated: "Every step a Nation takes into locating their missing children is important for healing for Survivors, children, their families, and communities. We stand ready to support those who are working to find the truth, and to honour those who never made it home."
Phyllis Webstad, a Northern Secwepemc author from the Stswecem'c Xgat'tem First Nation who founded the Orange Shirt Society and attended the St. Joseph's Mission, stated: "Today our truths, the truths we witnessed, the truths we have always known and told, are brought to light once again. The confirmation of children's remains found at the Mission where three generations of my family attended is traumatizing, yet it also serves as validation of the stories told."
This post is for paying subscribers only