Thousands of Conservative delegates are meeting in Quebec City for the first time in person since 2018.
The convention kicked off on Thursday evening with a speech from leader Pierre Poilievre and rumours that a gymnast would repel from the rafters of Quebec City's convention centre.
The Conservative Party's director of communications, Sarah Fischer, denied media accreditation to The Maple and refused to provide a reason for that decision, despite multiple requests for an explanation.
The Maple witnessed media credentials being provided on the spot for three independent and mainstream journalists whose applications had not been received prior to the convention.
However, The Maple was able to speak with Conservative Party delegates as they entered the convention, despite being threatened with jail by a security staffer for doing so.
Eric Wen, president of the Conservative Mississauga East-Cooksville riding association, told The Maple that he hoped Poilievre would energize the crowd. Wen, flanked by other delegates, emphasized that he felt this was important. Fellow delegates Grace Adamu and Adeyemi Adesina agreed.
"We need to prepare for the next election," said Adesina, who added that setting the agenda and preparations for the next election were his top priorities.
Edward Helder, a longtime Conservative Party member, told The Maple that he hoped the party would remain a big tent, committed to bringing together all conservatives with a clear and focused message.
"[Poilievre] has to learn to ignore the mainstream press and not pretend to be something that he isn't," said Helder.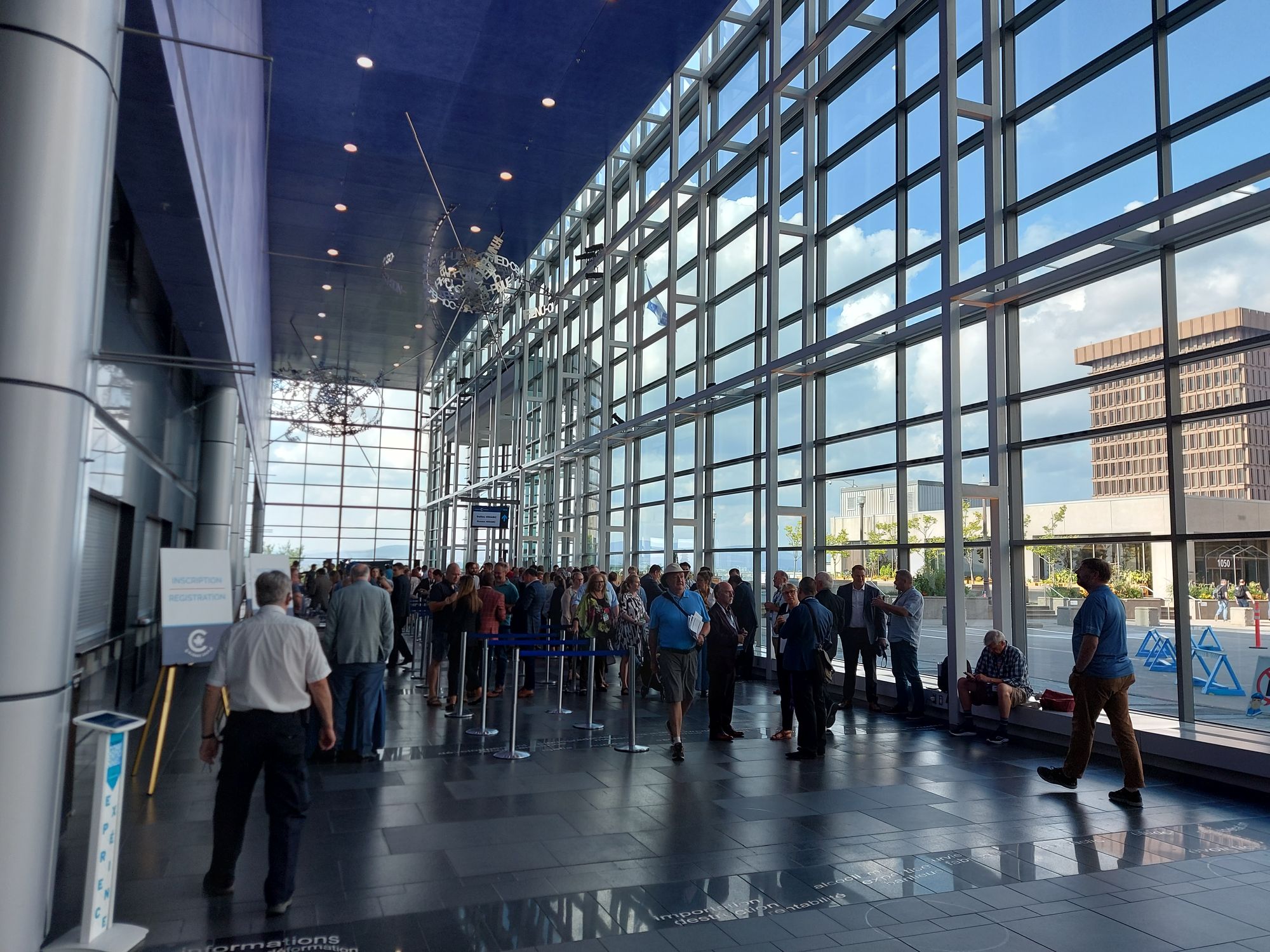 In an analysis published in 2021, The Maple (formerly Passage) found that between 1980 and 2021, 56 per cent of mainstream newspaper election endorsements were made in favour of conservative parties.
A younger delegate from southwestern Ontario, who asked that his name be withheld, said he was most excited to see the convention build momentum for the Conservatives. This energy, he said, is attracting young people to the party.
That trend was reflected in an Abacus poll released to the Toronto Star this week that showed 40 per cent of millennials would vote for Poilievre's Conservatives. The NDP was in second place, with 24 per cent of millennials indicating they would vote for Jagmeet Singh's party.
Quebec City resident and delegate for the riding of Beauport-Limoilou, Marc-Antoine Dumas, said he thinks the key to victory is for the party and Poilievre to "stay true" to themselves. "People will respond to a true message that is consistent. Mr. Poilievre is not one to switch opinions; if he stays true to himself, he will connect with voters," said Dumas.
O'Toole A Point Of Contrast
Former Conservative leader Erin O'Toole loomed large over the leadership question, as all but one person The Maple interviewed mentioned how different they thought Poilievre was to O'Toole, especially in terms of what they regarded as authenticity.
The last convention was held online in 2021, months after the party had elected O'Toole as leader. Dumas thought that O'Toole's position on gun control specifically was a problem, as he changed his position during the snap federal election campaign, making it harder for voters to trust what he was saying.
For the delegate from southwestern Ontario, O'Toole backtracked too often as leader. The delegate, aged 22, said that ever since he could vote, he has cast a ballot for all three major parties.
The delegate explained that his priorities were "affordability, housing and the ability to secure financial independence from government corporations," but didn't point specifically to a party policy that he believed would help fix the affordability crisis.
The delegate was impressed that Poilievre has sidestepped what he called "culture war" questions. "I don't think that's productive," he said, explaining that when politics descend into what is typical on an online message board, nothing good comes of it.
A Language Barrier?
When asked how he thinks Poilievre can grow the party's support in Quebec, Dumas lamented the language barrier that he believes creates a gap between how the Conservatives are covered in English and French media.
After "years of constant bashing the party in mainstream [French] media," Dumas thought that Quebecers were at a disadvantage in hearing the Conservative message when compared with the way it is reported in English. "I talk to people about economic and social issues [expressed by the Conservatives] and they say, 'yeah, I like that.' But they vote Bloc even if the Bloc is against these same issues."
Both the delegate from southwestern Ontario and Dumas claimed that abortion is a topic that's used as a distraction, as they believe the issue is settled. Even though there are people in the Conservative Party who oppose abortion, Dumas said, "no one is going back on that."
A Maru poll in 2022 found that 73 per cent of Canadians believe women should have the right to an abortion no matter the circumstances.
Get all the latest posts delivered straight to your inbox.
Processing your application
Please check your inbox and click the link to confirm your subscription.
There was an error sending the email