Good morning. Thank you for reading our free weekly newsletter. To receive our daily newsletter directly to your inbox, please subscribe for just $48 per year.
For Gabrielle Peters, a disabled writer and policy analyst living in Vancouver, the timing of the snap federal election could not have been worse.
"I'm personally having a really hard time getting into this election," Peters told The Maple. "It's just the worst possible time and I don't believe in (the federal parties)."
The election campaign comes amid the ongoing hardships of the pandemic, and the passage in March of Bill C-7, legislation which allows people with disabilities to receive medical assistance in dying (MAID) even if their death is not reasonably foreseeable.
Peters and many other disability justice advocates strongly opposed that bill, stating it could pressure people with disabilities and particularly those who are Black and Indigenous and/or struggling in poverty or facing injustices in the health system into seeking MAID because they might feel like they have no other option.
Meanwhile, Peters said disabled people have struggled during the pandemic with meagre support, including a one-time $600 payment made to people with disabilities.
Now, with a federal election underway, Peters said she and other disabled people have been left feeling like an "add on."
"We're still not being a major component of any of the parties' thought processes," said Peters. As a result, she sees that most political parties are offering only slight changes to the status quo without addressing deeper injustices faced by people with disabilities.
Party Platforms Fall Short
The Liberal Party has not yet released its election platform. Erin O'Toole's Conservative Party, meanwhile, is promising to increase the disability supplement of the Canada Workers Benefit from $713 to $1,500.
However, Peters noted, the disability supplement is gradually reduced if your adjusted family net income is more than $37,176.
"The bar for reducing the amount is really low," said Peters. "It's not a bad thing they are raising it. How many will benefit from this increase is likely not many."
"It would be better if the Conservatives or any other political party worked with disabled people, particularly those who are not currently able to access the Disability Tax Credit, to design a more equitable and inclusive program rather than trying to tag onto something that is so fundamentally flawed," she added.
As well, the Conservatives are proposing to make changes to Bill C-7, pledging to repeal a provision that allows for MAID to be used by people with mental health challenges.
"I'd like to see somebody saying that they'll be repealing it, and repealing the other aspects," said Peters. "But I assume they're looking at what they can, at this point, feel they can win with the court."
The problem with Bill C-7, said Peters, is that it comes in a society where many people with disabilities struggle to find the basic care and support they need to live remotely comfortable lives.
"It's already really, really, really, really hard to fight for the care you need, and then sometimes it just doesn't exist," said Peters. "Isn't it ironic that we live in a country where it is almost impossible for somebody in incredible pain to get pain medication, but they can have a lethal injection?"
While O'Toole's party's opposition to the mental health provision in Bill C-7 is likely a result of pressure from hardline social conservatives inside his party who are opposed to all forms of medical assistance in dying, Peters said that is not the case for most of the disability justice advocates who opposed the bill.
"Disabled people have never raised religion as an argument, whatever somebody else might raise," said Peters. "That's not what we've raised in our community."
She noted that the NDP also eventually came out against Bill C-7, but that the party has not said anything about it in its election platform.
The issues with Bill C-7 are also related to broader problems caused by privatization and underfunding in the health sector, said Peters.
"Any continued inroads into health, privatization of healthcare, would be absolutely devastating for disabled people," she explained.
This election, O'Toole has repeatedly been called out by other parties for comments he made supporting private, for-profit investment in the public health system, supposedly to reduce wait times.
"With disabled people, we often need things like physiotherapy, occupational therapy, eye care, dental care," said Peters. "The focus on wait times, to me, is a bit of a red herring when looking at health care."
Because of the high costs that fall on disabled people seeking basic care, other affordability issues, such as housing, are also inextricably bound up with disability justice issues.
The federal government spends huge annual sums on the RCMP but relatively little on affordable housing, said Peters. For that reason, she explained, the disability justice movement is very much linked to the abolition and defund-the-police movements.
"Policing, and particularly racialized people with mental health disabilities, is of grave concern, ​​and we know that people often get killed in the wellness checks," said Peters.
For its part, Jagmeet Singh's NDP is promising to start work towards a guaranteed livable income, which the party says would begin with "lifting every senior and person living with a disability out of poverty."
But Peters said basic income programs have raised red flags among disabled people, particularly if such programs replace existing services and supports.
"It's expensive to be disabled," said Peters, "and it varies, obviously, depending on your disability, but it's expensive because we live in an ableist society."
Over-the-counter drugs can cost several hundreds of dollars per month, in addition to expenses for adaptive clothing, wound care, incontinence products and technology devices required to perform daily tasks. Peters noted, "I'm trying to get text to speech because it's a lot of muscle weakness. Talking is actually really a lot of work."
A walker can cost several hundred dollars, and wheelchairs, she explained, can cost anywhere between $20,000 and $40,000.
"So if you tell me I'm going to have basic income, but I'm not going to have those extra supports, well, I'm already homeless, because I have to have a wheelchair," said Peters. "I'm going to spend my entire yearly income on getting a wheelchair."
As well, the NDP proposes ending for-profit long-term care. But Peters said the primary focus should be on replacing congregate care facilities with a publicly funded expansion of in-community care.
"The need is to start from the person who needs to care, and then, absolutely, you're going to pay the staff a decent pay, and my preference would be that they're unionized, that they have full benefits, that they have protections," said Peters. "You're going to want those things because it's in my interest, I want that person happy. But it's also going to be in my interest to be in the community."
"When we start changing how we think about all those things, as opposed to efficiency and productivity, then people don't need to not exist because they're not able to," she added.
Ultimately, said Peters, all the federal parties have so far failed to examine policy through a disability lens, and the pandemic has shown able-bodied political leaders do not understand the experiences of disabled people, who comprise 22 per cent of the population in Canada.
"To be actively anti-ableist in (the federal party) platforms, and their policies, would address so many other issues," said Peters. "It would provide the basis for also working together with anti-racist (movements), and equity and all of those things in a meaningful way."
"From a disability perspective, we absolutely would start with land back and Indigenous issues, environmental concerns," she added. "We are disproportionately impacted by the impacts of climate change, and yet, almost all the environmental plans or climate change action strategies fail to consider us."
Parties Silent On Details Regarding Accessibility Issues
David Lepofsky, a lawyer and advocate with Accessibility for Ontarians with Disabilities Act Alliance, told The Maple his organization sent a letter on August 3 to all the federal party leaders asking for detailed commitments to ensure the effective implementation of the Accessible Canada Act (ACA).
"It is good that Parliament passed the ACA over two years ago," the letter reads. "That is only the first step on the road to making Canada accessible to people with disabilities in Canada by 2040, the deadline that the ACA requires."
So far, said Lepofsky, none of the party leaders has responded.
The NDP platform promises to "strengthen" the Accessibility Act to cover all federal agencies equally, and also commits to upholding the UN Convention on the Rights of Persons with Disabilities.
Still, Lepofsky said his organization is looking for very specific commitments on changes to building codes to enforce better accessibility rules.
"There are 10 provincial building codes, and there's a national building code for the federal sphere, which is pretty narrow, and they are, from what we've heard from everybody, all inadequate," said Lepofsky. "That is to say, you build a building that complies with the Ontario building code, and there is no assurance it's going to be accessible."
"We've seen no commitment from anyone to specifically come up with a national building standard that will actually ensure accessible buildings," he added.
Lepofsky said his organization has two primary concerns: "One is that (the feds) are in the process of trying to harmonize the national building code and provincial building codes," he explained. "Well, harmonizing sounds really good because then you just get to all the same standard, right? The only problem is, from our point of view, what that does is it typically means it sinks to the lowest common denominator."
Second, said Lepofsky, on the eve of the election call, the federal government announced a $7.5 million grant to a foundation in order to create a "national profession of accessibility professionals."
The problem, said Lepofsky, is that his organization believes the recipient of the grant has a training program that is "grossly inadequate," a view ODAA has made clear on the public record.
"There was, we believe, a deeply disturbing lack of due diligence by the federal government before deciding on that grant," he added. "You would think that the federal government before deciding to buy into this thing would at least take a look at what we had to say, and maybe call us up."
Lepofsky is also concerned that the grant is being used by the federal government as a "shiny object" to distract from the pressing need to improve the ACA.
"If you look at what the NDP have in their platform, and theirs is the only platform that specifically proposes strengthening the legislation that we've seen, the points that they make are helpful, but we've raised a whole bunch more," said Lepofsky.
In the meantime, Lepofsky added, ODAA will gladly accept responses from the party leaders right up until election day.
Further reading: For more information on the problematic aspects of Bill C-7, read this piece in Passage by Nora Loreto.
---
Thank you for reading The Maple. We're not funded by corporations or advertising, which means our public-interest journalism is only possible with support from ordinary readers like you. If you're not already subscribed to our daily newsletter, please consider signing up today for just $48 per year.
---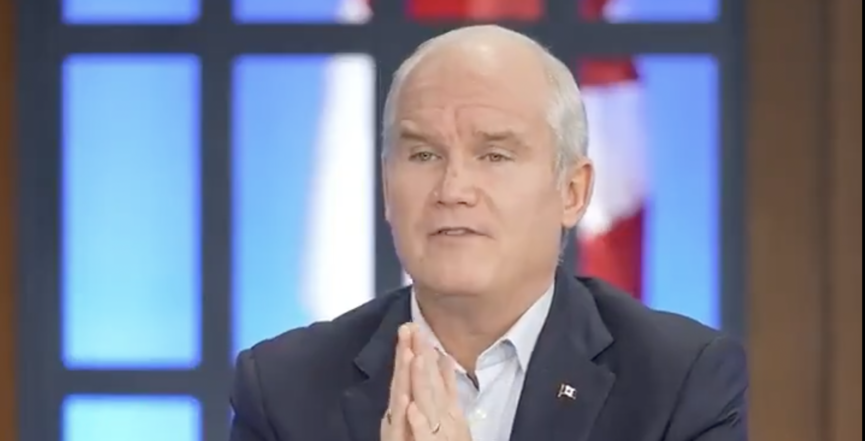 Weekend News
---
Latest Polls
---
LISTEN: In this week's edition of Progress Alberta's Progress Report, host Duncan Kinney talks to Alison McIntosh and Carter Gorzitza from Climate Justice Edmonton about how to demand commitments to climate action from municipal candidates running in Alberta's local elections this fall.
---
WATCH: A mob of anti-vaccine and anti-mask protesters force the cancellation of a Liberal Party campaign rally over security concerns. The news prompted condemnations from NDP Leader Jagmeet Singh and Conservative Party Leader Erin O'Toole (who later had to expel members of his party's own campaign after they were identified as being a part of such protests).
The Maple Pod
Don't miss the latest episodes of The Maple's election podcast series. Subscribe now on Apple, Spotify, Google and SoundCloud. More episodes coming soon!
---
Commentary
Get all the latest posts delivered straight to your inbox.
Processing your application
Please check your inbox and click the link to confirm your subscription.
There was an error sending the email