Good morning. Thank you for reading our free weekly newsletter. To receive our daily newsletter directly to your inbox, please subscribe for just $48 per year.
This weekend, disturbing images circulated of police violently removing forest defenders who are protecting old-growth trees at Fairy Creek on Pacheedaht territory, prompting condemnations from political candidates across party lines.
For over a year, forest defenders have set up blockades in the area on Vancouver Island to defend the old-growth trees, which are important sequestors of climate-altering carbon and key for supporting biodiversity.
The forest defenders are defying a court injunction obtained in May by Teal Jones, a lumber group that has a license to log in the area. The forest defenders have been asked to leave the area by the Pacheedaht band council, but have remained at the invitation of Elder Bill Jones.
This week saw dozens of arrests, and shocking images of police violently removing and pepper spraying forest defenders, who had set up blockades made from trenches and old cars across a logging road.
One forest defender, Jessy Bokser, told CBC that police were "aggressively pushing forward and aggressively extracting people. Just total disrespect — very physically, aggressively grabbing people that are sitting calmly on the road."
The B.C. NDP government has faced heavy criticism over the past year for failing to put an end to old-growth logging.
Federal NDP candidate for Vancouver-Granville Anjali Appadurai broke her party's silence on the latest string of arrests on Saturday night, calling the RCMP's actions "absolutely unconscionable" and "a deliberate choice in the interest of profit over people, planet and Indigenous jurisdiction."
Following Appadurai's condemnation, other NDP candidates — including Avi Lewis, Leah Gazan, Laurel Collins, Paul Taylor, Matthew Green and Alistair MacGregor (whose riding includes Fairy Creek) — also issued statements speaking out against the police violence. As of Sunday evening, NDP Leader Jagmeet Singh had not issued a statement.
In a letter to Federal Public Safety Minister Bill Blair, the NDP's Jack Harris called for an independent investigation into the RCMP's actions.
Meanwhile, Prime Minister Justin Trudeau and federal Environment Minister Jonathan Wilkinson issued statements promising to "protect" old-growth, but made no mention of the RCMP's violence against forest defenders.
Asked for comment about the situation, Blair Herbert, the Liberal Party candidate for Cowichan-Malahat-Langford (which encompasses Fairy Creek), told The Maple: "The situation at Fairy Creek is distressing."
Green Party candidate and incumbent MP for Nanaimo-Ladysmith Paul Manly told The Maple it is unacceptable for the RCMP to be violently removing peaceful protesters.
"Tactics like that just aren't welcome in a democratic society," said Manly, who has visited the Fairy Creek blockades several times and also participated in the Clayoquot blockades in 1993. "We need the provincial government to intervene, and the federal government to intervene."
"I think the police budget for this enforcement order has probably gone past what the province is going to earn on that whole tree farm license," Manly added. "It's a horrendous use of taxpayer resources."
Manly said the provincial government has unnecessarily divided the Pacheedaht community over the issue, and that forestry corporations have done a disservice to forestry workers by failing to retool mills to handle second and third growth trees.
"We see in Nanaimo harbour log ships leaving full of raw logs, and those are jobs leaving our community," he explained. "Our forest practices are really out of date. They're really about maximizing profit."
Manly added that old-growth trees are important for combating climate change.
"Old-growth forests sequester massive amounts of carbon; they are rich in biodiversity," he explained. "The soil underneath them, undisturbed, has massive amounts of carbon sequestered in it. And when you go in and clear cut, and you disturb all that, you're releasing all of that carbon."
Manly said he finds the recent statements from federal NDP candidates problematic.
"When you buy an NDP membership in the provincial party, you've become a federal member as well, and vice versa," said Manly. "And the NDP federally have been very loath to say anything that goes against what the provincial government is doing."
"I tried to get NDP MPs to table petitions with me, not one of them would," he added. "The Conservatives wouldn't table them either."
As well, Manly said his appeals to federal ministers to take action on protecting old-growth have been ignored.
"I've sent multiple letters to the minister of the environment and minister of Indigenous-Crown relations, the minister of public safety, saying that this all needs to stop," he said.
"I was a little bit annoyed to see minister Wilkinson's announcement yesterday saying that they were the only party talking about this," Manly added. "That's just so much nonsense."
Asked about Trudeau and Wilkinson's silence on the police violence at Fairy Creek, Manly said: "They're not paying attention, and they need to pay attention because people's rights are being violated."
---
Thank you for reading The Maple. We're not funded by corporations or advertising, which means our public-interest journalism is only possible with support from ordinary readers like you. If you're not already subscribed to our daily newsletter, please consider signing up today for just $48 per year.
---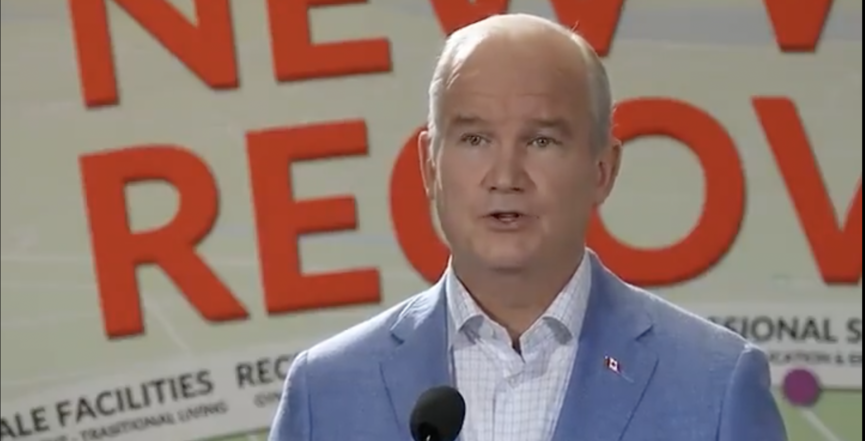 Weekend News
Conservative Party Leader Erin O'Toole announced he would continue to allow supervised injection sites, but would shift away from harm reduction and would not support decriminalization despite the ongoing drug poisoning crisis, in a pledge that drug-user advocate Garth Mullins disparagingly likened to the "Alberta model." The last Conservative federal government under Stephen Harper fought against the expansion of safe injection sites.
The absence of on-campus polling raises concerns about a possible drop in youth voter turnout, the Canadian Press reports.
Maxime Bernier, leader of the far-right People's Party of Canada, will not be invited to the federal leaders' debates after his party failed to poll above four percent. Organizers from left-wing non-parliamentary parties have questioned why Bernier, whose party has no seats in Parliament, continues to be included in national polls.
---
LISTEN: Don't miss our interview with NDP Leader Jagmeet Singh, in which we ask if his party's plan to fix the national housing crisis goes far enough.
---
WATCH: (Content warning: police violence) RCMP violently remove forest defenders at Fairy Creek.
---
Commentary
In The Narwhal, Arno Kopecky writes that voters must not forget that they're choosing their politicians while the world burns down around them as a result of the climate emergency.
Writing for The Breach, Dru Oja Jay explains how movements have used NDP-backed minority governments to deliver transformative change in the past, and that they could do so again.
In Canadian Dimension, Owen Schalk unpacks how Canada's unhoused crisis amounts to an intersection of government cruelty and police repression.
Get all the latest posts delivered straight to your inbox.
Processing your application
Please check your inbox and click the link to confirm your subscription.
There was an error sending the email