Five MPs Removed from Anti-Choice List After Promising to Review Bills More Carefully
Abortion Rights Coalition Canada removed five MPs from its list of those "with an anti-choice stance" following assurances they would not vote for anti-abortion bills again.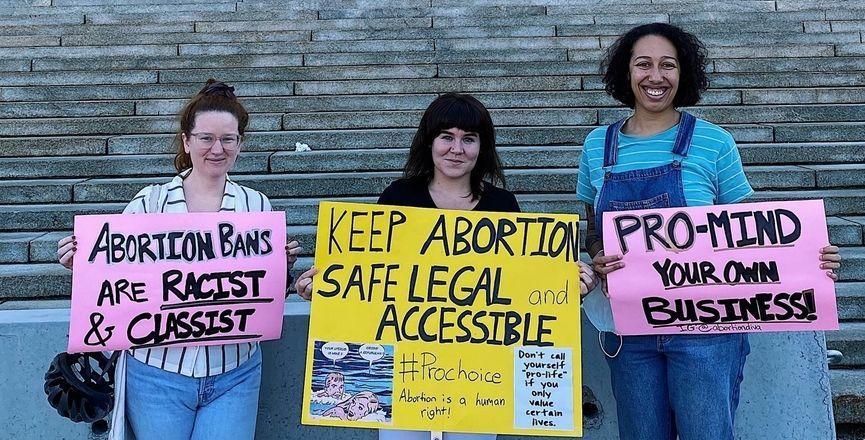 Written by Alex Cosh
The advocacy group Abortion Rights Coalition of Canada (ARCC) has removed five sitting members of Parliament from its list of those "with an anti-choice stance" after the MPs gave assurances they would not vote for anti-abortion bills in the House of Commons again.
However, more than three-quarters of all Conservative MPs still have an anti-choice rating from ARCC.
On June 24, The Maple shared a list compiled by ARCC in August 2021 titled "Members of Parliament with an Anti-choice Stance," which included 101 MPs. Sixteen MPs were deemed to have an "indeterminate" stance.
ARCC includes MPs on the anti-choice list if they have voted in favour of an anti-choice bill or motion, opposed an Order of Canada award for Dr. Henry Morgentaler (a physician at the centre of key legal battles that expanded abortion rights in Canada), made public anti-choice statements, attended anti-choice events, or have a "green light" rating from Campaign Life Coalition, a hardline anti-abortion group.
After The Maple shared the list on Instagram, four MPs – Liberal Francis Scarpaleggia, and Conservatives Luc Berthold, Pat Kelly and Alain Rayes – reached out directly to ARCC.
The MPs had previously voted for either Bill C-484 in 2008 (an anti-choice bill sponsored by Conservative MP Ken Epp, who proposed adding cause of injury or death to a fetus while committing an offence to the Criminal Code), or Bill C-225 in 2016 (a similar private members' bill sponsored by Conservative MP Cathay Wagantall). Both bills were defeated in Parliament.
The office of a fifth MP, Conservative Bernard Généreux, contacted The Maple on June 29 falsely claiming that "Mr. Généreux [has] always voted pro-choice." In fact, the Conservative MP voted in favour of Bill C-225.
In 2016, ARCC stated that it opposed Bill C-225 because it "could threaten women's constitutional rights and the right to abortion" by granting legal personhood to fetuses.
In an email sent to both ARCC and The Maple last week, Généreux's office wrote that the MP had not studied or understood the bill's anti-choice implications, and promised not to vote for similar bills in the future.
All five MPs – Scarpaleggia, Berthold, Kelly, Rayes and Généreux – were subsequently removed from ARCC's list. In a statement, ARCC said: "ARCC was happy to remove [five] MPs from its list of anti-choice MPs after they provided assurances that they are pro-choice and have shifted their views since their past vote in favour of an anti-choice bill."
ARCC also requested that Généreux review their position on Bill C-225 to ensure he did not unwittingly vote for an anti-choice bill again.
Despite the removal of the four Conservative MPs, 77 per cent of the Tory caucus remain on ARCC's list of anti-choice MPs.
Meanwhile, as explained by Jasmyne Eastmond in a recent article for The Maple, the primary concern of many pro-choice advocates in Canada is around access to the medical procedure rather than threats to its legal status.
Robyn Schwarz, a feminist writer and pro-choice activist, told The Maple: "I'm very concerned and have been for a long time, but it's not because of the law. It's because of access and health-care issues."
Read Eastmond's full article here.
This post is for paying subscribers only