Here's What You Need To Know About The Far-Right 'Freedom' Convoy
A crowd-funded convoy of truckers that was initially launched to protest vaccine requirements for cross-border essential workers is due to arrive in Ottawa today and tomorrow.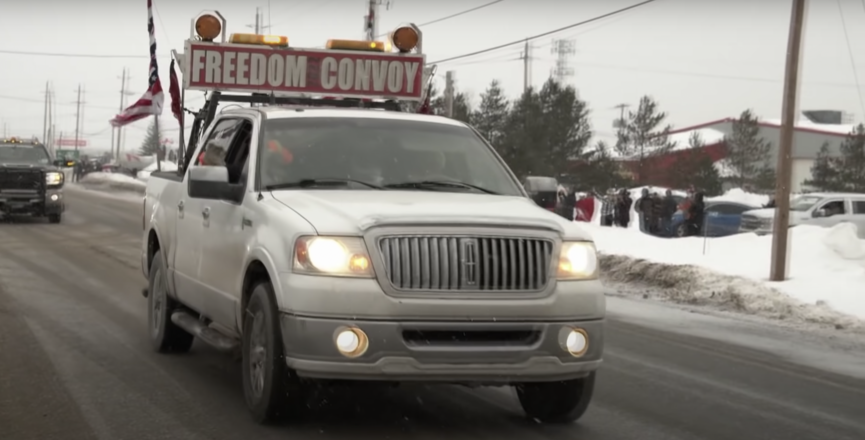 A crowd-funded convoy that was ostensibly launched to protest vaccine requirements for cross-border essential workers is due to arrive in Ottawa today and tomorrow.
The protest has increasingly expanded to include more generalized grievances against the federal government, largely centred around public health restrictions, with some participants calling for the government to be overthrown.
As explained by the Canadian Anti-Hate Network, two organizers behind the convoy's crowdfunding effort, which has raised more than $6 million via GoFundMe, are previously known figures in Canada's far-right ecosystem.
One organizer, Tamara Lich, served as an organizer for the far-right Yellow Vests Canada movement, and is now secretary for the Maverick Party, a right-wing Western separatist party.
Another organizer, B.J. Dichter, is a former Conservative Party of Canada candidate and a far-right People's Party supporter. According to CAHN, Dichter claimed in 2019 that "Islamist entryism" is "rotting away at our society like syphilis."
According to CAHN, the convoy's loudest promoter is Pat King, a former Yellow Vest activist who has previously warned of a supposed "Anglo-Saxon replacement" that plans to "flood [Canada] with refugees." King has also distorted facts about the Holocaust.
More recently, King stated that "the only way that this is going to be solved is with bullets."
Convoy organizers have tried to distance themselves from King, but in a video, King said those efforts were only made "due to the PR."

Also supporting the convoy is a group with neo-Nazi members that is calling for an insurrection at Parliament Hill modelled after the Jan. 6 2021 storming of the U.S. Capitol, according to CAHN.
On Thursday, CBC Toronto reporter Dale Manucdoc shared a screenshot of a violent and racist message he received from a member of the convoy.

According to the Globe and Mail, senior Ottawa law enforcement officials said they currently expect 1,000 to 2,000 people to arrive in trucks and other vehicles.
On Thursday, CTV News reported, the Parliamentary Sergeant-at-Arms Patrick McDonell warned MPs about the risk of doxxing, whereby an individual's personal information is shared online with malicious intent.
McDonell told MPs: "Avoid physical altercations, even if provoked, close and lock all exterior doors, advise the local authorities… [and] refrain from posting anything related to the demonstration on social media."
The Canadian Trucking Alliance, which has called for the new cross-border vaccine rules to be delayed, condemned the convoy, stating on Jan. 22: "The vast majority of the Canadian trucking industry is vaccinated with the overall industry vaccination rate among truck drivers closely mirroring that of the general public."
The group added: "The Canadian Trucking Alliance (CTA) does not support and strongly disapproves of any protests on public roadways, highways, and bridges. CTA believes such actions – especially those that interfere with public safety – are not how disagreements with government policies should be expressed."
Alongside the far-right extremists documented by CAHN, Conservative MPs have also publicly expressed support for the convoy. Ottawa-area Tory MP Pierre Poilievre said he plans to deliver coffee to the "freedom-loving truckers."
Party leader Erin O'Toole initially dodged questions this week about whether he supports the convoy, but said Thursday he plans to meet with some of the truckers as they arrive in Ottawa, CBC News reported.
Former Conservative leader Andrew Scheer, Saskatchewan Premier Scott Moe and Alberta Premier Jason Kenney have also expressed support for the convoy.
"Canada Unity," the group behind the convoy, has issued a list of demands in a "memorandum of understanding," which, bizarrely, calls on Governor General Mary Simon and the Senate to join them in calling for all remaining COVID-19 health restrictions to be lifted.
On Thursday, CBC News reported, GoFundMe released $1 million of the funds raised so far for the convoy to the organizers. Earlier this week, the platform said it was withholding the funds until it received more details about the group's financial management.
This post is for subscribers only