Good morning. This week we're offering our daily newsletter free of charge to all subscribers. To continue receiving our public-interest journalism directly to your inbox next week, please subscribe for just $48 per year.
Indigenous leaders did not ask for a federal election to be called during the ongoing pandemic. Shortly after the writs dropped, APTN News reported, many voiced their concerns that Prime Minister Justin Trudeau's decision to send voters to the polls early amounted to placing his desire for a parliamentary majority ahead of the wellbeing of Indigenous people.
"They're going ahead despite what people are saying," Peter Irniq, a former Inuk politician from Nunavut told APTN. "But this is pandemic, it's dangerous stuff; this (highly contagious) Delta variant is increasing across the country."
Echoing those concerns, Jack Anawak, a former Nunavut politician, told APTN, "it just seems like an opportunistic idea to call the election. And use their handling of the pandemic as a reason."
Indigenous people have been disproportionately impacted by COVID-19 throughout the pandemic, owing to the effects of colonization, which include overcrowded housing, dirty water and substandard health care.
A Human Rights Watch report last year noted "Canada's record in protecting the rights of Indigenous peoples is abysmal," and that systemic inequalities put Indigenous people at higher risk from the outset of the pandemic.
Another concern, CTV News reported this week, is that the snap election could push the ongoing reckoning over Canada's genocidal residential school system to the wayside.
In May, the bodies of 215 children were found in unmarked graves at the former site of the Kamloops Indian Residential School.
Since then, 1,093 bodies have been located in unmarked graves in Saskatchewan and so-called British Columbia, confirming what Indigenous peoples have known for generations about the former grounds of residential schools. Many more bodies are sure to be found at similar sites in the coming months and years, as work to locate them continues.
Cindy Blackstock, executive director of the First Nations Child and Family Caring Society, told CTV News: "So far they've [the government] counted on the Canadian public not caring or not caring enough – that allowed them to perpetrate these injustices."
As well, Blackstock said, historical precedent shows that when news coverage and public attention to genocide against Indigenous peoples wanes, those actions are allowed to continue unabated.
"There was national news coverage in 1907 of Indian Affairs Public Health Inspector Dr. Peter Henderson Bryce's findings that the [Indigenous] children were dying at a rate of 25 to 50 percent owing to inequitable healthcare funding by the federal government," Blackstock told CTV. "And that was with blazing headlines like 'children dying like flies,'… but then the coverage waned and children continued to die."
"Today we have the federal government out of compliance with legal orders to remedy the same inequalities in public services for First Nations children," she added.
Mik'maq lawyer and Chair of Indigenous Governance at Ryerson University Pam Palmater, also speaking to CTV, said that recent elections have pushed urgent issues facing Indigenous people off the public radar.
During the 2019 election, Palmater noted, the inquiry into missing and murdered Indigenous women and girls had just revealed that Canada was guilty of genocide. But when the election got underway, the government went into caretaker mode, and the urgency of the report's findings fell away from the government's attention.
"Guess where we are right now — although we're in a pandemic, although Canada is facing its biggest human rights crisis of genocide against the murdered and missing Indigenous women and girls, we're finding all of these unmarked graves … Canada is in caretaker mode, which means they really aren't going to do too much outside of what they've already committed," she said.
In this year's election, Palmater said she will be looking at what candidates are saying about Indigenous self-determination, the climate crisis, clean drinking water and food security.
Speaking to The Star, Mary Ellen Turpel-Lafond, academic director of the Indian Residential School History and Dialogue Centre at the University of British Columbia, said the locating of unmarked graves at residential school sites is pushing a new generation to demand action from the government. She predicts an increase in turnout from Indigenous people this election.
"I think the platforms and the campaigns need to demonstrate not only a solid understanding of the current experiences of Indigenous peoples, but meaningful policies that they can bring forward, particularly in a spirit of collaboration and co-operation with Indigenous peoples' governments," she said.
Jonathan Rudin, program director at Aboriginal Legal Services, told The Star that federal parties interested in tackling systemic racism must be prepared to engage in justice reform.
"A systemic racism discussion absolutely has to include justice reform, and framing it that way allows for a discussion of justice reform that would not normally happen in an election campaign," Rudin said.
But will Canada's voting infrastructure provide Indigenous people with the opportunity to make their concerns heard this election? Writing in the Ottawa Citizen, lawyer Orlagh O'Kelly warns that demand for voting by mail is likely to be high this election, but that doing so will be especially difficult for Indigenous people living in remote communities.
"Small communities in the territories, for example, only receive mail two or three days a week. Add to this the pandemic postal delays, and the end result is that 36 days may not be long enough to request, receive and send a mail-in ballot for many who live in remote parts of Canada," O'Kelly writes. "Effectively, it would be the disenfranchisement of eligible voters."
Another problem, O'Kelly explains, is that the location of polling stations, particularly during the pandemic, has discriminatory impacts.
"Not all reserves had a polling station in 2019," she writes. "If on-reserve Indigenous voters can't easily get to the polls, they will have unequal access to voting."
---
Thank you for reading The Maple. We're not funded by corporations or advertising, which means our public-interest journalism is only possible with support from ordinary readers like you. If you're not already subscribed to our daily newsletter, please consider signing up today for just $48 per year.
---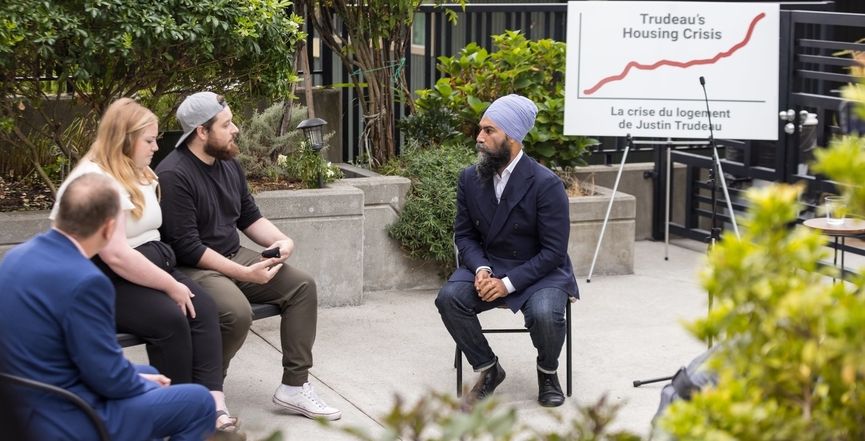 Election News
Other News
A new report from Canadian Centre for Policy Alternatives reveals that Canadian executive pay increased 17 percent from 2019 to 2020, and that 49 of Canada's biggest companies modified their compensation rules to bump executive bonuses during the pandemic.
In an analysis piece for The Breach, Tyler Shipley writes that Canada hasn't reckoned with its legacy in Afghanistan, noting that the Taliban's takeover of that country was all but inevitable following the U.S.-led war and occupation.
In Ricochet, investigative journalist Christopher Curtis reports on how young people of colour in Montréal-Nord are confronting policing and poverty with street protests and electoral politics.
---
LISTEN: The Alberta Advantage team talks to Progress Alberta's Executive Director, Duncan Kinney, about his self-described "fake" campaign for Senate. From Kinney's "campaign" website: "(Alberta Premier) Jason Kenney's Senate "election" is a scam. We don't elect senators in Canada. The Prime Minister appoints them. So this fall, when you vote, you aren't electing the next senator at all. You're just picking who Jason Kenney will write a reference letter for."
---
WATCH: (Content warning: police violence). Videos captured by Halifax Examiner reporter Zane Woodford show disturbing scenes of police violence against people defending tents and shelters in a homeless encampment slated for eviction. One clip, Woodford notes, shows an officer macing a child. Monitoring the events, the Canadian Association of Journalists said: "We are concerned about the limits police are placing on reporters covering the dismantling of these shelters."
---
Commentary
In Canadian Dimension, Cassandra Jeffrey provides a deep-dive into how Canada's corporate-dominated agri-sector jeopardizes food security, workers and democracy.
Writing for Passage, Nazanin Zarepour explains how encampment evictions in Toronto amount to a crack down on class consciousness.
In Jacobin, Jeremy Appel writes about how the Canadian military was caught using PSYOP tactics it honed in Afghanistan on domestic soil.
Get all the latest posts delivered straight to your inbox.
Processing your application
Please check your inbox and click the link to confirm your subscription.
There was an error sending the email