Good morning. This week we're offering our daily newsletter free of charge to all subscribers. To continue receiving our public-interest journalism directly to your inbox next week, please subscribe for just $48 per year.
This week, Prime Minister Justin Trudeau promised that if re-elected, his Liberal government will spend $500 million to train 1,000 new firefighters to combat wildfires, which are currently raging across British Columbia and elswhere in Canada.
As of Thursday afternoon, more than 3,800 firefighters are battling blazes in what is shaping up to be one of the longest wildfire seasons in the B.C's recent history. Since April, 1,528 fires have ignited, burning more than 852,000 hectares. As a result, 6,126 homes are currently under evacuation orders.
Lori Daniels, a forest ecologist at the University of British Columbia, told The Maple that increasingly large areas have burned over the last 50 years as a direct result of climate change.
"We have earlier springs, longer fire seasons, longer summers and deeper droughts in those summers contributing to fires that are burning to become larger, more intense, more difficult to control," said Daniels. "It's all interrelated and driven by climate and climate change."
To stop the underlying cause of that trend, Daniels said, governments need to cut greenhouse gas emissions. In the interim, she explained, transforming forest management practices and adapting fire-prone communities and properties are also necessary measures to manage future fire seasons.
"It's a big order," said Daniels. "It's going to take more than the 1,000 fire fighters that our prime minister has offered us."
That effort, Daniels continued, will require local expertise and Indigenous stewardship programs, which she said have been recognized in Canada and around the world.
"There needs to be substantive investment where we already have some expertise and fire knowledge in our Indigenous communities, coupling that with Western science to address what we need to in terms of wildfire mitigation, and being better prepared for future fires," said Daniels.
For climate activists, Trudeau's announcement is self-defeating given his government's climate record.
"The fact that this government thinks that it can feed the flames with one hand and put them out with the other is ludicrous, and people understand that," Cheryl Cameron, director of organizing and mobilization with Dogwood B.C., told The Maple.
Cameron pointed to the federal government's $4.5 billion purchase of the Trans Mountain oil pipeline in 2018 as a "perfect example" of Trudeau's failure as a climate leader.
"It's disconcerting; it's upsetting," said Cameron. "Training firefighters for the future is better than nothing, for sure, but it's too little, too late."
Cameron said she is also concerned that none of the major federal parties are taking the climate emergency seriously enough this election.
"Our house is on fire; we need to be putting climate action first, and we need to be heeding the (Intergovernmental Panel on Climate Change) report findings which clearly stated that extraction of fossil fuels needs to end," she said, noting that IPCC reports are typically two to three years out of date because of the massive amounts of data the panel is required to collect.
Cameron noted that while the federal NDP is "softly" opposed to the Trans Mountain pipeline, it has not called for its outright cancellation in its election platform.
"We need a party other than the Greens, along with the Greens, to call for an end to fossil fuel expansion and extraction," she said. "The time for toeing the party line is over. We need mavericks who are going to push the parties to do much better and hold them accountable in the House of Commons."
"Our governments, both provincial and federal, are not only not ending extraction, but they're handing over massive amounts of our taxpayer funds to support those industries, and that is just ludicrous," Cameron added.
Over the past year, the B.C. NDP government has given away $1.3 billion in fossil fuel subsidies (more than it spends on tackling climate change), while the federal Liberal government spent almost $18 billion. Between 2015 and 2019, Canada's greenhouse gas emissions increased by one percent, making it the only G7 country whose emissions increased in that period.
Alex Speers-Roesch, head of oil campaigns at Greenpeace, told The Maple that in addition to training more firefighters, Trudeau should also be announcing new measures aimed at cutting greenhouse gas emissions.
"He should rapidly phase out fossil fuels, and we haven't seen that yet, and it's particularly striking in British Columbia where he's actively supporting the Trans Mountain pipeline … and across the country subsidizing fossil fuels to the tune of billions of dollars, all of which makes the climate crisis worse, and will drive more and worse fires in British Columbia in the future and everywhere else around the world," said Speers-Roesch.
Notably, Speers-Roesch continued, frontloading adaptive measures like training more firefighters rather than focusing on the root causes of climate change plays into the fossil fuel industry's hands.
"There are definitely people in the fossil fuel industry and elsewhere that really would like to have two climate discussions: the discussion about how we deal with the impacts that are happening, and not talk about how we prevent those impacts from happening in the first place," he explained.
This week, The Tyee reported, Margaret Atwood, Michael Ondaatje, Stephen Lewis and David Suzuki signed an open letter calling for an emergency leaders' debate on climate change. Speers-Roesch agrees that such a debate is urgently needed.
"All leaders should be put in the spotlight to talk about how they're going to be working to address probably the most serious crisis we're going to be facing over the coming years," Speers-Roesch said. "Definitely the ruling Liberal Party, but really all the parties could be doing more to be advocating for policies that are in line with the scale of the crisis."
---
Editor's note, August 20, 2021: This story has been updated to note that between 2015 and 2019, Canada's greenhouse gas emissions increased by one percent, making it the only G7 country whose emissions increased in that period.
---
Thank you for reading The Maple. We're not funded by corporations or advertising, which means our public-interest journalism is only possible with support from ordinary readers like you. If you're not already subscribed to our daily newsletter, please consider signing up today for just $48 per year.

---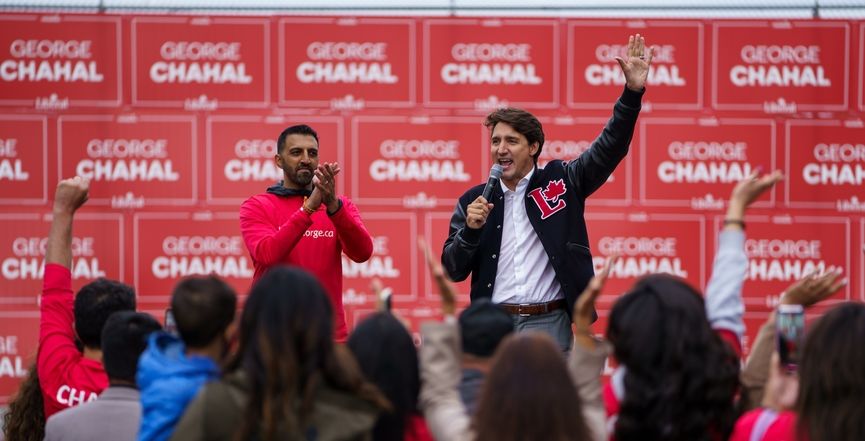 Election News
Other News
The B.C. Human Rights Office's first public inquiry will examine white supremacy and hate, after the province saw a disturbing uptick in racist violence during the pandemic.
Ontario Premier Doug Ford's Progressive Conservative Party has apologized for mailing out a misleading fundraising letter that resembled an invoice, The Globe and Mail reports. Opposition parties are calling for an investigation into the matter, and the Ontario Liberals say the letters could constitute a scam.
In Toronto, the Beth Sholom Synagogue was attacked with anti-semitic graffiti yesterday morning.
---
LISTEN: In Ricochet's Unpacking The News, streamer and broadcaster Rob Rousseau joins host Andre Goulet to discuss the election.
---
WATCH: Speaking in Edmonton, NDP Leader Jagmeet Singh attacks both Alberta Premier Jason Kenney and Prime Minister Justin Trudeau's records on healthcare spending. Specifically, he noted that Kenney was part of a federal Conservative government that cut healthcare spending, and said the Trudeau government continued on the same path.
Commentary
Get all the latest posts delivered straight to your inbox.
Processing your application
Please check your inbox and click the link to confirm your subscription.
There was an error sending the email