Jason Kenney Slammed for Comparing Attitudes Towards Unvaccinated to Stigmatization of People with AIDS
"In a way it kind of reminds me of the attitudes that circulated in North America in the mid-1980s about people with HIV/AIDS."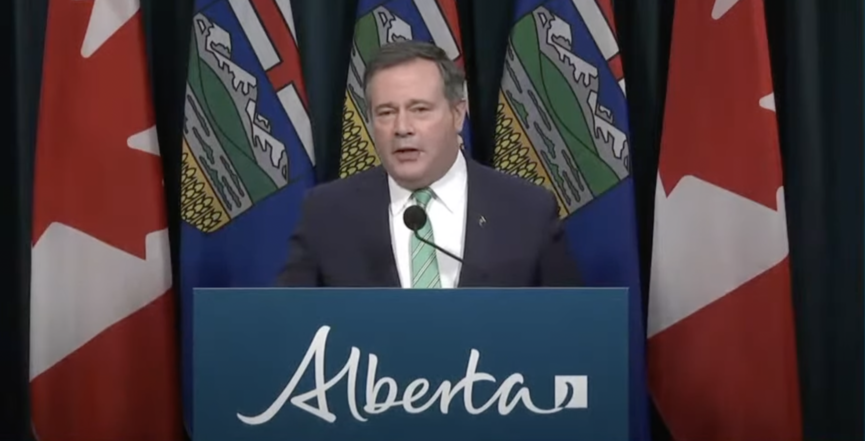 Alberta Premier Jason Kenney was slammed Tuesday for comparing attitudes towards people who are unvaccinated to the stigmatization of "people with HIV/AIDS" during the 1980s in a press conference announcing plans to remove the province's vaccine passport system and other measures.
During the press conference, Kenney outlined concerns about what he described as divisions and arguments between friends and families over differing opinions in regards to "COVID policy." The Alberta premier cited "commentary" on "social media," where he said some have expressed concerns about sitting next to unvaccinated people in public spaces.
Kenney said: "I see some of the commentary from people who are opposed to lifting the restriction exemption program; I've seen the following kind of comment a lot on social media lately, people saying 'I don't want to go to a restaurant and have to sit next to somebody who's unvaccinated.'"
The Alberta premier said such statements amount to treating people "as though they are somehow unclean." He continued:
"In a way it kind of reminds me of the attitudes that circulated in North America in the mid-1980s about people with HIV/AIDS. That there's this notion that they had to be kind of distanced for health reasons."
"This is a terribly divisive attitude," Kenney added.
First identified as "AIDS" in the U.S. in 1982, the syndrome caused by HIV was discriminatorily and inaccurately referred to as the "gay disease," because gay men were among the primary groups who were initially impacted, as well as intravenous drug users, immigrants and racial minorities. Many say this was one of the main reasons why the U.S. government failed to promptly address the epidemic.
Those with HIV, the virus that causes AIDS, experienced and continue to experience severe social stigma, examples of which include the belief that only certain groups can be diagnosed with HIV, moral judgments about those who have it, and suggestions that those living with HIV deserve it because of their choices.
Critics pointed out Tuesday that in a speech delivered in 2000, Kenney boasted about launching a campaign to overturn a law in San Francisco that permitted gay men to visit their dying partners in hospital during the AIDS crisis.
"I became president of the pro-life group in my campus and helped to lead an ultimately successful initiative petition, which led to a referendum which overturned the first gay spousal law in North America, in 1989 in San Francisco, so I fought a lot of battles there and in the process of those battles ended up coming closer to the heart of the church in a spiritual sense as well."
"In 1989, at the height of the AIDS crisis, the San Francisco Board of Supervisors approved rights that extended "the same hospital visitation rights" and "bereavement leave policy" to people in domestic partnerships—including same-sex couples ... However, anti-LGBT campaigners forced the issue to a public ballot in a bid to repeal it. Kenney was one of the people that campaigned against the ruling."
Janis Irwin, the Alberta NDP MLA for Edmonton-Highlands-Norwood, tweeted:
"The same [Jason Kenney] who has a long and sordid history of homophobia and discrimination against the queer community compared the demonization of non-vaccinated Albertans with those demonized during the AIDS crisis. This is not a leader, Alberta."
On Wednesday morning, Kenney issued an apology on Twitter, acknowledging that the analogy was "inappropriate."
Editor's note, Feb. 9, 2022: This newsletter has been updated to include Jason Kenney's apology, which was issued after the newsletter was published.
This post is for paying subscribers only