Ministry Insists It Respects 'Right to Protest' After Meeting Peruvian PM At Mining Show
Peruvian police have responded to Indigenous-led protests with violence, killing more than 50 demonstrators.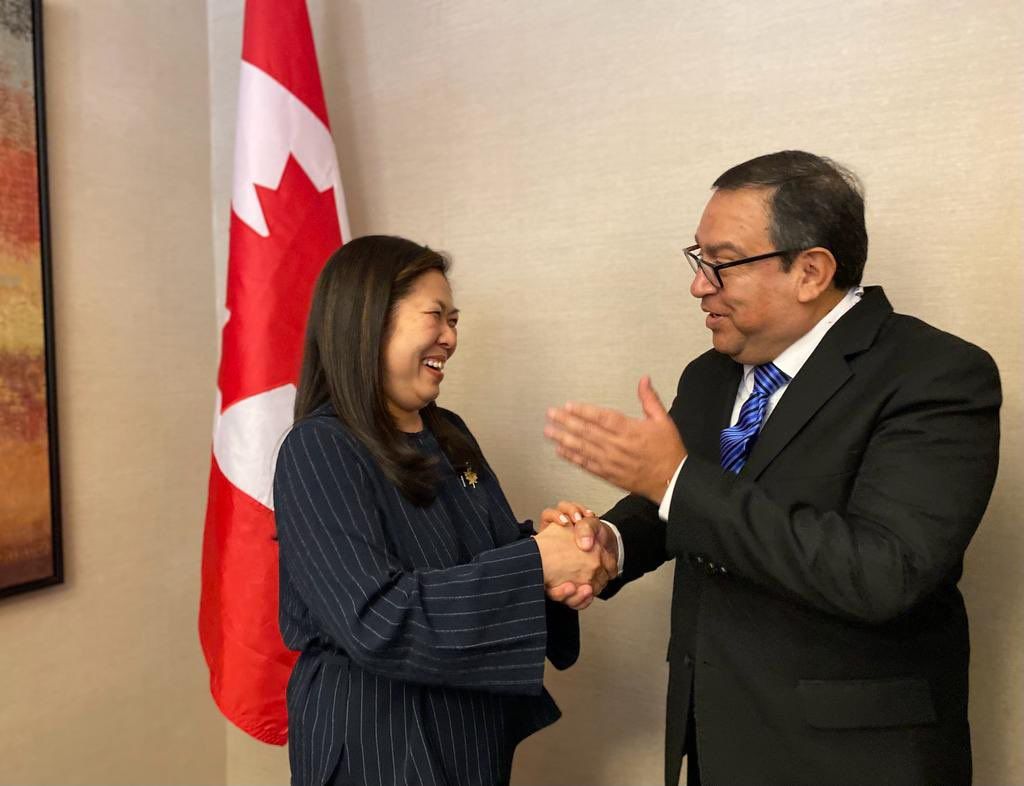 Written by Alex Cosh
International trade minister Mary Ng emphasized Canada's support for Peru's deeply unpopular government in a meeting with the country's prime minister at a mining convention earlier this month, but her ministry says it also respects the right to "protest safely" amid a violent crackdown on largely Indigenous demonstrators.
That's according to a ministry spokesperson responding to questions from The Maple about Ng's meeting with Peruvian Prime Minister Alberto Otárola.
A Global Affairs Canada (GAC) press release describing the March 7 meeting at the Prospectors and Developers Association of Canada's (PDAC) annual event in Toronto made no mention of the protests, whose participants are calling for early elections and constitutional reforms.
It stated: "[Ng and Otárola] discussed the long-standing positive trade relationship between Canada and Peru and explored new opportunities to collaborate on advancing inclusive trade."
When pressed for details about the meeting by The Maple, GAC spokesperson James Emmanuel Wanki said in an emailed statement: "Minister Ng reiterated Canada's support for Peruvian democracy, while respecting the right to protest safely."
The statement continued: "Canada will continue to emphasize the importance of inclusive dialogue, due process, and respect of human rights as a path for the Peruvian government, civil society and the Peruvian people to overcome the current crisis."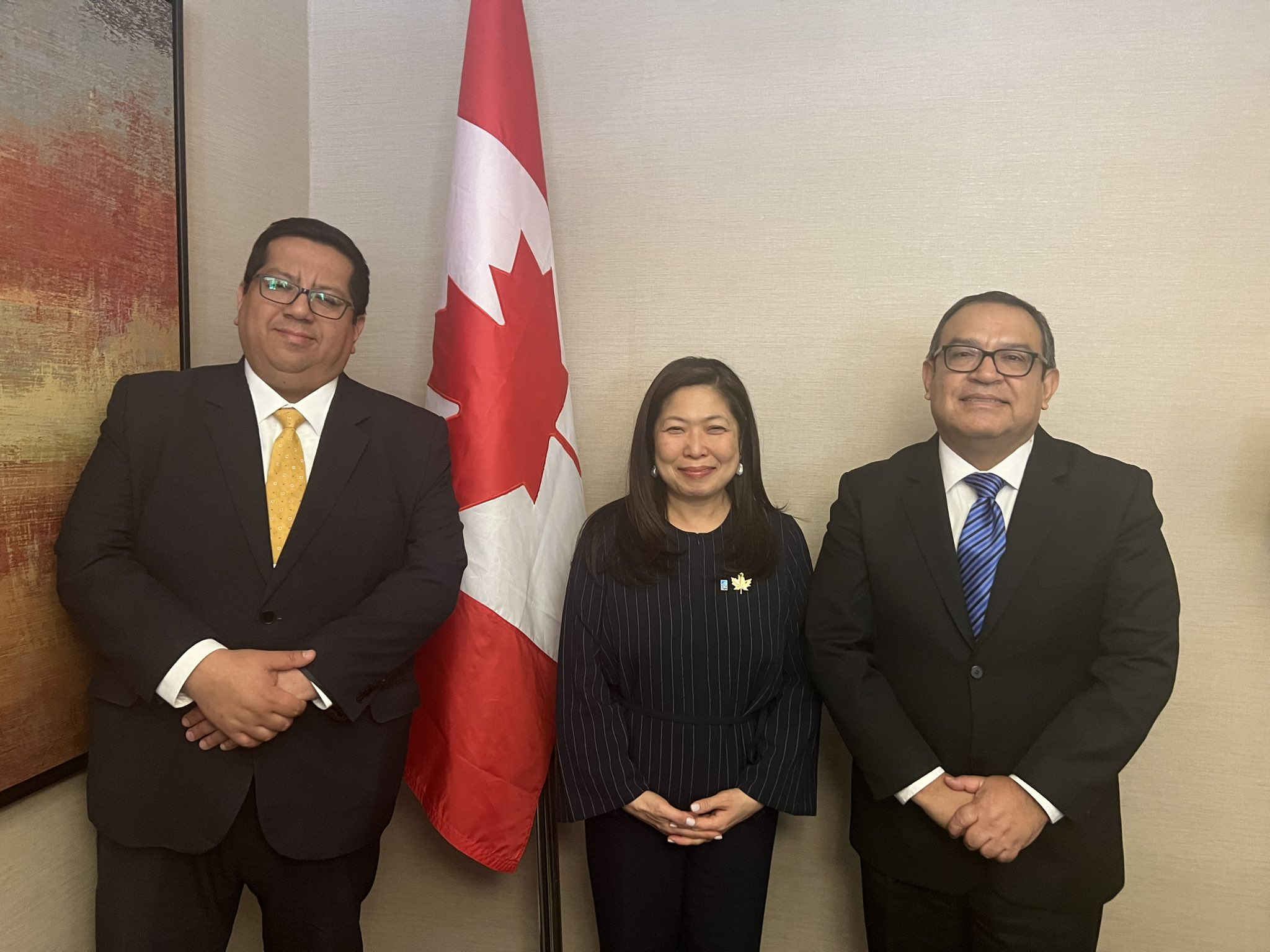 The emailed statement did not say if Ng specifically expressed concern at the Peruvian government's violent response to the protests or if she called on the government to bring an end to such actions.
Between December and March, Peru was rocked by protests following the ousting and arrest of left-wing president Pedro Castillo, who was replaced by his vice president, Dina Boluarte. Castillo had attempted to dissolve congress and called for new legislative elections while facing impeachment charges for alleged corruption.
Predominantly Indigenous protesters from the country's rural areas responded to the ousting of Castillo by blocking roads and taking to the streets, demanding new elections and constitutional reforms. Peruvian police responded with violence, killing more than 50 demonstrators, according to some reports.
The protests largely occurred in regions of Peru containing vast copper and other mineral reserves, and temporarily disrupted industrial mining activity.
Last month, Amnesty International reported:
"...the Army and National Police of Peru (PNP) have unlawfully fired lethal weapons and used other less lethal weapons indiscriminately against the population, especially against Indigenous people and campesinos (rural farmworkers) during the repression of protests, constituting widespread attacks."
The human rights group also noted that: "While the regions with majority Indigenous populations represent only 13% of Peru's total population, they account for 80% of the total deaths registered since the crisis began."
"The evidence suggests that the authorities acted with a marked racist bias, targeting populations that have historically been discriminated against."
Amnesty also pointed to serious shortcomings in the Peruvian government's investigations into the violence, undermining "the possibility of genuinely impartial and exhaustive investigations."
Similarly, the United Nations Human Rights Office stated earlier this month: "Serious allegations of excessive use of force by security forces and the Government's inability to create a conducive environment for dialogue are a matter of great concern."
Peru's deeply unpopular congress has blocked Boluarte's recent efforts to trigger an early election for this year, potentially postponing any further debate on the issue until August. Leftist parties in congress had asked that the 2023 election request be accompanied by a constitutional convention, a key demand of the protestors.
The next election was previously scheduled for 2026, and was already moved forward to 2024.
Boluarte's approval ratings are abysmally low, with 76 per cent of the country disapproving of her presidency, and 80 per cent supporting calls for early elections this year. Castillo, meanwhile, "was seen as an ally by many in poorer, mostly Andean regions in their fight against poverty, discrimination and inequality," according to The Guardian.
GAC's latest statement echoes previous comments from Foreign Affairs Minister Melanie Joly, who in December said Peru's new government has Canada's support. At that time, Joly added: "Canada calls for calm, peace and full respect for human rights."
Seventy one Canadian mining companies hold nearly $10 billion worth of assets in Peru, making the country the fifth largest market for Canadian mining corporations. The Canadian Trade Commissioner website assures investors that Peru has "business-oriented policies that provide trade opportunities to Canadian mining operators and suppliers."
"Canada is among the top foreign direct investors in a key Peruvian industry: manufacturing minerals and metals."
However, the Commissioner warns: "Social conflict including blockades trigger temporary shut down of operations and can impede contract fulfillment as distribution avenues are blocked or client purchase orders are stalled."
Writing for Canadian Dimension earlier this month, Kirsten Francescone, an assistant professor in international development studies at Trent University, explained that Canada's ambassador to Peru, Louis Marcotte, met with the Peru's minister of energy and mines in January.
Francescone wrote:
"At the time of the meeting, Lima was gridlocked with demonstrations calling for new elections and a constituent assembly ... It's unlikely the ambassador could have moved around the city without observing repression and police violence."
She added:
"The Canadian embassy could have used the moment to publicly denounce police violence and insist the rights of Peruvian protestors be protected. Instead, Ambassador Marcotte chose to promote more Canadian mining investment in the country and plug PDAC 2023 ... Canada's priorities in Peru could not be more clear."
---
This post is for paying subscribers only