Members of parliament (MP) in Canada are able to take sponsored trips abroad so long as the trip "arises from or relates to his or her position." After the trip, MPs must disclose the following:
"the name of the person or organization paying the travel costs"
"the name of any person accompanying the Member"
"the destination or destinations, the purpose and length of the trip"
"the nature of the benefits received and the value"
This information is contained in the Public Registry at the website for the Office of the Conflict of Interest and Ethics Commissioner. It's also documented in the annual "List Of Sponsored Travel" report released by the commissioner.
I reviewed the registry and found that the Centre For Israel and Jewish Affairs (CIJA) has sponsored trips to "Israel" for at least 73 MPs currently in office, amounting to 22 per cent of all sitting MPs. (The word Israel has quotation marks around it in this article's body and headline because these trips are often marked as solely to "Israel" even though they include time in areas recognized as being illegally occupied.)
CIJA spent at least $894,000 on these sponsored trips, for an average of $12,257 per trip by MP. Here's a table listing all of these MPs, when they took their trips and the total value of the "benefits received." An image version of the table follows for better viewing on mobile and sharing on social media.
Current MPs That Have Taken CIJA-Sponsored Trips To 'Israel'
* Someone accompanied the MP on the trip
Name
Constituency
Province
Party
Year
Amount ($)
Scott Aitchison
Parry Sound—Muskoka
Ontario
Conservative
2023
13,994
Dan Albas*
Central Okanagan—Similkameen—Nicola
B.C.
Conservative
2016
12,750
John Aldag*
Cloverdale—Langley City
B.C.
Liberal
2022
16,695
Carolyn Bennett
Toronto—St. Paul's
Ontario
Liberal
2008 & 2014
13,269
Luc Berthold
Mégantic—L'Érable
Quebec
Conservative
2023
10,227
James Bezan*
Selkirk—Interlake—Eastman
Manitoba
Conservative
2011
10,781
Maxime Blanchette-Joncas
Rimouski-Neigette—Témiscouata—Les Basques
Quebec
Bloc Québécois
2023
7,524
Kelly Block*
Carlton Trail—Eagle Creek
Sask.
Conservative
2010
8,451
Kody Blois*
Kings—Hants
Nova Scotia
Liberal
2023
23,930
Valerie Bradford
Kitchener South—Hespeler
Ontario
Liberal
2023
14,007
Blaine Calkins*
Red Deer—Lacombe
Alberta
Conservative
2017
11,492
George Chahal*
Calgary Skyview
Alberta
Liberal
2023
23,744
Adam Chambers*
Simcoe North
Ontario
Conservative
2023
19,190
Martin Champoux*
Drummond
Quebec
Bloc Québécois
2023
18,846
Shaun Chen
Scarborough North
Ontario
Liberal
2023
11,563
Raquel Dancho*
Kildonan—St. Paul
Manitoba
Conservative
2022
14,095
Don Davies*
Vancouver Kingsway
B.C.
NDP
2012
10,677
Sukh Dhaliwal
Surrey—Newton
B.C.
Liberal
2008
8,758
Anju Dhillon
Dorval—Lachine—LaSalle
Quebec
Liberal
2017
9,550
Eric Duncan
Stormont—Dundas—South Glengarry
Ontario
Conservative
2022
10,528
Ted Falk*
Provencher
Manitoba
Conservative
2014
12,450
Ed Fast*
Abbotsford
B.C.
Conservative
2010
9,006
Greg Fergus
Hull—Aylmer
Quebec
Liberal
2018
8,696
Andy Fillmore*
Halifax
Nova Scotia
Liberal
2016
10,294
Kerry-Lynne Findlay*
South Surrey—White Rock
B.C.
Conservative
2023
23,883
Rhéal Fortin*
Rivière-du-Nord
Quebec
Bloc Québécois
2023
18,846
Randall Garrison
Esquimalt—Saanich—Sooke
B.C.
NDP
2016
7,800
Garnett Genuis*
Sherwood Park—Fort Saskatchewan
Alberta
Conservative
2016
12,650
Marilyn Gladu
Sarnia—Lambton
Ontario
Conservative
2016
9,394
Joël Godin*
Portneuf—Jacques-Cartier
Quebec
Conservative
2016
11,899
Laila Goodridge*
Fort McMurray—Cold Lake
Alberta
Conservative
2023
18,446
Jasraj Singh Hallan
Calgary Forest Lawn
Alberta
Conservative
2023
23,017
Lisa Lynn Hepfner*
Hamilton Mountain
Ontario
Liberal
2023
18,644
Randy Hoback*
Prince Albert
Sask.
Conservative
2009 & 2014
12,585
Mark Holland*
Ajax
Ontario
Liberal
2008
9,446
Matt Jeneroux
Edmonton Riverbend
Alberta
Conservative
2022
11,453
Yvonne Jones*
Labrador
NL
Liberal
2014
11,935
Pat Kelly
Calgary Rocky Ridge
Alberta
Conservative
2022
10,760
Shelby Kramp-Neuman*
Hastings—Lennox and Addington
Ontario
Conservative
2023
11,728
Stephanie Kusie*
Calgary Midnapore
Alberta
Conservative
2018
13,390
Kevin Lamoureux*
Winnipeg North
Manitoba
Liberal
2013
10,053
Viviane Lapointe
Sudbury
Ontario
Liberal
2023
7,636
Patricia Lattanzio*
Saint-Léonard—Saint-Michel
Quebec
Liberal
2022
16,903
Dominic LeBlanc*
Beauséjour
New Brunswick
Liberal
2011
14,680
Lloyd Longfield*
Guelph
Ontario
Liberal
2016
11,377
James Maloney*
Etobicoke—Lakeshore
Ontario
Liberal
2017
14,116
Richard Martel*
Chicoutimi—Le Fjord
Quebec
Conservative
2023
10,894
Kelly McCauley*
Edmonton West
Alberta
Conservative
2017
12,724
Alexandra Mendès*
Brossard—Saint-Lambert
Quebec
Liberal
2009
8,253
Marco Mendicino
Eglinton—Lawrence
Ontario
Liberal
2016
6,714
Joyce Murray*
Vancouver Quadra
B.C.
Liberal
2011
8,580
Mary Ng
Markham—Thornhill
Ontario
Liberal
2018
7,355
Robert Oliphant*
Don Valley West
Ontario
Liberal
2009
7,914
Jennifer O'Connell
Pickering—Uxbridge
Ontario
Liberal
2017
11,375
Seamus O'Regan*
St. John's South—Mount Pearl
NL
Liberal
2016
11,186
Pierre Paul-Hus*
Charlesbourg—Haute-Saint-Charles
Quebec
Conservative
2023
17,233
Alain Rayes*
Richmond—Arthabaska
Quebec
Independent
2016
10,705
Michelle Rempel Garner
Calgary Nose Hill
Alberta
Conservative
2016
6,296
Blake Richards
Banff—Airdrie
Alberta
Conservative
2016
7,880
Sherry Romanado*
Longueuil—Charles-LeMoyne
Quebec
Liberal
2017
10,840
Randeep Sarai*
Surrey Centre
B.C.
Liberal
2017
11,806
Andrew Scheer*
Regina—Qu'Appelle
Sask.
Conservative
2023
18,446
Peter Schiefke
Vaudreuil—Soulanges
Quebec
Liberal
2023
11,316
Jamie Schmale*
Haliburton—Kawartha Lakes—Brock
Ontario
Conservative
2018
7,286
Brenda Shanahan
Châteauguay—Lacolle
Quebec
Liberal
2023
11,053
Francesco Sorbara
Vaughan—Woodbridge
Ontario
Liberal
2016
10,350
Shannon Stubbs*
Lakeland
Alberta
Conservative
2018
14,212
Rachael Thomas
Lethbridge
Alberta
Conservative
2017
7,410
Tim Uppal
Edmonton Mill Woods
Alberta
Conservative
2009
7,843
Dan Vandal
Saint Boniface—Saint Vital
Manitoba
Liberal
2018
9,282
Chris Warkentin*
Grande Prairie—Mackenzie
Alberta
Conservative
2007
7,973
Kevin Waugh*
Saskatoon—Grasswood
Sask.
Conservative
2018
16,244
Bob Zimmer*
Prince George—Peace River—Northern Rockies
B.C.
Conservative
2014
12,437
Data compiled by Davide Mastracci for The Maple: https://www.readthemaple.com/mp-cija-trips/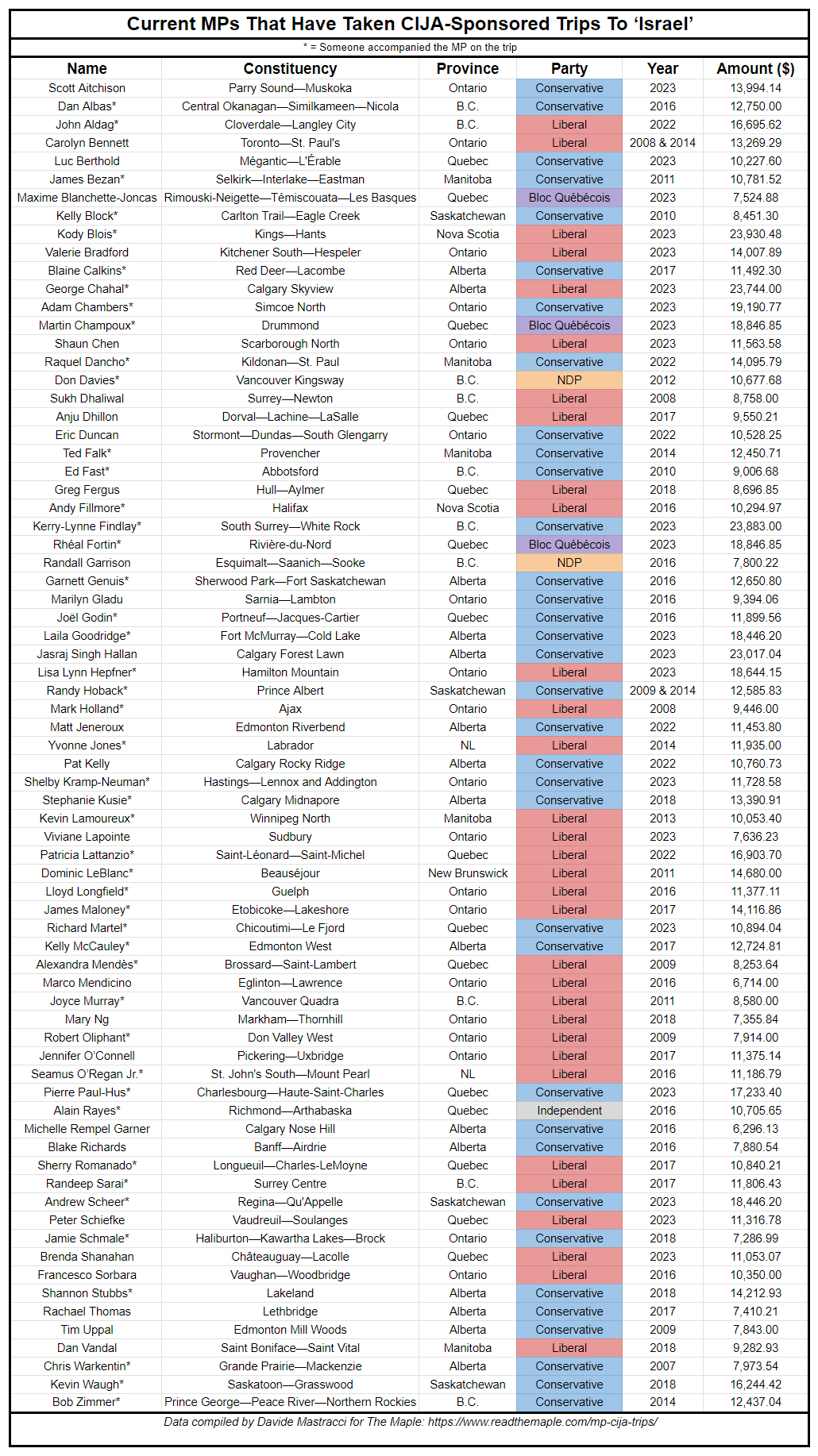 There are a few things to note:
This table only includes current MPs. CIJA and its predecessors have been taking MPs on these sorts of trips since 1973, and estimates it has sent about 800 MPs and senators on them throughout this period
My data includes trips sponsored by the Canadian Council for Israel and Jewish Advocacy (CCIJA), which was what CIJA was known as until 2011, and the Canada-Israel Committee, which had the CCIJA as its parent organization
Because this list only goes as far back as 2007 due to limitations of the online data, it's likely that some trips from active MPs are missing
Of these 73 MPs, 35 are Conservatives, 32 are Liberals, three are Bloc Québécois, two are NDP and one is independent.
Here's the average amount spent per MP by party:
CIJA is a non-profit organization that notes one of its three main priorities is "educating Canadians about the important role Israel plays in Jewish life and identity." It describes itself as a "Zionist organization."
In its 2021 federal election guide, CIJA lists the following as an issue of importance: "Support of the people and land of Israel in the international community and at the UN and other international organizations."
This is what CIJA includes as recommendations for MPs under the entry for this issue: "Publicly opposing both the one-sided UN resolutions that single out Israel and the efforts to isolate Israel and to negate, in UN forums, the Jewish people's historically indisputable connection to Jerusalem. Ensuring the government's positions on the Israeli-Palestinian conflict affirm the Canada Israel alliance and draw a clear moral distinction between the defensive actions of Israelis and the illegal aggression of banned terrorist groups, such as Hamas and Hezbollah."
CIJA states that these trips, which they describe as "educational missions," are "the single most important activity CIJA undertakes to educate Canadians about the people of Israel." They note that they have specific trips tailored for MPs, which "include meetings with Members of the Knesset." In general, they write that the trip "exposes participants to many important aspects of Israel, including tours of Jerusalem's Old City, Yad Vashem, the Knesset, the Supreme Court, border positions along the Golan Heights, and more."
In terms of results from the trip, CIJA writes, "CIJA ensures mission participants understand their attendance comes with no strings attached. Our view is that knowledge gained from visiting Israel speaks for itself; mission participants cannot help but return to Canada better informed about Israel and the Middle East. At the same time, missions often provide opportunities for greater cooperation between Canadians and Israelis."
This article was updated on Nov. 20, 2023. The original version, published on May 17, 2022, at Passage, is available through the Wayback Machine.
Get all the latest posts delivered straight to your inbox.
Processing your application
Please check your inbox and click the link to confirm your subscription.
There was an error sending the email