NDP Puts Forward 13-Point Plan for Justice in Israel-Palestine
"In recognizing the asymmetrical nature of this conflict, Canada has an obligation to do more."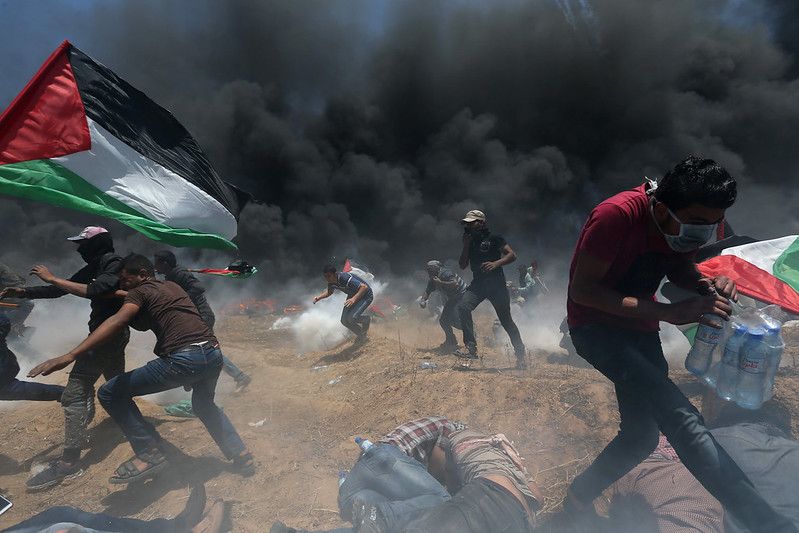 Written by Jeremy Appel
In response to inquiries from party supporters, NDP leader Jagmeet Singh has put forward 13 specific demands to the federal government for a more human rights-oriented approach to the Israeli-Palestinian conflict.
"The Liberal government's record on this issue is more than disappointing: it flies in the face of their claim to stand up for human rights and international law," Singh said in an email to supporters, where he laid out the NDP's calls to action.
There can be no peace in Israel and Palestine until Israel ends its 55-year "illegal occupation" of Palestinian territory, the email notes.
This comes the week after Israeli occupation forces raided the West Bank offices of six human rights groups, which it had labelled terrorist organizations in October 2021 based on spurious allegations of ties to the armed wing of the secular leftist Popular Front for the Liberation of Palestine.
The NDP is calling on the federal Liberals to:
Respond to reports from Amnesty International, Human Rights Watch, Israeli human rights NGOs and the United Nations and accept their recommendations to states.
Refer the killing of journalist Shireen Abu Akleh to the International Criminal Court.
Increase pressure on the Israeli government to stop its plan to annex Palestinian territory in violation of international law.
Condemn the construction of illegal settlements, demolitions of Palestinian homes in the West Bank, and evictions from East Jerusalem, including Sheikh Jarrah.
Call on Israel to end forcible displacement of villagers in Masafer Yatta to create a military firing zone.
Increase funding to the United Nations Relief and Works Agency (UNRWA) which supports Palestinian refugees.
Condemn Israel's undemocratic nation-state law.
Condemn the Israeli government's attacks on civil society in Israel and Palestine, including the recent designation of six Palestinian human rights groups as "terrorist."
Condemn the ongoing blockade of Gaza and increase Canadian humanitarian assistance to the people of Gaza.
Condemn military detention of Palestinian children, and reaffirm support for the Convention on the Rights of the Child.
Vote for Palestinian human rights at the United Nations.
End all trade and economic cooperation with illegal settlements in Israel-Palestine.
Suspend the bilateral trade of all arms and related materials with the State of Israel until Palestinian rights are upheld.
Sam Hersh, an Ottawa-based Jewish advocate for Palestinian human rights, said the party "has come a long way" in supporting justice for Palestine, which he attributed to "efforts from the grassroots membership."
NDP foreign affairs critic Heather McPherson told The Maple that on the question of Palestine, the Canadian government "continuously fails to stand up for human rights and fails to act in a way that is ethical."
"I abhor violence against civilians, regardless of whether they are Palestinian or Jewish. There's definitely been violence against civilians from both sides. But in recognizing the asymmetrical nature of this conflict, Canada has an obligation to do more," McPherson said.
She said Foreign Affairs Minister Mélanie Joly refuses to explain why the Liberals reject Amnesty International's finding that Israel engages in apartheid against the Palestinians — a finding shared by Human Rights Watch, as well as Israeli human rights groups B'Tselem and Yesh Din.
McPherson, who represents the Edmonton-Strathcona riding in the House of Commons, has been one of the more forceful voices in support of Ukraine in the face of Russia's illegal invasion.
She said she finds the contrast between Canada's approach to Russia's occupation of Ukraine and Israel's occupation of Palestine stark:
I don't understand, for example, why Canada will not support an ICC investigation into the conflict in Israel and Palestine when they are supportive of an ICC investigation into the conflict in Ukraine with Russia. We've been told in the past that it's because Israel is not a signatory to the Rome Statute, but neither is Russia nor Ukraine. The lens isn't the same. We're picking and choosing human rights.
This selective approach to human rights doesn't only apply to the situation in Palestine, McPherson added. Canada has also been relatively silent about the Saudi war on Yemen, which has killed approximately 377,000 people, 70 per cent of whom are estimated to be children under the age of five.
This post is for paying subscribers only