Omicron Was Present In Nova Scotia's Wastewater In Mid-November
The first Omicron case was officially detected in Nov Scotia on Dec. 13, weeks after it was first confirmed in South Africa on Nov. 24.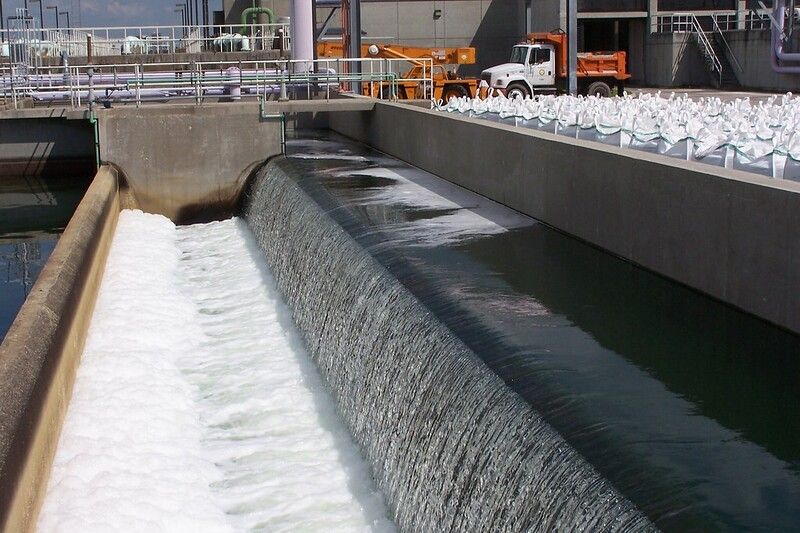 From the National Post: New data from researchers at Dalhousie University in Halifax shows that Omicron was detected retrospectively in Nova Scotia's wastewater in mid-November — potentially weeks before it was confirmed in South Africa.
Graham Gagnon, a professor and director of the Centre for Water Resource Studies at Dalhousie, led a team that has been testing wastewater from Nova Scotia's four main treatment plants, as well as student residences at Dalhousie, since December 2020.
The first Omicron case was detected in Nov Scotia on Dec. 13, weeks after it was first confirmed in South Africa on Nov. 24.
Mark Servos, a professor and researcher in the biology department at the University of Waterloo, said wastewater testing will become increasingly prevalent during the Omicron wave as PCR testing becomes increasingly limited.
Servos, whose lab is monitoring wastewater in the Peel, York and Waterloo regions Ontario, said his team was able to determine how quickly each variant became dominant through monitoring the wastewater.
He said the original variant took two months to become dominant, Delta took a month and a half, and Omicron took nearly two weeks.
Casey Hubert, an associate professor in the department of biology at the University of Calgary and one of the leads on Calgary's wastewater monitoring project, said wastewater research has informed scientists of what was happening before the official numbers were reported.
Not all provinces are embracing wastewater testing, however. Santé Quebec decided not to extend funding for wastewater monitoring the same week Omicron was detected in the province.
Dominic Frigon, one of the coordinators on the project at Polytechnique Montréal and McGill University, which tested wastewater in the Montreal and Quebec City areas, explained: "Because this data was fairly new, we had a hard time explaining to public health why this data was useful," said Frigon.
Read the full story here.
Editor's note, January 11, 2021: This section of the newsletter has been updated to more accurately reflect the timespan between the estimated date of Omicron first appearing in Nova Scotia's waste-water system, and the first confirmed case of the virus in South Africa.
---
From the Ottawa Citizen: While Global Affairs Minister Mélanie Joly said that Canada is considering sending weapons to Ukraine, plans are already underway to build a munitions factory there through several Ontario-based companies.
Ukraine, which has been battling a Russia-backed insurgency that began in 2014, has lobbied Canada since 2017 to assist in constructing a small armaments factory.
Under the aegis of the Canadian Commercial Corporation, Waterbury Farrel of Brampton, Ont., announced in June it was working with a now-defunct Toronto company, GL Munitions, and Ukroboronprom, Ukraine's organization of defence firms, to build an ammunition-production plant.
The Citizen reports: "Canada has already supplied some equipment to Ukraine, including mine-clearing gear, helmets, tents, first-aid kits and bullet-proof vests. A Winnipeg company has also provided sniper rifles."
Canada has 200 troops stationed in Ukraine on training missions, and the Globe and Mail reported in November that the government is considering sending more.
The Citizen reported a few weeks earlier that Canadian military officials had secretly met with members of the neo-Nazi Azov Battalion, which is an official regiment of the Ukrainian military.
Read the full Citizen story from Monday here.
Introducing North Untapped


The Maple is pleased to announce that starting this week, our newly renamed podcast, North Untapped, is a member of the Harbinger Media Network, Canada's leading network of progressive podcasts!
If you haven't already, check out Harbinger's website, where you'll find a catalogue of excellent shows covering an incredibly broad range of topics.
To be clear, The Maple – and North Untapped – will remain financially and editorially independent from Harbinger. In other words, we will continue to be 100% reader funded, and every dollar from our readers will continue to go exclusively towards original content for The Maple and our podcast. Joining Harbinger means we'll be cross-promoting each other's content, and working together to ensure as many people as possible tune in to our progressive news and analysis.
Why did we rename our podcast? Mainly because our show didn't actually have a name. Before this week, it was just called "The Maple Podcast." We chose the name North Untapped, because after five months of experimenting with this medium, we felt that this name reflects what the show is about: Conversations about Canada that tap into the stories and issues that corporate media either gloss over or ignore completely.
The show will continue to be based on in-depth conversations with Maple contributors and other writers and journalists about topics covered in their articles, as well as deep dives into the biggest stories driving the news.
Tune in Monday for the next episode!
This post is for subscribers only