Ontario New Democrat MPPs Removed From Legislature Following Heated Criticism of Ford Government
"Ford is acting like a dictator and a thug. I was kicked out of the legislature today for saying so."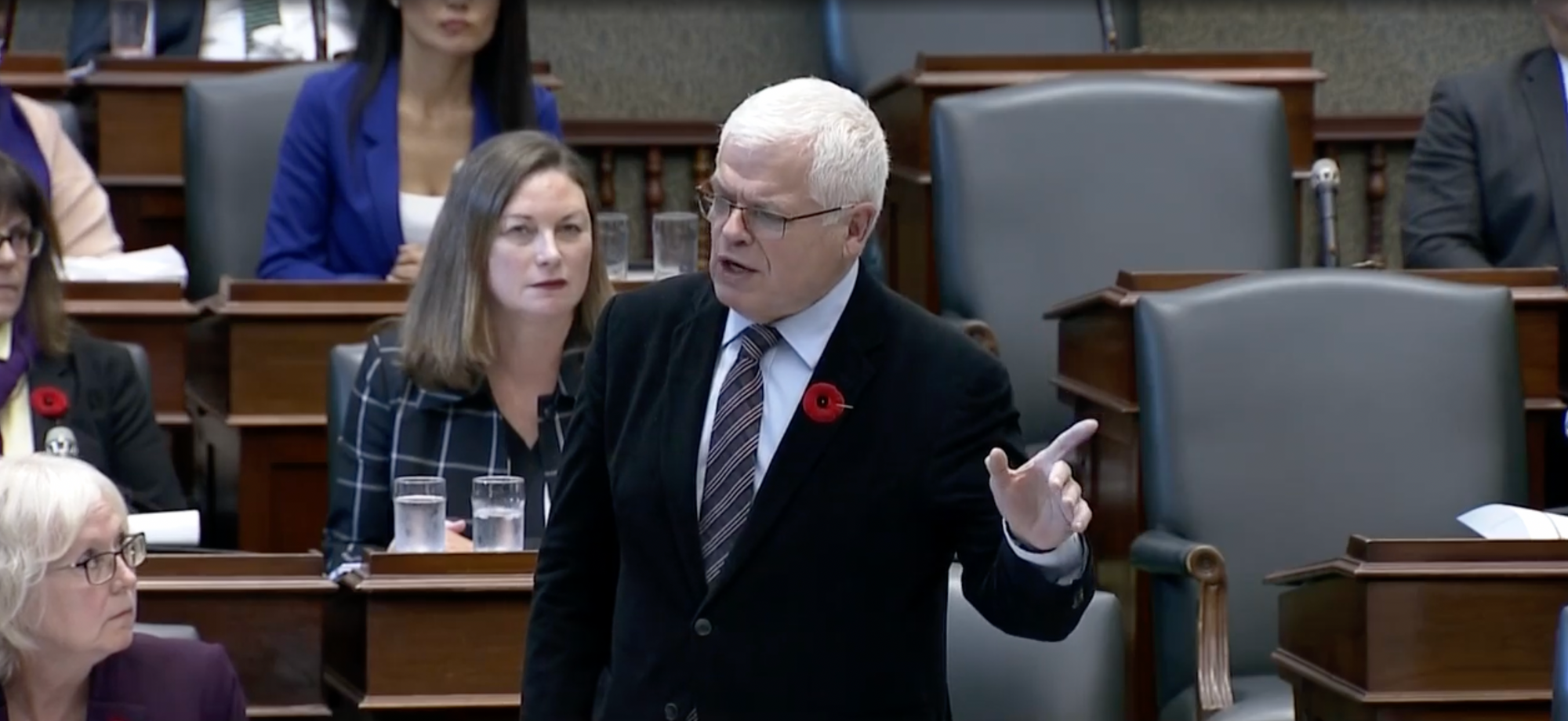 Written by Alex Cosh
As reported by The Canadian Press, CUPE, the union representing 55,000 Ontario education workers and seeking improved pay and conditions, said Wednesday that its strike planned for this Friday will continue "until further notice" despite the Ford government planning to implement the notwithstanding clause that will make doing so illegal.
According to CP:
"CUPE gave the government a counter offer late Tuesday, but Education Minister Stephen Lecce said Wednesday that he won't negotiate those proposals unless the union cancels its plans to strike ... The Ontario government has introduced a bill — and is hoping to pass it this week — to impose a contract on the education workers and ban them from striking upon threat of steep fines."
CP notes:
"CUPE has said its workers, which make on average $39,000 a year, are generally the lowest paid in schools and had been seeking annual salary increases of 11.7 per cent."
In the Ontario legislature, more than a dozen New Democrat MPPs were removed for using "unparliamentary" language or refusing to come to order as they levelled fierce criticism against the Ford government's actions. In particular, the NDP took aim at Ford's plan to invoke the notwithstanding clause to override CUPE members' Charter rights to go on strike.
"After Ford and Education Minister Stephen Lecce repeatedly claimed that they were attempting to use the clause because of their concerns for children, Interim NDP Leader, Peter Tabuns exploded ... "When will the premier and his ministers stop lying about the damage they are doing to the education system," he asked."
After refusing to withdraw the comment - which was considered "unparliamentary" - Tabuns was asked to leave the chamber. Then followed 17 other NDP MPPs who were asked to leave after speaking out against the Ford cabinet.
Several New Democrat MPPs who were removed from the legislature then spoke up on Twitter. Jeff Burch, the MPP for Niagra Centre, wrote:
"Ford is acting like a dictator and a thug. I was kicked out of the legislature today for saying so. We cannot stand by while constitutionally protected collective bargaining rights are trampled on. This is a fight for every worker in this province."
Jamie West, the MPP for Sudbury, wrote:
"Today I was 'named' by the Speaker for refusing to come to order. I simply couldn't take it anymore. I respect the Assembly, But I can not be silent while the Conservative government legislates workers like Charity to 4 more years of poverty."
Bhutila Karpoche, the MPP for Parkdale-High Park, wrote:
"I was just kicked out of the Legislature for protesting the Conservative government's use of notwithstanding clause to trample on the rights of education workers and force an unfair contract that keeps them in legislated poverty."
Some unions that previously supported Ford are now speaking out against him. As reported by PressProgress:
"A second construction union that endorsed Doug Ford in the 2022 Ontario provincial election is now condemning Ford's use of the notwithstanding clause to impose a contract on Ontario education workers and prevent them from striking ... IUOE 793 is the second construction to denounce Ford's actions following LiUNA's statement calling for Ford to repeal Bill 28 yesterday."
Alberta-based writer David Climenhaga, meanwhile, argued:
"The Conservative movement's vast army of online trolls has been strangely silent about the right of poorly paid Ontario education workers to negotiate a decent salary for themselves ... Funny that, Conservatives being such lovers of Canadian rights and freedoms."
He added:
"Ditto the right-wing politicians who took coffee and doughnuts to the people who occupied Ottawa and blockaded major border crossings last February while pretending to be the advocates of the little guy and the friends of the working class."
At the federal level, CP reported:
"Prime Minister Justin Trudeau said Wednesday his government is looking at its options to respond to Ontario Premier Doug Ford's use of the notwithstanding clause ... after NDP Leader Jagmeet Singh called for more action from the federal government."
This post is for paying subscribers only