On Saturday, at least tens of thousands of people across Canada attended pro-Palestine rallies calling for an end to Israel's genocide in Gaza.
Pro-Israel lobby groups, panicked at the rising support for Palestine throughout the country, were ready and eager to smear the protests as antisemitic in an effort to slow the tide of opposition to the apartheid state. And so they tried.
On Saturday afternoon, Howard Fremeth, director of communications at Israel's embassy in Canada from 2011 to 2016, tweeted a photo of a sign he spotted on Parliament Hill. An hour later, the Centre For Israel and Jewish Affairs (CIJA), tagged by Fremeth in his post, seized on the image and tweeted, "Swastika seen on Parliament Hill today. We expect all to speak up & condemn this overt symbol of antisemitic hatred immediately."
As is often the case, the Israel lobby's wish was a command for politicians, and the condemnations quickly rolled in.
Four hours after CIJA's post, Prime Minister Justin Trudeau tweeted, "When we see or hear hateful language and imagery, we must condemn it. The display of a swastika by an individual on Parliament Hill is unacceptable." Conservative Party of Canada leader Pierre Poilievre tweeted, "All Canadians should condemn the displays of hate and antisemitism that we continue to see at demonstrations across the country, including [...] the open display of a swastika on Parliament Hill." Several other MPs joined in as well.
The single image of the sign at the protest also received widespread media coverage, including from the CBC, CTV News, City News, Ottawa Citizen and others.
Ottawa police, meanwhile, announced that they're "aware" of the image, and that "it is under investigation."
There clearly has been a great deal of discussion about the sign, and yet, little of it has actually dealt with what it likely was intended to get across.
The photo CIJA attached is blurry and the sign is difficult to make out with certainty. No one else has come forward thus far with a clearer image of the sign, and CTV News Ottawa, which had a camera at the rally, noted that "the pictured sign was not observed in a review of raw footage recorded at the protest." Still, it appears as if the sign was taken from Google Images, and is as follows:
The mentions of the sign from politicians make it appear as though a swastika was being waved on its own in support of Nazis. This is particularly true of Trudeau and Poilievre's tweets, which had no images attached to allow people to see for themselves. The sign, however, is obviously not pro-Nazi. Instead, it's equating Zionism with Nazism, as a means of critiquing Zionism. You don't compare something you want to critique to something of which you approve.
I'm sure the politicians in question and pro-Israel groups don't agree with the comparison, nor do many others. Regardless, it's not the same as flying a swastika on its own in support of the Nazis. And comparing your political opponents to the Nazis, or their leader to Adolf Hitler, whether warranted or not, is a common practice. Such examples have been spotted all across Ukraine protests in the past couple of years.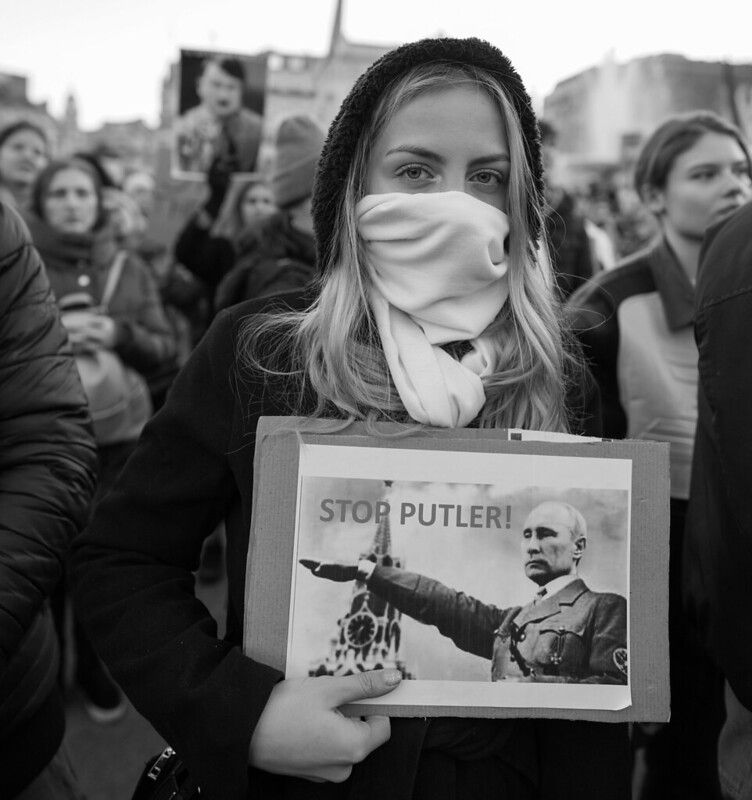 It's telling that this is the best example of supposed antisemitism that the largest pro-Israel groups in the country have come up with on a day where tens of thousands of people taking part in rallies they deem to be inherently hateful were in full public display.
It's also telling that when a swastika appeared in Ottawa during the right-wing "Freedom Convoy," along with a Confederate flag, CIJA had quite a different perspective than what they tweeted out over the weekend. I'll include both of the tweets here so you can see the stark difference.
In sum: someone who used to literally do PR for Israel shared an image that was picked up by a pro-Israel lobby group and misrepresented in a blatant attempt to smear pro-Palestine protesters despite a worse incident being brushed off by them in the past when the protest in question had nothing to do with Palestine. And then the most prominent politicians in the country spread the smear as far as they could.
Get all the latest posts delivered straight to your inbox.
Processing your application
Please check your inbox and click the link to confirm your subscription.
There was an error sending the email