Quebec's Tax On The Unvaccinated Risks Undermining Public Health System, Experts Warn
"Where I think it sets a precedent is you're now putting an annual tax or annual levy on people based on their on their health status, or on their risk of developing disease."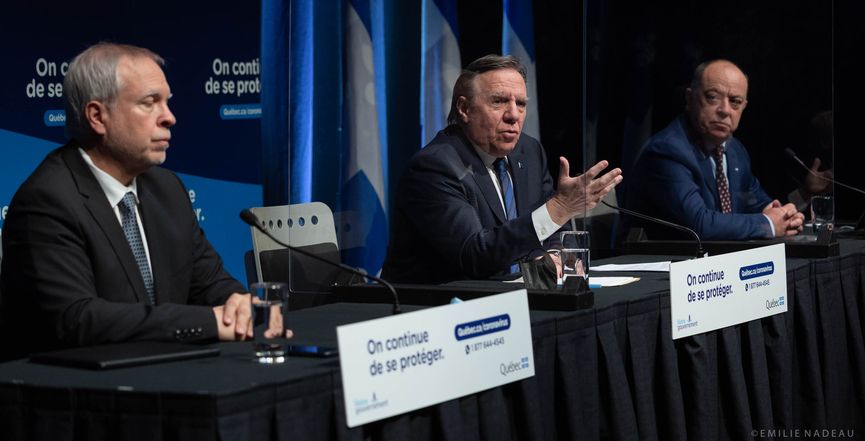 Experts are raising concerns about the Quebec government's plan to impose a tax on people who are not vaccinated, saying the drastic measure risks undermining the principles of universal healthcare and could worsen existing inequities within the health system.
On Tuesday, Quebec Premier Francois Legault announced that those who are not vaccinated and lack a valid medical reason for refusing to get the shot will be subject to a "healthcare contribution." The amount they will be forced to pay is not yet clear, but Legault said he wants the levy to be "significant."
Legault added: "It's also a question of fairness for the 90 per cent of the population who have made some sacrifices. I think we owe them this kind of measure."
According to the Toronto Star, some observers have characterized the measure as a political move by Legault, whose province is grappling with a steep rise in Omicron driven hospitalizations, and anger directed against both his government and the unvaccinated. Those who are not vaccinated currently comprise half of all patients in Quebec's intensive care units.
According to the latest data, there are a total of 2,877 people in Quebec hospitals with COVID, including 263 people in intensive care. Earlier this week, the province's public health director, Dr. Horacio Arruda, resigned as the health system became overwhelmed by the Omicron surge, forcing surgeries and medical services to be postponed.
Dr. Danyaal Raza, a past chair of Canadian Doctors for Medicare and a family doctor in Toronto, told The Maple he is not aware of any experts who have endorsed taxing the unvaccinated, and said such a drastic measure risks undermining universal healthcare in Canada.
"Where I think it sets a precedent is you're now putting an annual tax or annual levy on people based on their on their health status, or on their risk of developing disease," said Raza.
One of the advantages of having a universal public health system, Raza explained, is that everyone is covered regardless of their health status, and the system is financed through a progressive tax system based on income.
"If we move to a system where suddenly your payment into the insurance system is based on your underlying health status, that's exactly how the private health insurance industry operates, and that would be a disastrous way to operate our healthcare system," said Raza.
Similarly, Kerry Bowman, a professor at the University of Toronto's faculty of medicine, told the Star: "The health-care system does not make judgments about the kind of behaviour that we like and don't like in our patients."
Bowman added: "You can point out the health risks to people, but you don't turn them away. You don't lecture them, and you don't fine them. This really tears at the roots of the Canada Health Act and the ethics that underpin the Canada Health Act."
According to the Canada Health Act, the primary objective of the public health system is to "protect, promote and restore the physical and mental well-being of residents of Canada and to facilitate reasonable access to health services without financial or other barriers." (Emphasis added.)
Advocates for Black and Indigenous peoples say the measure also risks amplifying existing inequities inside the health system.
Black Health Alliance executive director Paul Bailey told The Canadian Press that the measure could make those who face existing systemic barriers and injustices have even less trust in governments and public health institutions.
Bailey explained further that many neighbourhoods with large populations of Black, racialized and low-income peoples have relatively high numbers of COVID cases, but lower rates of vaccination. Imposing a levy on members of those communities who are often already grappling with challenges like food and housing insecurity, "only further entrenches those inequalities," Bailey added.
Data published by Statistics Canada back in March 2021 showed that the most racially diverse neighbourhoods in Canada saw COVID mortality rates twice as high as those seen in predominantly white areas between January 2020 and January 2021. In December 2020, the Canadian Institute for Health Information (CIHI) found that Canada's poorest neighbourhoods had the greatest number and percentage of COVID-19 hospitalizations and emergency department visits during the first wave.
Voicing similar concerns to Bailey, Caroline Lidstone-Jones, CEO of the Indigenous Primary Health Care Council in Ontario, told CP: "How do you tell somebody who's worried about meeting their basic needs, that now I'm going to charge you because you can't even meet your basic needs, as you know, clothing, food, shelter?"
Another issue, Raza told The Maple, is that it is unclear what proportion of the unvaccinated population are hardened anti-vaccine conspiracy theorists versus those who are merely hesitant or face systemic barriers to getting the shot, like being unable to get time off work or needing to care for family members. Others, Raza noted, may face language barriers or be undocumented immigrants.
Quebec's measure, Raza explained, is therefore likely to penalize marginalized peoples who could potentially be reached through less aggressive measures, like door-to-door canvassing and providing paid time off work for getting the shot.
"My impression [is] there's still a chunk of folks who are unvaccinated who we can reach," said Raza.
Prime Minister Justin Trudeau said Wednesday he's not yet ready to support Quebec's measure, but that it must comply with the Canada Health Act.
"We'll be looking at the details to see how exactly this will transpire," Trudeau said.
On Tuesday, CTV News reported, more than 7,000 Quebecers signed up for their first vaccine dose following Legault's announcement. According to the Quebec government website, 84.9 per cent of the total population have received at least one dose so far.
Despite the recent uptick in new vaccine appointments, however, Raza worries about the long-term potential for the tax policy to erode trust in the public health system.
"That's something that we have to maintain in the way that we respond here," Raza explained.
This post is for paying subscribers only