Stephen Harper Praises Saudi Regime, Calls for Closer Western Ties
Amnesty International notes that Saudi Arabia imposes brutal prison sentences on those advocating for human rights or expressing dissenting political views.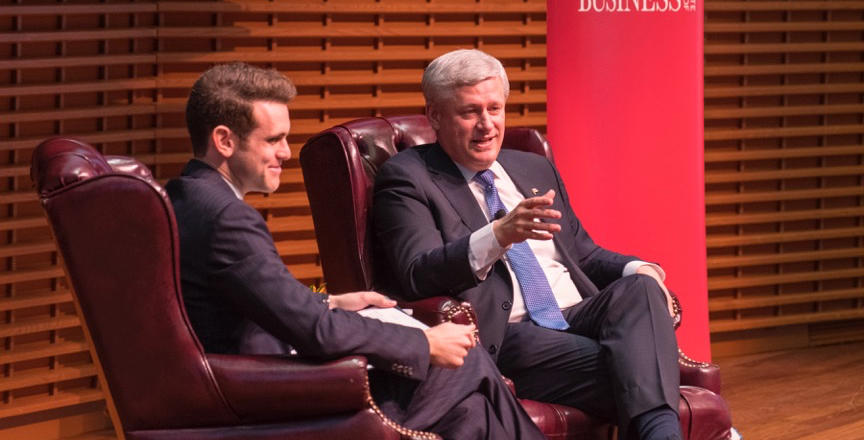 Written by Alex Cosh
Former prime minister Stephen Harper made an appearance in the op-ed pages of the National Post last week to warn against negotiating with Iran because of its "theocratic ideology," before advocating for closer ties with Saudi Arabia, a theocratic monarchy and notorious human rights abuser.
Writing in the Postmedia-owned publication on May 7, Harper characterized attempts to strike a nuclear deal between the U.S. and Iran as "misguided." He explained: "The approach fails to recognize that Iran's nuclear program is only a manifestation of its extremist Shia theocratic ideology."
"We should hope … that the Joint Comprehensive Plan of Action (JCPOA) process with Iran is abandoned for good," Harper added.
The JCPOA is an agreement first struck in 2015 between Iran and China, France, Germany, Russia, the United Kingdom, and the United States, which curtailed Iran's nuclear program in exchange for an easing of crippling sanctions imposed by the West.
In 2018, president Donald Trump withdrew the United States from the agreement, a move Harper supported but that was condemned as reckless by arms control advocates and seen by Iranian lawmakers as further proof that the U.S. cannot be trusted. The Trudeau government reaffirmed its support of the deal in response to Trump's withdrawal.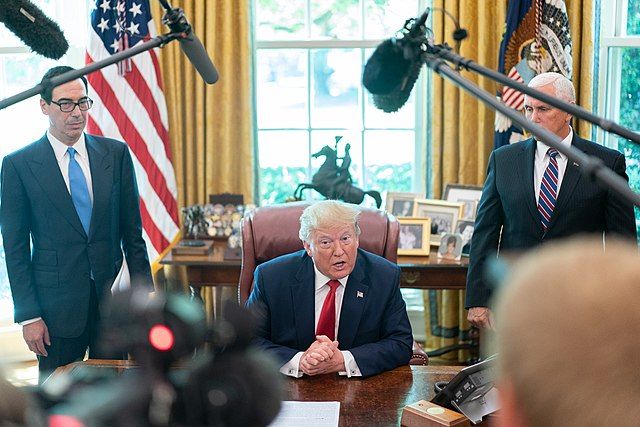 In his recent op-ed, Harper continued: "The obsession with engaging Iran has caused many leaders to lose sight of who are our real allies in the region."
Who are these allies? Among those that Harper considers most important is Saudi Arabia, an authoritarian monarchy with a notoriously poor human rights record. Harper wrote:
"The refusal of the U.S. administration to build ties with Saudi Arabia is an alarming case in point. The Kingdom is embarked on a wide range of reforms that the West has long wished for: greatly increased economic and social rights for women, freedom to travel abroad, accelerating economic diversification through Vision 2030, the crackdown on extremist actors and ideologies, and more."
Renowned international human rights organizations regularly list Saudi Arabia as a longstanding human rights violator.
An overview by Amnesty International notes that the kingdom's "Specialized Criminal Court" regularly imposes brutal prison sentences on those advocating for human rights or expressing dissenting political views.
In its 2021-22 report on the kingdom, Amnesty explained:
"Women human rights defenders were subjected to judicially imposed travel bans following conditional release from prison. Courts resorted extensively to the death penalty and people were executed for a wide range of crimes. Migrant workers continued to be vulnerable to abuse and exploitation under the country's sponsorship system, and tens of thousands were arbitrarily detained and subsequently deported. Prison authorities violated the right to health of human rights defenders and others imprisoned after grossly unfair trials."
In regards to the Saudi reforms praised by Harper, the organization Human Rights Watch (HRW) stated in February last year:
"Ongoing repression and a lack of respect for basic rights are major barriers to progress … the repression of independent civil society and critical voices that can provide objective feedback decreases the chances that reform efforts will be successful."
Michael Page, deputy Middle East director at HRW, said last year: "Announcing reforms doesn't halt the authorities' no-holds-barred repression of civic activism, which fundamentally undermines these measures."
Saudi Arabia recently led a brutal bombing campaign in the neighbouring country of Yemen. A Ceasefire was announced in March.
As explained by Al Jazeera: "The Saudi-led coalition [was] accused of bombing schools, hospitals and other civilian targets while the Houthi rebels, who control much of northern Yemen, were also accused of major violations."
Last year, a report found there was "persuasive evidence" that Canadian-made weapons were being used in the conflict, which since 2014 has killed an estimated 377,000 people.
According to the UN, 70 per cent of those killed were children under the age of five, with many dying as a result of preventable diseases and malnutrition indirectly caused by the war.
In 2014, arms manufacturer General Dynamics Land Systems Canada sold $15-billion worth of light-armoured vehicles (LAVs) to Saudi Arabia's National Guard, a deal first approved by Harper's Conservative government.
Last October, Harper said he was proud of the sale. "The relationship was grounded in shared opposition to the threat posed to the region and wider world by the regime in Iran, a threat that continues to grow," he wrote at the time.
Harper made the remarks ahead of a visit to Saudi Arabia where he attended the Future Investment Initiative, a non-profit run by the kingdom's sovereign wealth fund.
The event was boycotted for a limited period by many Western business leaders and politicians after the Saudi monarchy arranged the brutal murder of journalist Jamal Khashoggi in 2018. However, investors have since flocked back to the event, The Globe and Mail noted.
Since leaving office, Harper has been involved in business dealings with other human rights abusing countries in the region.
Last September, CBC News reported that the former prime minister was the head of an advisory committee of a Canadian company called AWZ Ventures that sought to facilitate the sale of Israeli surveillance technology to the United Arab Emirates (UAE).
The UAE has used spyware against journalists and human rights defenders, and has used the technology to convict dissidents under its cyber crimes law, which criminalizes even the slightest criticism of the regime, CBC noted.
Siena Anstis, a senior legal adviser to Citizen Lab, a University of Toronto research body, told CBC last year: "The sale of cyber surveillance technologies to a country like the UAE is inherently problematic from a human rights perspective."
This post is for paying subscribers only