Good morning, and welcome to the first edition of The Maple's politics newsletter. We'll be providing you with daily election coverage, digging deep into stories that matter to the 99%. If you haven't already, be sure to sign up for our daily newsletter so you don't miss the most important stories of this election.
With the long-anticipated snap election called last Sunday, the federal parties are busy campaigning around the country. The Conservatives are pledging to scrap and replace the federal Liberals' $10 per day child care program with a refundable tax credit, while Prime Minister Justin Trudeau announced that a re-elected Liberal government would extend the Canada Recovery Hiring Program, a corporate subsidy that provides eligible companies with up to 50 percent of employee wages.
Earlier this month, Fahad Razak, an assistant professor at the University of Toronto and a member of Ontario's COVID-19 science advisory table, told CBC it was possible for an election to happen safely during the ongoing pandemic, but that the campaign period should be "as long as possible" to allow for enhanced safety measures.
However, with election day scheduled for September 20, the campaign will be just 36-days long — the minimum length for an election period required under federal law.
Some observers are concerned about the impact the snap election will have on turnout, particularly among low-income and working-class voters.
Simon Black, professor of labour studies at Brock University, told The Maple he thinks the timing of the election is irresponsible.
"(The Liberals have) made the calculation that they don't necessarily need to see a huge voter turnout in this election for them to win a majority, so it's quite a cynical calculation, quite damaging to the overall health of democracy," said Black.
In particular, Black explained, voter turnout among low-income and working-class voters has been in decline in most Western capitalist countries since the 1970s, a trend that could be made worse this election by the reality of the ongoing pandemic.
"We know from the political science literature that non-voters are disproportionately low income, working class, and working-class lone mothers, especially, have low rates of voting," said Black.
"When you combine that with a pandemic, with many workers still considered essential, with many workers working in industries in which their employment rights, including their right to vote, are not respected by their employers, then this tells us there will probably be an even lower turnout amongst those voters," he added.
Toronto Public Health data last year showed that low-income and racialized groups in the city were disproportionately hit by the pandemic.
As well, said Black, the failure of successive federal governments to make election day a holiday has worsened the problem of low voter turnout.
"There's not been an effort to actually increase voter turnout by the ruling-class parties in Canada," he explained. "There's been no effort to make election day a statutory holiday for instance, where all workers, regardless of their occupation, have the whole day to vote."
Under federal law, employers are required to give workers three hours' paid time off to vote on election day. However, Black said, rights on paper don't always translate to rights in practice.
"For a vulnerable, precarious worker, they may not feel the power in that workplace to assert their rights, including the right to take time off to vote," he explained.
An anticipated low turnout among low-income voters also means that policies in the Liberal and Conservative party platforms are unlikely to be focused on supporting working people, Black added. This trend, he explained, can be countered by increasing rates of unionization.
"Where there is a strong organized working class, there are policies and there are politics that are more beneficial to a broad range of working class people," said Black.
More broadly, Black believes conversations around voter suppression need to pay closer attention to measures that go beyond laws overtly aimed at disenfranchising voters, like those passed by Republican legislators in the United States.
"I think we need to start talking about other ways voter suppression happens and that this (Liberal) party and this government has made a calculation based on a lower voter turnout, and I think that's incredibly corrosive for a democracy to have that kind of cynical, calculated approach to securing their majority," said Black.
Jerry Dias, president of Unifor, told The Maple that although he is not thrilled by the timing of the election, he believes it is time to mobilize working-class Canadians for the election, and to scrutinize the federal parties' plans for a pandemic recovery.
"So many Canadians that felt the brunt of the pandemic saw that we had an unemployment insurance system that didn't work — it crashed," said Dias. "So who has the best vision for social programs; what is it going to look like? I think we need to move off the 'geez, why did they call the election?' to: 'we have an election, what do we want to come out of it?'"
Dias said his union wants to see plans for Canada to develop domestic personal protective equipment and vaccine manufacturing capacity ahead of future public health emergencies, as well as job creation and plans for building a green economy.
On that last issue, Dias said, the Conservative Party is especially weak.
"At the Conservative convention they couldn't even get an agreement on a policy paper that said climate change is real, so things like that are certainly going to hurt the Conservative Party and will help the parties with a vision," said Dias. "The problem that they've got is that Erin O'Toole has no control over his party. Ultimately they have no plan."
Dias added that childcare and supporting women during the pandemic recovery will be another critical issue for his union's membership this election.
"We know that women were more negatively impacted during the pandemic than men, so we need an economic plan that's based on equality," said Dias.
"Whoever gets elected, the childcare initiative introduced by the Trudeau government has to continue," he added.
For more about how the pandemic has disproportionately impacted racialized women, check out these stories:
---
Thank you for reading The Maple. We're not funded by corporations or advertising, which means our public-interest journalism is only possible with support from ordinary readers like you. If you're not already subscribed to our daily newsletter, please consider signing up today for just $48 per year.
---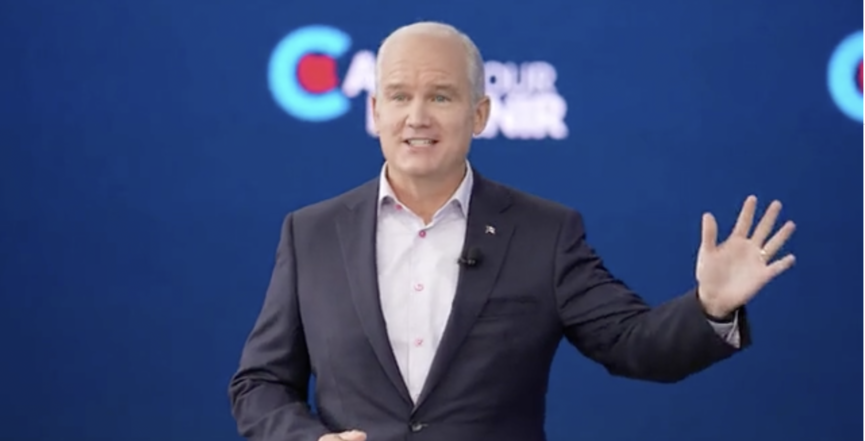 Election News
Other Stories
---
LISTEN: The Alberta Advantage team interviews climate justice activist Avi Lewis about how his views fit within today's NDP, and his candidacy for that party in West Vancouver–Sunshine Coast–Sea to Sky.
WATCH: NDP Leader Jagmeet Singh promises to tax the "ultra rich" and companies that "abuse the system" in a campaign speech, vowing to end the "free ride that Liberals and Conservatives have given them" (Global News).
---
Commentary
Get all the latest posts delivered straight to your inbox.
Processing your application
Please check your inbox and click the link to confirm your subscription.
There was an error sending the email