On March 3, the Canadian government announced a new round of what is euphemistically called "lethal aid" — also known as weapons — to be sent to Ukraine in response to Russian President Vladimir Putin's invasion.
Announcing the arms transfers, Deputy Prime Minister Chrystia Freeland said:
"It's already been a bloodbath. I think it's going to become more of a bloodbath. I'm sure I'm not the only person who wakes up in the middle of the night just to check that Kyiv is still OK, that Kharkiv is still OK. And I think we have some terrible nights ahead."
Since the start of the invasion on Feb. 24, Canada has sent the following military assistance to Ukraine:
4,500 M72 rocket launchers and up to 7,500 hand grenades.
$1 million towards purchasing high-resolution modern satellite imagery.
100 Carl-Gustaf M2 anti-tank weapons systems and 2,000 rounds of ammunition.
1,600 fragmentation vests and 400,000 individual meal packs
$25 million in helmets, body armour, gas masks and night vision gear
Two C-130J tactical airlift aircraft and a team of 40-50 personnel to deliver aid and support.
$50 million in additional aid, including for drone surveillance technology.
Prior to Russia's invasion, Canada sent $7.8 million worth of C6 and C9 machine guns, pistols, carbines, sniper rifles, 60-millimetre mortars, thermal imaging binoculars, cameras, scopes and about 1.5 million rounds of ammunition.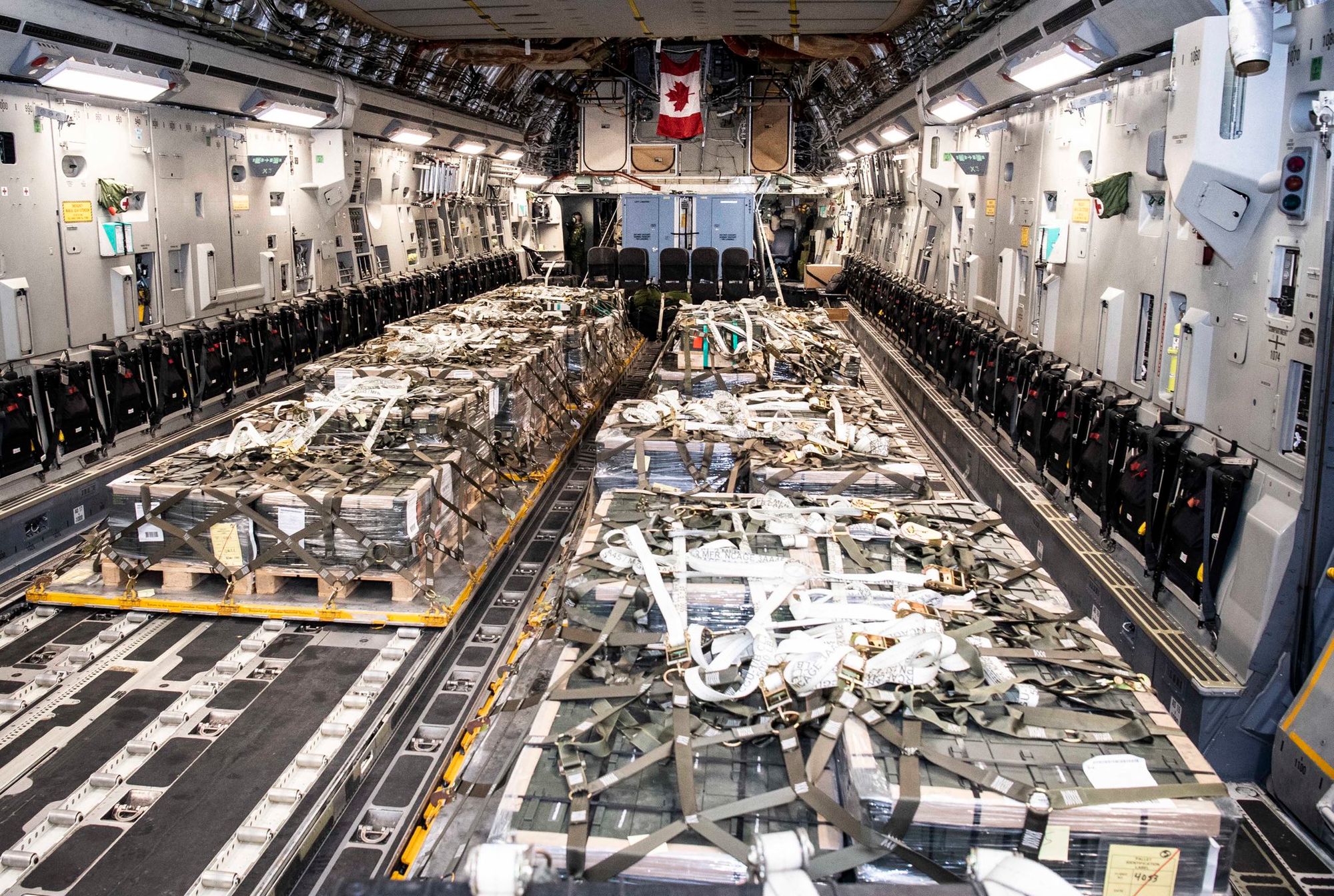 Prime Minister Justin Trudeau said on March 24 that more weapons shipments are to come, but didn't provide specifics.
As military supplies pour into the conflict zone, concerns have emerged about who might get their hands on the weapons.

Russia has sought to justify its invasion by claiming it needs to "de-Nazify" its eastern neighbour, despite Ukraine's liberal Jewish president, Volodymyr Zelensky, having secured more than 70 per cent of the vote in the 2019 election, where he ran on a platform of peace with Russia.
In a parliamentary election the same year, a coalition of far-right parties received less than three per cent of the vote, and won no seats in Ukraine's national legislature.
Nonetheless, there remains an active presence of far-right paramilitaries in Ukraine, particularly within the country's security apparatus.
The neo-Nazi Azov Battalion, whose affiliates have boasted of receiving assistance from a Canadian training mission in the country and met with Canadian military officials in 2018, has been an official component of Ukraine's national guard since 2014.
Other far-right groups, such as Right Sector, exist outside the official structures of the Ukrainian state, but remain active.
How can Canada guarantee its military aid doesn't fall into the hands of far-right extremists or other dangerous groups? Experts told The Maple there's always a risk of arms being diverted from their intended recipient, a danger that is exacerbated by war.
Department of National Defence insists it doesn't aid extremists
Canada's Department of National Defence (DND) flatly rejected the notion that Canadian military aid could go towards assisting far-right extremists in Ukraine.
"As we have previously stated, the Canadian Armed Forces have never – nor will it ever – provide training or support the Azov Battalion or affiliated entities," a spokesperson said in an emailed statement to The Maple.
"The Department of National Defence and the Canadian Armed Forces are strongly opposed to the glorification of Nazism and all forms of racism, racial discrimination, xenophobia, intolerance and extremism."
All Canadian military aid to Ukraine goes to the country's Ministry of Defence, not its Interior Ministry, which Azov is incorporated into, the DND spokesperson said. The Ukrainian Ministry of Defence provides its Canadian counterpart with end-use certificates that show where the weapons have gone and for what purpose.
Prior to export, the Canadian government conducts a risk assessment to "evaluate both the recipient and the risks of an arms transfer."
This conforms to the UN Arms Trade Treaty, to which Canada is a signatory, DND added. The ministry declined further comment, citing "operational security reasons."
Canada has previously been accused of violating the UN treaty when it sold armoured vehicles and sniper rifles to Saudi Arabia.
A report published last year found "persuasive evidence" that Canadian-made weapons were used in the kingdom's assault on Yemen, a conflict which has killed an estimated 377,000 people, mostly children under the age of five.
How rigorous are the assessments?
The "volume and speed" of Canadian military aid to Ukraine is "unprecedented in recent Canadian history," wrote Kelsey Gallagher, a researcher with Project Ploughshares, a group dedicated to disarmament, earlier this month.
Gallagher told The Maple that while "it's certainly welcome news" that DND does risk assessments for military aid transfers, it's unclear how extensive they are based on DND's statement.
Ukraine being a war zone necessitates more rigorous assessments than normal to avoid a "fire and forget" scenario. Specifically, DND officials should follow up with their Ukrainian counterparts to confirm that the aid is used as intended, Gallagher said.
"It's certainly riskier to export weapons to a war zone, and that's not particularly unique to the case of Ukraine," he explained. "When governments are experiencing conflict, the absorption capacity of the receiving government is diminished and that's just because of the chaos of conflict."
Smaller items, like the ammunition and grenades Canada is sending, are easier to divert away from their intended user, given the relative ease with which they can be concealed and transported. These supplies warrant added caution, Gallagher said.
Srdjan Vucetic, a professor of public and international affairs at the University of Ottawa, said DND's suggestion that there's a firm line between the Ukrainian Ministry of Defence and Ministry of Interior doesn't pass muster.
"These lines always get blurred in any high-intensity conflict," he told The Maple.
Vucetic said risk assessments can be used as a fig leaf to shield governments from legal or political liability while "actually enabl[ing] weapons flows."
"The one thing that can stop transfers is an official moratorium – a cessation of export permits to certain actors for a certain period of time," he explained. "That's more or less what Canada has done with exports to Russia since 2014."
Barring a moratorium, it is inevitable arms will fall into the hands of not only Ukrainian extremist groups, but also pro-Russian separatists fighting in the Donbas region of eastern Ukraine, as well as the black market, he said.
Vucetic pointed out that some Canadian rifles sold to Saudi Arabia wound up in the hands of the Houthi rebels fighting the Saudis in Yemen.
Allen Sens, an international relations professor at the University of British Columbia, agrees that diversion is bound to occur in some capacity.
"Absolutely, it's going to happen," Sens told The Maple. "I think the key is to make sure that [risk is] minimized."
What happens once the conflict ends?
There is a heightened risk of arms being diverted once the conflict ends.
"These weapons don't just disappear," said Gallagher. "The lifecycle of a firearm, for instance, is quite long. It would challenge the lifespan of a human sometimes."
Sens said the risk of extremist groups acquiring weapons has been overlooked because the primary goal at the moment is repelling Russia's invasion.
But young Ukrainians who have seen their country invaded are at risk of being radicalized while extremist groups are actively recruiting members on the ground – a dangerous cocktail.
"I have no doubt that we will see further radicalization," said Sens. "Fighters on the front will come into contact with these ideologies. Some of them will be persuaded. Others will find comradeship in battle with people with extreme far-right views."
"Because of bonds forged during their fight against a common enemy, some soldiers will be reluctant to turn away from extremist groups or those individuals," he added.
After the war, it's going to be a major challenge for the Ukrainian government, "assuming it survives," to deal with the far-right extremist threat, Sens explained.
This problem won't be confined to Ukraine. The presence of all these weapons in a conflict zone could lead to the phenomenon of "blowback," where weapons are diverted elsewhere and used against Western interests, as was the case with the weapons that flooded into Afghanistan after the Soviet invasion of the late-1970s and 1980s.
"Should we be worried? Should we be concerned? I think the bottom line is there's always worry or concern when you transfer [weapons] systems," Sens said. "There's never no risk."
Jeremy Appel is a journalist based in Calgary, and his work has appeared in The Sprawl, CBC Calgary, Jacobin, Passage and the Forward. He also co-hosts the Forgotten Corner and Big Shiny Takes podcasts.
Get all the latest posts delivered straight to your inbox.
Processing your application
Please check your inbox and click the link to confirm your subscription.
There was an error sending the email