Assange Extradition Highlights Hypocrisy of West's 'Free Press' Ethos, Critics Say
Legal experts and public figures have warned it is highly unlikely that Assange will receive a fair trial, and that it is likely he could die in U.S. custody.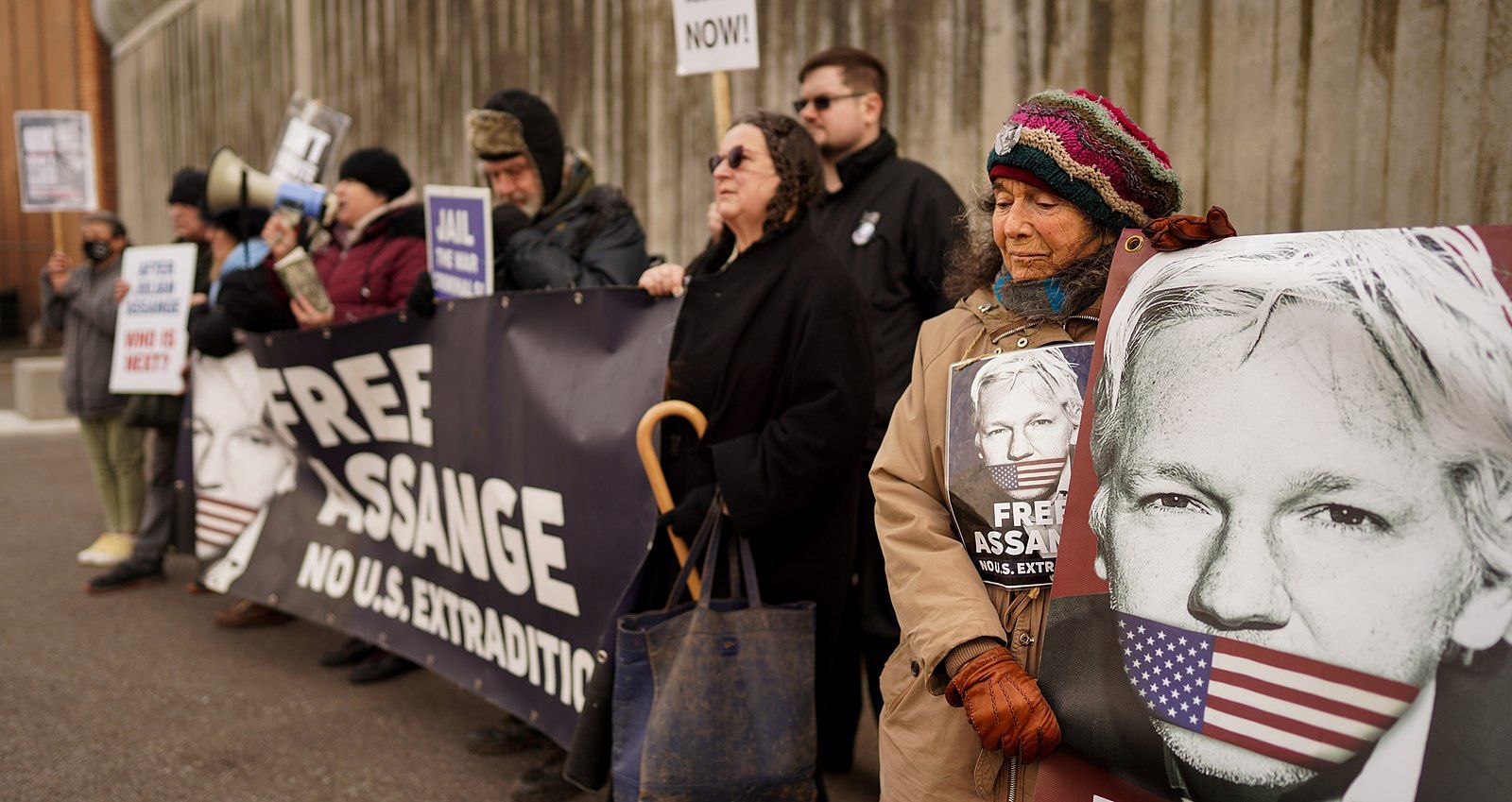 Written by Alex Cosh
Last week, British Home Secretary Priti Patel approved the extradition of WikiLeaks founder and whistleblower Julian Assange from the U.K. to the U.S., prompting condemnation and concern about the damage the decision will do to press freedom across the world, including in Canada.
Critics say the decision also highlights the hypocrisy of Western countries who condemn freedom of press violations committed by geopolitical adversaries, while allowing Assange to face life imprisonment and potentially fatal health risks as a penalty for publishing public-interest information.
The U.S. government's pursuit of Assange, an Australian national, began in 2010, when WikiLeaks published a cache of leaks provided by Chelsea Manning, a U.S. army soldier at the time, as well as classified diplomatic cables. Assange has been continually surveilled by security forces for at least the past decade.
Last year, a report revealed that CIA officials working under president Donald Trump had discussed a plan to assassinate Assange while he sought political asylum in the Ecuadorian Embassy in London to avoid being extradited to the U.S.
Assange entered the embassy in 2012 after being charged with two counts of sexual assault by Swedish authorities. He denied the charges, and feared they would ultimately result in his extradition from Sweden to the U.S., where he would be charged with "espionage."
Sweden dropped its investigation in 2019. Ecuador's new government had revoked Assange's asylum status five months prior, allowing him to be arrested by British police for failing to surrender to court, and ultimately imprisoned.
He faces 157 years in jail in the U.S., including in solitary confinement, for espionage. Legal experts and public figures have warned it is highly unlikely that he will receive a fair trial, and that it is likely he could die in U.S. custody, as his health has been rapidly deteriorating during his imprisonment in the U.K.
Psychiatrists have previously testified that Assange is on the verge of suicide.
A twitter thread posted last week summarized some of the video footage brought to light by WikiLeaks showing war crimes committed by U.S. and coalition forces during the invasion of Iraq that began in 2003.
A now infamous video from 2007 shows an American gunship helicopter opening fire and killing at least 12 unarmed civilians, including two journalists, and wounding two children. The U.S. troops also shot civilians who arrived on scene to help the wounded.
In another video, U.S. troops encouraged Muslim children to chant "I love pork." Another clip shows American soldiers forcing Iraqi children to run for water bottles thrown from a military vehicle.
The thread depicts other horrific footage that some readers may find upsetting. We recommend caution before viewing the content.
Regarding Patel's decision, former U.K. cabinet minister David Davis said: "I do not believe Mr Assange will get a fair trial. This extradition treaty needs to be rewritten to give British and American citizens identical rights, unlike now."
Renowned British journalist John Simpson said: "Journalists in Britain and elsewhere will be very worried by the decision to extradite Julian Assange to the US — both for his own well-being & for the precedent it creates for journalism worldwide."
Agnes Callamard, secretary general of the human rights group Amnesty International, said: "Allowing Julian Assange to be extradited to the U.S. would put him at great risk and sends a chilling message to journalists the world over."
"If the extradition proceeds, Amnesty International is extremely concerned that Assange faces a high risk of prolonged solitary confinement, which would violate the prohibition on torture or other ill treatment."
Assange's wife, Stella Moris, warned earlier this month that her husband is "certain" to die if he is taken into U.S. custody, owing to his poor health.
Jim Turk, director for the Centre for Free Expression at Toronto Metropolitan University, said: "Chelsea Manning, who leaked classified material exposing U.S. war crimes, has been pardoned, yet Julian Assange, who published it (a journalistic activity), is facing an effective death sentence if U.K. extradites him to the U.S."
"Canada must speak up," he added.
WikiLeaks immediately announced last week that it would appeal the U.K.'s decision, stating:
"Today is not the end of the fight. It is only the beginning of a new legal battle. We will appeal through the legal system; the next appeal will be before the high court."
The organization added that everyone who cares about press freedom should be appalled by the decision. "He is a journalist and a publisher and he is being punished for doing his job."
On Tuesday, Lebanese-Canadian journalist Hassan Fakih wrote in the Toronto Star:
"Assange's extradition ruling shows the myth and insincerity of the so-called free press. Western states like the U.S. have long-held pride in their "uncombated" press freedom, while condemning and pointing at nations like China and Russia for suppression of the press.
However, it doesn't take a genius to recognize that if Assange were a Chinese or Russian journalist, publishing Chinese or Russian crimes, he'd be promoted as the face of press freedom, awarded a UNESCO/Guillermo Cano World Press Freedom Prize, and praised by the West as a hero."
Regarding the CIA's discussion of plans to assassinate Assange, Fakih continued:
"Assassination plots aren't a new concept from the American empire. The thought process is that whichever party blackens the face of the empire should be met with force."
The Canadian government has so far stayed silent on the extradition decision, and has similarly not spoken up to demand that Israel be investigated by the International Criminal Court for its killing of Palestinian journalist Shireen Abu Akleh last month.
Self-described press freedom organizations in Canada have also been silent on Assange's extradition. Canadian Journalists for Free Expression had not issued any statement via its website or Twitter page on Wednesday evening, and did not respond to a request for comment from The Maple.
This post is for paying subscribers only