Calgary Police Blame 'Both Sides' after Attacking Counter Protesters
Calgary police used bicycles to attack community members who were counter-protesting an anti-vaccine march last weekend.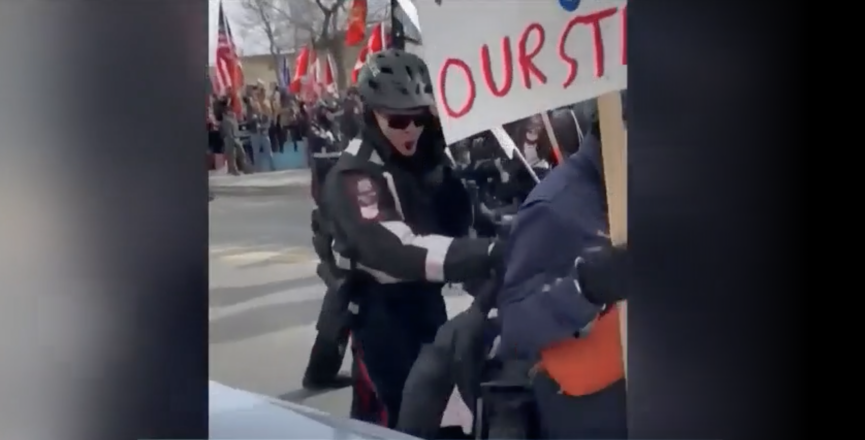 Calgary Police Service (CPS) Chief Mark Neufeld said Monday that his officers were trying to protect public safety when they used bicycles to attack community members who were counter-protesting an anti-vaccine march last weekend.
On Saturday, videos shared on social media showed Calgary police using bicycles to ram counter-protesters as they tried to stop the anti-vaccine march in the city's Beltline area.
A Twitter user in the city said: "Didn't see such aggression towards the protesters who have made living and working in the beltline hell every Sat for weeks."
Participants in the Calgary march have been spotted waving far-right libertarian symbols, flags suggesting that Canada is under a communist regime and signs calling on the authorities to "lock up" Prime Minister Justin Trudeau.
In another video, anti-vaccine marchers can be heard laughing and taunting the counter protesters as police forced them to move.
In a statement Saturday, CPS claimed the measures were taken to ensure that "approximately 2,000 Calgarians remained safe as they demonstrated through downtown Calgary."
In a press conference yesterday, Neufeld said the anti-vaccine marchers and those opposed had been about to come face to face on 17th Ave on Saturday. "Our plan to divert the [the anti-vaccine protesters] off of 17 Avenue failed when that larger group refused to follow the on-the-ground directions of our officers and to continue to march forward."
After the anti-vaccine marchers refused to cooperate, cops started using their bikes to ram the counter protesters, who also refused to move.
Maple contributor Jeremy Appel pointed out that despite Neufeld's claim that "neither group" was willing to compromise, only one was attacked by police.
As well, Appel said, Neufeld claimed there is "blame to be shared on both sides" and invoked the "professional protester" trope, suggesting that those who opposed the march were just looking for a photo opportunity.
Appel added, "After two years, Neufeld is now urging the anti-vaxxers to consider the impact of their protests on other people … I have a feeling they're not gonna listen."
According to CTV News, residents and businesses in the downtown area have expressed frustration over the weekly anti-vaccine marches, which have caused traffic jams and excessive noise in the area.
Calgary city councillor Courtney Walcott tweeted Saturday: "For months, we've watched our enforcement arm allow the "freedom" parade to march unabated ... When residents stood up to demand the parades end, they were met with force."
He added, "I've raised these concerns about these events with Police Commission, #yyccc, and City Admin—and I will continue to do so until this is resolved."
Mayor Jyoti Gondek also spoke out against the anti-vaccine rallies, calling for the enforcement of bylaws against participants.
On Saturday, Gondek tweeted: "The weekly disruption this community faces is not a "protest". It's a parade. At Central Memorial Park, it's a festival with merch & food vendors. Yet no permits or licenses."
Gondek added: "This is not about mandates. Those are gone. By waiting for this to die out, enforcement agencies have allowed it to grow."
In a recent episode of The Maple's North Untapped podcast, Edmonton community organizer Audrey Redman said the fact that far-right anti-vaccine marches have continued even after provincial restrictions have been lifted highlights the fact that the movement was always about much more than public health protections.
"It is not and has not, and will never be about mandates and restrictions," said Redman. "They can lift all of them, and this group of people will still be very angry and very organized."
The far-right "freedom" convoy and subsequent occupation of Ottawa that inspired the ongoing marches initially demanded that the Senate and governor general overthrow Canada's elected government to enforce the group's demands.
As reported by Appel in a recent piece for The Maple, Indigenous leaders and community organizers have accused police of enabling the far-right "freedom" convoy and ongoing protests against vaccines and governments from the outset.
Cheryl Casimir, the First Nations Summit political executive, told The Maple it is not surprising that law enforcement from the "oppressive, colonial system" that forced Indigenous children into residential schools would support a movement of this nature.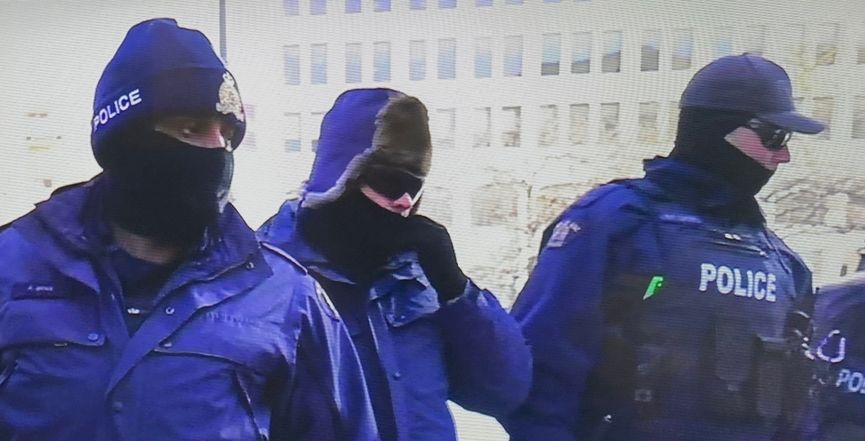 This post is for paying subscribers only