On Feb. 14, the Alberta RCMP made 13 arrests at the Coutts border-crossing blockade, which had been established in solidarity with the far-right extremist occupation of Ottawa.
After more than two weeks of letting the blockaders fester, the cops uncovered a cache of guns, high-capacity magazines, a machete and body armour with the insignia of Diagolon, a neo-fascist group that seeks to create a white ethnostate stretching from Western Canada to Florida.
Two of those arrested attempted to ram a police car with a semi-truck and large tractor, according to the cops' news release, which stressed the "militant mindset of a small segment [emphasis added] of the protest."
The next day, as the blockade cleared out, videos circulated online of RCMP officers hugging participants, providing a sharp contrast with images of militarized RCMP officers breaking down a cabin door with an axe and chainsaw to arrest Indigenous land defenders on Wet'suwet'en territory last fall.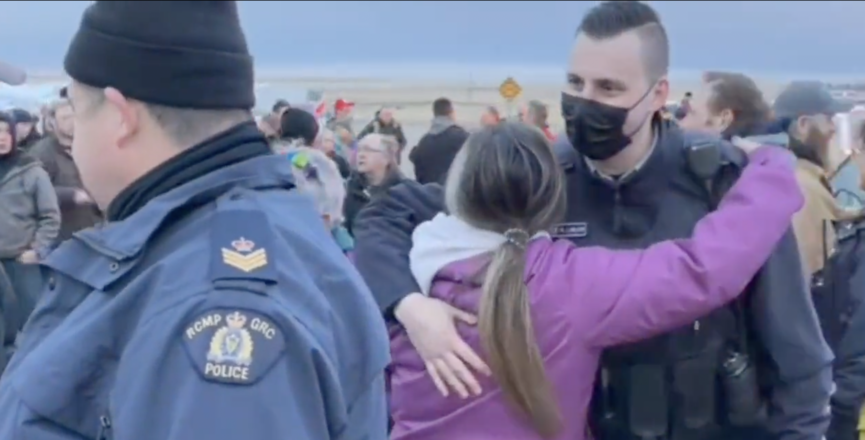 "I can't think of any of our Indigenous land defenders who might have gotten a hug from an RCMP officer," Kukpi7 Judy Wilson of the Neskonlith Indian Band told The Maple.
Wilson, who is the secretary treasurer of the Union of British Columbia Indian Chiefs, pointed out that some of the Ottawa occupation's leadership were former law enforcement professionals. Among them was Daniel Bulford, who was part of Prime Minister Justin Trudeau's security detail before quitting after refusing to get vaccinated.
Michael Kempa, a University of Ottawa criminologist, recently told the CBC it was clear from how the occupation of downtown Ottawa was set up that the organizers knew what they were doing. The occupiers used vehicles to block police infiltration and established an internal supply chain to ensure participants were fed.
"They have this sort of military or police or at least survivalist training," said Kempa. "Look at the sophistication of what they're setting up in terms of an encampment in downtown Ottawa. It looks like a military operation."
Meanwhile, 15 members of the Ontario Provincial Police, Toronto Police Service and Ottawa Police Service — all of whom had boots on the ground during the nearly month-long occupation of downtown Ottawa — are under investigation for allegedly donating to the cause.
The occupation, which was cleared from Ottawa last week, started out as a convoy that travelled to the capital from across Canada to protest public health protections. More pro-convoy protests took place on Parliament Hill and in other Canadian cities last weekend.
The Canadian Anti-Hate Network documented the far-right, white supremacist ties of key convoy organizers, including Tamara Lich, Pat King and B.J. Dichter.
Cheryl Casimir, the First Nations Summit political executive, told The Maple it was disheartening to see the thinly-veiled white supremacist convoy handled with such care by law enforcement and Conservative politicians.
Interim Conservative Party leader Candice Bergen, leadership candidate Pierre Poilievre and many other Tory MPs expressed support for the convoy.
"They certainly wouldn't be taking that kind of a stance if it was an Indigenous protest, or a Black Lives Matter protest, for that matter," said Casimir, who added that this all occurred during Black History Month, which was completely overshadowed this year.
Wilson said it's not surprising that law enforcement from the "oppressive, colonial system" that forced Indigenous children into residential schools would support a movement of this nature, a sentiment Casimir shares.
"It's because of racism, really. That's what it comes down to," said Casimir.
The Maple spoke to organizers of counter-protests against the convoy from Ottawa, Montreal and Edmonton about how they were treated by police in comparison to members and supporters of the occupation.
A hostage situation in Ottawa
Nowhere was the power of community organizing in the face of the police's far-right sympathies more evident than in Ottawa itself.
On the same day police made the arrests in Coutts, community organizers in Ottawa were able to stop 32 convoy trucks from driving downtown.
Initially, the counter-protesters blocked two street lanes, but police told them they had to open up a single lane for emergency vehicles.
After they opened up the lane, police allowed one of the convoy trucks to pass through, according to Sam Hersh, an organizer with Horizon Ottawa who helped organize the counter-demonstration.
In exchange for allowing the vehicles to move along, the counter-protesters extracted concessions from a segment of the convoy, such as removing far-right insignia from their trucks and vowing to leave Ottawa and never return.
The counter-protesters had initially wanted the drivers to leave their trucks and for the cops to have the vehicles towed and the drivers fined, but the police refused, so the counter-demonstrators negotiated with members of the convoy and law enforcement.
"It was a really crazy, sort of direct democracy thing, where we would have a megaphone and then test the crowd and ask them what concessions they were OK with giving, then we would go back and try to work with that," said Hersh. "It was almost like a hostage situation."
There is ample evidence that law enforcement officers across the country, and particularly in Ottawa, are at least sympathetic to the occupation's messaging, Hersh added.
The head of the Ottawa Police Association, Matt Skof, has been outspoken in his criticism of the "heavy-handed approach" of mandatory vaccination, calling it "sickeningly hypocritical" for those who called for a reduction in the city's police budget to demand that officers enforce the law against the occupation.
Hersh also cited the existence of organizations such as Police on Guard for Thee, founded to oppose "unconstitutional Public Health orders [sic]," and Mounties for Freedom, which is against the "forced coercive medical intervention of Canadians," as evidence of rank-and-file sympathy among police for the occupation.
As the occupation dragged on, there was pressure on police to do something about it, but certain incidents in Ottawa reminded anti-fascist organizers where police sympathies lie.
"It's hard to explain the tension in the air," recalled Hersh. "It's really palpable."
Occupation supporters were "straining to beat us up," he said, with a crowd of about a dozen showing up to confront the counter-protesters. When one occupation supporter assaulted a counter-protester, the police said they would arrest the assailant, but then didn't.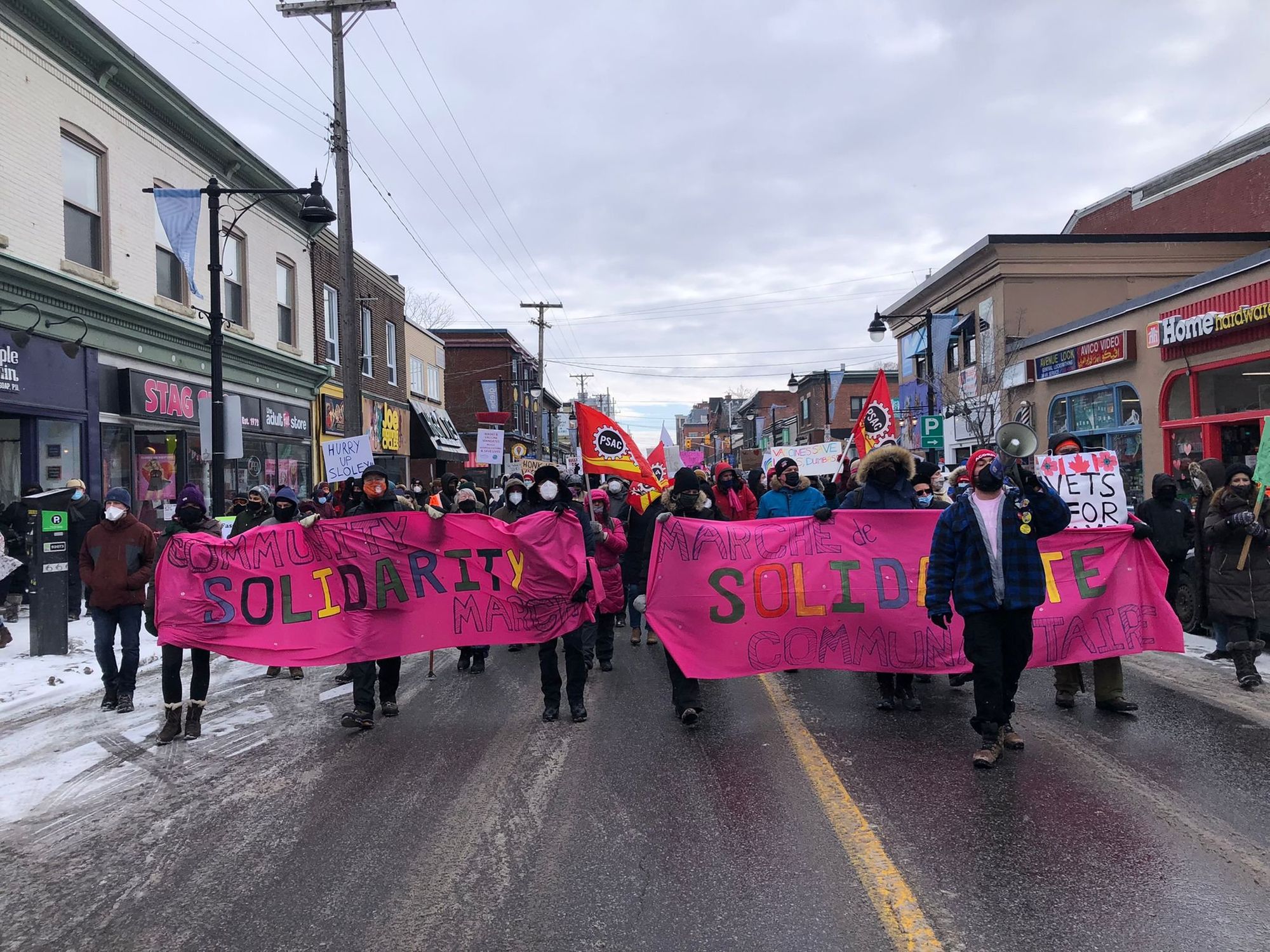 This is consistent with Hersh's past experiences dealing with police at anti-fascist demonstrations. At a 2019 protest against Canada's Safe Third Country Agreement with the United States, a far-right counter-protester hit one of the demonstrators on the head with a metal pole.
Police took the assailant back to their side of the barricade and proceeded to rough up the victim, said Hersh.
Police weren't so brazen this time, as the whole world was watching.
Police aren't a neutral force
Montreal-based anti-fascist organizer Jaggi Singh understands the disparate treatment of far-right and left-wing protest movements all too well.
Singh said a recent convoy counter-protest he helped organize in Montreal was surrounded by riot police. This came as a surprise to some of the less experienced attendees, who were also disturbed to see "Thin Blue Line" patches on many police officers' uniforms.
The "Thin Blue Line" is a pro-police symbol conceived as a right-wing reaction to the Black Lives Matter movement.
Singh said he explained to fellow attendees that this is simply the way things are.
"The police are not a neutral force," Singh told The Maple. "When push comes to shove, or when these issues emerge, large segments of the police and military take the side of overt fascism."
He said there had to have been "an enormous level of either collusion, or complicity, indirect or direct, or both, by the police to allow [the occupation] to happen."
Singh recalled previous demonstrations he attended where cops confiscated sound systems. By contrast, the occupation supporters in Ottawa were able to set up a stage for large musical events, not to mention saunas and hot tubs, unhindered.
That isn't to say police should have been aggressively shutting down the occupation, Singh emphasized, but the situation is symbolic of a "three-way fight" between fascists, anti-fascists and law enforcement.
Who gets to decide what is 'critical infrastructure'?
Emma Jackson, a seasoned climate organizer in Edmonton, helped arrange a counter-protest of about 40 people earlier this month that sought to disrupt a convoy on its way to the Alberta legislature, which they succeeded in doing for about 90 minutes.
She said the police response to the counter demonstration was "incredibly swift," with officers arriving within 15 minutes of the counter-protest starting.
Jackson, who was tasked with de-escalation as the counter-protest's police liaison, was told that if they didn't leave they could be criminally charged under Bill 1, the provincial government's Critical Infrastructure Defence Act, which prohibits the impeding of whatever the government deems "critical infrastructure."
Punishment under the act ranges from $10,000 in fines to six months in jail.
The Alberta Union of Provincial Employees, the province's largest union, announced on Feb. 11 that it would take a challenge of Bill 1, which the union regards "as a threat to its ability to effectively take strike and picket action on behalf of members," to the Supreme Court.
Notably, the Alberta government never invoked the act to deal with the situation in Coutts, where armed white supremacists blocked the border crossing with the U.S.
Jackson said she didn't anticipate this "sheer discrepancy" of cops threatening to use Bill 1 to charge the counter-protesters in order to make way for the convoy.
"But at the same time, I think we all knew from the outset, as we had seen across the country, that the police, obviously, have been aiding and abetting the movement in various ways," she said.
For Jackson, the disparate treatment of the convoy and counter-protesters shows that communities cannot depend on police to combat the far-right. We must do it ourselves.
"[The counter-protest] was about showing the public that opposition to these forces is possible, and that we don't need to passively stand by and sit around in our homes, and that those of us with the privilege to do so should be stepping up in this moment, in order to really confront the rise of the far-right in our communities," she explained.
Jeremy Appel is a journalist based in Calgary whose work has appeared in The Sprawl, CBC Calgary, Jacobin, Passage and the Forward. He also co-hosts the Forgotten Corner and Big Shiny Takes podcasts.
With a file from Alex Cosh.
Get all the latest posts delivered straight to your inbox.
Processing your application
Please check your inbox and click the link to confirm your subscription.
There was an error sending the email