Canada Could Be in Store for COVID-19 Wave This Spring
On Thursday, Ontario reported that 661 people were in hospital with COVID-19, including 165 in intensive care. There were also 10 deaths from COVID.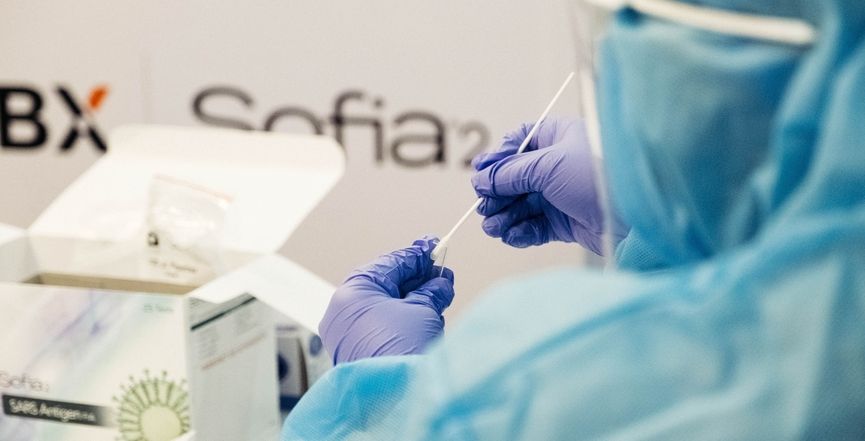 Experts are warning that Canada may be in store for another wave of COVID-19 cases this spring as provinces lift public health protections.
As reported by CTV News, wastewater data shows an increase in cases in many regions of Canada partly due to the Omicron sub-variant, BA.2.
Infectious disease expert Dr. Isaac Bogoch told CTV Thursday:
"It could be a wave, it could be a smaller wave… It's not entirely clear what's on deck, but we'll probably have a rise in cases and we know that whenever there's a rise in cases, there's usually this corresponding rise, sadly, in hospitalizations and deaths."
On Thursday, Ontario reported that 661 people were in hospital with COVID-19, including 165 in intensive care. There were also 10 deaths from COVID.
On Wednesday, 700 were in hospital, an increase of eight from the previous week, and 165 were in ICU, down 34 from last week, according to the province's Science Advisory Table.
Waste water signals have been on the rise since March 9 in every region of the province.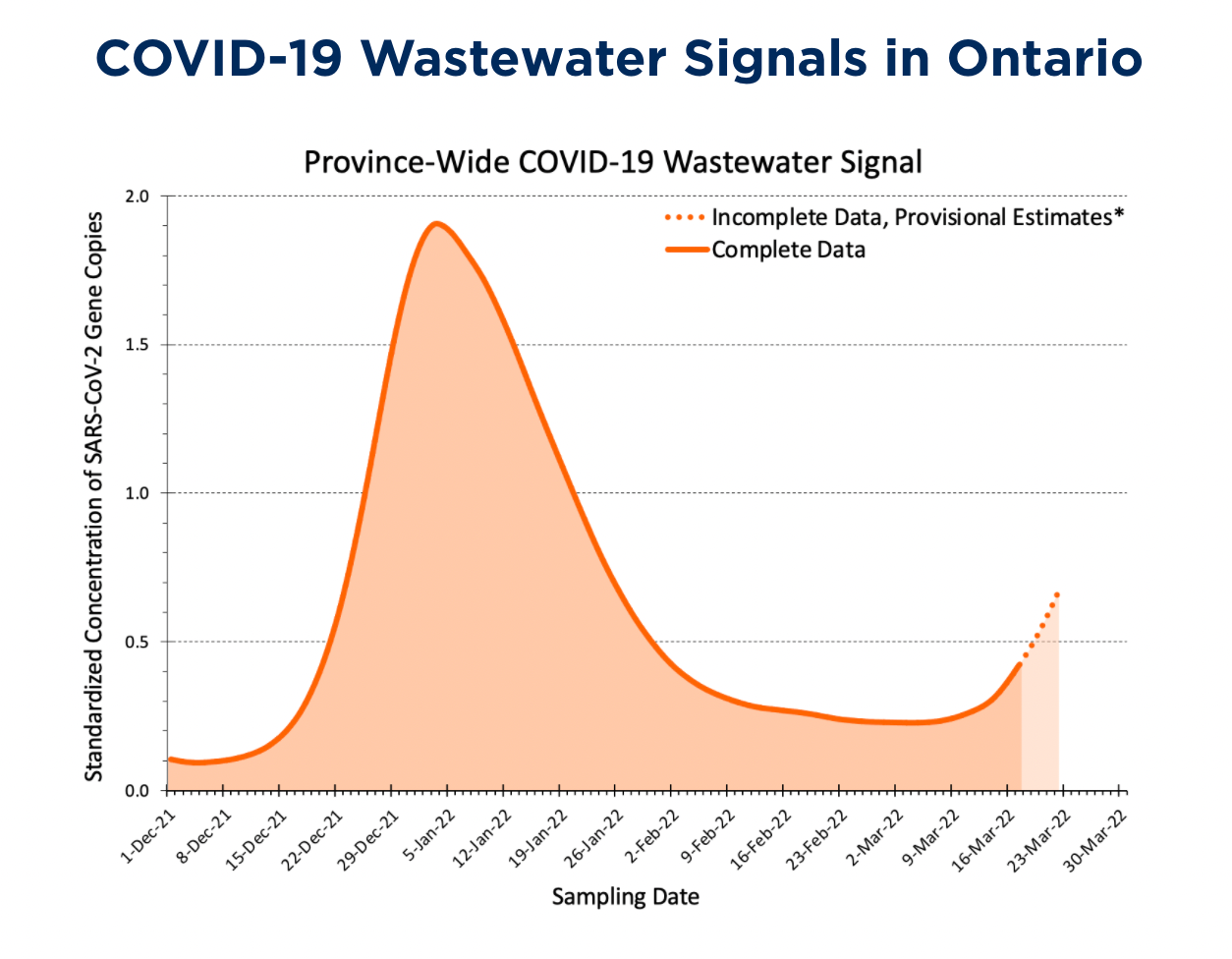 As reported this week by The Maple, Ontario and other provinces recently removed masking requirements in most indoor settings, prompting concerns that public health could be at risk once the impact of the relaxed rules takes effect. All masking restrictions in Ontario will be lifted by Apr. 27.
A recent study published by the California Department of Public Health showed that the odds of COVID infection were about half for people who reported wearing a mask in public compared with people who didn't. N95/KN95 masks reduced the relative odds of infection by 83 per cent.
Ontario's official case counts, said Dr. Amit Arya, a palliative care lead at Kensington Health, are likely lower than the true number because of reduced testing. Any rise in cases, he told The Maple earlier this week, puts vulnerable people's lives at risk.
"Canada ranks on the bottom tier [of OECD countries] when it comes to hospital beds per capita," Arya told The Maple. "We simply do not have the space to absorb patients who require treatment with COVID-19."
In particular, those who are disabled and immunocompromised are at risk. A study published in the Canadian Medical Association Journal in January found that of patients admitted to hospital because of COVID, patients with disabilities "had longer stays and elevated readmission risk than those without disabilities."
Data from Statistics Canada in November 2020 found "clear evidence" that those with compromised immune systems were at higher risk of dying from COVID.
Because of this, some have accused provincial governments of knowingly putting vulnerable people's lives at risk by lifting pandemic protections.
Megan Linton, a member of the Disability Justice Network who is disabled and immunocompromised herself, said the decision to lift mandates amounted to a move towards "eugenics," or the removal of people deemed "unproductive" from society through selective policies.
As reported by Gabrielle Peters for The Maple last month, disabled people say ableism has been a problem throughout the pandemic response, with governments failing to properly prioritize disabled people during vaccine rollouts, discriminatory triage protocols, a lack of disaggregated data, inadequate protocols for home care workers and insufficient disability benefits.
Preliminary data shows the BA.2 sub-variant may be more transmissible than its predecessor, but doesn't appear to be associated with more severe illness, Canada's Chief Medical Officer Dr. Theresa Tam said last month.
In previous waves, experts around the world have warned that more transmissible variants, like Omicron, still pose a threat to public health because of the sheer volume of cases they can cause.
Last week, Tam told a news conference: "As public health measures ease, increased levels of transmission are not unexpected since the SARS-CoV-2 virus is still circulating widely."
Tam said unvaccinated people are expected to be most at risk of severe infection. Studies show mRNA vaccines are still effective against the BA.2 sub-variant, particularly against severe disease, though protection against infection and symptomatic disease wanes within months after a third dose.
Because of this, experts say public health measures are an important way to protect the most vulnerable.
Arya said: "They should have tied [restrictions] to specific indicators, such as the number of cases of test positivity, vaccination rates, specifically with a third dose, and hospitalizations."
Just 46.45 per cent of Canada's total population is vaccinated with a third dose.
This post is for paying subscribers only