Doug Ford's Conservative government lifted most of its indoor mask mandates in Ontario on Monday. In the March 9 press conference announcing the change, Chief Medical Officer Dr. Kieran Moore said: "We are now learning to live with and manage COVID-19 for the long term."
However, medical professionals like Dr. Amit Arya, a palliative care lead at Kensington Health clinic in Toronto, disagree.
"I am quite horrified," Arya told The Maple. "This strategy is not about learning to live with COVID, but rather about surrendering to it."
For now, the Ministry of Health is still requiring masking for "public transit, long-term care, retirement homes and other health-care settings, shelters, jails and congregate care and living settings, including homes for individuals with developmental disabilities." On Apr. 27, however, the province will "remove masking requirements in all remaining settings."
British Columbia, Alberta, Saskatchewan, Manitoba and Quebec also announced plans to ease masking requirements in recent weeks.
Arya said he is at a loss to understand the rationale behind removing mandates. When Ontario's mask mandates were introduced in October 2020, the province had a rolling seven-day average of approximately 700 cases per day.
As of March 19, the estimated daily case number was 1,832, according to Ontario's science advisory table. Arya pointed out that these official numbers are likely lower than the true number because of reduced testing.
"They should have tied [restrictions] to specific indicators, such as the number of cases of test positivity, vaccination rates, specifically with a third dose, and hospitalizations," he said.
Megan Linton, a member of the Disability Justice Network and host of the Invisible Institutions podcast, said there is a very clear reason for lifting the mandates.
"I think that it actually is a scientifically based decision," she told The Maple. "They want immunocompromised people to die."
Linton, who is immunocompromised and disabled herself and has lost several disabled friends to COVID, said this motivation is clear from the government's decision to "move on" from the pandemic by making COVID a personal responsibility.
"They want there to be less elder people, and less people we deem unproductive," she continued. "We're willing to sacrifice them to pretend that life is fine, when we're living in an actual hellscape."
Both Linton and Arya predict the removal of the mandates will have disastrous effects.
"We're going to see a massive breakdown of healthcare," said Linton. "We're also going to see a lot more instances of violence against people who wear masks, and a complete removal of disabled people from society."
Ontario hospital workers are already reporting rises in COVID hospitalizations, and wastewater signals, which have become a reliable metric for measuring COVID trends outside of testing, have steadily risen in the lead-up to Monday's mandate lift.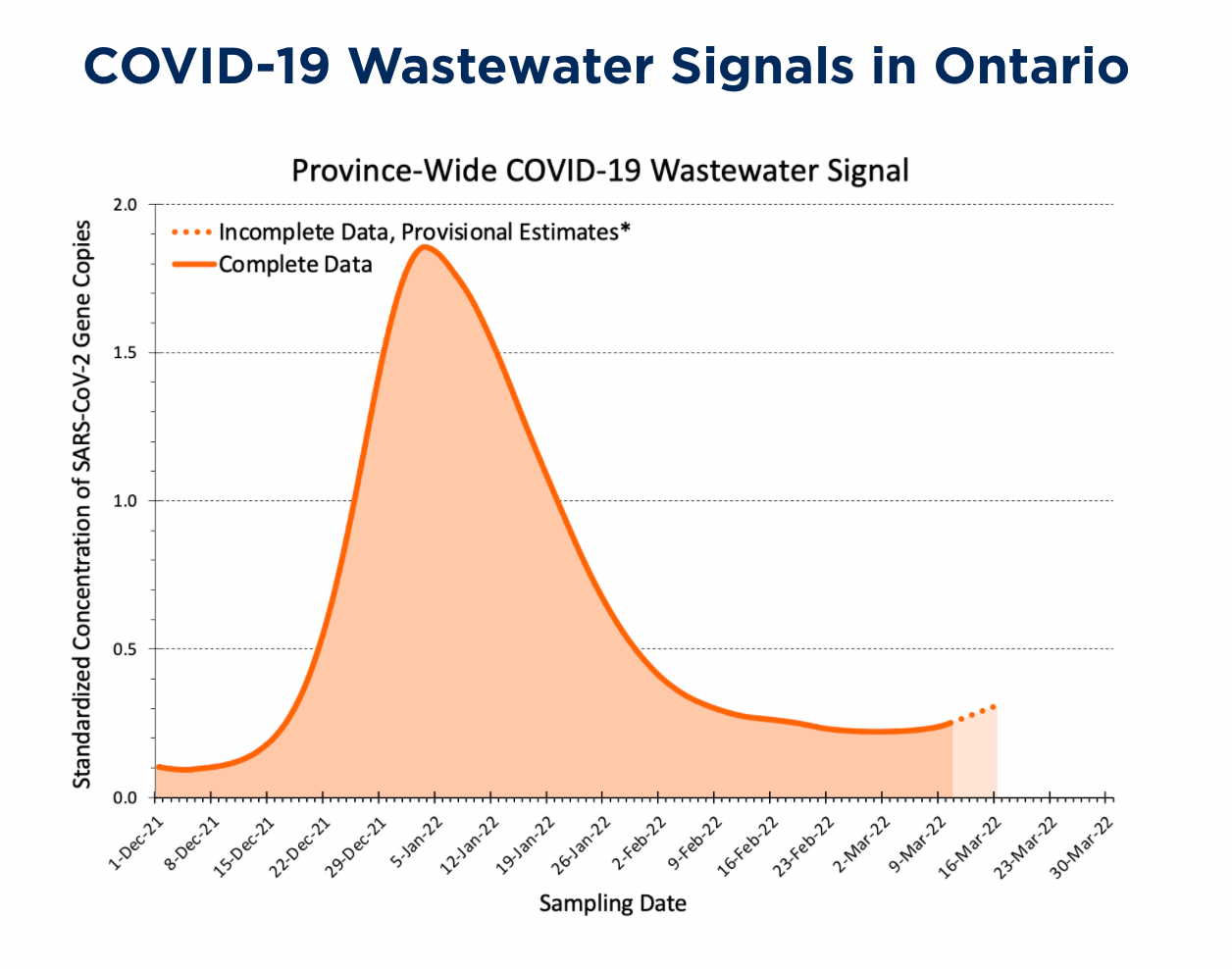 "Canada ranks on the bottom tier [of OECD countries] when it comes to hospital beds per capita," Arya explained. "We simply do not have the space to absorb patients who require treatment with COVID-19."
Add to this the fact that Ontario's hospitals have accepted COVID patients from Manitoba in previous waves due to the latter province's inability to handle the volume of cases, and the picture is grim.
Along with this is a largely unseen increase in cases of long COVID, for which Ontario's healthcare system is completely unprepared, said Arya.
He explained this combination of factors will have a "disastrous effect" across the healthcare system, where people will be left "waiting on life-saving essential surgeries" for cases like cancer or heart disease.
The lack of collective protection also means immunocompromised people like Linton can no longer be present even in essential public spaces like grocery stores or the pharmacies that carry life-saving medications.
Arya pointed out the changes on Apr. 27 could also force disabled people to decide between receiving vital care from potentially unmasked caregivers, or declining care to eliminate the risk of deadly COVID exposure. "That is absolutely an unfair choice," he said.
In addition to disproportionately impacting disabled and immunocompromised people, the removal of protections will put working-class people, especially frontline employees, at risk. In places like Toronto, this lopsided dynamic also cuts across lines of race, gender and colonization.
"People who work in low-wage essential work are [disproportionately] racialized, and also tend to be feminized," Arya explained. "So many of these people are racialized women, and many of them are disproportionately more likely to be immigrants."
He added that many immigrants who come to Canada live in multi-generational households, and take public transit to work.
"They may have caregiving duties on top of paid work … so that means frail elders living in the same household along with very young children, and you can imagine how that will play out," said Arya.
Linton is very clear: The decision to lift restrictions is "eugenics," or the removal of people deemed "unproductive" from society through selective policies and practices.
While eugenics are historically associated with the holocaust and Aktion T4, critics say eugenicist thinking still underlies mainstream medical policies of isolating and confining disabled people, essentially waiting for them to die.
Linton noted the connection between anti-mandate rhetoric and the messaging of the far-right occupation that descended on Ottawa earlier this year.
"Their willingness to listen, to accept [the occupation's] demands is … cowardly," she explained. "The rise of fascism during COVID has put disabled people in particular harm's way."
Both Linton and Arya pointed to the individualization of responsibility as a key factor in the mask mandates being lifted. In the March 9 press conference, Ford emphasized the individual choices of Ontarians to keep wearing their masks.
"It's downloading the responsibility of pandemic management, which should be the responsibility of the state and public health, onto the individual," said Arya.
He added it is especially irresponsible because the government is doing so "without providing people with accurate knowledge, or the resources and tools that they need to survive."
Because of this, Arya said he's hesitant to blame individuals who choose not to wear a mask.
"There are many people who will be removing their mask who … are not provided accurate information about the risks of COVID, the risk of transmission from COVID, and especially long COVID," he explained.
Linton, however, has less sympathy for those who choose to take off their masks on Monday.
"It's hard to not be angry at individuals making decisions that will put so many people at risk," she explained. "To see people blatantly accept lies because they have run out of what they consider empathy … they've decided that it's okay for disabled people to die because they want this to be over."
In Linton's view, the danger of a looming public health crisis requires systemic solutions. In the absence of such action, changing minds is currently the most important way to help save lives.
At the March 9 press conference, Ford told reporters the mandate would end because "people are exhausted." Linton said this reasoning is found not just on the far right, but also in liberal and even left-wing political discourse.
"COVID fatigue isn't being tired of masks," she continued. "COVID fatigue is when so many people have died, you ran out of lists, and you can't go to a single fucking funeral."
Linton also pointed out that protective measures can already be applied independently by large groups. For instance, people can easily hold events outdoors when possible, or at least require masks for indoor events.
"Don't think that because you're having an indoor event with 20 people it's going to be fine just because Doug [Ford] said it was fine," she said.
Linton's very close family member, who knows all about her immunocompromised status and experience with the pandemic, invited her to a wedding this summer, but told her there would be no masking requirements for the ceremony or reception.
While not surprising, Linton said it was still devastating to hear from her own family.
"How did you get to a place where you feel comfortable putting so many people at risk?," she wondered. "If you're okay with answering that question, then that's the decision you've made so … say the quiet part loud."
Ultimately, said Linton, individuals wearing masks need to be as visible and vocal as possible to push for collective action, or to at least keep people safe in its absence.
"Ask people why they're not masking, and make people uncomfortable about it," she said. "We're not trying to make people comfortable … we should be so uncomfortable with people dying."
"We shouldn't think that wearing a mask is the only thing to do," she continued. "We need to be fighting for everyone to be wearing masks; we need to be fighting for filtration, we need to be fighting all the time."
Cassandra Kislenko is a non-binary settler journalist working and writing on Treaty 13 territory in Tkaronto. Follow her on Instagram and Twitter.
Get all the latest posts delivered straight to your inbox.
Processing your application
Please check your inbox and click the link to confirm your subscription.
There was an error sending the email