Critics Highlight Police Double Standards in Ottawa
Critics note that police have taken a far more heavy-handed approach against protests led by Indigenous people or those acting in defence of unhoused people.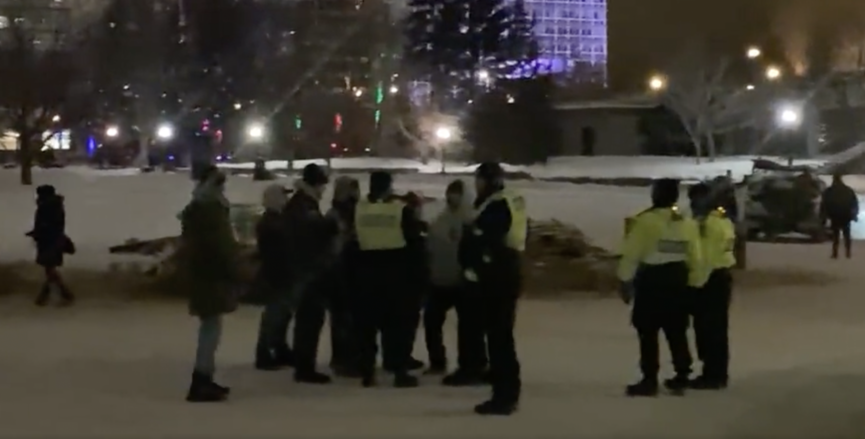 As members of the so-called "freedom" protest in Ottawa began to build make-shift structures in the capital Thursday, critics noted that police across the country have taken a far more heavy-handed approach against protests led by Indigenous people or those acting in defence of unhoused people.
Yesterday afternoon, CTV News reporter Annie Bergeron-Oliver shared photos taken at Ottawa's Confederation Park of protesters assembling a wooden structure and stockpiling propane tanks and diesel fuel.

According to CTV News reporter Mackenzie Gray, some of those at the park were part of a group calling itself "Canada Unity," which is asking for the governor general and Senate to remove the federal government and repeal all remaining COVID-related public health restrictions and vaccine rules.
Later in the afternoon, the National Capital Commission (NCC) tweeted it was seeking assistance from the city's police force in "securing the site," and said the flammable canisters had been removed – a claim that was promptly rebuffed by Gray, who said the fuel and propane were still on site.
As well, PressProgress editor Luke LeBrun shared video footage from the scene, noting: "The wooden building is complete, 50 or so small vehicles / RVs, open fires – this is right across the street from City Hall. No police anywhere."
LeBrun shared another video later in the evening showing police "having discussions" with the organizers. Ottawa Mayor Jim Watson then told CTV: "My understanding is police have started to get rid of the shed, and started to get rid of the propane and the gasoline."
Twitter users were quick to note that police in Ontario and elsewhere have previously used more violent methods to dismantle temporary wooden shelters set up in parks for unhoused people.
Last year, carpenter Khaleel Seivwright was forced to stop building small wooden shelters to keep unhoused people warm in Toronto amid a legal battle with the City.
Police violently evicted multiple homeless encampments in the city last summer, prompting complaints about police use of excessive force.
Video footage from one clearance showed dozens of police – many wielding batons and some riding on horseback – violently apprehending demonstrators who were protecting a camp. City staff then used heavy equipment to destroy temporary structures.
In one clip, Toronto police were seen pinning down a protester with a prosthetic leg.
In a statement published Wednesday regarding a "freedom" solidarity blockade in Coutts, Alberta, Athabasca Chipewyan First Nation accused the provincial government of designing stringent laws in response to actions taken by Indigenous people while choosing not to apply the same rules to protesters in the border blockade.
In 2020, the First Nation noted, the Alberta government introduced the "Critical Infrastructure Defence Act" in response to Indigenous-led railway blockades that were set up to protest the construction of the Coastal GasLink pipeline on Wet'suwet'en territory.
"If [the Coutts] blockade was being organized by Indigenous people, we have no doubt that authorities would respond quickly to remove the blockade and utilize the law that has been created to do so," the statement read. "It is important to recognize the disparity between how Indigenous and non-Indigenous protests are approached by our government."
Maple contributor Jeremy Appel wrote this week that the RCMP in Alberta have treated the Coutts blockaders "with kid gloves," something that he said would be "inconceivable" if the police were addressing Indigenous-led actions.
In November last year, heavily armed RCMP officers broke down the door of a wooden tiny house on Wet'suwet'en territory using an axe and chainsaw, and arrested Indigenous land defenders and two journalists. Video footage showed one officer pointing an assault weapon in the direction of one of the land defenders during the arrest.
Last May, the Ottawa Citizen reported that in 2020 intelligence officers with the Canadian Armed Forces compiled data on the Black Lives Matter movement in Ontario.
This post is for subscribers only