Canadian politicians at every level of government and across all major parties condemned them as glorifications of "death and terror." Police departments in major cities issued statements ahead of time warning that they would be increasing patrols near community centres and places of worship.
Despite efforts to stop protesters standing in solidarity with Palestinians in Gaza on Monday, the peaceful demonstrations went ahead in Vancouver, Calgary, Winnipeg, Toronto, Montreal and elsewhere.
The protests came as the Israeli government launched its "fiercest airstrikes ever" on Gaza this weekend, killing at least 1,000 people, including at least 140 children. Thousands more were wounded. Meanwhile, the Israeli military cut off access to water, electricity, fuel and food in the Gaza Strip, where the population is approximately 2.1 million and the median age is just 18. Human rights monitors have warned of a looming humanitarian catastrophe as a result of Israel's siege.
In announcing the intensified blockade of Gaza, Israel's defence minister described residents of Gaza as "human animals," while Israeli Prime Minister Benjamin Netanyahu took to 'X' to celebrate the military's destruction of buildings in the densely populated region, where the residents say they have no real means of escape.
Israel's massive assault on civilians in Gaza came in response to a surprise attack launched by Hamas and other factions against Israel on Saturday. In their attack, the Palestinian factions took at least 150 Israelis hostage, including some peace activists who oppose Israel's occupation. At least 1,200 have been killed in Israel so far, according to news reports.
Hamas said the attacks were a response to Israel's continued occupation of Palestine, increased attacks by illegal settlers against Palestinian civilians and Israel's recent attacks on the al-Aqsa Mosque, the third holiest site in Islam.
The surge in violence comes after 5,590 Palestinians and 251 Israelis were killed as a result of fighting between 2008 and 2020. According to Human Rights Watch, 2022 was the deadliest year for Palestinian children in the West Bank in 15 years, with 2023 on track to meet or exceed that peak.
Demonstrations were called in Canada to support the Palestinians. Toronto Mayor Olivia Chow characterized a downtown protest on Monday as a "rally to support Hamas," and said she had been assured by police that they would investigate "any suspected incidents of hate." Similarly, Vancouver Mayor Ken Sim denounced a Palestine solidarity protest in the city, claiming the rally was being held to celebrate Hamas. Ontario Premier Doug Ford called protests in his province "hate rallies" that "have no place in Ontario." Prime Minister Justin Trudeau wrote: "I strongly condemn the demonstrations that have taken place, and are taking place, across the country in support of Hamas' attacks on Israel."
Ahead of the protests, police departments in every major Canadian city announced that they would be "closely monitoring" developments in Israel and increasing police patrols in certain areas, including around mosques and synagogues.
On Monday, CBC News host David Cochrane asked Foreign Affairs Minister Mélanie Joly whether she supported prosecuting those who attended Palestine solidarity rallies "for supporting terrorism," a question that Joly avoided answering directly.
What did the protesters themselves have to say?
Speaking at the rally in Toronto, Yara Shoufani, with the Toronto chapter of the Palestinian Youth Movement, told CBC News "It's not a question of whether we support the attacks. It's a question of what do we stand against."
Shoufani added: "We are here again in support of the Palestinian people, the Palestinian nation, across all walks of life inside of Palestine, outside of Palestine, in the refugee camps, all across the world that is fighting to return home."
'This is an answer to all those who tried to shut down our voices'
The rally held in Vancouver was impassioned, with participants chanting slogans and speakers calling for justice for Palestine and for an end to the Israeli government's settler-colonial policies. Off to the side, a small group of Israel supporters were separated by police and only drew brief attention from the pro-Palestine crowd.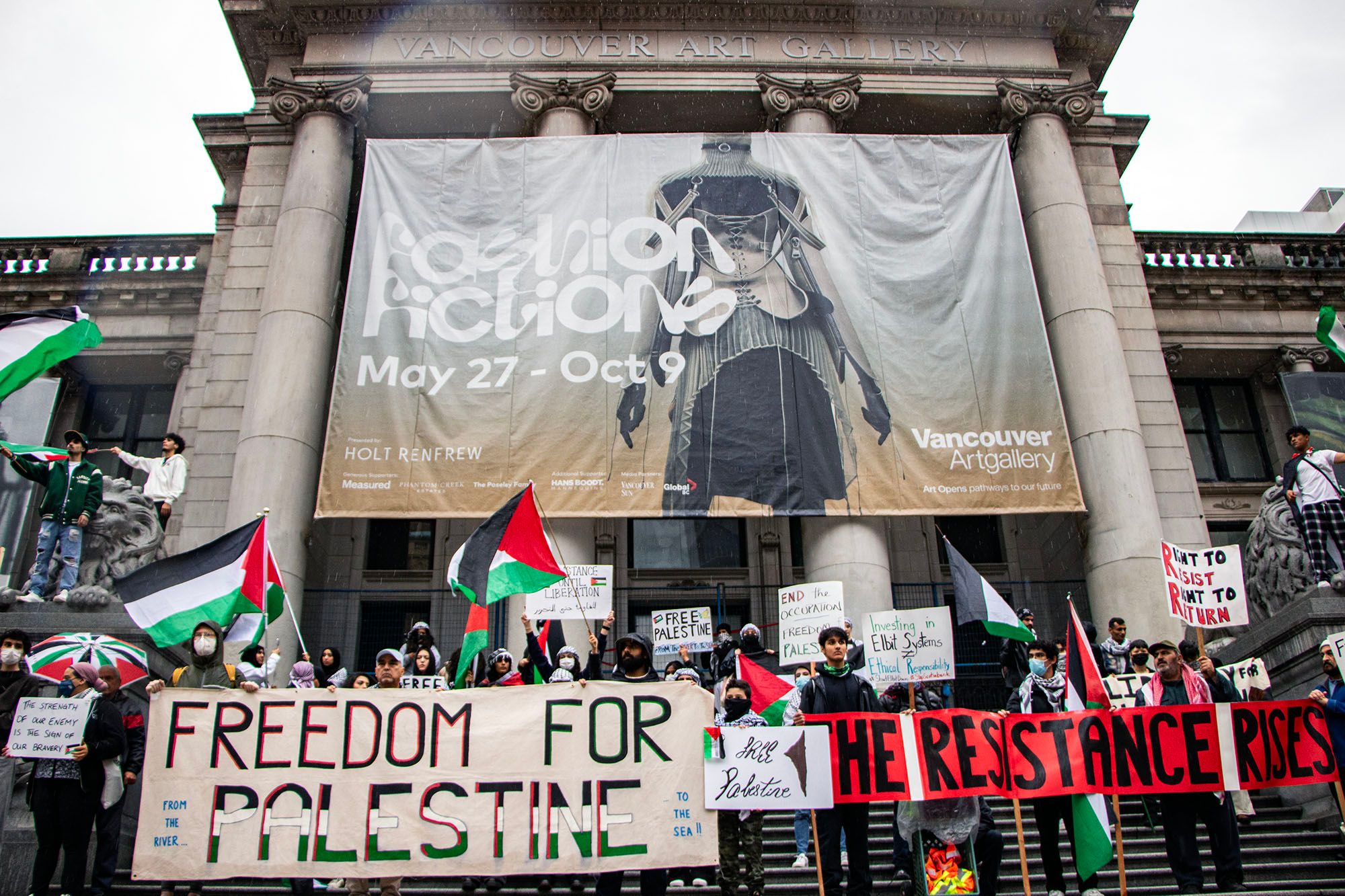 The crowd cheered at statements by organizer Hanna Kawas, who said that the demonstration celebrated not death, but life and freedom. Kawas, chairperson of the Canada Palestine Association, told The Maple the turnout came despite fear mongering that pushed a narrative to the contrary.
"[This is] an answer to all those who tried to shut down our voices, from Olivia Chow to all the others," said Kawas. "Even the police got into it; they tried to shut our voice."
He said that political leaders have pushed narratives that conflate anti-Zionism — opposition to Israel's founding ideology — with antisemitism, which he said itself fuels antisemitism.
"If all the evils of Israel and Zionism are attributed to the Jewish people, you're going to increase antisemitism," Kawas explained.
"They're trying to show that we are the aggressors, [when] we've been the victims for 75 years. I was born with the Nakba; I'm still waiting to go back," he added, referring to Israel's ethnic cleansing of 750,000 Palestinians from their homes in 1948. "Canada for the last 10 years votes against me going back to Palestine."
Kawas said major news outlets covering the current escalation of the conflict have served to reinforce the status quo, noting that CBC's official guidelines prohibit the use of the word "Palestine."
"I'm Palestinian," said Kawas. "I'm from Palestine."
Get all the latest posts delivered straight to your inbox.
Processing your application
Please check your inbox and click the link to confirm your subscription.
There was an error sending the email