In the latest episode of The Maple's North Untapped podcast, we spoke to Brent Patterson, executive director of Peace Brigades International - Canada, about the federal government's plan to purchase 88 new F-35 fighter jets from American weapons manufacturer Lockheed Martin.
As we reported last week, opponents of the purchase say the total lifetime cost of the jets is at least $77 billion and that F-35s burn significantly more fuel than Canada's current fleet of CF-18s, meaning the new planes' operation will harm this country's ability to meet its climate targets.
However, peace advocates like Patterson also oppose the purchase because of the fighter jets' intended purpose. He explained:
"Any fighter jet is a war machine. Its role is to bomb things and to blow up people. That's what it does; it doesn't really advance the cause of peace; it doesn't de-escalate conflict, it doesn't promote stable global politics; it doesn't address climate change."
Patterson noted that the F-35 is specifically designed as a stealth combat aircraft, which means it has a "first strike capacity," problematizing the federal government's claim that the purchase is primarily intended to be used to "defend North America."
As well, Patterson added, F-35s have been tested and proven to be able to carry nuclear bombs. Regardless of whether Canada has the ability to arm its jets with such weapons, he said, the F-35's offensive capabilities should be a cause for concern.
Alongside the planned jet purchase, the Ministry of Defence has also indicated it intends to substantially increase military spending in the next federal budget, scheduled for April 7, emphasizing in recent weeks the need to protect Canada's "Arctic sovereignty" following Russia's invasion of Ukraine.
Patterson, who noted that the Arctic itself consists of colonized lands taken from Indigenous peoples, said the military often discusses the need to protect Canada's "interests" in the Arctic, a region that has substantial deposits of recoverable oil.
Questions regarding Canadian Arctic interests, Patterson believes, often focus too much on a narrative about perceived military threats rather than the dangers that climate change and offshore drilling pose to the region.
"I think those are our more pressing and more real threats that receive much less attention," he explained, adding: "'defending' the Arctic has a certain popular appeal; it's a popular spin; it seems to be the kind messaging or the vision that's used to justify the purchase of new fighter jets."
Patterson added, "defending the Arctic sounds better than 'we want to bomb water infrastructure in Libya,'" referring to the Canadian airforce's involvement in a NATO attack on that country in 2011 that killed and wounded 5,600 civilians and left four million Libyans without potable water.
As well, Canadian fighter jets were involved in 56 bombing missions in Iraq during the Gulf War, more than 600 combat missions in Serbia, a total of 733 bombing sorties in Libya and approximately 250 such missions more recently in Iraq and Syria.
Meanwhile, said Patterson, around a dozen Russian warplanes approach Canada's Arctic regions each year.
"I think proportionally it's sort of clear that [the F-35s] are bought to bomb countries and to kill people," he said.
Subscribe on Apple, Spotify or Google.

First Nation Leaders Say Concrete Action Needed After Pope Apology
As reported by CBC News Friday:
"Pope Francis has apologized for the conduct of some members of the Roman Catholic Church in Canada's residential school system, following a week of talks with First Nations, Inuit and Métis delegations."
Notably, the Pope did not apologize for the church's actions as a whole. He said:
"I also feel shame ... sorrow and shame for the role that a number of Catholics, particularly those with educational responsibilities, have had in all these things that wounded you, and the abuses you suffered and the lack of respect shown for your identity, your culture and even your spiritual values."
The Pope said he plans to visit Canada this summer.
In a separate CBC report, Jean-Charles Pietacho, chief of the Innu Council of Ekuanitshit, said: "There were children who never came home to their families. The least the Pope can do is come, officially, to present his apologies to those families, to the nations."
Pietacho added he wants to see what concrete actions the church will take to back up the Pope's apology, like releasing records related to residential schools that remain in the Vatican's possession.
Niigaan Sinclair, an Indigenous studies professor at the University of Manitoba, told APTN News that the apology should be seen only as a first step, and must be accompanied by reparations and reform.
As summarized by APTN, Sinclair made the following calls to action:
"First, the church should pay the cash it was legally obligated to hand over under the Indian Residential Schools Settlement Agreement but didn't. Then it should return the stolen land on which residential schools were built … It should release any archival documents, relevant records and stolen Indigenous artifacts in its possession. And finally, there must be a massive probe to get abuse in the church under control."
---
70,131

Data of the day from Statistics Canada: "After having decreased since 2011, the rate of police strength in Canada was stable in the second year of the pandemic, in comparison with the previous survey cycle (2019). There were 70,131 police officers in Canada on May 15, 2021, 1,386 more than on the same date in 2019. In 2021, the rate of police strength was 183 officers per 100,000 population, similar to 2019."
---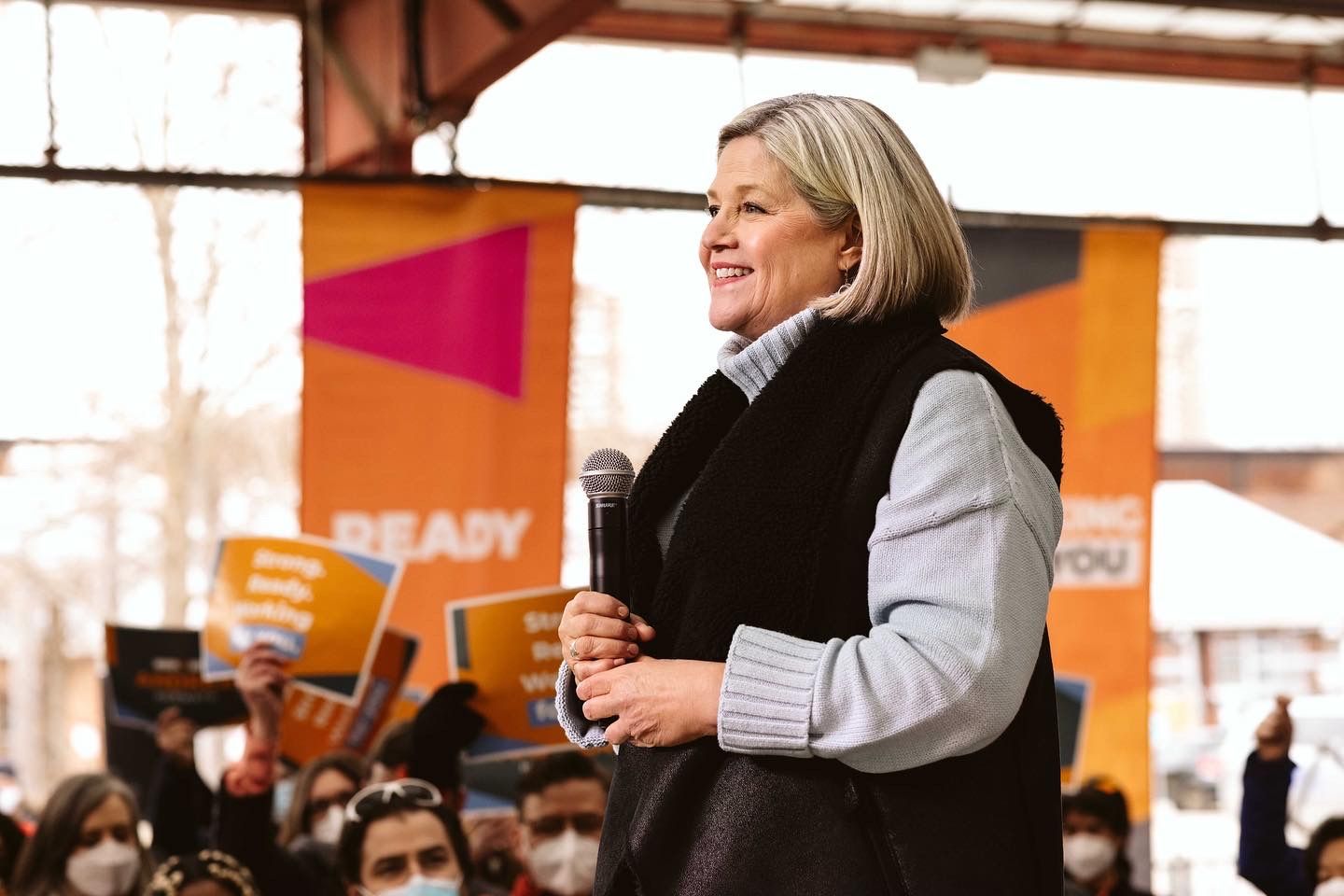 Other News
Ontario NDP Leader Andrea Horwath announced Sunday that her party will expand the Ontario Health Insurance Plan to include universal mental health care if it wins the next provincial election this June.
A top infectious diseases expert in Quebec said there is a disconnect between government inaction on COVID and the gravity of the increasing number of hospitalizations and deaths, CBC News reported Friday.
A new report by the Chinese Canadian National Council Toronto Chapter has found that the second year of the pandemic saw a 47 per cent increase in incidents of anti-Asian racism, the Canadian Anti-Hate Network reported last week.
Catch Up On Our Latest Content
Get all the latest posts delivered straight to your inbox.
Processing your application
Please check your inbox and click the link to confirm your subscription.
There was an error sending the email