Fighter Jet Purchase Harms Canada's Climate Goals, Opponents Warn
"The discussion needs to be about how we defund war and move towards approaches within foreign policy that don't so quickly escalate to the use of military equipment."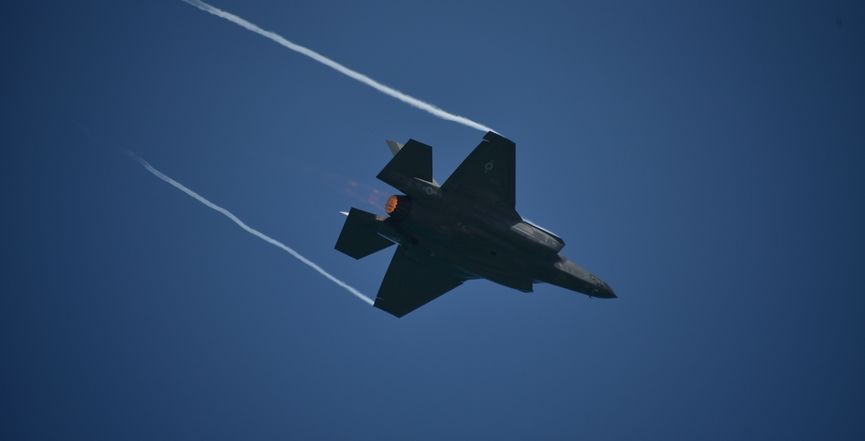 The federal government announced Monday it is in the final stages of procuring 88 new F-35 fighter jets while critics say the purchase will harm Canada's ability to meet climate targets.
In a news release this week, Public Services and Procurement Canada (PSPC) said the government was in the "finalization phase" of the procurement process with the U.S. government and American weapons manufacturer Lockheed Martin.
PSPC said the purchase is the "most significant investment in the (Royal Canadian Air Force) in more than 30 years," and that "it will help make sure we continue to meet our NATO and NORAD obligations well into the future."
The new fighter jets will replace Canada's existing fleet of CF-18 planes.
Brent Patterson, executive director of Peace Brigades International - Canada, a human rights organization, told The Maple the purchase comes as no surprise, but that his group is disappointed with this week's announcement.
"It's a massive amount of public dollars being spent on a stealth fighter jet whose purpose is to blow up things and kill people," said Patterson. "It feels, within the parliamentary setting at least, that the debates, if there is any meaningful debate, will be rather limited in scope."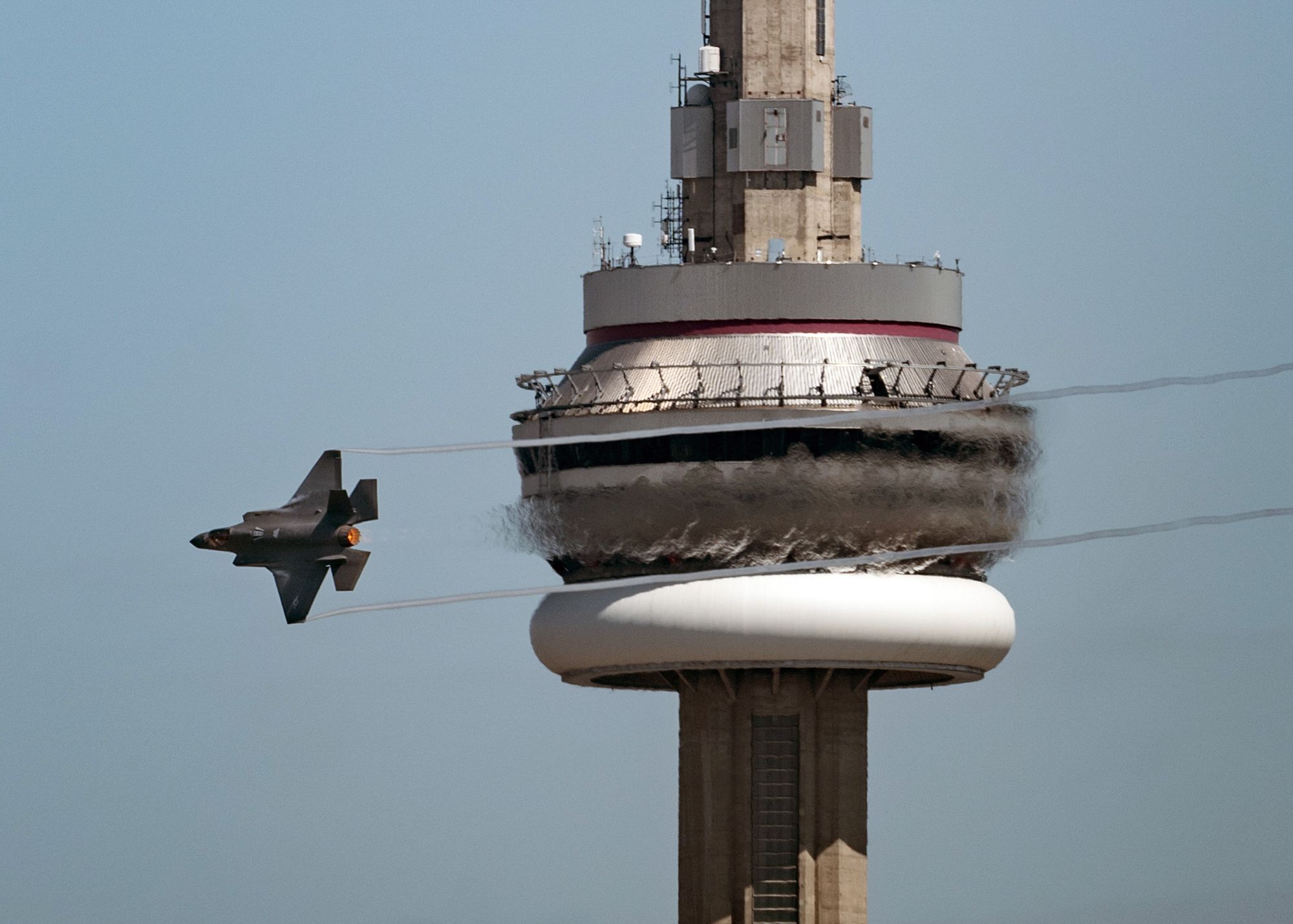 Patterson explained that F-35s burn significantly more jet fuel than CF-18s, therefore releasing more climate-altering carbon emissions.
Some estimates, he said, indicate the new jets burn around 5,600 litres of fuel per hour, whereas Canada's existing fighter planes burn between 3,500 and 4,100 litres per hour.
"[The government's] choice of this fighter jet in terms of that fuel consumption doesn't seem to have been a particular flag for them," said Patterson.
Opponents of the purchase have also expressed concerns about the significant amount of public funds earmarked for the contract.
Asked by reporters Monday if the $19-billion price tag of the F-35 contract still stands, Defence Minister Anita Anand said it was in the process of being "further refined," according to CBC News.
The true lifetime cost of the F-35s is estimated by the group No Fighter Jets, which has campaigned against the purchase, to be at least $77 billion. On its website, the group said:
"This new generation of bomber jets will be designed to do the same thing the last batch did – carry bombs and missiles that kill civilians (disproportionately children), destroy critical infrastructure that leaves millions without safe drinking water or electricity, and to run environmentally costly training drills."
American military auditors found last year that the total lifetime cost of their F-35s had increased by 15 per cent, for a total of US$150 billion.
As well, Canada has contributed a total of US$613 million towards the U.S. military's F-35 development program since 1997, including a US$71.1 million payment last year.
The Canadian government said military companies in this country have enjoyed $2 billion in contracts related to the fighter jet program.
Military spending increase likely
The F-35 announcement comes after Anand said she has proposed "aggressive options" to increase Canada's overall military spending, including one option that would see this country exceed the NATO spending target of two per cent of national GDP.
As The Maple noted last week, the Liberal government already substantially increased its military spending in the 2021 budget, and Prime Minister Justin Trudeau's 2017 "Strong, Secure, Engaged" policy pledged to boost military spending by 70 per cent over 10 years.
In terms of climate impact, the Department of National Defence (DND) is by far the largest polluter in the federal government, emitting 495 kilotonnes of greenhouse gas emissions in 2020-21, according to government data.
By comparison, the next largest polluter, PSPC, emitted 118 kilotonnes.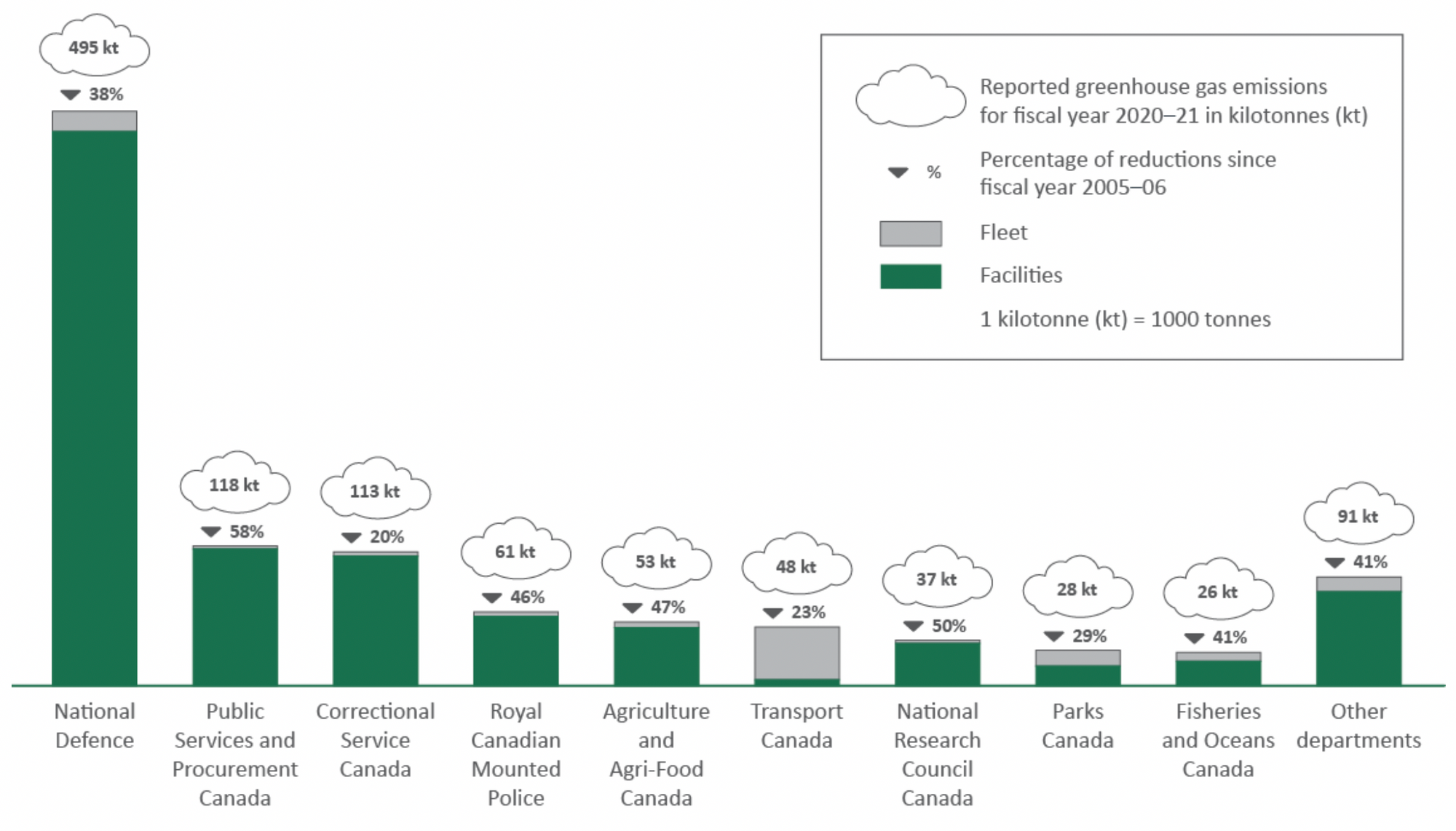 Patterson noted that the federal government has committed to a "greening government"  strategy, which aims to reduce the government's own GHG emissions by 40 per cent below 2005 levels by 2025.
"What seems to be the case is that the military is exempt from this 'going green' strategy," said Patterson, adding that DND is due to develop a decarbonization plan for next year.
"It'll be intriguing to see how they will present such a plan when they've advocated for and now apparently secured the purchase of highly carbon intensive, polluting fighter jets."
Overall, Patterson believes scaling back the size of the military is the only way to reduce its emissions.
"The discussion needs to be about how we defund war and move towards approaches within foreign policy that don't so quickly escalate to the use of military equipment or of making war," said Patterson. The two per cent of GDP spending target, he added, is "arbitrary."
Military officials have recently suggested that Russia's illegal invasion of Ukraine shows Canada needs to ramp up military spending to defend this country's arctic regions.
However, Patterson said officials and experts have previously suggested that the military risk to Canada's arctic is low.
Despite growing international interest in the arctic region, Northern Affairs Canada said in 2019 it "sees no immediate threat in the Arctic and the North."
As well, Patterson continued, if countries like Canada had been less enthusiastic about expanding NATO into eastern Europe, which Russia strongly opposed, the international community may have been able to avoid the current crisis in Ukraine.
"The new Canadian F-35s are not going to be deployed this week, or next week, or next year," he added. "If different choices had been made, we'd be in a different moment right now, and the decisions that are being made right now are going to influence what the world looks like in another five or 10 years, and it's really all going in the wrong direction."
In its Monday announcement, PSPC noted that in addition to procuring the new fighter jets, the federal government awarded two contracts in 2020 valued at a total of $21.3 million to design new fighter jet facilities.
"This infrastructure will support the long-term maintenance and operation of these new aircraft," PSPC said, adding that the government is working towards delivering the aircraft "as early as 2025."
The F-35 itself has been beset with technical problems. As reported by Bloomberg last year, the fighter jet was "marred by more than 800 unresolved software and hardware deficiencies of varying severity that could undercut readiness, missions or maintenance."
During the 2015 election, Trudeau pledged a Liberal government would never purchase the F-35, calling the Harper Conservative government's plans to do so "erratic."
He promised that the "tens of billions" of dollars saved by purchasing cheaper jets would be used to build new ships for the navy.
At the time, Trudeau also said a Liberal government would reduce the DND's administration size.
This post is for paying subscribers only