Does Doug Ford's Budget 'Work for Workers'?
The Ontario budget forecasts a $250 million decrease in labour ministry spending over the next year.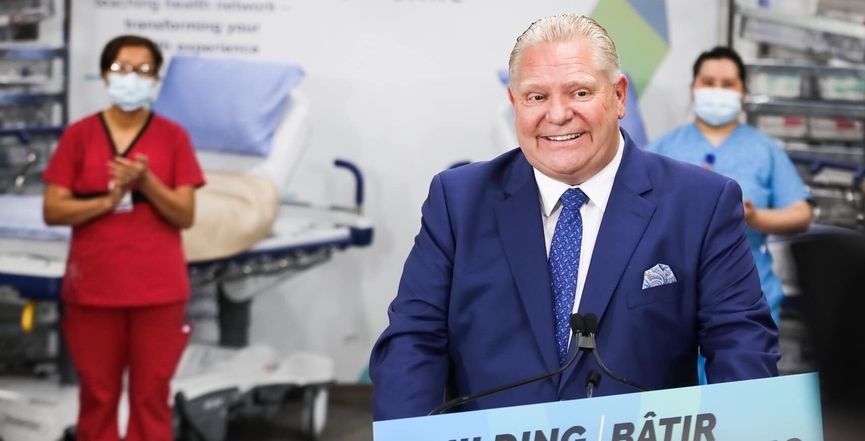 Doug Ford's pre-election budget is abundant with language promising to support Ontarian workers, but leans heavily on existing commitments and forecasts a $250 million decrease in labour ministry spending over the next year.
The budget, tabled last Thursday, includes a foreword by Finance Minister Peter Bethlenfalvy, who acknowledges that "workers, among the best and hardest working in the world, [are] worried about falling behind."
Echoing similar rhetoric employed by federal Conservative Party leadership candidate Pierre Poilievre, the Ontario budget document also notes concerns about rising costs of living, while claiming that the Ford government has a plan to provide "better jobs and bigger paycheques."
In a section titled "Working for Workers," the budget largely focuses on existing programs aimed at training and retaining workers.
For example, it promises to re-launch a "Second Career" program with $5 million in new funding this year and to invest an additional $114 million over three years in the government's existing Skilled Trades Strategy to "break the stigma associated with the skilled trades."
The budget notes that the government is investing "$1 billion annually in employment and training programs," reflecting the government's existing approximate yearly spending on "Demand-Driven Employment and Training Programs" for the past three fiscal years.
However, the 2022 budget's costing projects that total spending on employment and training programs will actually fall from an interim projection of $1.17 billion in 2021-22 to $1.12 billion in 2022-2023.
Speaking to the London Free Press Monday, an employment services professional at Fanshawe College said "we have to get better at getting people up to speed with skilled trades," adding: "Any support and policy that gets people (more skilled) and addresses the skills mismatch will be beneficial."
The 2022 budget also touts the "Ontario Jobs Training Tax Credit," a measure rolled out in the previous budget to help cover the costs of professional training expenses. However, spending on the program is set to fall from an interim projection of $105 million in 2021-22 to $92 million in 2022-23.
The latest budget also promises "an additional $268.5 million over three years in funding through Employment Ontario to strengthen Ontario's skills training and employment programs," but provides few details.
Overall, the Ontario labour ministry's total spending – including COVID time-limited funding – is set to decrease from $2.05 billion in 2021-22 to $1.8 billion in 2022-23.
In terms of more direct support for workers, the budget commits to increasing the general minimum wage to $15.50 per hour in October.
Ford cancelled a scheduled minimum wage increase from $14 to $15 per hour back in 2019, but raised it to $15 in January this year. Last November, economists Sheila Block and Ricardo Tranjan wrote that the delay of the minimum wage increase cost the average full-time worker in Ontario more than $6,000 over three years.
As well, the $15.50 minimum wage falls short of living wages, or the amount workers need to make in order to cover basic expenses and participate in their community, according to figures published by the advocacy group Ontario Living Wage Network.
The budget also promises to expand the Low‐income Individuals and Families Tax (LIFT) Credit, which the Ontario government states will provide a maximum of $875 per year in tax relief for eligible low-income workers.
In a statement last week, Patty Coates, president of the Ontario Federation of Labour, said the 2022 budget proposes measures that are "too little, too late."
"Ford's Conservatives have had four years to do right by workers in Ontario, and they have failed," said Coates.
"Over the past two years of the COVID-19 pandemic, when Ontarians needed investments in public services most, Ford's Conservatives repeatedly prioritized big corporations over people's well-being," she added. "[The] budget announcements will not change any of that."
This post is for paying subscribers only