On Tuesday evening, Conservative leadership frontrunner Pierre Poilievre addressed a crowd of 5,000 people in Calgary, sparking discussions about whether the long-time MP is leading a right-wing populist movement that should worry progressives.
At his campaign rally, Poilievre spoke to key concerns about the rising costs of basic expenses like groceries, gas and housing.
According to Maple contributor Jeremy Appel, who attended the event, Poilievre proposed solutions that will only exacerbate affordability woes, but nonetheless drew an enthusiastic crowd that was around 100 times the size of the audience mustered by Jean Charest, Poilievre's main competitor.
Writing in The Orchard, Appel explained:
"By identifying the very real material concerns of a large segment of Canada's population while urging a return to an imaginary, romanticized past where all was harmonious, Poilievre is playing the role of a Canadian Donald Trump."
Except, Appel continued, "Poilievre is a much more sophisticated, disciplined messenger than Trump," something that should concern progressives.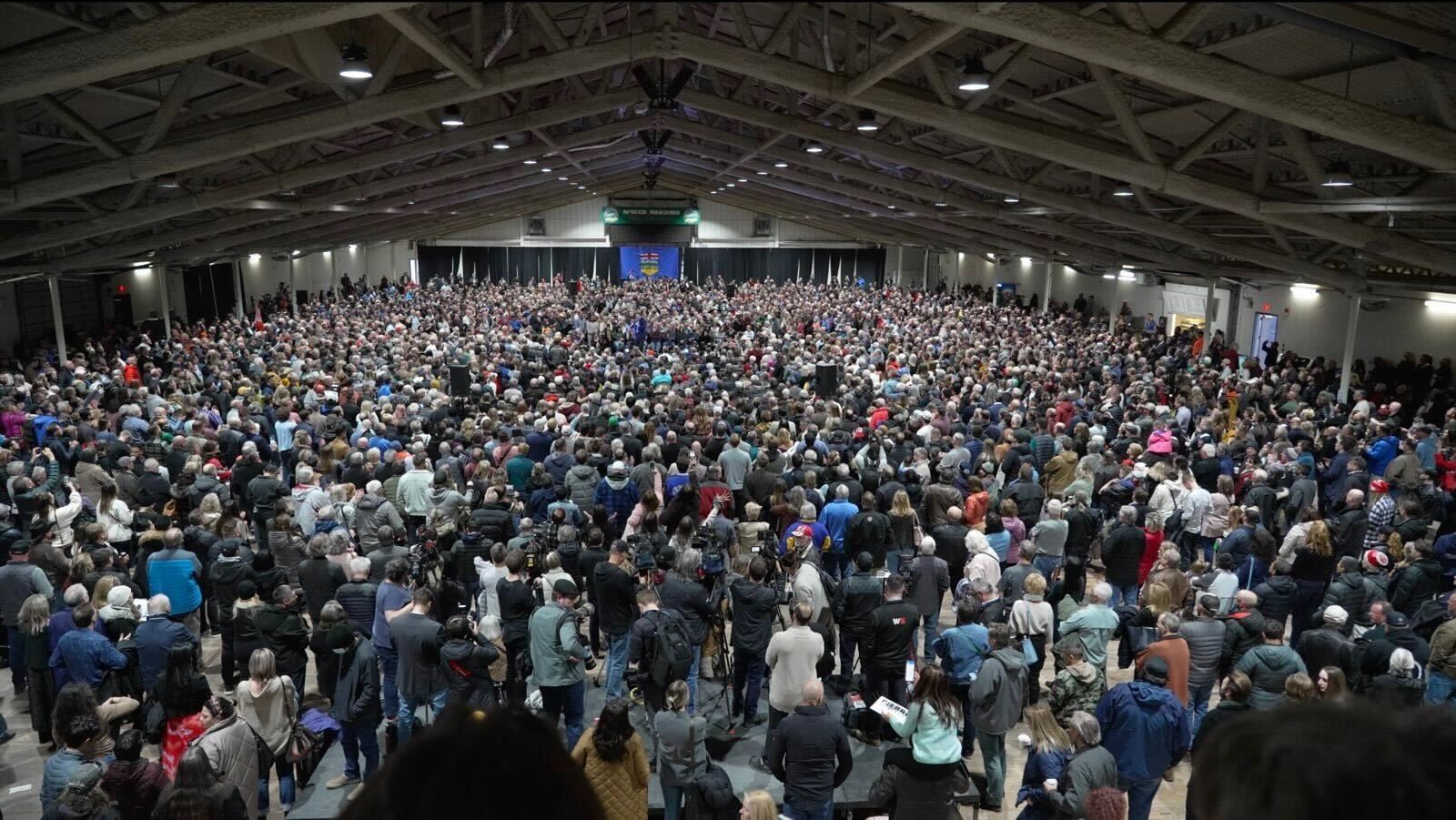 Poilievre's flagship slogan is a pledge to make Canada "the freest nation on earth." His campaign has been described as an effort to capitalize on resentment towards the political status quo with right-wing libertarian policies packaged in "populist" messaging.
Specifically, these policies include building pipelines in all directions, cutting "overbearing red tape and regulation," a "return" to what he calls "fiscal responsibility," and stopping the government from "printing money."
Poilievre's campaign website infuses these standard conservative policies with rhetoric against "ruling elites" and an acknowledgment of a "mass transfer of wealth taking place from the hands of working class Canadians."
Daniel Westlake, a political studies professor at the University of Saskatchewan whose research focuses on populism, told The Maple that Canadian conservative parties across the country have been mirroring a global rise of right-populist politics for some time.
"We've seen this at the provincial level in Ontario with Doug Ford; there are bits and pieces of this in the way that Jason Kenney campaigns in Alberta," Westlake explained.
"It's not surprising to see a populism that we've seen globally and a populism that we've seen provincially kind of working its way into the federal Conservative Party."
However, whereas right-populist movements in the United States and Europe have focused heavily on opposing immigration, this issue has not featured prominently in Poilievre's campaign, said Westlake.
In 2018, Poilievre complained about the need to "[protect] our borders" and emphasized calls to "end illegal border crossings." Fast forward to last March, and the leadership hopeful was praising "hardworking immigrants" in their pursuit of the "Canadian dream."
He has also promised to take on "money-grabbing gatekeepers" who determine whether an immigrant is qualified to work in Canada.
However, leadership rivals noted that in 2015 Poilievre backed discriminatory policies such as Stephen Harper's "barbaric cultural practices" hotline and a niqab ban for citizenship ceremonies, measures that sowed deep distrust towards Conservatives among some immigrant communities.
Right-wing reactions seen in the U.S. and Europe to LGBTQ rights, feminism and gender politics have been a bigger factor driving broader populist trends in Canada, said Westlake.
Poilievre has not placed much emphasis on those issues during his campaign, and has fallen out of favour with at least one hardline anti-abortion group over his voting record on that issue.
Nonetheless, Poilievre recently lambasted what he called "woke folk," referring to those who support social justice causes. His campaign website also contains vague promises to "restore dignity and honour" and "stand up for fundamental Canadian values."
The Conservative leadership hopeful is also firmly against "vaccine mandates," having lent enthusiastic support to the far right-led "freedom" convoy that descended on Ottawa earlier this year to demand the overthrow of Canada's elected government and the removal of public health rules.
Westlake said already-established populist movements around the world added vaccines to their list of grievances during the pandemic. While this cause hasn't created a major jump in support for such parties in other countries, he continued, it fuelled a significant boost for the far-right People's Party of Canada.
The PPC, led by former Conservative MP and failed leadership contender Maxime Bernier, tripled its vote share at the 2021 election after campaigning heavily against vaccine rules and COVID-related public health protections.
However, Westlake said it's not clear that these issues have been the primary driving force behind right-populist trends in Canada. Those who already held right-populist views, Westlake explained, may have also become anti-vaxxers when COVID vaccines became a prominent political issue.
More broadly, the weakening of labour unions after decades of neoliberal governance may have created a pool of disaffected voters who are susceptible to right-populist messaging, said Westlake, but more research is needed to get a clearer sense of why those kinds of politics appear to be on the rise.
What to make of Poilievre's enthusiastically attended rallies? Westlake said there is no simple answer, stating that good polling data on the Tory leadership race is hard to come by.
Leger puts Poilievre in the lead by two points ahead of Charest among the general public, but 25 points ahead among Conservative voters.
Polling by Abacus indicates that 88 percent of Conservative voters and 78 percent of PPC voters would consider voting Tory if Poilievre was leader. Nearly one-third of Liberal voters and more than a quarter of NDP voters would consider casting a ballot for a Poilievre-led Conservative Party.
At the same time, however, another poll suggests the Liberals would maintain a three-point lead over the Conservatives if Poilievre was leader.
However, said Westlake, all these numbers should be taken with a pinch of salt, since the general popularity of any leadership candidate is "inherently difficult to poll."
Notably, he added, there is not yet sufficient evidence to suggest that large numbers of PPC voters are returning to the Tory fold in order to back Poilievre.
"It's hard to know exactly who makes up Poilievre's support," Westlake explained. Given Poilievre's decades-long tenure inside the Conservative Party – and the Alliance and Reform parties that preceded it – it is likely that at least some mainstream Tory voters support him.
Still, Appel spoke to one PPC voter, Lynn Scheuerman, who was ecstatic about Poilievre's candidacy. "The only chance that this country will have to remain a sovereign nation is if Pierre Poilievre is prime minister," she said, before veering into conspiratorial narratives.
What about the campaign event's large crowd size? Westlake said a candidate's general popularity is one of several factors that could contribute to sizeable turnouts at rallies.
"You can also see large crowd sizes being driven by enthusiastic supporters, even if there aren't a large number of them," he said.
Nonetheless, Appel noted, progressives dismiss Poilievre's candidacy at their peril. "If progressives don't take this threat seriously, they're in for a rude awakening," he wrote.
Inflation Eating Workers' Wages
As revealed in a new report published by the Canadian Centre for Policy Alternatives on Wednesday:
"Two-thirds of workers' wages in Canada are falling behind inflation, leaving the majority of workers in a pressure cooker situation—especially workers in the public sector, such as teachers and health care workers, who have been putting their health at risk on the front lines of the pandemic … Since most workers have been experiencing real wage losses over the past two years, it clearly isn't workers' wages that are driving inflation."
Specifically, the report continues:
"Adjusting for tenure, industry and occupation, average wages have increased by 2.7% a year compared to the 3.4% yearly inflation rate over the past two years. In other words, adjusted wage increases have not kept pace with inflation in Canada."
As shown by CCPA's data, hourly wages in some industries saw gains while others fell short of the annual inflation rate.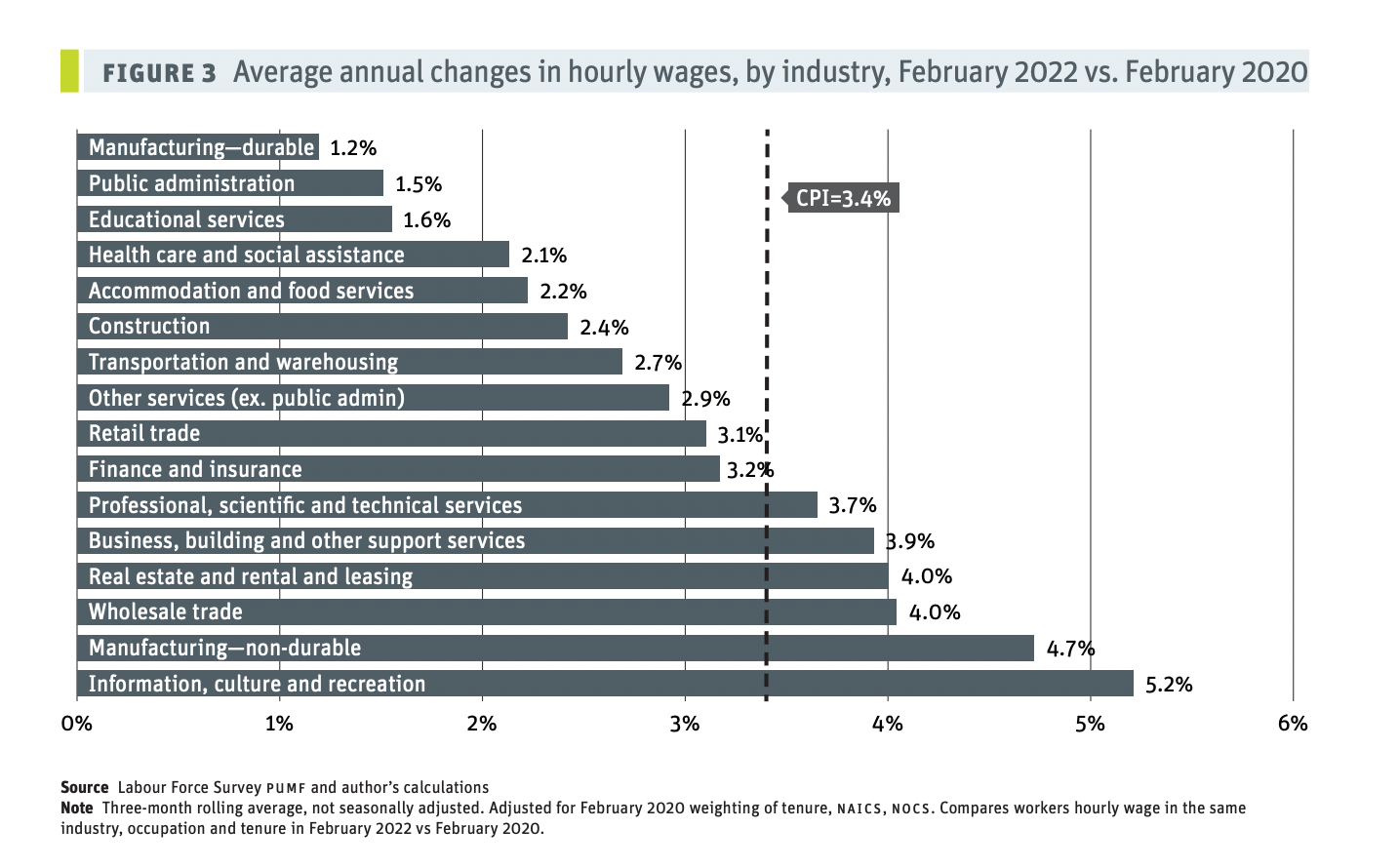 Further reading: Minimum Wages Fall Short Amid Rising Costs of Living.
---
30 percent
Data of the day from Leger: "30% of Canadians think the [2022] budget will have a negative impact on them/their household, 26% think it will have a positive impact, 25% think it will have no impact and 19% are unsure."
---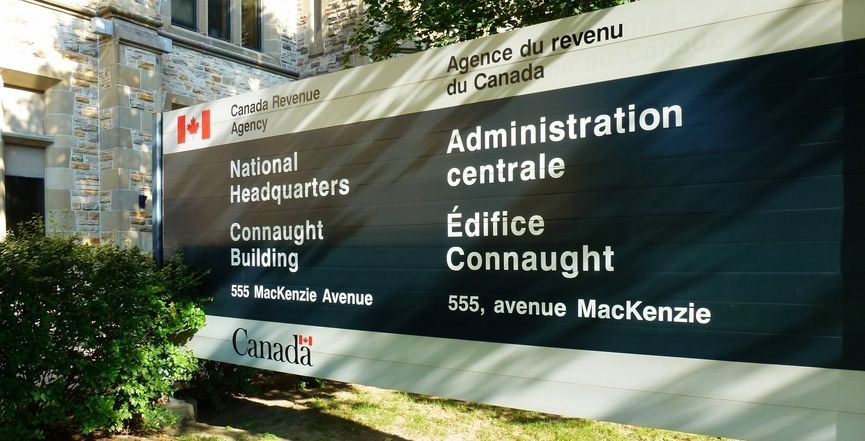 Other News
A national charity that describes itself as Canada's largest grassroots Muslim organization is launching a Charter of Rights challenge against the Canada Revenue Agency, alleging that an audit of the charity has been tainted by bias and Islamophobia, CBC News reported Wednesday.
A recent fire in downtown Vancouver's Winters Hotel has left 144 single-room occupancy tenants homeless, The Tyee reported Wednesday.
The head of the Native Women's Association of Canada (NWAC) says the organization is disappointed there is no mention of missing and murdered Indigenous women and girls in the new federal budget, APTN News reported Tuesday.
---
North Untapped Podcast: On the latest episode of The Maple's North Untapped podcast, host Alex Cosh speaks to Peace Brigades International - Canada executive director Brent Patterson about the Canadian government's plans to purchase 88 F-35 fighter jets from Lockheed Martin, which Prime Minister Justin Trudeau campaigned against during the 2015 federal election.
Subscribe on Apple, Spotify or Google.

Catch Up On Our Latest Content
Get all the latest posts delivered straight to your inbox.
Processing your application
Please check your inbox and click the link to confirm your subscription.
There was an error sending the email