Last week the federal government announced it was planning to change the Temporary Foreign Worker Program (TFWP) in order to address "labour shortages" and to "increase protections for workers," but only nine percent of the 2022 budget funds earmarked for "improving" the program are dedicated to "[holding] employers accountable."
A migrant rights advocacy group says even those limited funds are going towards a broken regime that offers no protection for workers and that other measures announced in the budget amount to significant legislative changes designed to entrench exploitation.
A review of the budget by The Maple found that of the $156.7 million the federal government is pledging towards "improving" TFWP, only $14.6 million is being set aside to "make improvements to the quality of employer inspections and hold employers accountable for the treatment of workers."
The remaining 91 per cent of the new funding is being spent on changes that make it easier for employers to hire workers under the program, which is notorious for very low wages, gruelling work and highly precarious conditions.
The budget earmarks $29.3 million over three years to create a "Trusted Employer" program in order to "cut red tape for access to the Temporary Foreign Worker Program."
An additional $48.2 million was pledged over three years to "implement a new foreign labour program for agriculture and fish processing," and $64.6 million was earmarked for the same period to "increase capacity to process employer applications within established service standards."
Syed Hussan, executive director of Migrant Workers Alliance for Change, told The Maple that even the limited funds dedicated to employer inspections won't ensure workers' rights are protected.
"The inspections regime is a total farce," said Hussan.
Under some provincial labour regulations, Hussan noted, workers can file complaints and provide evidence against their employers. "​​In the federal inspections regime, workers have no standing, which is to say there is no form to fill," said Hussan.
Tips can be filed against employers, he explained, but Employment and Social Development Canada (ESDC) officers cannot share information or ask complainants to present evidence of wrongdoing by employers.
"Even if they find the employers 'non compliant,' they do not have the power to take anything or force the employers to make any changes in a way that the workers get a benefit," Hussan added.
"As far as I'm concerned it's basically equivalent to a Tim Hortons comment card."
Last year, the federal auditor general published a scathing report stating that ESDC failed to properly inspect farms in order to ensure employers were protecting workers during the pandemic. Inspectors, the report stated, frequently skipped checks designed to ensure basic health protections were being followed.
At least three migrant farm workers in Canada have died from COVID-19 since the beginning of the pandemic, the report found.
"What COVID showed is that even when employers literally created the conditions that workers died, they still were found to be compliant," said Hussan. Given the failures of the inspections regime, he added, the new funding in the budget "is throwing away money."
Hussan is also concerned about changes to TFWP that were announced ahead of the budget.
On Apr. 4, Minister of Employment, Workforce Development and Disability Inclusion Carla Qualtrough announced employers in seasonal industries would be allowed to hire an unlimited number of low-wage workers through TFWP.
"This makes permanent the Seasonal Cap Exemption that has been in place since 2015," the government news release announcing the change noted. "In addition, the maximum duration of these positions will be increased from 180 days to 270 days per year."
Additionally, employers in sectors like the accommodation and food services industry, which have "demonstrated labour shortages," can now hire up to 30 per cent of their workforce on low-wage positions through TFWP for one year.
Other employers can hire up to 20 per cent of their workforce on low-wage positions, a 10 per cent increase from the previous cap.
The government news release said the changes are intended to "meet the labour market needs of today" by "addressing labour shortages." The announcement also suggested the changes would be geared towards "enhancing worker protections."
In June this year, the announcement stated, Qualtrough will:
"... convene the inaugural TFW Program Ministerial Consultative Roundtable … to hear directly from worker representatives and other stakeholders on how to make the program stronger and more effective for workers, employers and their communities."
Speaking to CBC News last week, Qualtrough said expanding TFWP was needed because Canada's "economic recovery is outpacing the ability for some employers to find workers."
However, Hussan said the changes are designed to further facilitate the exploitation of low-wage migrant workers at the behest of business lobbyists. As well, he described the introduction of the new programs as sweeping legislative changes announced under the guise of a budget.
"That should be a debate in Parliament," said Hussan. "The budget is being used to slip in these much bigger legislative changes."
Ultimately, said Hussan, migrant workers do not have the power to protect themselves without permanent resident status. In a statement, MWAC said:
"The 2022 Federal Budget keeps worker exploitation firmly planted, gives more power to the federal immigration minister, and does not give access to equal rights that are only possible through permanent resident status."
Former Alberta Justice Minister Tried to Access Reporter's Phone Logs
As reported by The Canadian Press:
"A self-described political fixer says a former Alberta justice minister hired him to obtain a reporter's phone logs … David Wallace says he was hired by Jonathan Denis to get the phone records of Alanna Smith, a former Calgary Herald reporter now of The Canadian Press. Wallace said Denis told him he wanted to trace sources Smith had drawn on for a story about whether the size of Denis's wedding reception broke COVID-19 protocols."
---
130 per million
Data of the day from Our World in Data: Canada has 130 COVID-19 patients per million in hospital with the virus, making this country's COVID hospitalization rate higher than that of the United States, which has 31 patients per million in hospital as of Apr. 7. The trend was pointed out on Twitter by the University of Toronto's Michael Hoffman.
---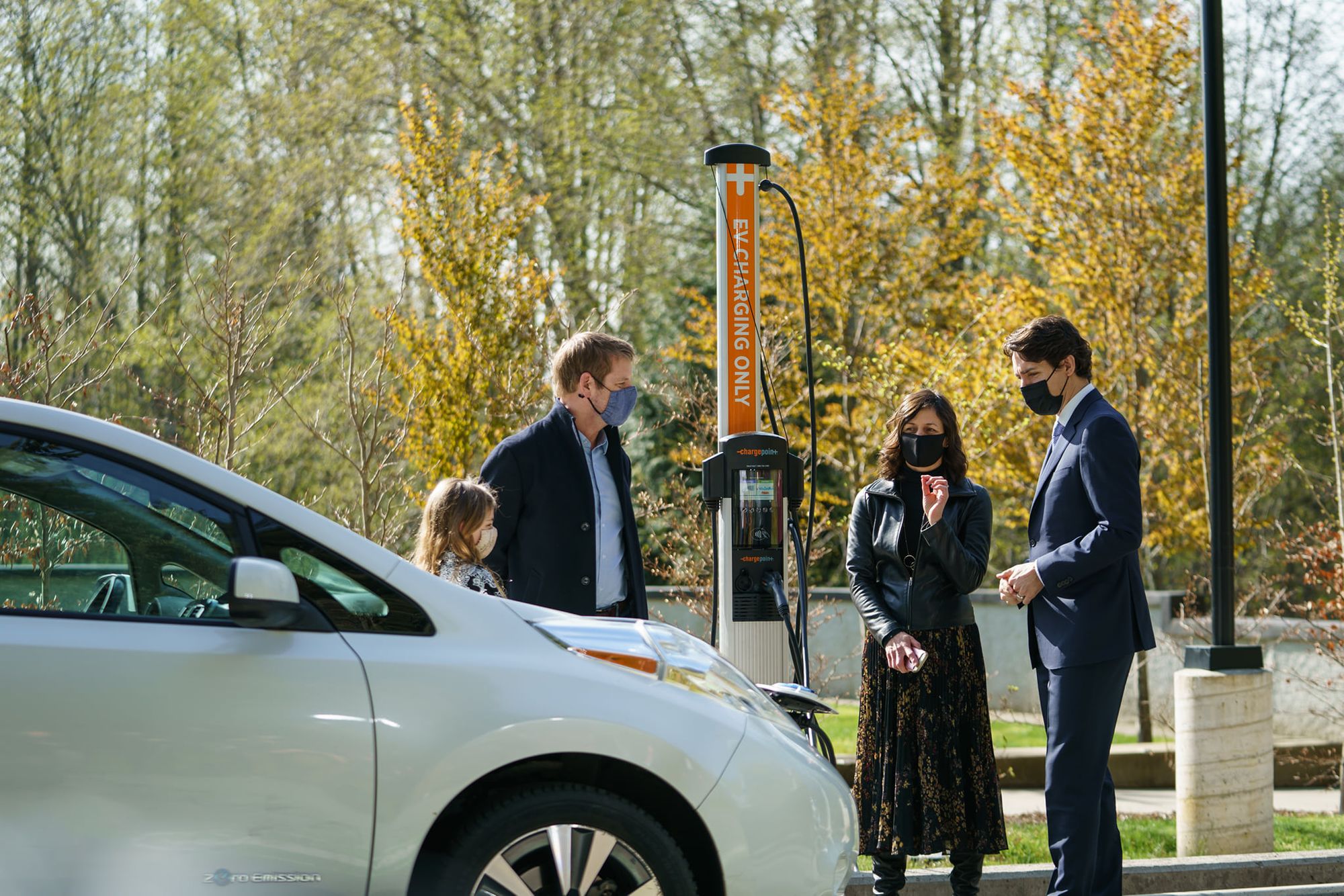 Other News
Prime Minister Justin Trudeau said Monday he wants to make it easier for more Canadians to drive electric vehicles and isn't ruling out nuclear power as a source of energy, The Canadian Press reported.
Sour-tasting hotdogs, rotten eggs for breakfast, locked laundry rooms and puddles of urine on the floor are all among the complaints made to the Newfoundland and Labrador Housing Corporation in the last three years from tenants of the province's for-profit shelter system, CBC News reported Monday.
Dozens gathered in Regina last week to protest Saskatchewan's "broken" income support program, SaskDispatch reported last week.
---
North Untapped Podcast: On the latest episode of The Maple's North Untapped podcast, host Alex Cosh speaks to Peace Brigades International - Canada executive director Brent Patterson about the Canadian government's plans to purchase 88 F-35 fighter jets from Lockheed Martin, which Prime Minister Justin Trudeau campaigned against during the 2015 federal election.
Subscribe on Apple, Spotify or Google.

---
Catch Up On Our Latest Content
Get all the latest posts delivered straight to your inbox.
Processing your application
Please check your inbox and click the link to confirm your subscription.
There was an error sending the email