Kenney Condemned for Promoting Oil Interests During Russian Invasion of Ukraine
Alberta Premier Jason Kenney tweeted "The choice is clear: Alberta oil is better than dictator oil" while Russia attacked Ukraine.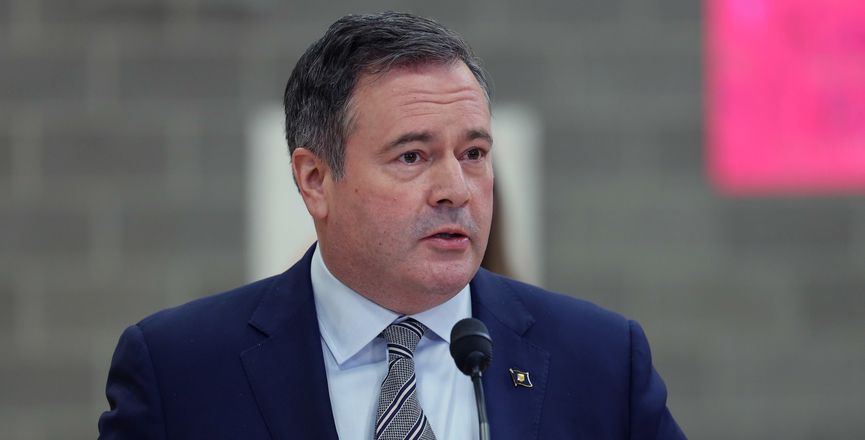 Russia invaded Ukraine from multiple fronts Thursday in a large-scale attack, sparking outrage and shock in countries around the world, including within Russia.
Disturbing images and reports circulated of civilians in major Ukrainian cities seeking refuge in subways and air-raid shelters amid the sound of explosions and sirens. Traffic was reportedly jammed as thousands tried to flee Kyiv, the capital, while other panicked residents formed long lines at banks, gas stations and grocery stores.
137 deaths and 316 wounded were reported as of late Thursday evening, including reports of at least one young child dead and other civilian casualties.
In a televised speech before the invasion, Russian President Vladimir Putin warned other countries not to intervene, stating they would face "consequences you have never seen in history."
In response to the invasion, Western countries, including Canada, announced new economic and financial sanctions on Russia. Peace advocates, meanwhile, re-emphasized calls for de-escalation and a return to diplomacy.
In Russia itself, thousands of anti-war protesters took to the streets in dozens of cities demanding an end to the offensive. According to CBC News, more than 1,700 demonstrators were arrested as of Thursday evening Eastern Time.

As reported by The Maple last month, recent tensions between Ukraine and Russia follow decades of expansion into Eastern Europe by NATO, a Western military alliance formed during the Cold War in opposition to Russia. Canada is among the countries that have previously advocated for Ukraine's membership of NATO, despite objections from Russia, which views the alliance as a security threat.
Before the invasion, Russia had demanded that Ukraine not be allowed to join NATO and that NATO military forces be scaled back in Eastern Europe, requests that were rejected by the United States.
Alberta Politicians Promote Oil Sector
As the world responded in shock to the Russian invasion, some politicians and media outlets in Canada saw the latest violence as an opportunity to promote this country's fossil fuel interests.
On Wednesday evening, Alberta Premier Jason Kenney called for a "hard global embargo of all Russian oil & gas exports." On Thursday, Kenney tweeted: "The choice is clear: Alberta oil is better than dictator oil," referring to Russia's oil sector.
Alberta Energy Minister Sonya Savage took the conflict as an opportunity to criticize U.S. President Joe Biden's decision to cancel the Keystone XL pipeline project, which would have transported oil from Alberta to Nebraska.
"One year after Biden vetoed KXL, U.S demand for oil has increased," Savage tweeted. "They are still importing Russian oil."
Savage then directly promoted Alberta's oil interests. "Alberta has the third largest oil reserves in the world & is a reliable & responsible energy producing neighbour to the U.S.," she wrote.
During a news conference hours before the Russian invasion Wednesday, Kenney called on Biden to reinstate approval for the Keystone XL project and claimed that "Biden is now importing over 800,000 barrels a day of conflict oil, filling the treasuries of Vladimir Putin's Russia, that is fuelling this military aggression against Ukraine."
Kenney refused to field questions from reporters during the press briefing, according to CTV News.
Responding to Kenney's remarks Thursday, journalist Markham Hislop tweeted "Alberta's historian-in-residence [Kenney] weighs in on Russia, urges reaction by global govts that will benefit Alberta oil and gas companies, repairs to the Petroleum Club for a scotch and a chinwag with Canadian oligarchs."
Paris Marx, host of the Tech Won't Save Us podcast, tweeted: "Kenney might be the only one to come out and say it, but I suspect there are a number of cash-strapped petro governments happy to see rising oil prices and a reason to push their oil over Russia's."
Alberta's 2022 budget, which was released Thursday, showed that high oil prices have bolstered the province's finances.
PressProgress editor Luke LeBrun pointed out that in 2019, Kenney justified his pro-oil and gas "fight back" strategy by referring to Putin as an example of why Alberta should supposedly crack down on climate activists.
"Kenney cracked a joke that Putin sending Greenpeace activists to Siberian jails was "instructive,"" LeBrun noted.
Responding to Savage's comments, climate advocacy group 350 Canada wrote: "Here in Canada we're seeing Big Oil's political friends using this moment to push for fossil fuel expansion. This is wrong and it's dangerous."
Postmedia Sees LNG Opportunity
It wasn't only politicians who took the violence in Ukraine as an opportunity to promote fossil fuel interests, however.
The Postmedia-owned Financial Post published a feature Wednesday declaring "Ukraine crisis puts East Coast LNG back on the map."
The Post reported: "An energy crunch in Europe, exacerbated by the escalating conflict in Ukraine, is breathing new life into hopes that Canada's Atlantic provinces could become a hub for natural gas exports, industry watchers say."
The Post continued:
"The energy starved European Union sources almost 40 per cent of its natural gas from Russia, much of it flowing through Ukraine … Russia's move into Eastern Ukraine this week has only added more uncertainty: The German government on Tuesday announced that it was halting the approval process for the Nord Stream 2 project, a controversial twinning of a major pipeline bringing Russian gas to Germany … As Europe's gas woes mount, at least two companies are exploring LNG options on Canada's East Coast."
The publication's promotion of fossil fuel interests during the devastating invasion received a similarly frosty response Thursday.
Pam Palmater tweeted: "What a horrendously awful article to post while Russia invades the Ukraine. What is wrong with you? While blood is being shed you promote pipelines?"
Burnaby Beacon reporter Srushti Gangdev called the story "revolting."
This post is for paying subscribers only