One of the great mysteries of the COVID-19 pandemic has been where its victims contracted the virus. Was it at work? Was it from family members? Did they catch it while walking through a mall? We'll never fully know. As a result, Canadians have little idea if certain locations have been more dangerous than others in terms of COVID-19 exposure.
However, we do know things about specific locations. Residential care, for example, has, according to my count, been the site of about 50 per cent of COVID-19-related deaths in Canada. (It's not completely clear if that's because more people died there, or data collection in Canada is so poor that at least some of those who died at home aren't being counted.) The vast majority of deaths at these residential settings took place in long-term care homes, locations where British Columbia, Manitoba, Ontario and Quebec regularly, and Alberta and Nova Scotia occasionally, reported outbreaks and deaths.
Hospitals are also embedded in the broad category of residential care facilities. In June 2021, I argued in Passage that health units were hiding how many people died with COVID-19 that they contracted in hospital. A month earlier, I had filed a freedom of information request with the Ontario Ministry of Health for this data, but they replied to say it wasn't being collected. I had a tip that the data was collected, however, so I worked to come up with a different way to get it.
By August, I had my number. Thanks to data pulled by the Canadian Institute for Health Information (CIHI), I reported in the Washington Post that at least 3,088 people in Canada (not including Quebec) contracted COVID-19 in hospitals between April 2020 and March 2021, and at least 897 of them died.
This April, I put in a new request to CIHI for updated data. I can now report that from April 2020 to December 2021, according to CIHI, at least 5,062 people in Canada (not including Quebec) contracted COVID-19 in hospitals, and at least 1,332 of them died. This means that more than 25 per cent of patients who caught COVID-19 in hospitals in Canada (excluding Quebec) died. (The general mortality rate for all cases in Canada is about 1 per cent at this point.)
As mentioned, these numbers don't include Quebec. However, I've scoured through media reports since the beginning of the pandemic until now, and linked 737 COVID-19 deaths in the province to an infection acquired in a hospital. That means that as a whole, at least 2,069 people in Canada have died with COVID-19 they contracted in hospital.
It's worth reiterating that this data (other than in Quebec) only extends until December 2021, right about the time when the Omicron variant took off, spreading faster than anything before, and resulting in the highest peak of hospitalizations. It will be many more months before CIHI can release the number of people that contracted COVID-19 in hospital from that point forward and how many of them died.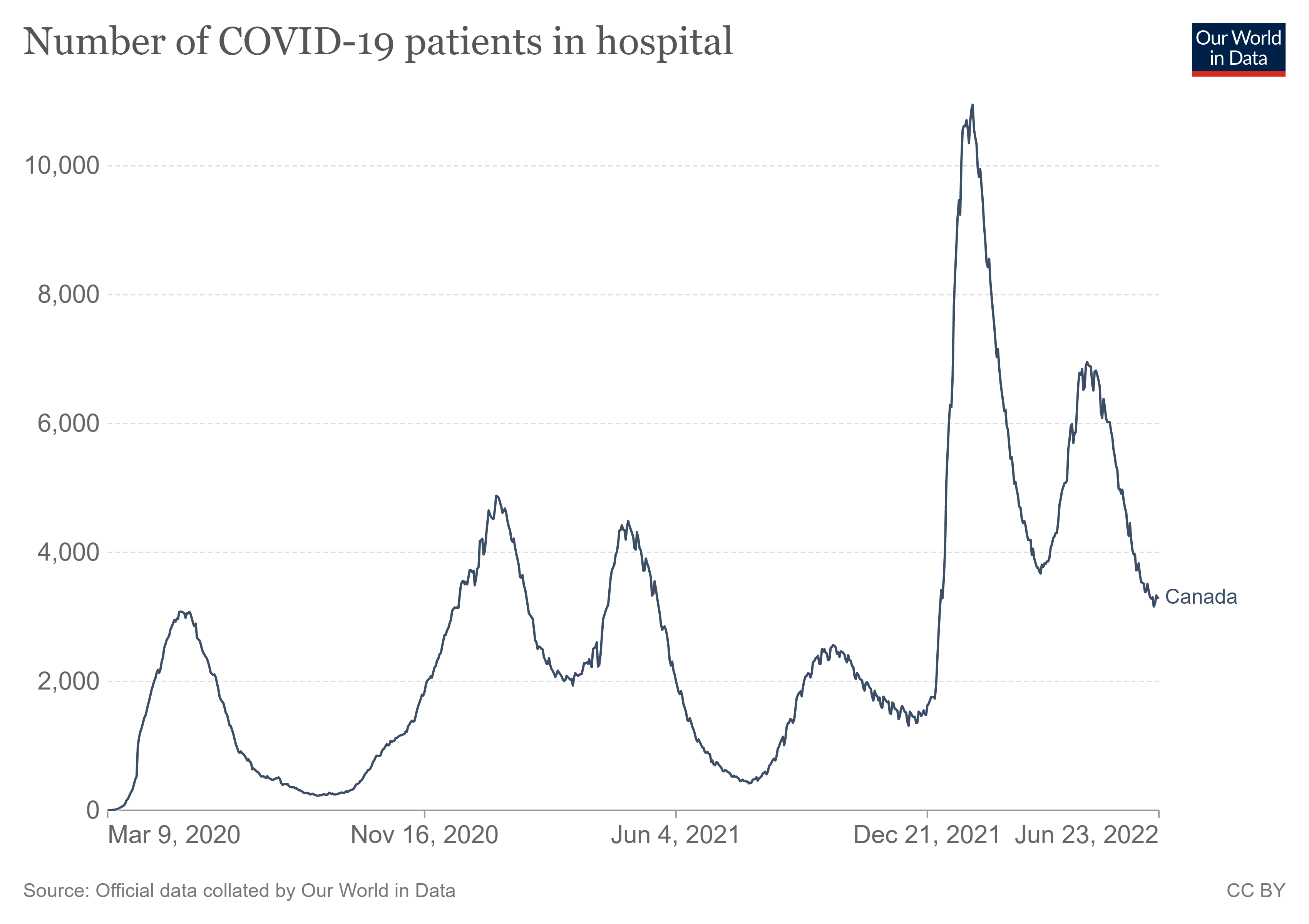 While hospital-acquired COVID-19 deaths make up a small portion of Canada's more than 41,000 overall count, the extremely high mortality rate in these locations demonstrates the importance of infection control in medical facilities. It should go without saying that hospitals need to be extra careful to keep patients and staff safe from outbreaks. Yet governments don't seem to be trying too hard to make this a priority.
In Ontario, masks stopped being mandatory in hospitals on June 11, although they remain required in long-term care facilities and retirement residences. In Alberta, the government lifted mask mandates on June 14, and their website notes that, "Masking in Alberta Health Services and contracted health facilities has shifted to organizational policy." Masks are still mandated by the government in healthcare settings in Quebec and B.C.
As a whole, it has also been extremely difficult to get hospital-related infection and death numbers from provincial agencies. The numbers are either spotty, dated or they don't exist. If it weren't for CIHI, we'd have no idea whatsoever.
Where have journalists been? Why hasn't a public health official or a medical professional blown the whistle on these numbers? If more information had been made public about how deadly COVID-19 has been for those who caught it in hospital, would Ontario Premier Doug Ford have even considered dropping the mask mandates there? Why has this issue been so consistently ignored by journalists, politicians and public health officials alike?
Get all the latest posts delivered straight to your inbox.
Processing your application
Please check your inbox and click the link to confirm your subscription.
There was an error sending the email