While new COVID-19 cases in Alberta sit at a seven day average of 762 as of Oct. 19, a month earlier the province's fourth wave crested at 2,020 new cases in one day.
This wasn't as high as the 2,433 cases logged on May 1 — the height of the third wave — but this time the Delta variant-driven surge in cases came with more severe outcomes.
The fourth wave in Alberta has had the most ICU admissions throughout the pandemic, hitting a high of 268 on Sept. 28, which forced hospitals to send patients elsewhere for treatment and delayed non-COVID related surgeries.
Alberta's fourth wave was precipitated by the government's "Open for Summer" policy, which began May 28 and culminated in dropping all capacity restrictions and mask mandates on July 1 — just in time for the Calgary Stampede a week later. Hats reading "Best Summer Ever, Alberta 2021" were sold on the ruling United Conservative Party's website.
This policy was such a disaster that when Premier Jason Kenney ultimately backtracked — introducing minor restrictions and a half-assed vaccine passport system — and issued an apology that he retracted in the same mid-September press conference, the news went international, with write ups in the New York Times and Reuters.
Since July 1, there have been more than 700 COVID deaths in Alberta. We at The Maple have compiled a rogues' gallery of those responsible for Alberta's fatal decision to open for summer.
Premier Jason Kenney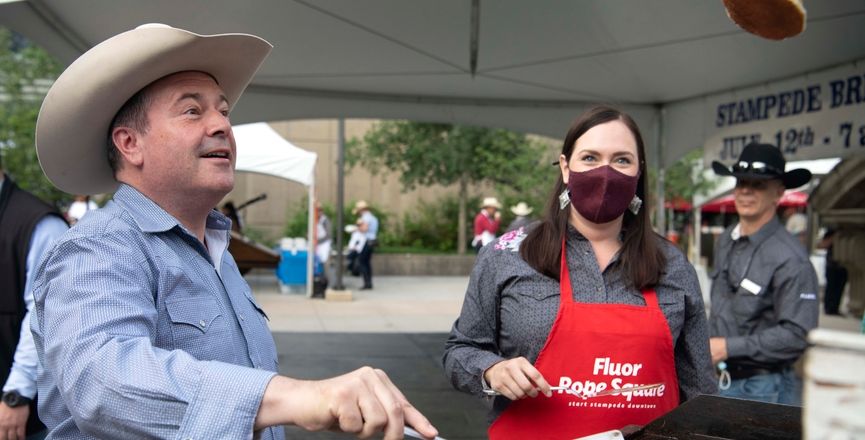 When Kenney announced the province would enter the final stage of its Open for Summer policy on June 18, he predicted it would be permanent. "Our intention (is that) this is open for good, not just for summer," said Kenney.
He acknowledged there would be periodic local outbreaks, particularly during influenza season in mid-October, but said those could be handled on a case-by-case basis.
Kenney also predicted that by now, 75 per cent of Alberta's population would be fully vaccinated. As of Oct. 20, 66.2 per cent of the total population was fully vaccinated.
"This is not a guess," the premier said regarding his prediction for the province's vaccination rate. "This plan is based on the expert analysis of the chief medical officer, our public health team, looking at global experience and looking at the science of vaccines."
In a secretly recorded video at a July 10 Stampede breakfast, Kenney re-iterated to a concerned citizen that there would be no more restrictions. "I swear to God," he said, making a sign of the cross with his hands. (Kenney is a devout Catholic.)
In the video, Kenney upped his prediction of vaccination rates to 80 per cent by the fall, dismissing concerns this would put unvaccinated children and young adults at risk.
"COVID is not a threat to people under 30, effectively, so the fact that 20 per cent of them aren't vaccinated — don't worry about it," said Kenney.
On Sept. 22, Alberta had its first death of a COVID patient younger than age 20, while 13 people between the ages of 20 and 29 have died throughout the pandemic.
Kenney went on vacation from Aug. 12 - 30, for which he was roundly criticized. Although he said he had been "in daily contact" with staff to monitor the COVID situation, CTV News revealed that he had just two meetings scheduled on his calendar during those two weeks.
(Former) Health Minister Tyler Shandro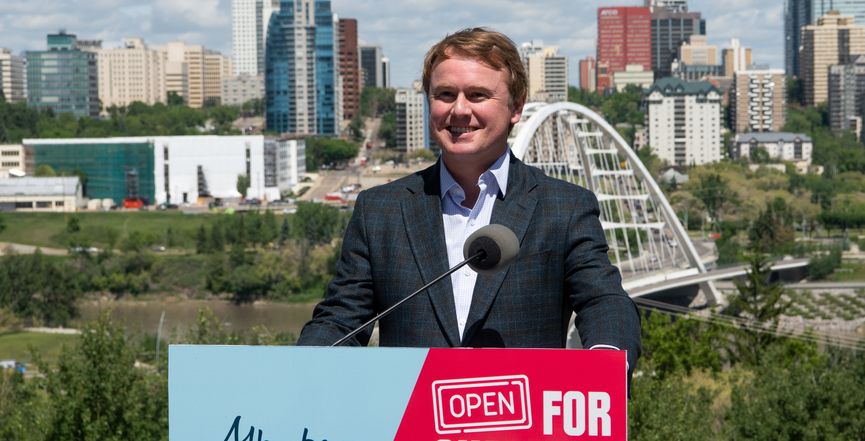 Then-health minister Tyler Shandro was all smiles at the June 18 announcement of the government's Open for Summer policy, touting a "return to a free, open province."
He dismissed concerns about the burgeoning spread of the Delta variant. "For us to be able to make the types of claims that we see in the media about the Delta variant, when the number of new cases we have, and the full testing we're doing and catching, and doing the contact tracing for those new Delta variants, is right now statistically irrelevant [emphasis added]," said Shandro.
On Sept. 21 — the day before the province's first COVID death of someone below the age of 20 — Shandro was shuffled out of the health ministry, switching roles with then-labour minister Jason Copping.
Chief Medical Officer of Health Dr. Deena Hinshaw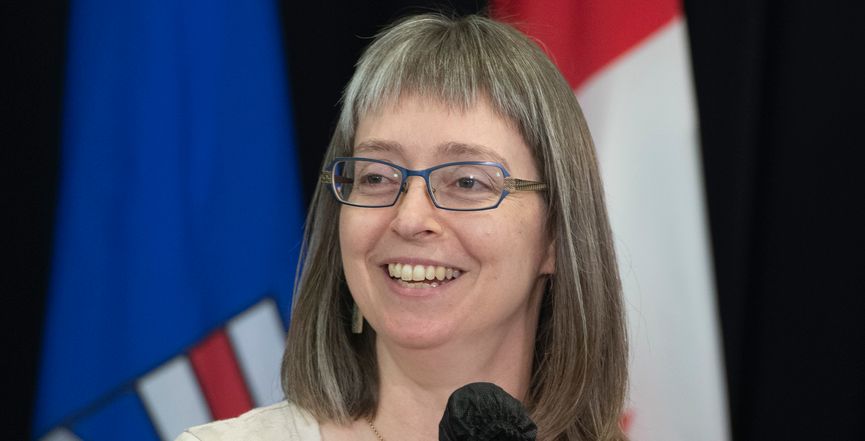 On July 28, Alberta's top doctor Deena Hinshaw announced that the province was moving from a pandemic to endemic approach to COVID, arguing that COVID should be treated like any other respiratory illness.
"We're asking people to integrate that risk of COVID-19 into other risks and to not see it as the primary number one risk that all other things are secondary to," Hinshaw said, adding that a focus on COVID would do "more harm than good."
This included a plan to end widespread testing, contact tracing and isolation requirements, which resulted in protests and has since been shelved indefinitely.
Back in May, when Kenney announced his staged reopening plan that ended with all restrictions being lifted July 1, Hinshaw said she was "fully engaged" in developing it, boasting that her office came up with the idea to fully reopen once 70 per cent of the province's population aged 12 and over had received at least a single vaccine dose.
Four months later, in a video call with the Primary Care Network, Hinshaw apologized for her whole-hearted endorsement of the government's rash reopening plan.
"I think that trajectory was set when we removed all the public health restrictions at the beginning of July," Hinshaw conceded at the Sept. 13 meeting, when Alberta had 18,395 active COVID cases — three times the number logged in Ontario, a province with a population three times the size.
She said she "deeply" regretted contributing to the narrative that "COVID is over."
Alberta Health Services CEO Dr. Verna Yiu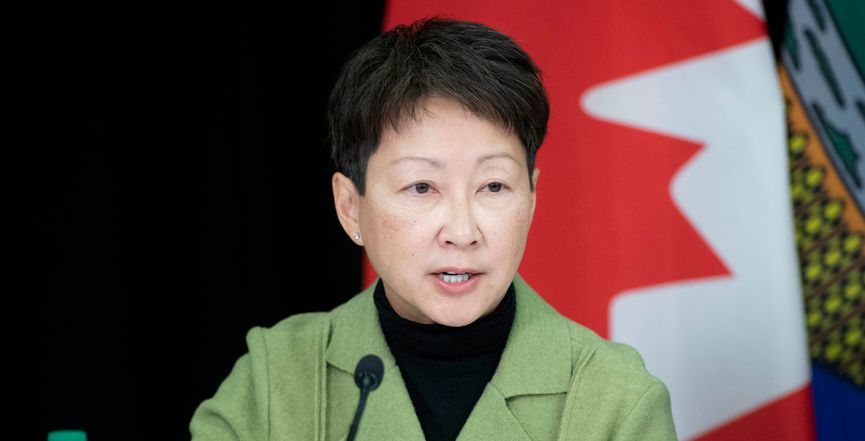 On July 31, the doctor in charge of administering health care in Alberta, Verna Yiu, wrote an op-ed in the Edmonton Journal denying there was any shortage of beds in the province, saying temporary bed closures are common in the summer months.
"As the pandemic winds down," Yiu added, "we are also moving staff who were working on the pandemic response into their original positions, this will help fill vacancies."
Fast forward to Sept. 23, and Yiu  told a news conference that the only reason there were available ICU beds in the province was because occupants were dying.
"We have never, ever had that number of total patients in ICU before. Never with the prior waves and never in the history of this province," she said when there were 247 COVID patients in ICU, a number that would steadily increase before hitting its peak of 268 five days later.
"It's tragic that we are only able to keep pace with these sort of numbers because, in part, some of our ICU patients have passed away. And this reality has a deep and lasting impact on our ICU teams," said Yiu.
UCP Director of Issues Management Matt Wolf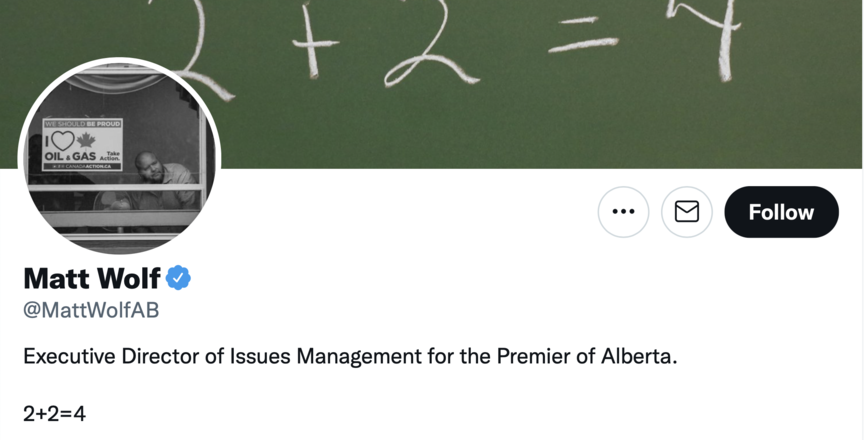 Official UCP Twitter troll Matt Wolf was perhaps the most aggressive in dismissing Albertans' concerns that the government was lifting public health restrictions too quickly.
"The pandemic is ending. Accept it," Wolf infamously tweeted on June 2.
On June 24, Wolf called a CBC piece on how to keep children safe from COVID during the summer "sensationalist state-funded fear porn," and a week earlier, he accused CTV Edmonton of "selling fear for clicks" over a story about a biologist calling for tightened health restrictions.
In another attack on reporters, Wolf tweeted on July 30: "The pandemic has been the highlight of some people's careers."
Wolf has not tweeted the words "COVID," "pandemic" or "vaccines" since Aug. 13.
Junior policy advisor Ben Harper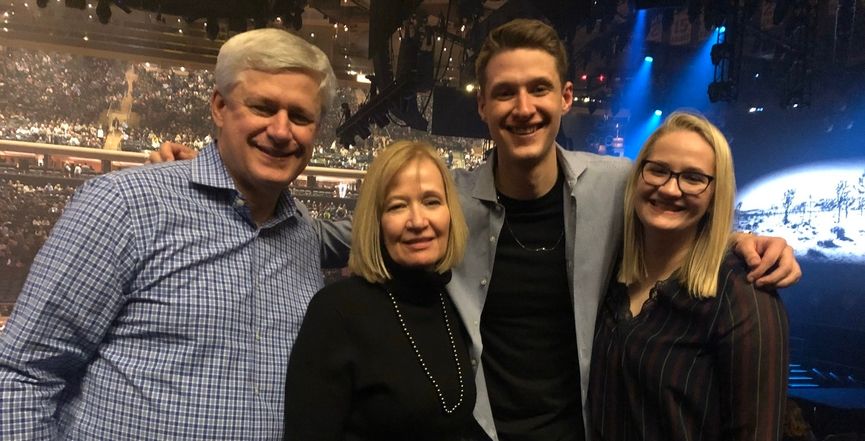 The son of former prime minister Stephen Harper, 25-year-old Ben, was appointed as a junior policy advisor to Kenney — a former cabinet minister in Stephen Harper's Conservative government — in October 2020.
On July 18, Ben tweeted a photo of himself at a shooting range wearing a "Best Summer Ever" hat, captioned, "The summer just keeps getting better and better."
In anticipation of the great reopening, Ben tweeted on June 26, "Starting to feel like the best summer ever out in Stony Plain," accompanied by a photo of his aforementioned cap, a glass of scotch and a cigar.
Jeremy Appel is the Calgary municipal politics reporter for Sprawl Alberta, and his work has appeared in CBC Calgary, Jacobin, Passage and the Forward. He also co-hosts the Forgotten Corner and Big Shiny Takes podcasts.
Get all the latest posts delivered straight to your inbox.
Processing your application
Please check your inbox and click the link to confirm your subscription.
There was an error sending the email