In August, the Canadian government signed a memorandum of understanding with Moderna, a Massachusetts-based company, to build a vaccine manufacturing plant at an undisclosed location at an undisclosed cost.
"I believe that this technology can allow Canada to be ready for the next virus," Moderna CEO Stephane Bancel said at a press event in Montreal, alongside Innovation Minister Francois-Philippe Champagne.
"Whether it's a small outbreak, or a big pandemic, like the one we just saw — God forbid — Canada will be ready. We'll be ready on Canadian soil to make, in a matter of months, a new vaccine for a new emerging virus to protect the Canadian population."
The facility will be built, owned and operated by Moderna, the Wall Street Journal reported.
Canada's long-decimated vaccine manufacturing capacity has led to this country being entirely dependent upon imports of the COVID-19 vaccine, with the government scrambling to entice foreign vaccine companies to set up shop here, said journalist and author Linda McQuaig.
"What the pandemic has done has just driven home how vulnerable we are to the pharmaceutical industry," McQuaig told The Maple. "It was clear that it was a problem for Canada that we didn't have domestic vaccine production capacity."
She said as a result, Canada has "bent over backwards" to appease big pharma, and not just companies like Moderna. The government also offered Paris-based Sanofi $415 million back in March to subsidize the $925-million expansion of its Toronto plant that manufactures influenza vaccines.
The Case of Connaught Labs
The Sanofi deal is uniquely tragic, McQuaig said, because the facility the government is paying the company to expand used to be the home of the University of Toronto's Connaught Labs — an internationally-renowned, publicly-owned and operated vaccine research and production hub that got privatized by Brian Mulroney's Progressive Conservative government in the 1980s.
In her 2019 book The Sport and Prey of Capitalism, McQuaig wrote extensively about the rise and fall of Connaught Labs, which she called a "wonderful Canadian success story."
The lab was opened after a 1913 diphtheria outbreak by Dr. John Fitzgerald, who was outraged that children were dying of the disease because a U.S. company with a monopoly on the vaccine's production at the time was selling it for $25 a dose, a price that was out of reach for all but the wealthy.
"It goes on for the next seven decades to be this superstar company," said McQuaig. "It's totally unlike all the other pharmaceutical companies out there in that it's publicly-owned, so it's not obsessed with profits. In fact, it's not interested in making profits."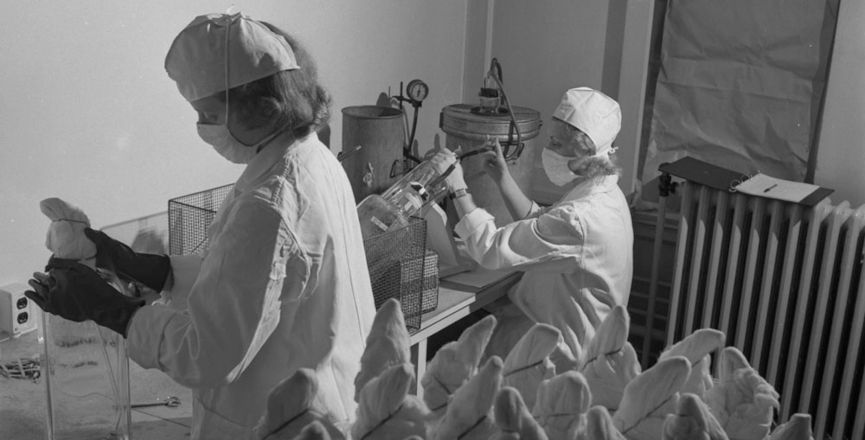 All the money it made was re-invested to keep prices low, and fund further research and development, she added, whereas most pharmaceutical companies receive government largesse to fund research for private profit.
With this public model, Connaught produced effective treatments and vaccines for tetanus, typhoid, meningitis and, what it's best known for: penicillin, smallpox, and the Salk and Sabin polio vaccines.
"They were on the cutting edge of research, particularly in vaccinations. If they had continued to exist, it's almost 100 per cent clear that they would've been involved in developing a vaccine for COVID, or even SARS," said McQuaig. "They would've been in on that."
Fear of Big Pharma
The same pharmaceutical industry forces that pressured Mulroney to sell off their public competitor are pressuring the governments of wealthy countries, including Canada, to block efforts by poorer countries — led by India and South Africa — to waive patent protections for COVID-19 vaccines, which would give researchers in these countries the ability to operate independently from big pharma.
The fear is that making it easier for developing nations to produce vaccines would rock the boat too much with the multinationals, jeopardizing wealthy countries' bilateral deals with those companies. This dynamic underpins Prime Minister Justin Trudeau's unwillingness to endorse India and South Africa's proposal at the World Trade Organization.
"The Trudeau government is so into promoting business interests," said McQuaig. "Whenever it wants to project itself as a progressive government, it is so close to business interests that it always sees market solutions to things, even when much better public solutions are available."
"I think it's clear the Trudeau government is completely intimidated by big pharma."
The government experienced the wrath of the multinationals in 2019, when it attempted to lower the price of medications by removing the U.S. and Switzerland, which pay more for drugs on average than other developed countries, from a list of comparator countries Canada uses to determine a ceiling on prices in negotiations with pharmaceutical companies.
Merck, Johnson & Johnson's Janssen Inc., Bayer AG, Boehringer Ingelheim and Servier Inc. took the Canadian government to court in Quebec over the changes, which would cost them billions in profits and possibly lead to lower drug prices in the U.S.
A couple of weeks later, a consortium of 16 pharmaceutical companies led by Innovative Medicines Canada sued the government in federal court, arguing the move was outside the government's jurisdiction.
Succumbing to the pressure, the Canadian government has delayed implementation of the reforms three times.
The Problem With Neoliberalism
Joel Lexchin, a Toronto-based emergency room physician and professor emeritus of public health at York University, told The Maple that at the outset of the pandemic, Canada's limited vaccine production capacity "bit us" because what capacity we did have was foreign-owned.
Cutting deals with multinationals to set up vaccine manufacturing here is ostensibly the "second-best solution," said Lexchin. However, there's been a major lack of transparency with the Moderna deal that leads to more questions than answers.
"I don't know whether or not the federal government has any say in what's going to be produced at these plants, in what volume, or at what price," he said. "Is there any clause in there that says that Moderna can't sell its plant to somebody else, can't close it and move it, and stop production in Canada?"
This has been the status quo since Connaught Labs got sold off in 1987. "Since then, there hasn't been any publicly-owned facilities for vaccine manufacturing, so signing a deal with Moderna continues in that tradition of relying on the private sector for vaccines," said Lexchin.
Vaccines are unique from other pharmaceuticals because they're intended to be distributed en masse, not just to people who are sick. "The volume is greater," Lexchin said. "They're meant to prevent disease, not treat disease, which means that if vaccines are available and administered properly, they save an enormous amount in healthcare costs, and they save lives."
This dynamic underscores the importance of having ownership of vaccines "in public hands," but the government's default inclination is to collaborate with the private sector, he added.
"This is not particular to vaccines," said Lexchin. "This is a reflection of neoliberal economic ideology that we've seen for the past roughly 40 years, which is that the market will solve everything."
But when it comes to combating the pandemic, these private bilateral deals are doomed to failure, he said.
Large swaths of the developing world currently have the vast majority of their populations unvaccinated. In India, just 16 per cent of the population is fully vaccinated, while South Africa's rate is even lower at 14 per cent. Nigeria, the most populous country in Africa, has just 0.9 per cent of its population fully vaccinated.
"This idea that the rest of the world doesn't matter just means that we'll remain vulnerable for a much longer period of time, because leaving the virus to circulate virtually unchecked in multiple countries means that there's going to be large quantities of the virus available to mutate, to be able to get around vaccines," Lexchin said.

Jeremy Appel is the Calgary municipal politics reporter for Sprawl Alberta, and his work has appeared in CBC Calgary, Jacobin, Passage and the Forward. He also co-hosts the Forgotten Corner and Big Shiny Takes podcasts.
Get all the latest posts delivered straight to your inbox.
Processing your application
Please check your inbox and click the link to confirm your subscription.
There was an error sending the email