Good morning. You've likely noticed that reporters have been quizzing Conservative Party Leader Erin O'Toole about his party's stance on racism, reproductive rights, climate science and other key issues this election.
O'Toole has insisted that he condemns racism, is pro-choice and accepts the scientific consensus on human-caused climate change. However, many observers remain skeptical about O'Toole's level of commitment to those positions, pointing to the Conservative leader's past remarks and strong resistance to those views from members of his own party.
Here's a brief guide to the backstories behind some of O'Toole's responses to these key issues.
Racism
What O'Toole told reporters: This week, reporters noted that the Conservative Party platform does not mention "racism," "systemic racism" or "islamophobia," and asked O'Toole why his party omitted these issues from its campaign pledges. In response, O'Toole dodged the question and cited past comments he made condemning racism.
The backstory: There has been a global reckoning regarding systemic racism over the past 18 months following several key events, including: the police murder of George Floyd in Minneapolis, the death of Regis Korchniski-Paquet in Toronto while police were in her home, the police shooting of Tla-o-qui-aht woman Chantel Moore during a "wellness check" in New Brunswick (and other documented acts of police violence against Indigenous people), a disturbing rise in anti-Asian hate crimes in British Columbia during the pandemic, the Islamophobic terrorist attack in London, Ontario that took the lives of four members of a Muslim family, and the locating of more than 1,300 unmarked graves at the former grounds of residential schools.
Despite the worldwide magnitude of these issues, many regard the Conservative Party under Erin O'Toole's leadership as having a problematic record on taking racism seriously.
During the Conservative Party leadership race last year, O'Toole sidestepped a question about whether he accepts the reality of systemic racism, and suggested the term might upset police officers.
Last December, PressProgress reported that O'Toole told campus Conservatives that two key architects of Canada's genocidal residential school system only meant to "provide education" to Indigenous students, sparking widespread outrage and condemnation from Indigenous leaders. O'Toole later walked back the comment.
A month later, PressProgress revealed that former Conservative Party leadership candidate Derek Sloan had accepted a campaign donation from a well-known neo-Nazi. O'Toole ejected Sloan from the Conservative caucus over the donation, and attempted to distance himself from racist elements, declaring: "Racism is a disease of the soul, repugnant to our core values. It has no place in our country. It has no place in the Conservative Party of Canada. I won't tolerate it."
However, O'Toole has been accused of dog-whistling to the far-right by railing against so-called "cancel culture," fuelling conspiracy theories that claim the Trudeau government is secretly planning a "great reset" and stoking anti-Chinese sentiments.
Meanwhile, observers have noted similarities between the Conservative Party's central election pledge to "secure the future," and the so-called "14 words," a famous neo-Nazi slogan.
Abortion
What O'Toole told reporters: "I'm pro-choice and I'm a pro-choice leader, period," O'Toole told reporters at an election campaign stop earlier this month. The Conservative leader was responding to comments from a Liberal MP who said O'Toole cannot be trusted on the issue of reproductive rights.
The backstory: O'Toole's latest headaches around reproductive rights can be partly traced back to when — or, more specifically, how — he won the Conservative Party leadership race last year.
Because the Conservatives use a ranked ballot system to vote for their leader, O'Toole deliberately courted socially conservative party members, who strongly oppose abortion, and asked them to rank him as their second choice, allowing him to edge out leadership rival Peter MacKay. In a leaked video, O'Toole hinted that he might be willing to make concessions to social conservatives on issues such as conversion therapy or medical assistance in dying (MAID).
In a statement following O'Toole's victory, the hardline anti-abortion group Campaign Life Coalition said: "We expect that Erin O'Toole will ensure that social conservatives are respected and their values represented within the party going forward."
In April, O'Toole was pressed on his views on abortion again when Conservative MP Cathay Wagantall prepared a private members' bill aimed at restricting abortion access. The bill was condemned by reproductive rights groups as "an attack on women's rights."
While O'Toole himself voted against the bill, 81 Conservative MPs — two-thirds of the entire Tory caucus — voted in favour.
During an election campaign stop this week, O'Toole claimed New Brunswickers have access to abortion services, even though the province's Conservative government refuses to fund such services at a clinic in Fredericton.
O'Toole's claim is contradicted by feminist and reproductive rights groups who note that the lack of funding for abortion services forces many to pay out of pocket, or seek the procedure elsewhere.
Justin Trudeau's government recently withheld around $140,000 in health transfer funds to New Brunswick over the issue, but O'Toole would not say if he would also withhold funds from provinces that refuse to pay for abortion services.
This week, O'Toole also failed to directly answer questions about whether a member of his elected caucus who is either anti-abortion or unvaccinated could be appointed as minister of health in a Conservative government, The Globe and Mail reported.
Back in June, Social conservatives in O'Toole's caucus also sparked outrage among LGBTQ+ people and their allies, as 62 Conservative MPs voted against a bill that would criminalize conversion therapy — an abusive and sicentifically discredited practice that seeks to change a person's gender or sexual orientation.
Climate Science
What O'Toole told reporters: This week, O'Toole repeatedly dodged questions about a now-deleted video sent out by Conservative candidate Cheryl Gallant warning her constituents of a "climate lockdown," a phrase coined by conspiracy theorists and climate change deniers who claim world leaders are secretly plotting to enforce pandemic-style lockdowns in the name of combating global warming.
The backstory: The Conservative Party of Canada has long struggled to come to terms with the scientific consensus on human-caused climate change. O'Toole sought to rebrand the party's image on the issue by passing a resolution that declared "climate change is real" into the Conservative policy book during a party convention in March.
However, Conservative delegates rejected the resolution by a margin of 54 per cent to 46.
Meanwhile, the Conservative Party's climate platform this election — which includes putting a price on carbon and introducing a green rewards program — has been panned by experts and analysts as being "woefully out of touch" with climate science, and offering proposals that would fail to meet the emissions reduction targets set out in the Paris Agreement.
Other members of the Conservative Party's ranks have problematic relationships with science in regards to vaccines and masks, too. The Conservative campaign expelled multiple members this week who attended an anti-mask and anti-vaccine rally against Justin Trudeau, forcing the cancellation of a Liberal campaign event amid security concerns.
---
---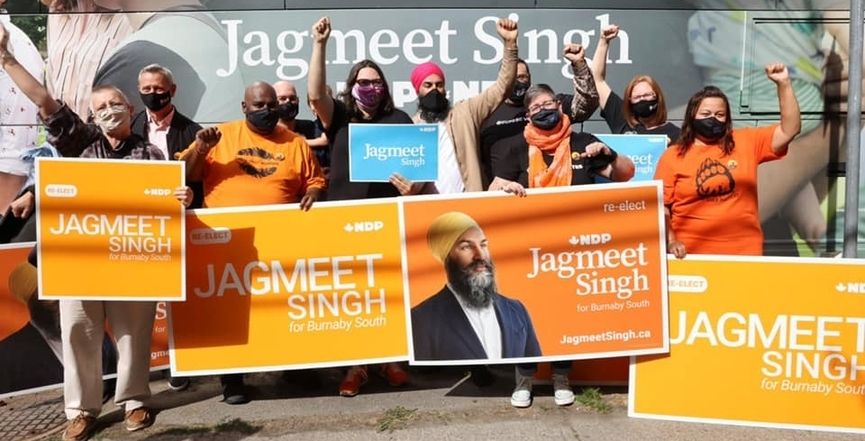 Election News
---
Other News
---
Latest Polls
---
LISTEN: Don't miss our interview with Green Party candidate Paul Manly, in which we discuss the situation at Fairy Creek, policing, international climate solidarity and whether his party's infighting is damaging its ability to impress the urgency of the global climate crisis onto national political conversations.
---
WATCH: In a video for The Breach in June, lawyer and professor Pam Palmater explains the case for Indigenous "land back," and argues that symbolic gestures won't amount to justice.
---
The Maple Pod
Don't miss the latest episodes of The Maple's election podcast series. Subscribe now on Apple, Spotify, Google and SoundCloud.
---
Commentary
---
Catch Up On Our Latest Newsletters
Get all the latest posts delivered straight to your inbox.
Processing your application
Please check your inbox and click the link to confirm your subscription.
There was an error sending the email