Workers Speak Out Against Ottawa Occupation
"We're not going to get paid for lost wages. We don't know when these people are going to leave and we're afraid they're going to close us down again."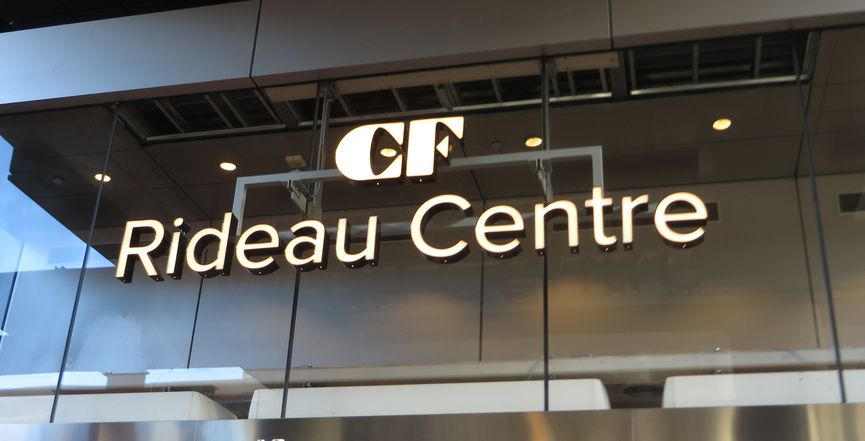 Low-waged workers employed in downtown Ottawa have lost pay and are continuing to live in fear as a result of the ongoing far-right occupation of the capital.
The occupation, which is calling for COVID-related public health restrictions and vaccination rules to be lifted, entered its third straight week this weekend, with frustrated members of the local community rallying to call on the occupiers to go home.
Juliana Cruz, who works as a cleaner at a store in the Rideau Centre, told The Maple she is back at work, but lost hundreds of dollars of wages after mobs of unmasked protesters forced the mall to close during the first weekend of the occupation. The mall itself remains closed, but the store Cruz works at has re-opened.
Cruz typically makes $1,100 every two weeks, but said she will be lucky to see $200 in her next paycheque due to lost wages over the past 14 days.
"We're not going to get paid for lost wages," Cruz explained in Spanish through a translator. "We don't know when these people are going to leave and we're afraid they're going to close us down again."
Last weekend, unmasked occupiers entered the store where Cruz works to use the bathrooms that Cruz herself must also use.
"I'm afraid of getting the virus," said Cruz. "They refuse to wear their masks when they're asked to and they're very rude." Cruz also has to commute between multiple jobs, often sharing buses with the members of the occupation.
"It's just terrible, terrible what's happening," she explained, "and my kids say [the occupiers] just don't respect anyone else. They think the virus is a joke."
Cruz said the only action store management has taken so far is to shut the doors of the store when too many occupiers enter without masks, causing employees to lose yet more hours of work. The only action taken by the building property owners, who contract the cleaning company that Cruz works for, was to initially close down the building.
"I understand why they do that, but we're left without our wages, and we're not to blame; it's not our fault that these people are here in the city," said Cruz. "[The occupiers are] not letting us work. They're setting up their cooking stations and cooking right beside the store with all those cars out there. My bus doesn't even come by the store anymore."
She added: "I think the government needs to step in to do something."
Chris Lee, a representative with Cruz's union, SEIU Local 2, told The Maple that many workplaces are operating as normal, but that some workers, many of whom are racialized women, are still enduring challenges in their daily commutes.
"We've heard from about 100 members whose buildings have been affected in one way or another," said Lee. "Others have stayed open, but workers do not feel safe going to work." Some, Lee explained, are physically obstructed from getting to work by blockades.
"None of us believe that [the occupation] is about working-class people," he added. "Working-class people don't have the option of leaving their jobs."
Most SEIU members have access to paid sick leave or personal days that they can use during the occupation, but Lee said those options are dwindling as many workers have already had to use those allowances for illness during the ongoing COVID-19 pandemic.
The lost wages are not covered by government pandemic benefits or employment insurance, but workers need the money to pay their bills, Lee explained. The union is calling on the property owners to ask that the cleaning companies they contract continue paying workers or pay up themselves.
"In some cases employers are telling us their clients will not pay them for these days missed or the days when they were told to be closed," said Lee. "But in other cases, it's not clear that the employer is not pocketing the extra cash that they're saving and not paying wages themselves."
Some of the buildings affected by the occupation, Lee noted, are federally owned but use property managers. The presence of these middle-managers add a layer of complexity in getting employers to pay up, he explained.
"I would say somebody, whether it's on the client side or the employer side, is saving money by keeping it in their pockets while our workers struggle to pay rent, struggle to pay the bills," he added.
Lee said non-unionized cleaning jobs nearly always pay minimum wage with no paid sick days, but the majority of SEIU members make $16.20 per hour and have four paid sick days. The union is calling for more.
"We don't believe that four paid sick days is enough in normal circumstances, let alone during a pandemic," said Lee. Ontario Premier Doug Ford, Lee noted, introduced a program covering three days of paid sick leave last year for workers who didn't already have such provisions through their employer.
"This was just a handout to small businesses who avoid unions, that the Ontario government would now pay [for] their paid sick days," Lee explained, noting that most unionized workplaces already have paid sick days, and are therefore not covered by the government-sponsored program.
"We think that governments can do way more, whether it's providing more access to paid sick days, or other benefits that can make sure that some of the workers who have faced long layoffs continue to be fully covered, or have their wages fully protected during these times," he added.
This post is for paying subscribers only