Communities Rally Against Convoy Occupation, Condemn Police Response
Police officers have expressed support for the occupation, and two members of the military's counter-terrorism unit are under investigation for allegedly participating.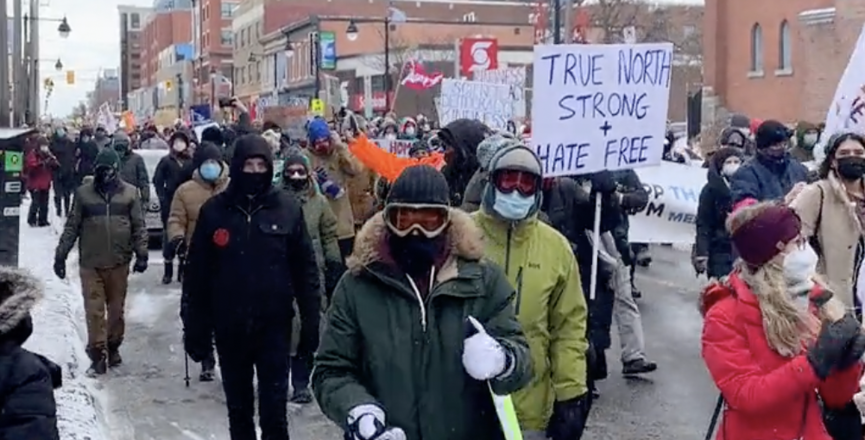 As the so-called "freedom" convoy-turned-occupation of Ottawa and supportive actions across the country reached their third straight weekend, communities initiated counter protests calling on the occupiers to go home.
Despite a provincial state of emergency being declared in Ontario Friday, occupiers opposed to public health restrictions maintained their hold of downtown Ottawa this weekend. Convoys and protests in support of the far-right occupation also took place in cities across Canada.
In Ottawa, a large crowd of residents and union members marched Saturday against the occupation and in solidarity with frontline workers who have been affected by it. Many held signs calling on the occupiers to go home and criticized responses from public officials.
In one video, protesters can be heard chanting "end the occupation now" and "this fascist convoy has got to go."
The march was organized by a group called Community Solidarity Ottawa, which describes itself as a "coalition of local labour unions, community organizations and residents."
Meanwhile, Ottawa police continued to allow occupiers to maintain their hold of the city's downtown core, CBC News reported.
According to CBC: "Demonstrators, unimpeded by police, have erected tents, a stage, a large video screen and even a hot tub."
As well, trucks continued to blast horns in defiance of an Ontario court injunction, continuing weeks of loud noise that has tormented local residents.
Frontline workers also continued to suffer as a result of the occupation this weekend. CTV News reporter Creeson Agecoutay tweeted Saturday that the Farm Boy food store was forced to close as young workers felt unsafe amid the occupation.
As well, workers at the Rideau mall have been without shifts and wages for weeks after mobs of occupiers harassed workers for wearing masks and forced the retail centre to close. During the first week of the occupation, a worker at Moo Shu Ice Cream was reportedly assaulted in the street for wearing a mask.
Brian Platt, a reporter with Bloomberg, tweeted: "It's a nightmare for any retail or restaurant worker in downtown Ottawa right now. It's either close your doors, or allow the store to be overrun by aggressive, maskless convoyers with no guarantee of police intervention if fights break out."
David Pugliese, a reporter with the Ottawa Citizen, tweeted Saturday: "Convoy protesters continue to harass residents of Ottawa. There is growing condemnation of [Ottawa Police] for refusing to provide protection for residents of the city and sitting back and doing nothing."
On Thursday, the Service Employees International Union Local 2 issued a statement accusing wealthy property owners of looking the other way while janitors in Ottawa have been forced to miss work and pay because of closures caused by the occupation.
"Large property owners, including the federal government and the City of Ottawa, and the cleaning companies they contract, have refused to pay janitors who, through no fault of their own, are losing much needed work hours," the statement read. "When you live paycheque-to-paycheque, this forces families to make impossible choices."
The statement adds: "The notion [the occupiers] represent "the average working Joe" in Canada is absurd. No janitor would be able to take weeks of unpaid leave to trek across the country to invade someone else's city."
James Hutt, an organizer with the Canadian Association of University Teachers who was present at the counter protest, tweeted: "Many of us are having great conversations with convoy supporters about how the govt has failed workers and actual solutions like paid sick days, higher min wage, fixing EI, nationalizing [long-term care], more & better jobs etc."
In Edmonton, a group of residents blocked the route of a so-called "freedom" convoy in that city on Saturday for approximately one hour, but activists on the ground said they were threatened with being charged under provincial "infrastructure defence" legislation by city police.
Emma Jackson, an organizer with Climate Justice Edmonton, tweeted: "Was told by the police today that we could be charged under the Critical Infrastructure Defence Act."
The Critical Infrastructure Defence Act was introduced by Jason Kenney's UCP government in 2020 in reaction to protests held in solidarity with Wet'suwet'en land defenders opposed to the construction of a liquefied natural gas pipeline on their territory.
The penalty for first time offenders carries a fine of up to $10,000, six months jail time, or both.
Jackson added: "Interesting how they refer to it when peaceful protestors are holding up the convoy, but not when the convoy is holding up the border for days," referring to a pro-convoy blockade at the Canada-U.S. border crossing at Coutts, Alberta.
As well, Jackson tweeted a photo of police officers facing the counter protest with their backs turned to the far-right "freedom" convoy. Jackson wrote: "Love when dozens of cops are deployed against peaceful counter-protesters standing up for public health and against white supremacists."
On Friday, the City of Edmonton successfully applied for an interim court injunction to "address nuisance noise from vehicles that participate in protests against public health restrictions." However, loud pro-convoy protests went ahead Saturday with just nine noise-related tickets issued by police.
Activists also highlighted what they viewed as police double standards in Winnipeg. On Saturday, a group called "Defend Winnipeg," which organized a counter protest against pro-convoy demonstrations at the Manitoba legislature, shared a video of local police arresting an Indigenous person who had been attempting to block a civilian vehicle.
APTN's Dennis Ward later tweeted that no charges were laid during the protests in Winnipeg.
Meanwhile, CTV News reported, at least 50 convoy supporters continued to blockade the Canada-U.S. border crossing in Emerson, Manitoba, with no arrests made or tickets issued by the RCMP as of Sunday.
In Montreal, a video showed anti-fascist demonstrators chanting "peace and love" in opposition to pro-convoy protesters on Saturday. According to a reporter with The Link, a Concordia University student newspaper, convoy supporters outnumbered counter protesters by at least two to one.
Maxime Bernier, leader of the far-right People's Party and an enthusiastic supporter of the Ottawa occupation, addressed the pro-convoy crowd in Montreal.
Activist Jaggi Singh, who was at the counter protest, said Montreal police were aggressive towards the anti-fascist demonstrators. As well, Singh photographed officers wearing "thin blue line" patches, a symbol associated with right-wing opposition to the Black Lives Matter movement.
"There was clear complicity between those cops (more than the usual complicity) and the far-right anti-vaccine crowd," Singh tweeted.
Further questions about police alignment with the far-right convoys surfaced again Sunday when a TikTok video circulated showing an Ontario Provincial Police officer telling convoy supporters who were on their way to Ottawa "I support you guys 100 per cent." The OPP said it has launched an "internal conduct investigation" into the incident.
As reported in Friday's newsletter, key figures in the occupation itself hail from military and policing backgrounds, providing the movement with tactical knowledge that has enabled them to become entrenched in downtown Ottawa.
On Sunday, the Ottawa Citizen reported that two serving members of the Canadian military's elite counter-terrorism unit are under investigation for allegedly taking part in the occupation.
According to the Citizen: "The two individuals under investigation serve as "assaulters" — one of the most highly trained positions in JTF2 involving the use of weapons and military tactics."
This post is for paying subscribers only