Canadian War Industry Received Boost at International Show
Canadian ministers promoted this country's war industry at the Farnborough International Airshow last month.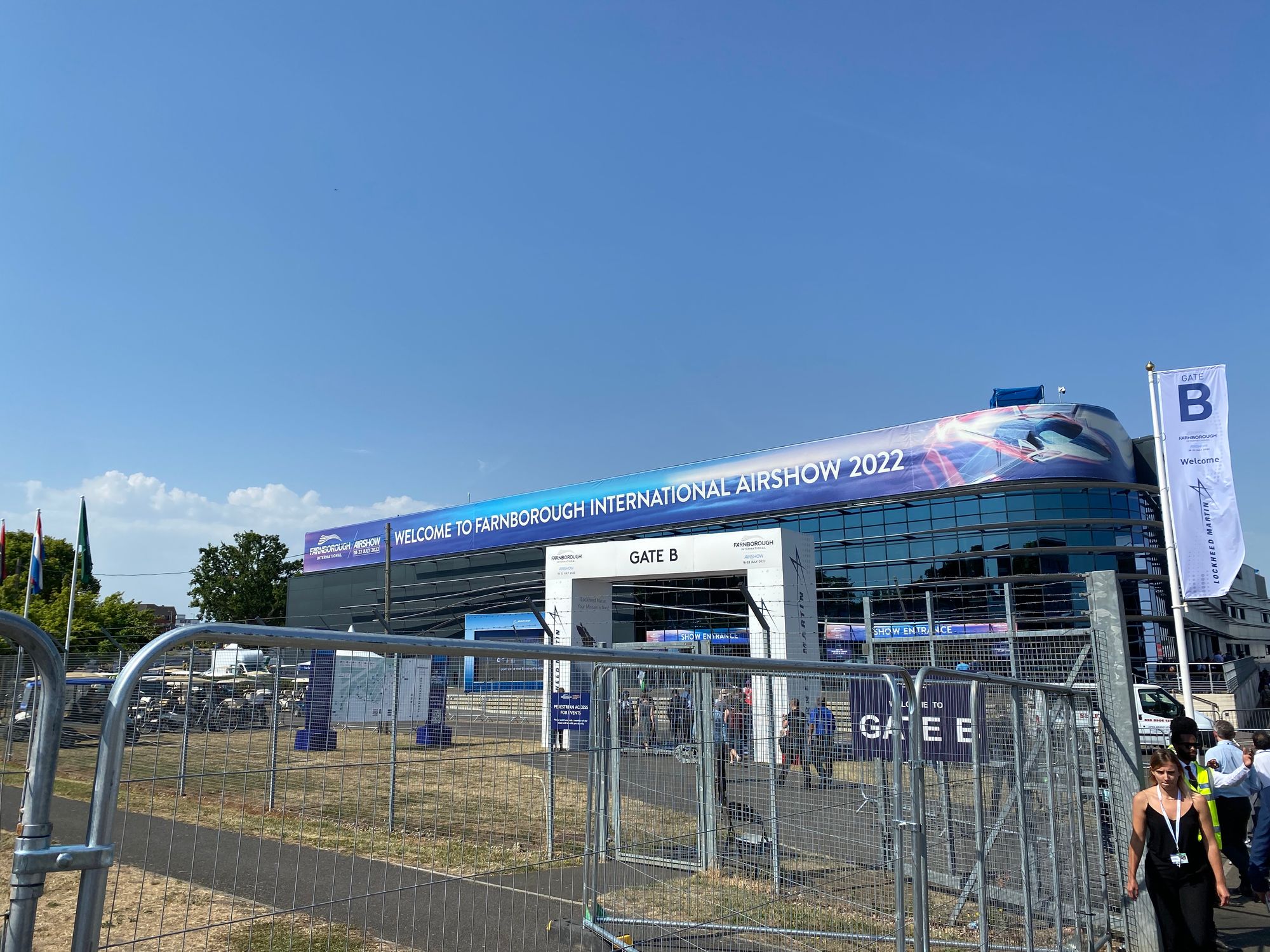 Written by Alex Cosh
Last month, The Maple spoke with Canadian ministers promoting this country's war industry at the U.K. Farnborough International Airshow (FIA), one of the world's largest aerospace events.
There, Canadian companies that work closely with the weapons industry sought to strike deals and partnerships with buyers and other manufacturers from around the world.
The Ontario government, which led a 12-member trade delegation at the show, avoided any direct mention of "defence" or "military" contractors in its official literature, instead emphasizing the province's manufacturing capacity for "passenger aircraft" as well as "avionics, aerostructures, landing gear, MRO and modifications, aircraft engines, comprehensive unmanned aerial systems, and space systems and satellites."
However, the same literature boasted about the fact that some of the world's most profitable arms dealers have a presence in Ontario. The companies mentioned in the literature included L3 Harris, Raytheon, Airbus and Safran – all of whom have had dealings with human rights-abusing countries like Israel and Saudi Arabia.
As well, members of the Ontario delegation included companies like gas turbine maker Gastops, which has supplied technological products for Lockheed Martin's F-35 fighter jets and the Israeli Navy's SA'AR warships.
Speaking to The Maple at the show, Ontario trade minister Vic Fedeli said he was there to support Ontario businesses, and to promote "the stable conditions in Ontario, and the highly skilled workforce that we have in Ontario." Similarly, federal Minister of Innovation, Science and Industry François-Philippe Champagne said he hoped to promote Canada as "the green supplier of choice to the aviation industry."
Despite the ministers' lack of any direct reference to the war industry, however, some of the deals and agreements announced at the show further bolstered Canada's aerospace and military sectors.
How Minister Champagne's 'Green' Mission Went
Champagne met with the CEOs of Airbus, Textron and Boeing at the show to promote Canada's aerospace sector, and his hopes for Canada to play a leading role in greening the carbon intensive industry. He also met with the heads of Canadian companies De Havilland, Bombardier, CAE and Héroux Devtek.
In a government press release, Champagne was quoted as saying:
"This year's Farnborough International Airshow was a great success and provided many opportunities to meet directly with aerospace companies to promote Canada's innovations, talent and ecosystem, as well as to discuss upcoming procurement opportunities."
It's not clear what exactly Champagne's conversations with the executives entailed, or if any new agreements to do with greening the industry were reached.
Last year, Textron, CAE and Pratt & Whitney Canada received a combined total of up to $685 million in grants and loans paid out by the federal and Quebec governments for various green-branded projects being undertaken by those companies. The grants were described by Prime Minister Justin Trudeau as fuelling a "green recovery" from the pandemic-caused economic downturn.
Despite this concern for greening the economy, however, the Trudeau government is currently in the process of procuring 88 new F-35 fighter jets, which opponents estimate burn around 5,600 litres of jet fuel per hour.
In addition to collaborating with Israeli arms companies in 2020 to operate surveillance drones used for monitoring refugees attempting to cross the Mediterranean, Airbus, with whom Champagne met, has been accused by critics of engaging in "greenwashing" – or promising false solutions without meaningfully reducing emissions from the aviation industry.
According to the international advocacy group Stay Grounded, which campaigns against the aviation industry's negative impacts on climate:
"Prior to the COVID-19 pandemic, Airbus had projected that air traffic would double again by the mid-2030s and then again by 2050. This would amount to an 8-times increase from year 2000 levels, i.e. an average growth of 4.2% per year. Despite the slump in air traffic due to COVID-19, the industry still predicts growth rates of about 4% per year beyond 2024 until 2038."
Boeing, who Champagne also met with, has also been accused by advocacy groups of using greenwashing tactics to shield it from criticism over its environmental record.
Last year, the U.S. government approved Boeing's sale of US$735 million worth of missiles to Israel at a time when the apartheid state was launching deadly airstrikes against Gaza.
Also last year, the Biden administration paused the sale of precision missiles made by Boeing (among other manufacturers) to Saudi Arabia, a kingdom with a poor human rights record, in a move that nonetheless was reported to have left the door open for future weapons exports.
The sales were halted over concerns about the kingdom's brutal bombing campaign in Yemen, which was paused after a truce was reached in April and then extended for two months on Wednesday.
Textron, for its part, announced it would discontinue the production of cluster bombs in 2016 amid "reduced orders" and "political" challenges after winning a $641 million contract to supply such munitions to Saudi Arabia in 2013.
According to Human Rights Watch, Saudi Arabia used Textron-made cluster munitions near civilian areas in Yemen in 2016.
CAE to Expand Training Program with UAE
In terms of green-branded projects, the Quebec-based CAE announced its plans to train pilots in electric planes "amid mounting concerns about global warming," according to a report by The Canadian Press.
An announcement by CAE at FIA that received less press attention, however, was the company's signing of a memorandum of understanding with Boeing to "enhance global aerospace training, innovation and fleet support."
Among other projects, the MOU "continues our joint efforts to deliver enhanced training offerings for Chinook [military helicopters] in the United Arab Emirates (UAE) that support Emiratization efforts," according to a CAE press release.
The UAE was a member of the Saudi-led coalition that bombed Yemen, and has a highly problematic domestic human rights record. According to Amnesty International's 2021 report: "The [UAE] government continued to commit serious human rights violations, including arbitrary detention, cruel and inhuman treatment of detainees, suppression of freedom of expression, and violation of the right to privacy."
Ontario Gives $1.5 million to Arms Component Supplier

During his trade mission at FIA, Minister Fedeli announced that the Ontario government will provide Cyclone Manufacturing with a $1.5 million subsidy to support the company's $21.4 million expansion of "new technologies, including robotic assembly."
Cyclone describes itself as a "vertically integrated full service provider of 3-5 axis machining, sheet metal fabrication, tube bending, welding and structural assemblies of aerospace structural components to the largest aerospace companies around the world."
While many of Cyclone's programs relate to civilian passenger aircraft, the company also works on several military projects. These include the Airbus A400 military transport aircraft, which has been sold by Airbus to countries with problematic human rights records such as NATO member Turkey and Russian ally Kazakhstan, according to the company's most recent sales records.
Cyclone has also worked on the U.S. Airforce's Boeing T-7A advanced military training jet and Lockheed Martin's F-35, C-130 Hercules and P-3 military planes. Human rights violators including Israel, Qatar, Saudi Arabia, and the UAE operate C-130s.
Israel, meanwhile, was the first country outside the U.S. to sign a deal for F-35s in 2010, and used the fighter jet in its bombardment of Gaza in May 2021, attacks which killed up to 192 Palestinian civilians.
---
This post is for paying subscribers only