Written by Alex Cosh
In the latest episode of The Maple's North Untapped podcast, we spoke to The Maple's Ontario election reporter, Nora Loreto, to discuss the key takeaways from Doug Ford's victory in the recent record-low turnout election, and what Ontarians can expect from the next four years of Progressive Conservative government.
Loreto said:
"I think that we're going to see pretty much what we've seen the last four years, a lot of chaos … a lot of cronyism, and I think that we'll see austerity, because now the gloves are off, the pandemic is over in the minds of the government, and there's no reason for them to hold back."
If you haven't checked out North Untapped yet, then you should! It's where we unpack our news stories in more detail, providing informative conversations and a platform for incisive commentary from people who know what they're talking about.
Think of it as your go-to audio source for Canadian progressive news and analysis.
If you're not already subscribed to North Untapped on your favourite podcast app, you can do so here. You can also download the latest episode on Apple, Spotify or Google.

Liberal Government Mulls Giving Irving Family Another $300 million to Build Warships
As reported by the Ottawa Citizen:
"Taxpayers are being asked to give at least $300 million to an East Coast shipyard so it can modernize its facilities to build navy vessels despite an earlier stipulation that public funds would not be required for such upgrades.
Irving's Halifax shipyard was selected in 2011 as the winner of a multi-billion dollar program to construct the country's new fleets of warships. Among the requirements for winning the bid was that the yard had the capability to build the vessels and taxpayers wouldn't need to contribute funding to outfit facilities for the task.
But Irving is now retreating on that agreement and the Liberal government has been presented with a request for money. Industry sources say the Liberals are considering providing at least $300 million to the shipyard owned by one of Canada's richest families."
Read the full story here.
---
One in Five
Data of the Day from Statistics Canada: "As a result of rising prices, 20% of Canadians reported that their households are very (7%) or somewhat (13%) likely to obtain food or meals from community organizations, such as food banks, community centres, faith-based organizations, school programs or community gardens, over the next six months."
---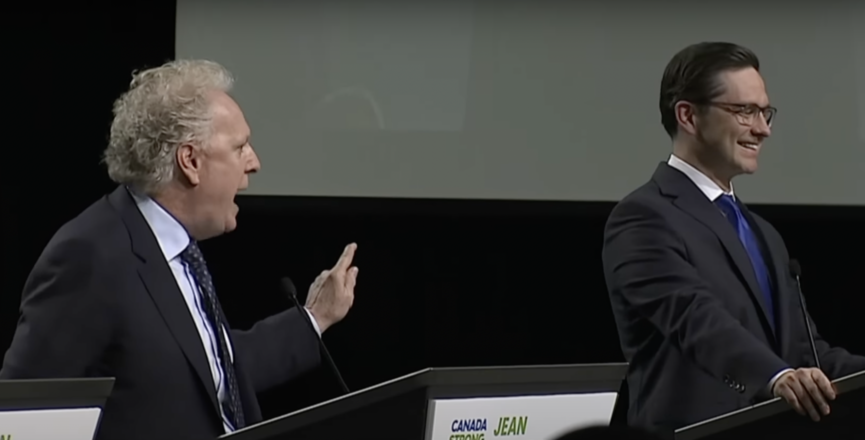 Other News
Conservative Party of Canada leadership contender Jean Charest is accusing rival Pierre Poilievre of exaggerating his membership count, calling the claim "Pierreinflation," CTV News reports.
Manitoba's government gave nearly $50 million in emergency COVID-19 contracts to a group of businesses linked to a controversial and secretive religious sect, PressProgress reports.
In the wake of an incident in Mission, B.C. where a man drove his pickup truck through a residential school march and hit five people, an expert on political violence says it's important that police fully investigate all incidents of drivers running into protests or marches to determine whether the incident was a "politically motivated vehicle ramming attack," The Tyee reports.
---
Catch up on our latest content
Get all the latest posts delivered straight to your inbox.
Processing your application
Please check your inbox and click the link to confirm your subscription.
There was an error sending the email