Canada Is 'Modernizing' NORAD, and Weapons Manufacturers Are Lining up for Contracts
Weapons companies are currently enjoying ballooning profits on the back of geopolitical fears stoked following Vladimir Putin's illegal invasion of Ukraine.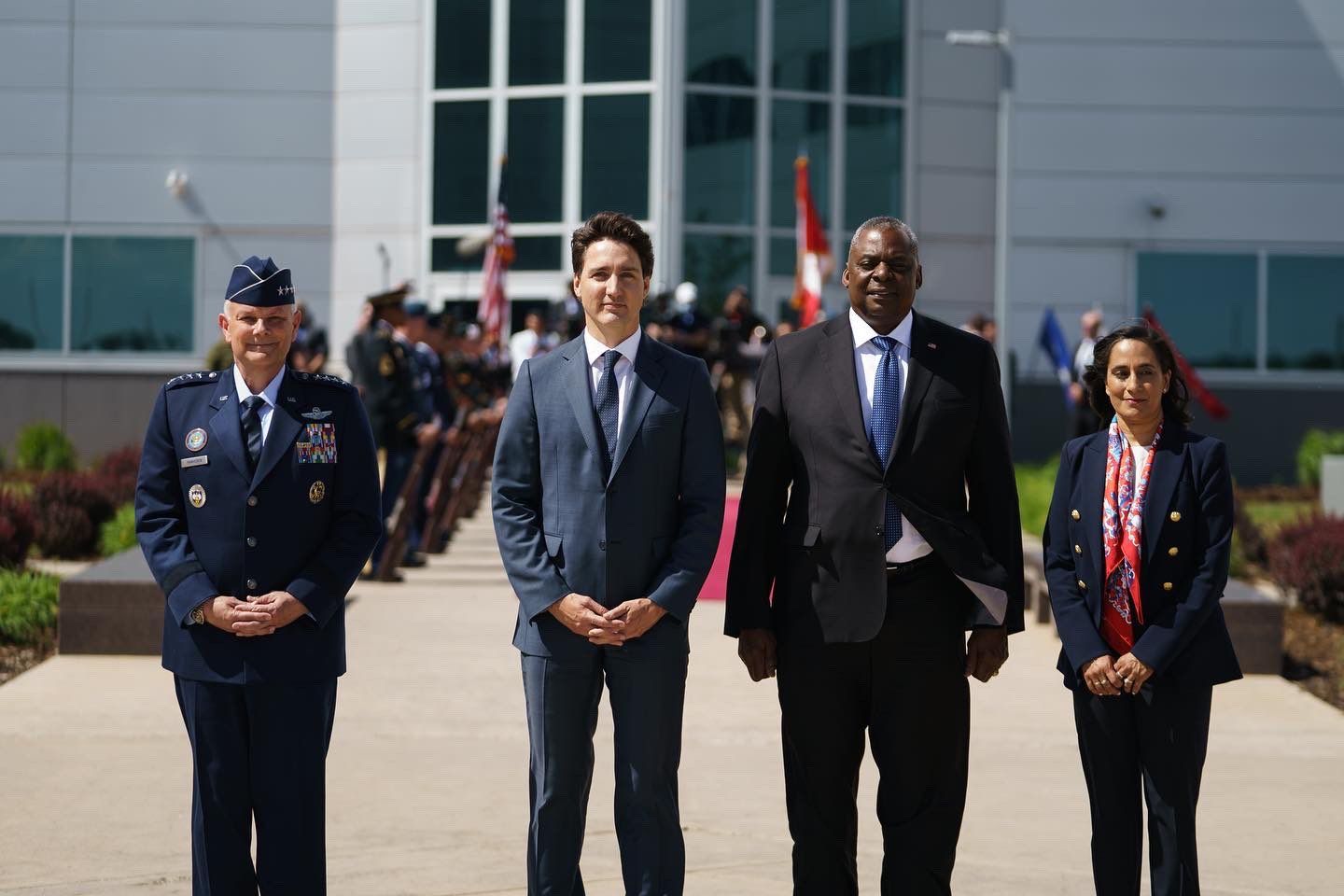 Written by Alex Cosh
Prime Minister Justin Trudeau and Defence Minister Anita Anand visited the North American Aerospace Defense Command (NORAD) headquarters in Colorado on Wednesday to confirm plans to "modernize" the binational military alliance.
The meeting comes at a time when multiple weapons manufacturers are lobbying the Canadian government for lucrative contracts in Canada's NORAD "modernization program."
Some of those companies are currently enjoying ballooning stock prices on the back of geopolitical fears stoked following Vladimir Putin's illegal invasion of Ukraine, which has been cited by some Canadian officials as a reason to increase spending on NORAD.
During this week's meeting, Anand stated that "we will be coming forward shortly with a plan to modernize NORAD," but did not provide further details.
NORAD is a "binational military command" with the U.S. that is "responsible for aerospace warning, aerospace control, and maritime warning." It was established in 1958 during the Cold War over fears about Soviet air incursions, and was renewed "in perpetuity" in 2006 by then-prime minister Stephen Harper.
Canada provides war planes on "alert status" to the program, and approximately 1,000 Canadian military personnel are employed through NORAD across North America. According to the program's website, it has "created unprecedented interoperability between the two countries."
This aspect of NORAD has long been flagged as a concern by critics of the program.
At the time of NORAD's indefinite renewal, UBC professor Michael Byers warned that a report published by a group within the alliance showed that the program's intent was "nothing less than the complete integration of Canada's military, security, and foreign policy into the decision-making and operating systems of the U.S."
The Canadian government's recent announcements regarding NORAD modernization has prompted an uptick in lobbying activity from arms manufacturers and defence contractors, some of whom have directly benefitted from a climate of geopolitical fear surrounding Putin's illegal invasion of Ukraine.
In April, American weapons manufacturer Lockheed Martin lobbied several ministries in regards to procuring unspecified government defence contracts related to the NORAD modernization program.
Lockheed Martin is currently in talks with the federal government to supply the Canadian military with 88 F-35 fighter jets, which have been touted by the company as necessary to enhance Canada's military interoperability with the United States for NORAD.
The deal's initial price tag was pegged at $19 billion, but opponents say the true lifetime cost of the jets could be as high as $77 billion.
Last year, Lockheed Martin lobbied the federal government regarding Canada's contributions to NORAD and potential future investments in the program.
The American corporation has seen stock prices surge since Putin's illegal invasion of Ukraine began in February, as national military budgets continue to rise amid a conflict that Western countries are showing little interest in ending through peace talks.
In February, British maritime defence manufacturer "Ultra" registered its interest in lobbying the Canadian government to procure a contract for "anti-submarine warfare (ASW) solutions to support [the Department of National Defence's (DND)] Continental Defence and NORAD Modernization Program."
Canadian naval intelligence firm Global Spatial Technology Solutions Inc. lobbied multiple ministries between January and March promoting its "OCIANA" maritime technology for "DND's maritime portion of NORAD Modernization Program and [to] pursue DND's Defence Enhanced Surveillance from Space Project procurement opportunity."
Raytheon Technologies lobbied the Department of National Defence and Global Affairs Canada regarding a $592-million NORAD northern warning system contract that it controlled until April this year.
Like Lockheed Martin, the company's share values have risen substantially during the Ukraine conflict. Raytheon and Lockheed Martin are among the companies that make weapons like Javelin anti-tank missiles and anti-aircraft systems which are being sent by Western governments to Ukraine.
Lee Carson, president of NORSTRAT Consulting Ltd., a Northern Strategy-focused firm whose clients include a host of weapons manufacturers, co-authored an article in late March which stated that the Ukraine war meant "We should approach NORAD's modernization as a partner, not as a subordinate supplier to the United States."
The article also argued that Canada's investments in NORAD should "take full advantage of our industrial strengths."
Oil and gas companies have joined weapons manufacturers in lobbying the federal government this year on the back of Russia's invasion of Ukraine.
The Canadian Association of Petroleum Producers (CAPP), this country's leading oil and gas industry group, has lobbied every major ministry dozens of times on a range of topics, including on "how Canadian oil and gas can be used as an alternative to Russian oil and gas."
Within a few days of Putin's invasion, the right-wing MacDonald-Laurier Institute and Alberta Premier Jason Kenney used the escalation as a pretext to advocate for ramping up Canadian oil and gas production.
Oil and gas companies around the world have enjoyed soaring profits as a result of the Ukraine war, as supply disruptions continue to drive up energy prices. On Wednesday, Canada announced new sanctions on services related to Russia's oil, gas and chemical industries.
Notably, climate change caused by the burning of fossil fuels poses a major threat to Arctic regions.
Federal spending on NORAD and military on the rise
The 2021 federal Budget stated that the Canadian and U.S. governments had "agreed to modernize NORAD and expand cooperation on continental defence and in the Arctic," committing $163.4 million over five years to the program.
The budget also committed $88.8 million to sustain "existing continental and Arctic defence capability." $45 million was projected to be spent on "modernizing NORAD" this year, increasing to $62 million next year.
"These early measures will position Canada to move forward hand-in-hand with the United States," the 2021 budget said.
In August last year, the U.S. and Canada "established priorities" for "modernizing" the program.
This year's federal budget stated that "The government is currently considering options to fulfill this commitment through significant investments" in areas including surveillance, communications and "improved capabilities to deter and defeat threats."
The 2022 budget increased Canada's overall military spending by a total of $8 billion over five years.
Mixed messages on threat to Arctic
During Wednesday's NORAD visit, Trudeau cited "shifting geopolitical realities" as among the threats that he believes are prompting a need for a modernization of NORAD, including in Arctic waters and airspace.
Global News' David Akin also raised the prospect of "thermonuclear war" with Russia in his reporting on the NORAD visit, a concern that peace advocates warn will continue to be heightened so long as some Western countries refuse to facilitate peace talks between Ukraine and Russia.
Meanwhile, Canadian defence officials have offered mixed and sometimes inconsistent messages in regards to whether or not there is any risk to this country's north from Russia.
Still, in the run-up to this year's federal budget, a series of media reports uncritically quoted Canadian military officials insisting that NORAD needed to be strengthened.
Back in March, following Putin's invasion, Chief of Defence Staff Wayne Eyre said the threat of a Russian invasion in the north was "very low," even though this might change "decades into the future."
Despite the low risk, Eyre said Canada must "project force." The same article quoted federal national security advisor Jody Thomas stating that NORAD activities are "critical."
The same month, NORAD commander Major General Eric Kenny raised fears over the fact that Russia "has the capabilities" to strike northern Canada, but admitted that he doesn't expect an imminent attack.
In April, Eyre poured cold water on the idea of a large Canadian troop presence in the Arctic, stating that "there is no way Canada can match Russia's large military footprint in the Arctic," as The Canadian Press put it.
Editor's note, June 9, 2022: This article has been updated to clarify that weapons manufacturers have enjoyed surging stock prices during the Ukraine war, but this has not yet translated into increased revenues.
This post is for paying subscribers only