F-35 Cost Continues to be 'Refined' as American Deal Hit with Inflation
The Canadian Ministry of Public Services and Procurement said "details on costing and price will be further refined" as the Pentagon grapples with rising costs.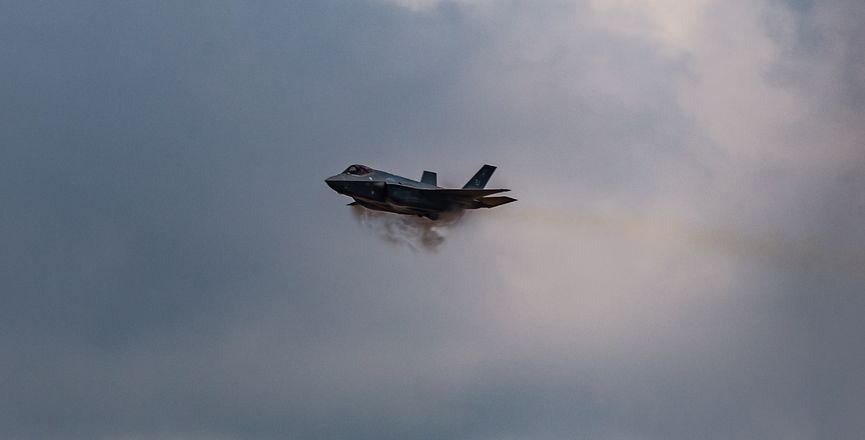 Negotiations between the Pentagon and American weapons manufacturer Lockheed Martin over an F-35 fighter jet deal could be delayed as inflation and supply chain problems push up costs.
The Canadian government, however, is staying tight-lipped about whether these same issues could impact its own ongoing negotiations with Lockheed Martin.
As reported this week by DefenseOne, a U.S.-based news outlet owned by Atlantic Media:
"The cost of an F-35 had been declining for years as the U.S. and allies placed larger orders and Lockheed found ways to more efficiently run its production line. But in recent years supply chain issues, largely stemming from the pandemic, have delayed production and increased the costs of raw materials."
In March, the Pentagon's F-35 program head warned that the newest batch of fighter jets would likely be more expensive than the previous batch, the U.S.-based magazine BreakingDefense reported. The outlet explained further:
"Lockheed has made clear that rising inflation and the cost of supplies during the COVID-19 pandemic has led to a price hike for materials that is already driving costs up on the jet."
The Maple contacted the Canadian Ministry of Public Services and Procurement asking if these same issues could also impact the pricing and timeline of Canada's proposed purchasing of 88 new F-35s.
In an emailed statement, the ministry reiterated that "details on costing and price will be further refined," but did not provide additional information about Lockheed Martin's current proposal, citing the fact that the procurement process is ongoing.
Last month, the ministry announced it was in the "finalization phase" of procuring the new fighter jets, hailing it as the "most significant investment in the (Royal Canadian Air Force) in more than 30 years."
The Liberals had previously pledged never to purchase the F-35, which has been beset with hundreds of technical problems and costing issues for over a decade.
The price tag for the deal was pegged at $19 billion. Asked by reporters last month if that cost was still applicable, Defence Minister Anita Anand said it was in the process of being "further refined."
A group opposing the purchase called No Fighter Jets has suggested that the true lifetime cost of the new F-35s will be at least $77 billion.
Activists opposed to the purchase plan to protest outside Lockheed Martin's headquarters in Ottawa Friday to call on the company to "stop selling war machines." The protest is part of a global mobilization in nine cities around the world.
Groups opposed to the purchase, such as the Women's International League for Peace and Freedom, say the billions of dollars earmarked for the jets would be better spent on healthcare, Indigenous wellness, education, public transit or housing.
Meanwhile, former Lockheed Martin employee and PR specialist Billie Flynn, a proponent of the deal, has written that the F-35 is needed to better equip Canada for overseas military engagements.
In a blog post last year arguing for why Canada needs new stealth fighter jets, Flynn wrote: "Don't say that Canada will never send their men and women into war again because history says that simply is not true."
On a recent episode of The Maple's North Untapped podcast, fighter jet opponent Brent Patterson, executive director of Peace Brigades International, said Canada's past military operations indicate the fighter jets are primarily intended to be used for overseas attacks rather than defending this country.
"I think proportionally it's sort of clear that [the F-35s] are bought to bomb countries and to kill people," he said.
Canadian fighter jets were involved in 56 bombing missions in Iraq during the Gulf War, more than 600 combat missions in Serbia, a total of 733 bombing sorties in Libya and approximately 250 such missions more recently in Iraq and Syria.
The F-35s specifically are designed with a "first strike" capacity, problematizing the idea that they are intended for defence purposes, Patterson added.
This post is for paying subscribers only