A key piece in the fight for improved labour rights in recent years has been securing basic protections for workers employed in the "gig economy."
Gig workers are typically hired as "independent contractors" on a temporary, short-term basis with few, if any, of the basic benefits, legal protections and rights that come with traditional forms of employment — including the right to unionize. Examples of gig workers include app-based ride-share drivers or food delivery couriers.
Gig workers currently comprise 8.2 per cent of Canada's workforce. In 2019, an Angus Reid study found that more than 40 per cent of Canadian millennials had participated in the gig economy in the preceding five years.
For Jennifer Scott, president of Gig Workers United, to understand what some of the federal parties are proposing for gig workers in this election, it is necessary to understand "Flexible Work+," a campaign by ride-sharing giant Uber to create a new category of worker in Canada between employee and independent contractor.
The plan proposes establishing the new category in exchange for some worker benefits that labour analysts have called "minor" and "a lousy alternative to regular group benefits."
"What app employers are doing internationally is endeavoring to create a new category of worker who appears to have some of the benefits of employment without any rights," Scott told The Maple.
According to Mitchell Thompson, writing in Jacobin, Flexible Work+ amounts to a "typical Uber scheme to prevent its workers from accessing basic protections like a minimum wage and union rights."
As recently reported by PressProgress, the Conservative Party's promise in its election platform to require app-based companies like Uber, Lyft and Skip the Dishes to make contributions to an employee savings account when they pay workers amounts to a "carbon copy" of the Flexible Work+ program.
"When I'm looking at the platforms from the federal parties, what I'm looking for is that they are prepared and willing to hold that line with us," Scott told The Maple. "A new classification of worker won't just impact people who work for Uber; it'll be for anybody whose employer chooses to classify their workers in that way."
Specifically, Scott said Gig Workers United wants gig workers to have legislated protections, rights, paths to recourse and the ability to access Employment Insurance, CPP and worker's compensation. These demands and others are laid out in the Ontario Federation of Labour's Gig Workers' Bill of Rights.
"That's what working-class people need," Scott added. "What future is there for Canadians if that future is having less, as workers?"
Until last year, a statute in California known as AB5 forced app-based companies to treat their workers as regular employees — and required that the burden of proof for classifying workers as "independent contractors" falls on companies, rather than workers.
However, the passage of Proposition 22 in November 2020 exempted app-based ridesharing and delivery companies from AB5 requirements. Proponents of Prop. 22 — including Uber, Lyft, Instacart and Postmates — poured $200 million into the "Yes on Prop 22" campaign, outspending opposition groups 10 to one.
Labour analysts see Flexibility+ as an attempt by Uber to bring Prop. 22 to Canada. Opposing this plan, organizers are calling for the legislation of an "ABC test" — modelled after AB5 — which puts the burden of proof of employment classification on the employer.
"The federal government has the ability to implement the ABC test in the Canadian Labour Code," said Scott.
The Liberal Party's 2021 election platform makes a vague promise to "strengthen rights for workers employed by digital platforms so that they are entitled to job protections under the Canada Labour Code."
Scott said she won't risk getting too excited by that commitment, but that it would be "a really useful thing for the federal government to do."
The Liberals are also promising a new EI benefit for gig workers beginning in 2023 that would provide unemployment assistance for up to 26 weeks.
Overall, Scott said gig-worker organizations have secured important victories in recent years, and are continuing to make gains. She pointed to the ongoing fight in the United States to enshrine the Protecting the Right to Organize (PRO) Act and the riders' law in Spain, which in May this year required that food courier companies hire their workers as regular staff within 90 days.
As well, Scott added, "the riders' law says that the apps have to provide information on the amount of data that they track on workers, and how that data impacts the algorithm and how that impacts the amount of orders or the price of the orders and the type of orders that are sent to them."
Scott said gig-economy companies typically try to take advantage of working-class people during times of economic hardship, noting that Uber was first launched in 2009 in the wake of the global financial crisis, when many people were unemployed and in search of low-barrier forms of income.
The problem, Scott explained, is that when workers are hired as independent contractors, they cannot fight against things like wage theft, health and safety issues or harassment and discrimination in the workplace.
"Because we are misclassified, we really have no control and are being offered sub-par and really frustratingly awful working conditions," said Scott. Despite these enormous challenges, she continued, gig workers have managed to empower themselves through grassroots organizing in recent years.
Closer to home, Scott pointed to the example of the Foodora union drive in Ontario last year. In February 2020, the Ontario Labour Relations Board found that Foodora couriers were "dependent contractors," which allowed them to proceed with a union certification drive that saw nearly 90 per cent of Foodora workers in Toronto and Mississauga voting to join the Canadian Union of Postal Workers (CUPW).
After the vote, Foodora abruptly filed for insolvency and exited the Canadian market, but the workers, with the help of CUPW, were able to secure a $3.46-million settlement that saw payouts to every Foodora worker in Canada.
Uber, meanwhile, is pursuing its campaign to amend Canadian labour laws in line with the Flexibility+ proposal on the back of the precarity and insecurity that has been worsened by the pandemic.
Gig workers have had a particularly difficult time during the pandemic. A CIBC study in January found that people in temporary or low-wage work and older workers were far more likely to have lost their jobs in 2020 — all while wage gaps continued to widen, driven by the expansion of the gig economy.
Scott rejects claims from app-based employers that workers cannot enjoy the benefits of flexible work in addition to basic rights and protections.
"We have gig workers across the world who know that's not true," Scott explained. "We have folks who have unions, who have workers' protections, and still have flexibility."
Scott said working-class people uniting together for change is the only way to achieve meaningful victories, and that even those who are not currently employed in the gig economy should also take up the fight for better rights and protections for gig workers.
"They do that by listening to the things that gig workers are saying, listening to the calls to action that gig workers are putting out, and providing solidarity and support that's in line with what gig workers are asking them to do," Scott explained.
"Working-class people organizing should always be at the forefront," she continued. "However, for folks who are not part of that workplace, I think there is still work that they can do; there is action they can take and their voices are still necessary."
Ultimately, Scott added, with increasing automation and the continuing expansion of the gig economy, the fight for worker protections in that sector benefits everybody in the long run.
"The gig economy is coming for everybody's jobs," said Scott. "Changing the labour laws in Canada to match what an international corporation wants is not in favour of working-class people, and it will not only apply to gig workers."
---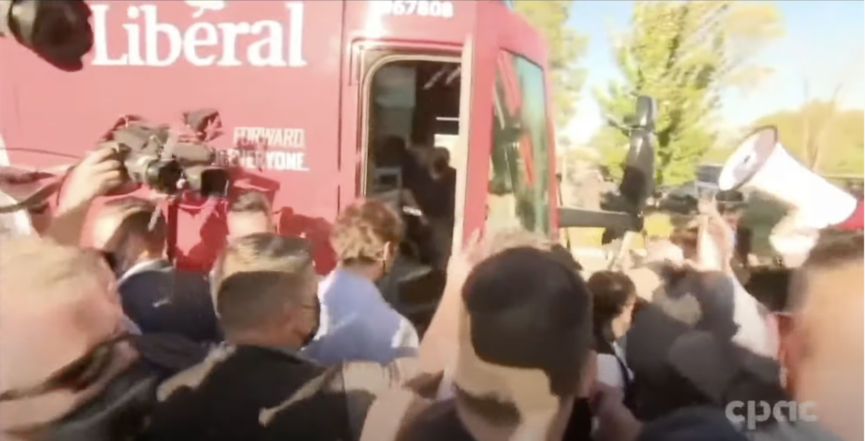 Weekend News
Editor's note, September 7, 2021: A previous version of this newsletter incorrectly stated that yesterday's events took place on Sunday, September 5 when in fact they took place on Monday, September 6. The newsletter has been corrected.
---
Latest Polls
Polling Canada's poll average tracker shows the Conservatives' narrow lead over the Liberals is continuing to hold.
EKOS has the Conservatives at 34 per cent, the Liberals at 28 per cent, the NDP at 20 per cent, the People's Party at eight per cent, the Bloc at six per cent and the Greens at four per cent.
Mainstreet Research has the Conservatives at 34 per cent, the Liberals at 31 per cent, the NDP at 18 per cent, the People's Party at seven per cent, the Bloc at six per cent and the Greens at three per cent.
Nanos has the Liberals at 34 per cent, the Conservatives at 32 per cent, the NDP at 21 per cent, the Bloc at five per cent, the People's Party at four per cent and the Greens at four per cent.
---
LISTEN: In the first episode of the all-new Rob Rosseau Show, Rosseau is joined by Jesse Hawken to discuss the 2021 federal election.
---
WATCH: While campaigning in Newfoundland and Labrador on Saturday, NDP Leader Jagmeet Singh promised to introduce a federal dental care program for all families earning less than $90,000 per year. Singh said dental care "should not be a luxury," adding "this is where we see the greatest divides. If you've got the right job, if you have enough money, you can get your teeth looked after, but everyone else, they're kind of left high and dry." Singhs adds that Canada's health system was "always intended to include dental care," and called his party's promise an "immediate step" towards a fully universal dental care system. The NDP leader also stated that the new program would be paid for by taxing the "super rich."
---
The Maple Pod
Don't miss the latest episodes of The Maple's election podcast series. Subscribe now on Apple, Spotify, Google and SoundCloud.
---
Commentary
In The Tyee, Grand Chief Stewart Philip, Hannah Askew, Tzeporah Berman, Andrew Gage and Khelsilem write that while they previously backed British Columbia's climate plan — CleanBC — they now see that it is "not enough." "While B.C.'s plan may well be among the strongest in the country, that's not saying much — it is merely an indictment of how weak government plans are across Canada," the authors write.
In The Breach, Rawan Abdelbaki writes that Erin O'Toole is no friend of labour, but a "con man," arguing that the Tory leader's brand of nationalist populism offers little of substance to workers in Canada. Abdelbaki explains: "What we are witnessing is the most savvy effort in some time by a Canadian Conservative leader to adopt the right-wing populist playbook of economic nationalism, fused to an agenda of corporate tax cuts, unfair trade deals, and militarism."
In Briarpatch, Tamina D. Hamid, a prison inmate in Texas, describes the sexism that exists inside of penitentiary institutions. "Women do not get nearly the same job opportunities that men do," writes Hamid. "I'm not made a priority for schooling of any type, and I have to work twice as hard to get the privilege of a good job."
---
Catch Up On Our Latest Newsletters
Get all the latest posts delivered straight to your inbox.
Processing your application
Please check your inbox and click the link to confirm your subscription.
There was an error sending the email